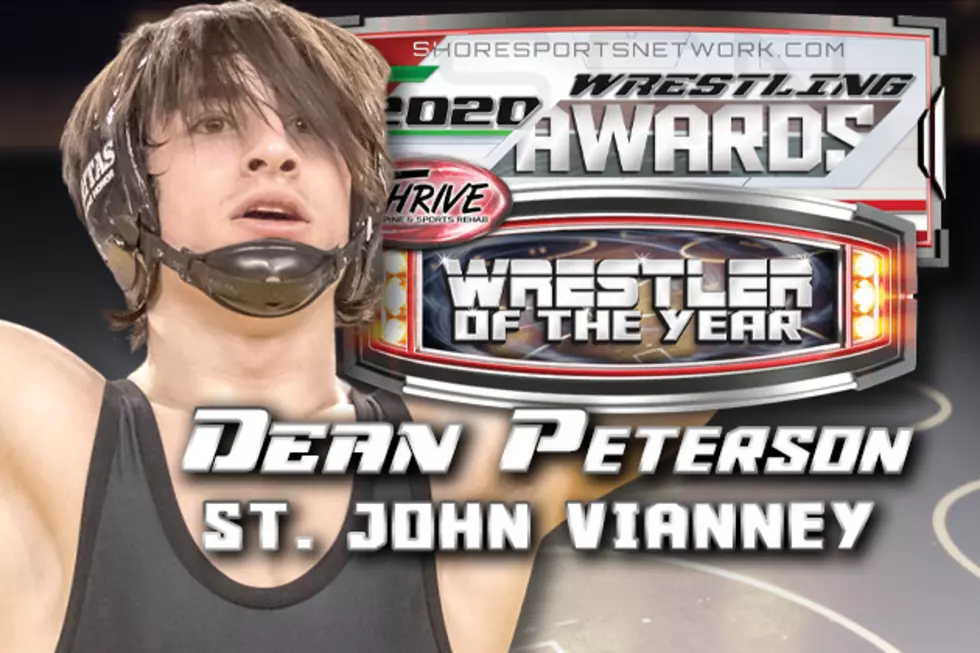 Shore Sports Network Wrestler of the Year: St. John Vianney's Dean Peterson
Photo by Richard O'Donnell. Artwork by Steve Meyer/Townsquare Media NJ.

Enter your number to get our free mobile app
Any superlative a person could think of to describe Dean Peterson's junior season would not be hyperbolic. He was that good.
Every wrestler who squared off against Peterson was sent back to their corner without getting their hand raised. From one of the nation's toughest tournaments to the New Jersey state finals, Peterson was perfect for a second straight season.
Peterson won the NJSIAA 120-pound title to become a two-time state champion and cap a tremendous season that also included a second Region 5 title, a third district title, a third Shore Conference Tournament championship, a Sam Cali Memorial Invitational belt and a Beast of the East championship. He has won 72 straight matches, and with a three-year record of 108-2 is authoring one of the greatest careers in Shore Conference history.
His latest accolade is being recognized as the 2019-2020 Shore Sports Network Wrestler of the Year.
Peterson put all his talents on display at Boardwalk Hall in Atlantic City, but mostly his impenetrable defense. In five bouts, Peterson did not allow a single point, winning by 15-0 technical fall in the first round, by 8-0 major decision in the second round and then by 7-0 decision over Paulsboro's Georgio Mazzeo in the quarterfinals. In the semifinals, Peterson defeated Bergen Catholic's Nick Kayal, 3-0, before blanking Brick Memorial's Vincent Santaniello, 1-0, to add a 120-pound state championship to the 113-pound title he secured last season.
St. John Vianney began the season at the University of Delaware for the prestigious Beast of the East Tournament. It was there Peterson became the first Shore Conference wrestler since 2007 (Jackson's Scott Winston and Southern's Glenn Carson) to win The Beast. Peterson cruised into the semifinals where he won 2-1 in double overtime over St. Joseph (Montvale) sophomore Alex Almeyda, a returning state medalist who went on to finish fourth in the state this season. In the championship bout, Peterson scored an 8-2 win over Blair Academy senior Ryan Miller, who finished the season ranked No. 8 in the nation. The only surprise was that Peterson actually surrendered a takedown, albeit while holding a 5-0 lead in the third period.
Peterson missed out on a chance to win a third Mustang Classic thanks to a broken nose he suffered against Miller at The Beast but returned to action on Jan. 4 when St. John Vianney participated in the Sam Cali Memorial Invitational, which has quickly become one of the state's best tournaments. Peterson didn't allow a point until a 15-4 win over Middletown North's Fred Luchs in the quarterfinals. He then defeated Don Bosco Prep's Mike Tandurella, 8-2, in the semifinals before a 6-1 decision over Shore Regional's Jack Maida in the championship bout.
Peterson's next conquest was the Shore Conference Tournament where he had the rare task of needing to rally for a victory. Peterson encountered little resistance in reaching the 120-pound championship bout with a 16-0 technical fall over Marlboro's Mike Bruno, a win by forfeit over Jackson Liberty's Dorian Hall and a 13-5 major decision over Luchs. Waiting in the championship bout was a familiar opponent in the form of Santaniello, a two-time state medalist who is also ranked in the top 20 in the nation. Peterson entered the bout with a 3-0 record against Santaniello, defeating him in the finals of the Mustang Classic and the SCT final when they were freshmen and again in the SCT final last season.
After a scoreless first period, Santaniello chose defense and escaped to take a 1-0 lead. With 1:13 on the clock in the second period, Santaniello took Peterson down to take a 3-0 lead as the crowd inched further forward in their seats. But just as quickly as Peterson fell behind he rallied to tie the score. Just 12 seconds after being taken down, Peterson got to his feet to trim the deficit to 3-1 and 12 more seconds later took Santaniello down to tie the bout 3-3 heading into the third period. Peterson was awarded an uncontested escape to start the third period, giving him a 4-3 lead. A second stalling call on Santaniello gave Peterson another point and he prevailed, 5-3, to win his third straight Shore Conference Tournament title.
Peterson moonwalked to his third district title, needing just two technical falls to place first at District 17. His 25-10 victory over South Plainfield's Jacob DelVecchio in the final was also the 100th win of his career.
The Region 5 Tournament was shaping up the same way until Peterson was nearly shocked in the championships bout. Peterson won by 15-0 technical fall over Manalapan's Chris Balzano in the quarterfinals and pinned Middletown South's David Hussey in the semifinals. He squared off with Maida, the Shore Regional junior whom he beat 6-1 in the Sam Cali final, in the region final. Peterson was up 10-4 in the third and appeared well on his way to a second title when Maida hit a reversal with a headlock and put Peterson to his back for a 5-point move that made the score 10-9. Peterson was able to fight off his back after nearly half a minute and in doing so turned the hold into an illegal headlock, which gave him another point. He held on for the 11-9 victory to become a two-time region champ.
That was the last time Peterson would surrender a point the rest of the season.
Peterson's complete shutout at the NJSIAA Championships becomes more impressive the more it is dissected. In 2010, Manchester's Jimmy Lawson pinned all four of his opponents in the first period en route to winning his third heavyweight state title. That remains the gold standard, but Peterson allowing zero points in 26:12 of mat time over three days is nonetheless remarkable.
Peterson, who is committed to Princeton University, ended the season ranked No. 3 in the nation by both InterMat and FloWrestling. There's no reason to believe he'll be anything but dominant during his senior season, and if that is indeed the case he will go down as one of the greatest wrestlers in Shore Conference history.
Jackson Memorial's Scott Winston went 137-0 with three state titles. Lakewood's Damion Hahn was 131-3, a three-time state champion and a four-time state finalist. Long Branch's Luke Skove went 119-1-1 with three state titles and four finals appearances. Middletown South's Glenn Pritzlaff went 113-3 with three state titles. Central's Mark Worthy went 128-2 with three state titles. Southern's Frank Molinaro finished 148-6 with three state titles and Lawson went 141-11 with three state titles. That is the elite company Peterson, a two-time state champ and three-time finalist, can join next season.
Legendary status awaits in 2021.
Managing editor Bob Badders can be reached at bob.badders@townsquaremedia.com. Follow him on Twitter @Bob_Badders. Like Shore Sports Network on Facebook and subscribe to our YouTube channel for all the latest video highlights.
More From Shore Sports Network