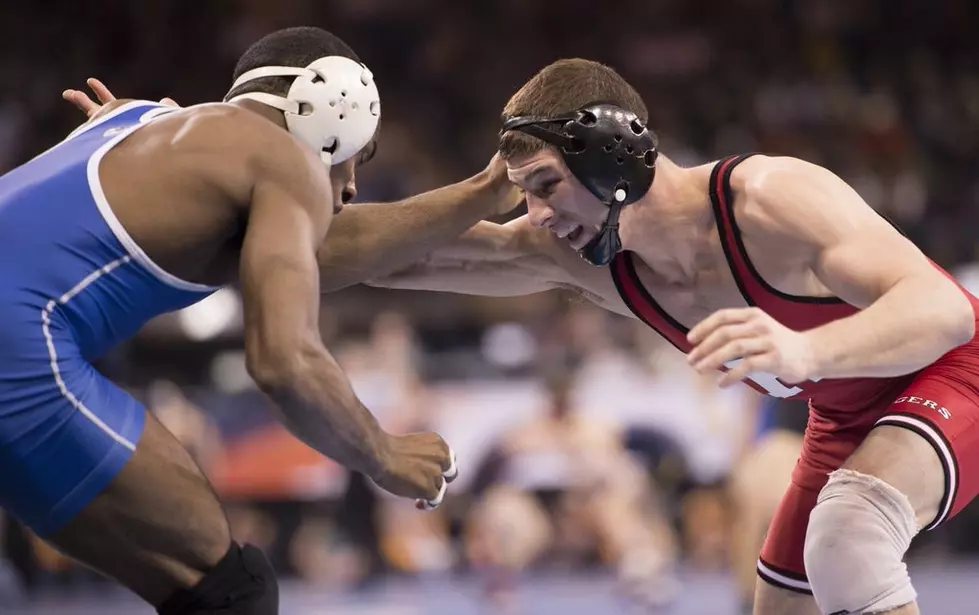 Rutgers' Anthony Ashnault Bulldozes His Way Into the NCAA Quarterfinals
Rutgers redshirt sophomore Anthony Ashnault. (Photo credit: Rutgers Wrestling.)
NEW YORK -- With 11 top-five seeds going down on the first day of the NCAA Wrestling Championships at Madison Square Garden, being a high seed was anything but a rite of passage into the quarterfinals.
Yet while some championship contenders were getting picked off or just scraping by in either of their first two matches, Rutgers redshirt sophomore Anthony Ashnault was busy dismantling both of his opponents.
Ashnault out-scored his first two foes by a combined score of 31-2 in cruising into the NCAA quarterfinals at 141 pounds on Thursday. A 16-0 technical fall over Hofstra's Jamel Hudson in the first round was followed by a 15-2 beatdown of South Dakota State's Seth Gross in the round of 16, pushing the fourth-seeded Ashnault into the quarterfinals for the second straight season.
"I feel really confident, and I couldn't really plan for anything else," Ashnault said. "I wanted to come into the tournament and dominate everyone I wrestle. I feel really good about how I'm doing and hopefully I keep it rolling into (Friday) morning."
"He's focused and he's dialed in," said Rutgers head coach Scott Goodale. "He believes he should win the tournament."
Ashnault will wrestle No. 12 seed Chris Mecate of Old Dominion in the quarterfinals, which are set for 11 a.m. on Friday. Penn State's Jimmy Gulibon won by technical fall over a less-than-100 percent No. 5 seed Matt Manley (Missouri) in the first round, and Mecate blanked Gulibon 6-0 in the pre-quarterfinals. Ashnault defeated Mecate, 4-3, during the Midlands Championships earlier this season.
No matter what their seed - and that was proven plenty of times on Thursday - it's never clear how a wrestler will perform at the national tournament until he steps onto the mat for the first time. In squaring off against Hudson, Ashnault was meeting the Hofstra redshirt junior for the second time in his career. The first was a 10-7 victory last season, but nowhere near the crushing victory he delivered this time around.
"You never know, and that's a match where there's history and it was close before," Goodale said. "He won last year, but that kid kind of took it to him, and this is a huge reversal. I know it was early in (Ashnault's) career but it shows the growth and how much better he's gotten. For him it's about a laser-beam focus and being super confident. He came here on a mission."
"My coaches growing up always said worry about that first period of that first match," Ashnault said. "You never know what's going to happen. You see the 174 bracket with the 2, 3 and 4 seeds losing in the first round. You have to be ready for whoever is going to step out in front of you. I've really concentrated on that, just putting my best effort into that first period and it's set the ball rolling for me."
Against Gross, Ashnault scored a quick takedown and a turn for four near-fall points, then scored another takedown after Gross got to his feet for an 8-1 lead after the first period. He tacked on two more takedowns in the second period to go up 12-2 en route to the major decision win, improving to 31-3 on the season.
Ashnault had everything going for him on Thursday: decisive and complete shots, offense from the top position and stingy defense. His ability to score points while on top has been his biggest area of improvement, and it showed in a huge way.
"The knock on him was he wasn't a good mat wrestler," Goodale said. "Now he's in the national tournament picking top. He's really worked at that and he's got confidence, and with confidence comes results. That's probably the biggest thing. He's very dangerous in the top position and he's really hard to score on at neutral."
"I think from last year the biggest difference is I got a lot stronger and I'm a lot better on top," Ashnault said. "When you get up by five points on guys in the NCAA Tournament they either lose it mentally or it's really hard to come back from. I've been able to do that in the first period of both my matches, which makes it a lot easier."
Ashnault was the only Rutgers wrestler to reach the quarterfinals, however, as the Scarlet Knights had a tough first day. Rutgers was one of just three teams to send all 10 of its wrestlers to the national tournament, but went 3-7 in the first round. Ashnault advanced, but junior Richie Lewis, the No. 9 seed at 157, fell to No. 8 Nick Brascetta of Virginia Tech, 7-6. At 165 pounds, redshirt senior Anthony Perrotti, the No. 7 seed, lost to the No. 10 seed, Nebraska's Austin Wilson, 4-1.
Lewis, a former Toms River East standout, will wrestle West Virginia's Dylan Cottrell in the second round of wrestlebacks while Perrotti gets Oregon State's Seth Thomas.
Redshirt sophomore Nick Gravina is still alive in the 184-pound consolation bracket, as is senior Billy Smith in the heavyweight wrestlebacks. Sean McCabe at 125, Anthony Giraldo at 133, Tyson Dippery at 149, Phil Bukuckas at 174 and Hayden Hrymack at 197 pounds all went 0-2 and were eliminated from the tournament.
Gravina squares off against Bucknell's Tom Sleigh and Smith has Gardner-Webb's Boyce Cornwell. Lewis, Perrotti, Gravina and Smith need three more wins to clinch All-American status.
Wrestling editor Bob Badders can be reached at badders@allshoremedia.com. Follow him on Twitter @Bob_Badders. Like Shore Sports Network on Facebook and subscribe to our YouTube channel for all the latest video highlights.