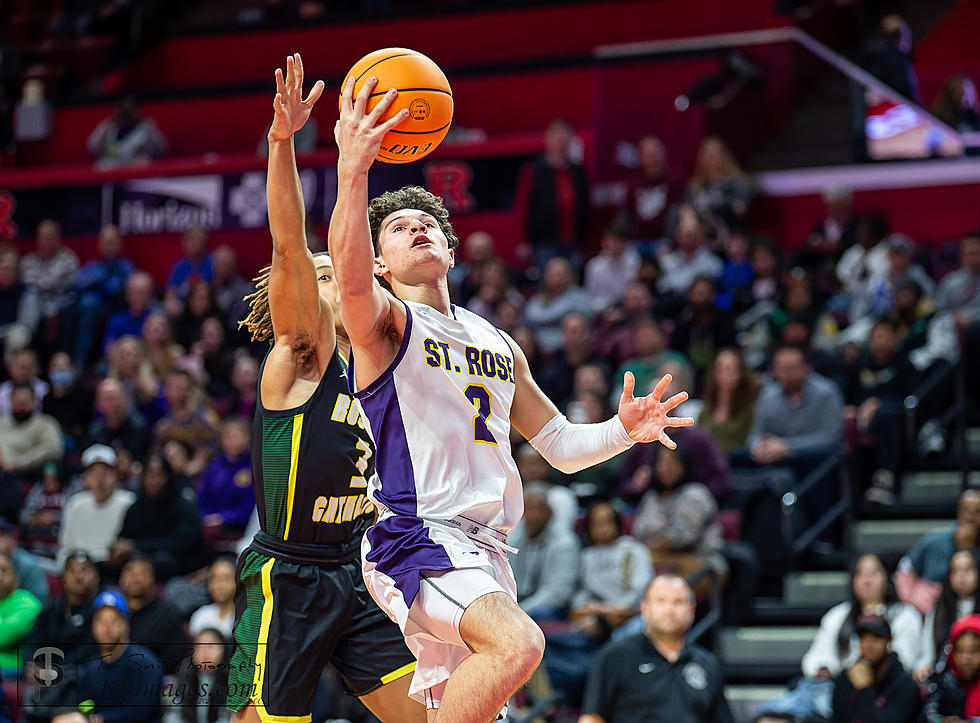 Roselle Catholic Denies St. Rose in the Fourth, Wins Second Straight Boys Basketball Non-Public B Title
St. Rose sophomore Peter Mauro gets into the lane past Roselle Catholic senior Christian Pierre-Louis. (Photo: Tom Smith | tspsportsimages.com)

PISCATAWAY -- For the first 24 minutes of the NJSIAA Non-Public B championship game, the St. Rose boys basketball team looked like it was ready to beat the next team in New Jersey.
For the final eight, the reigning No. 1 team in the state showed St. Rose why it has earned that distinction and how far the young Purple Roses team has to go over the next year.
St. Rose caught fire in the third quarter and took a one-point lead into the fourth, but Roselle Catholic took the game over late in putting away a 68-59 win over the Purple Roses for their second straight Non-Public B title and sixth of the last 11 seasons.
"I think the guys did a great job," St. Rose coach Brian Lynch said. "I'm proud of the way they fought, for coming together in such a short period of time. Gelling and trying to figure out the chemistry was a great challenge this year and the good news is this is a year under our belt as a team and now we know what it's going to take to get back here and hopefully get a different outcome."
Facing a St. Rose team that did not play a senior in Friday night's game, Roselle Catholic turned to its senior core to bring home another title. Arizona State commit Akil Watson scored a game-high 23 points and blocked three shots, Duke commit Mackenzie Mgbako added 13 points and nine rebounds, Sebastian Robinson poured in 13 points and Simeon Wilcher chipped in eight points, seven assists and three steals.
Watson and Mgbako combined for 13 of the first 14 points Roselle Catholic scored in the fourth quarter, which began with runs of 9-0 and 14-5 by Lions to swing a 44-43 deficit into a 57-49 lead. Mgbako put his team ahead with a contested three on the first possession of the fourth quarter and added four free throws, while Watson hit a pair of free throws, connected on a reverse and dunk.
St. Rose junior Matt Hodge led the way with 19 points and eight rebounds and hit a three-pointer that cut the deficit to 57-52, only for 6-foot-8 junior Rich Brisco to come right back with a powerful one-hand dunk over him to fire up the Lions on the court and on the bench.
The Purple Roses twice cut the deficit to six, but a spell of missed free throws -- which has plagued St. Rose over the final three weeks of the season -- kept Roselle Catholic up by multiple possessions. St. Rose shot 7-for-14 from the line in the game and before a pair by sophomore Bryan Ebeling hit two to make it 63-57, the Purple Roses had gone two for their last eight.
Roselle Catholic, meanwhile, thrived on the free-throw line, shooting twice as many attempts and finishing 22-for-28 (78.6 percent).
"I'm very familiar with that team," said Roselle Catholic coach Dave Boff, whose son attends St. Rose. "I told everybody from day one they were going to be one of the three or four or five best teams in the state this year and next year, they are going to have an opportunity to be even better if they continue to develop. Brian has done a great job with that group over there."
St. Rose appeared to be in trouble early in the third quarter, when Roselle Catholic started the second half with a dunk by junior Tarik Watson that gave the Lions their first double-digit lead, 35-25. Ebeling, however, nailed a three from the left wing that ignited a 12-0 run that pulled St. Rose from the brink and catapulted the Roses into the lead, 37-35.
Ebeling built the run further with a drive to the basket and sophomore Pater Mauro took over with seven straight points to cap the run, with his layup off a feed from junior Gio Panzini forcing Roselle Catholic to take a timeout with just over four minutes left in the quarter.
Wilcher responded with a layup out of the timeout, but Mauro came back with nifty left-handed revers, followed by a pair of free throws from Hodge that gave St. Rose a 41-37 lead.
Roselle Catholic chipped the lead down to one and a dunk by Mgbako off a feed from Wilcher pushed the Lions back in front with 35 seconds left in the quarter, but the Purple Roses rode into the fourth with some momentum when Panzini grabbed an offensive rebound on the run and hit a difficult, running, fall-away shot as time expired in the third, sending the game to the fourth with St. Rose leading, 44-43.
Mauro finished with 12 points while Ebeling played a strong all-around game with nine points, eight rebounds and four assists. Panzini also chipped in eight points and four steals, while sophomore Evan Romano contributed nine points off the bench.
Freshman Jayden Hodge -- who missed the regular-season matchup between the two teams due to illness -- scored just two points, but his presence made a major difference on the defensive end this time around. Jayden Hodge picked off a game-high five steals and helped slow down Mgbako, who burned the Purple Roses for 27 points on 10-for-15 shooting in Roselle Catholic's 77-56 win on Jan. 21.
"Just having him out there made us feel better because we had our whole team out there," Matt Hodge said of his younger brother. "It doesn't matter if his shot is going in. He is going to bring the intensity on defense and he is going to be creative on offense to find ways to contribute."
On Friday, it was Akil Watson's turn to burn the Roses, with the Arizona State commit shooting 10-for-14 from the floor and 3-for-3 from the free-throw line.
Watson scored 15 of his points in the first half, when St. Rose battled Roselle Catholic to a near-stalemate before a sequence at the end of the half left the Purple Roses with an eight-point deficit, 33-25, instead of four. Mauro and Hodge missed consecutive layups, and Roselle Catholic turned it around into a layup on the other end by Wilson.
Matt Hodge and St. Rose sent a message early on that they would not back down. Early in the first quarter Wilcher raced on a fast-break, dunked the ball as Hodge fouled him and stared the 6-foot-8 St. Rose junior down after the finish.
Two possessions later, Hodge lost the Roselle Catholic defense, gained a head of steam, and threw down a savage dunk over Mgbako, who opted to try -- to no avail -- to take the charge.
Going toe-to-toe with the top team in the state was an important step for St. Rose considering where the team was during the 21-point loss on Jan. 21, but more importantly, where the Purple Roses hope to go. With all seven players -- Matt Hodge, Jayden Hodge, Panzini, Mauro, Ebeling, Romano and freshman Tyler Cameron -- who saw minutes Friday due back for 2023-24, St. Rose will be a force once again next season, when it will have a pair of senior leaders in Matt Hodge and Panzini.
"This is a great experience for the guys," Matt Hodge said. "We've got everybody coming back next year. This is great motivation: being able to play here at Rutgers against a great team with really good players is unbelievable. This will keep us motivated and this will keep us hungry to get even better."
10 Highest Paid College Football Coaches in 2022
The 10 highest paid college football coaches will collectively make over $88 million in 2022.
More From Shore Sports Network