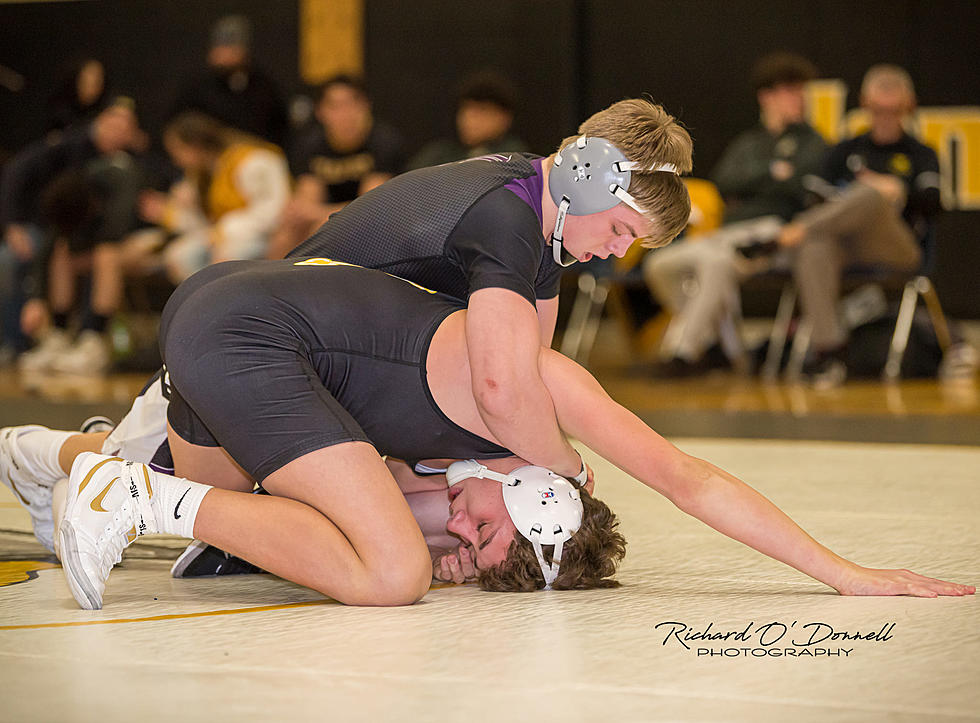 Returning New Jersey Wrestling State Qualifiers from the Shore Conference
Rumson-Fair Haven's Shay Addison placed fifth at 160 pounds at the 2020 NJSIAA Championships. (Photo by Richard O'Donnel)l.
With the New Jersey State Interscholastic Athletic Association announcing on Monday that it will sponsor an individual wrestling state tournament in 2021, it's time to take a look at the returning state qualifiers for the 2021 season.
The Shore Conference is a wrestling powerhouse in one of the best states for wrestling in the entire country, and should once again have several championship contenders.

Brick Memorial
Vincent Santaniello, Sr. (NJ-2nd at 120; NJ-3rd at 113 in 2019; NJ-8th at 106 in 2018)
David Szuba, Sr. (NJ-2nd at 195; three-time qualifier)
Anthony Santaniello, So., (NJ-2nd at 106)
Evan Tallmadge, Jr. (NJ-4th at 106; two-time qualifier at Brick Township)
Ryan Smith, Jr. (NJ-WB2 at 132)
Lucas Torre (NJ-WB1 at Point Boro at 106)
Christian Brothers Academy
Garrett Totten, Jr. (NJ-7th at 113; two-time qualifier at Northern Burlington)
Julian George, So. (NJ-WB4 at 126)
Tyler Barrett (NJ-WB3 at 145)
Sebastiano Nini, Sr. (NJ-WB1 at 120)
Zander Silva, So. (NJ-WB1 at 132)
Colts Neck
Logan Waller, Sr., (NJ-WB2 at 138; two-time qualifier)
Joe Barsky, Sr. (NJ-WB1 at 160)
Freehold
Angelo Messina, So. (NJ-WB3 at 106)
Howell
Neiko Malone, Sr., (NJ-WB2 at 126; two-time qualifier)
Paul Jakub, Sr., (Did not participate in 2020 postseason; NJ-WB2 at 152 in 2019; two-time qualifier)
Colin Bradshaw, So., (NJ-WB1 at 113)
Jackson Memorial
Luke Temple, Jr. (NJ-WB1 at 120)
Lacey
Brady Carter, Jr. (NJ-WB2 at 106 in 2019; Injured in 2020)
Vincent Ceglie, Sr. (NJ-WB1 at 220 in 2019; DNQ in 2020)
Manalapan
Gavin Claro, Sr. (NJ-WB4 at 195; two-time qualifier)
Marlboro
Zach Vasile, Sr. (NJ-WB2 at 132)
Matawan
Kamrin O'Neill, Sr. (NJ-WB3 at 126)
David Rubin, Sr. (NJ-WB2 at 113)
Middletown South
Jack Zaleski, So. (NJ-5th at 106)
David Hussey, So. (NJ-WB1 at 120)
Ocean
Joe Teresi, Sr. (NJ-WB2 at 285; two-time qualifier)
Demetri Poniros, Sr. (NJ-WB2 at 113)
Blake Tarnowski, Sr. (NJ-WB1 at 106)
Jared Tracey, Jr. (NJ-WB1 at 160)
Point Beach
Riley Simon, Sr. (NJ-WB1 at 132)
Red Bank Catholic
Sabino Portella, So. (NJ-WB4 at 160)
Rumson-Fair Haven
Jack Kelly, Sr. (NJ-5th at 170)
Shay Addison, Jr. (NJ-5th at 160)
Max Brignola, Sr. (NJ-8th at 145)
Tyler Brignola, Sr. (NJ-WB1 at 152)
Aidan Shaughnessy, Jr. (NJ-WB2 at 113)
St. John Vianney
Dean Peterson, Sr. (NJ-1st at 120; NJ-1st at 113 in 2019; NJ-2nd at 106 in 2018)
Blake Clayton, Sr. (NJ-3rd at 182; two-time qualifier)
Harrison Gordon, Sr. (NJ-WB3 at 106 at Marlboro)
Nico Diaz, Jr. (NJ-WB2 at 126; two-time qualifier)
Joseph Giordano, So. (NJ-WB2 at 106)
Shore
Jack Maida, Sr. (NJ-WB3; NJ-6th at 106 in 2019; three-time qualifier)
Mike McGhee, Sr. (NJ-WB2 at 145; two-time qualifier)
Southern
Eddie Hummel, Sr. (NJ-3rd at 138; NJ-6th at 126 in 2019 at Roselle Park)
Conor Collins, So. (NJ-WB4 at 106)
Matt Brielmeier, Sr. (NJ-WB2 at 126)
Cole Velardi, So. (NJ-WB2 at 152)
Toms River East
Michael Conklin, Sr. (NJ-WB4 at 132; three-time qualifier)
Joe McCullough, Jr. (NJ-WB1 at 126)
Toms River North
John O'Donnell, Sr. (NJ-WB3 at 285)
Wall
Jacob Whitworth, Sr. (NJ-6th at 182; two-time qualifier)
Nick Zamaloff, Sr. (NJ-WB1 at 145)
Brendan Newbury, Sr. (NJ-WB1 at 170)
CHECK IT OUT: 100 sports records and the stories behind them
More From Shore Sports Network