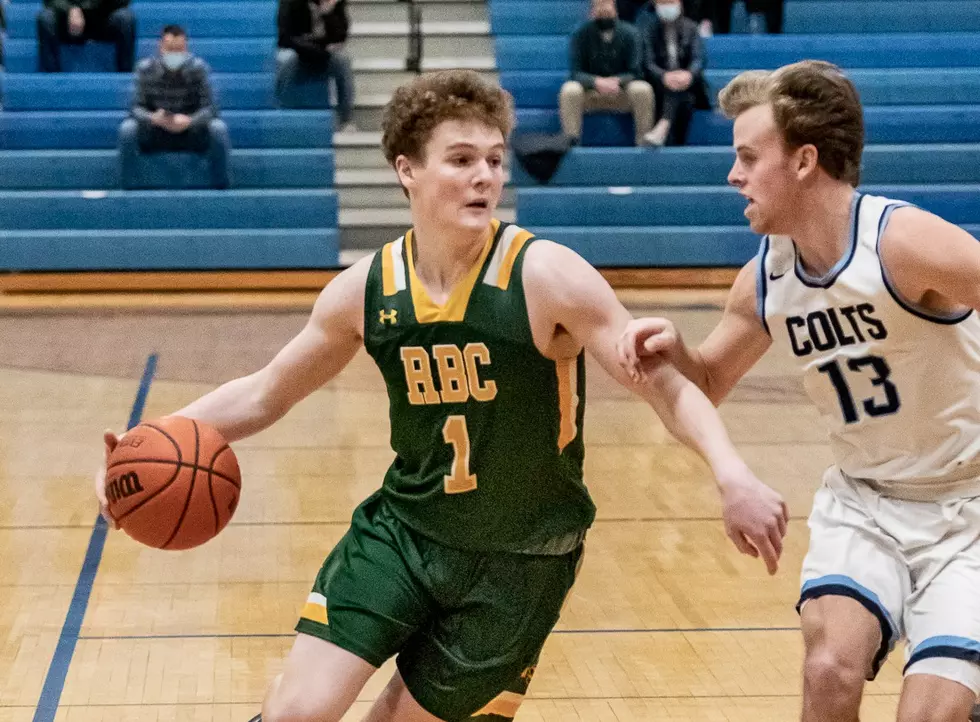 Preview: Shore Conference (NJ) Boys Basketball Lower Pod Championships and Consolations
Red Bank Catholic junior Cyril Arvanitis guarded by CBA senior Mike White. Photo: Tom Smith | tspsportsimages.com

Despite some dark days and cold weeks, we have made it to the end of the 2021 Shore Conference boys basketball season. Technically, the season concludes on Saturday with a number of stand-alone games, but the Shore Conference postseason will finish up Friday with four pod championship games, 11 consolation games and three round-robin match-ups in the lower pod.
Below is a look at the three consolation pod finals and the other consolation games throughout the Shore Conference on Friday. You can read a full preview of the Pod A championship game between Marlboro and Manasquan here.
Pod B Championship
No. 4 Rumson-Fair Haven (8-4) at No. 2 Wall (7-7), 5 p.m.
Wall is on the cusp of winning a remarkable third straight championship with this group of seniors. You may dismiss this title game as a B-League title, but the competition from Nos. 1-through-8 is close to the cumulative talent of top eight in the Central Jersey Group III bracket in each of the past two years. If Wall can finish off the championship, it will be fitting farewell to such an accomplished group.
It would also come against a very good team. When it has had a full roster, Rumson has played like a team worthy of the top eight in the Shore Conference and with a junior duo of Geoff Schroeder and Scott Gyimesi leading the way, Friday is a chance to really jumpstart the Bulldogs for 2022. In the end, though, the seniors on Wall will be the more likely group to seize this game. Prediction: Wall, 60-55
Pod C Championship
No. 3 Middletown North (8-6) at No. 1 Matawan (8-5), 4 p.m.
The two Pod C finalists opened their respective seasons by splitting two games with one another, with the road team winning both games. Middletown North's win came after Matawan won the season-opener in Middletown, with Huskies senior point guard Andre Wells running wild. Both teams have played close games lately and this one should be a fun one at 4 p.m. at Matawan – a very nice appetizer to the main event in Manasquan for those who like to throw on a few local streams on a busy night of basketball. Prediction: Middletown North, 64-63
Pod D Championship
No. 8 Freehold Boro (7-6) at No. 2 Manalapan (5-6), 3:45 p.m.
When his team was facing Manasquan for a fourth time last year, Holmdel head coach Sean Devaney scoffed at the idea that it is "hard to beat a team three times." Devaney countered: "It is if one team is just better." So that begs the question: is Manalapan that much better than Freehold Boro that the Braves can roll through the Colonials for a third time? After two close losses to Manalapan and a couple road wins this week, it should be Freehold's turn this time. Prediction: Freehold Boro, 50-46
Consolation Games
Pod A
Third Place Game
No. 4 CBA (9-4) at No. 2 Ranney (8-1), 4:30 p.m.
So much of this game is about motivation. Both teams just came up a win short of the championship game and will have to bounce back from that disappointment. With that in mind, CBA is a senior-led team that lost to Ranney by nine in the regular season and will almost certainly be fired up to play. Ranney was set on getting a shot at Manasquan, so there is more of a chance of a letdown on the Panthers' side. Prediction: CBA, 58-54
Fifth Place Game
No. 6 Holmdel (8-2) at No. 5 Red Bank Catholic (10-1), 5:30 p.m.
These teams met less than a week earlier in Holmdel and Red Bank Catholic coasted. The hope for the Hornets is the Caseys are still reeling from a humbling loss at CBA, followed by a close call Wednesday at home against Neptune. Again, motivation could be a big factor here and Holmdel is the senior-led team trying to avenge an earlier loss. In this one, though, RBC has a little too much firepower. Prediction: Red Bank Catholic, 61-56
Seventh Place Game
No. 8 Neptune (2-7) at No. 7 Southern (10-3), 5:30 p.m.
Neptune showed up to win on Wednesday and came up just short in a two-point loss at Red Bank Catholic. That's a good sign that the Scarlet Fliers want badly to finish 2021 with a win after going 2-7 against an unforgiving schedule to this point. Southern, meanwhile, can cement its Top 10 spot by defending the home court. Prediction: Neptune, 58-49
Pod B
Third Place Game
No. 8 Howell (8-5) at No. 3 Toms River North (10-4), 5 p.m.
Toms River North won a competitive regular-season meeting between the two teams and both are reeling after blowout losses to the two finalists. Prediction: Howell, 56-50
Fifth Place Game
No. 7 Central (8-3) at No. 1 Manchester (9-3), 6:30 p.m.
Manchester got a good bounceback win over Mater Dei on Wednesday and closing the season strong will be important for the Hawks' talented, junior-dominated team. Prediction: Manchester, 63-57
Seventh Place Game
No. 6 Barnegat (9-5) at No. 5 Mater Dei Prep (6-5), 5 p.m.
Mater Dei gets to return home after a long stretch away from its gym, at least in a game setting. Both teams are due for a win after two losses, but Mater Dei is a little more due. Prediction: Mater Dei, 61-49
Pod C
Third Place Game
No. 7 Jackson Liberty (7-7) at No. 5 Colts Neck (5-8), 5:30 p.m.
The regular-season game between these two teams ended with Colts Neck's Richie Lee getting fouled on a three-point attempt at the buzzer and hitting the winning free-throw with no time on the clock. Jackson Liberty will be hungry for payback but can the Lions get it on the road? Prediction: Colts Neck, 47-45
Fifth Place Game
No. 8 Donovan Catholic (5-8) at No. 6 Keyport (8-3), 5 p.m.
Keyport got a pass into the fifth-place and an extra day to practice when St. John Vianney had to withdraw from the tournament. Donovan Catholic, meanwhile, has really stepped up its game over the last two weeks. Prediction: Donovan Catholic, 59-55
Pod D
Third Place Game
No. 6 Point Boro (4-7) at No. 4 St. Rose (2-7), 3:45 p.m.
St. Rose has a lot of seniors finishing their careers Friday and that will make a difference against a Point Boro team without a senior. Prediction: St. Rose, 55-44
Fifth Place Game
No. 7 Monmouth (5-7) at No. 1 Red Bank (3-8), 6:30 p.m.
Given a longer season with a more conventional schedule, both of these teams had the potential to come up with more than they did in this shortened season. After losing the first round to Monmouth at home, the Bucs defend their home court this time. Prediction: Red Bank, 56-53
Seventh Place Game
No. 5 Raritan (7-6) at No. 3 Ocean (7-7), 4:15 p.m.
Both teams opened their season against one another and will now be closing it the same way. Raritan won the first meeting by double-figures but Ocean is playing much better now and should keep it closer. Prediction: Raritan, 53-48
Pod E
Brick Memorial (7-7) at Toms River East (1-13), 5 p.m.
The Mustangs have had an up-and-down season that had potential to be better with better injury luck. On Friday, they will have a chance to close up with a winning record which should lift the mood heading into a promising offseason. Prediction: Brick Memorial, 62-46
Toms River South (3-11) at Brick (6-5), 4 p.m.
A rematch of one of the year's more exciting games, Brick erased a 19-point deficit in that one only to come up short. The Green Dragons have improved throughout the season and are ready to finish the job this time. Prediction: Brick, 54-51
Jackson Memorial (3-6) at Pinelands (3-10), 7 p.m.
Over the last three games, the Jaguars look more like the team that entered the season with some juice, but this is also the toughest matchup of the week for them. Prediction: Jackson Memorial, 49-45
More From Shore Sports Network