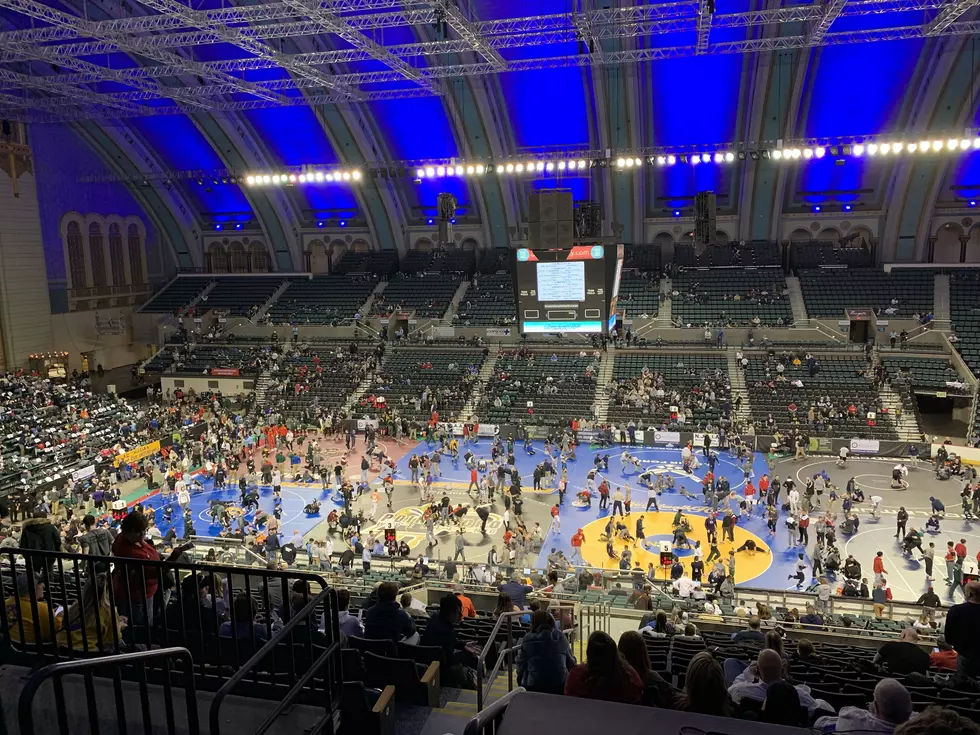 Ocean's Joe Teresi, RBC's Steve Cmielewski pull upsets to reach state quarterfinals
Photo by Robert Badders/Townsquare Media NJ
ATLANTIC CITY – When Ocean sophomore Joe Teresi initially qualified for the NJSIAA Individual Championships he was ecstatic, but that feeling was quickly replaced by doubt. He wondered if he had what it took to compete with the best in New Jersey.
"Last week when I made it to states I was thinking to myself I don't think I'm going to win," Teresi said. "My mindset has to be right and going into a match I have to say I'm going to win. I got my head right and just went out there and did my thing."
As the No. 24 seed at 285 pounds, Teresi was the second-lowest seed to advance to the state quarterfinals on Thursday at Boardwalk Hall after he pinned Seton Hall Prep's Nikolaos Diakides and then won by fall over Don Bosco Prep's Jonathan Alvarado, taking out the No. 9 and No. 8 seeds, respectively. He's now one victory away from a state medal.
"We learned a lot from last year with Alex Poniros (who placed seventh at 132 as the No. 25 seed) and we tell them all year long that seeds don't matter," said Ocean head coach Cippy Apicelli. "When we saw the draw we thought it was a good spot because we avoid the Voorhees kid (defending state champ Lewis Fernandes) and you avoid those guys who are state medalists."
Teresi pinned Diakides in 2:21 in the preliminary round and needed just 64 seconds to deck Alvarado in the pre-quarterfinals.
"I would like to think people do their homework but at the end of the day he's dangerous and that's gotta count for something, too," Apicelli said. "He got here because he works hard, he listens and now he's one win away from getting a medal, and that's pretty cool."
"I came here to make some noise and I did," Teresi said.
The road gets appreciably more difficult Friday afternoon when he will face the top-seeded Fernandes, who has an 87-match winning streak and is ranked No. 6 in the nation.
"He's going to have a tough one in the morning but he's not going to roll over," Apicelli said. "Nobody in this building thinks he's going to do anything tomorrow, but that (pre-quarterfinals) match is the difference between having to win one or having to win three to get a medal. He's put himself in position."
Making noise right before Teresi was Red Bank Catholic senior Steve Cmielewski, the No. 14 seed at 220 pounds, who piled up a big lead before pinning third-seeded Zach Lewis of Emerson/Park Ridge in 4:16 to reach the quarterfinals. It was Cmielewski's second pin of the day after he won by fall in 28 seconds over Lacey's Vin Ceglie in the prelims.
"We had a game plan," Cmielewski said. "I knew I was the underdog and that's what I like. I brought it to him.
Cmielewski entered the tournament with a 39-3 record, his three losses coming to Point Boro's Billy Borowskky (twice) and Bordentown/Florence's Jajuan Hayes. The common theme in all three defeats was that Cmielewski was tentative.
"Here's a kid who works so hard in football and wrestling that sometimes you worry he puts too much pressure on himself, and win that comes 'I can't lose'," said RBC head coach Joe Gallagher. "He lost to two very good wrestlers this year and we looked at the commonality and he wasn't aggressive. He was wrestling not to lose instead of wrestling to win. We felt if we go and shoot we win. We told him don't walk out of here saying, 'What if'."
"I just did what they told me," Cmielewski said. "Right when the whistle blew I went after him."
Cmielewski will wrestle Garfield's Michael Filieri (38-2) in the quarterfinals.
The Shore Conference had 21 wrestlers in total advance to Friday's quarterfinals, including three each at 106, 170 and 285. At 106 pounds, Toms River North senior Louie Gagliardo win a 6-5 thriller over Lacey freshman Brady Carter with a takedown in the final five seconds.
"It doesn't matter what the score is, if you believe in yourself the whole time you'll get it done," Gagliardo said. "Gosh, I had to dig deep and really had to find it in myself. I kept telling myself no matter what the score is, you're winning this."
Carter had taken a 5-3 lead with a takedown at the 35-second mark before Gagliardo earned an escape to make it 5-4 and then secured the winning takedown. It was Gagliardo's third win over Carter in the last two weeks after winning in the District 26 and Region 7 finals.
"He really attached more this time and he's tough," Gagliardo said. "We know each other so well; he knows I'm going to go for a dump, knows I'm going to go for a sweep. I had to switch it up."
Gagliardo will wrestle the top seed, Hunterdon Central's Brett Ungar, in the quarterfinals.
"I feel really good and I'm really hoping to shock a lot of people."
Joining Gagliardo in the 106-pound quarterfinals are Shore's Jack Maida and Middletown North's Tyler Klinsky. Maida, the No. 3 seed, won by technical fall and fall in his first two bouts while Klinsky won by major decision and fall in his first two bouts. Maida will wrestle Pope John's Shane Percelay and Klinksy has Bergen Catholic's Joseph Cangro.
At 113 pounds, St. John Vianney's Dean Peterson and Brick Memorial's Vincent Santaniello each advanced to the quarterfinals. Peterson is the No. 1 seed and Santaniello is the No. 6 seed. Peterson will face Pingry's Brandon Spellman and Santaniello has Bergen Catholic's Nick Kayal.
Freehold's Nico Messina won by 4-3 decision over Westfield's Luke Hoerle to reach the quarterfinals at 120 pounds. He is believed to be Freehold's first quarterfinalist since Carlos Fontanez in 1964.
"It's all in your head down here," Messina said. "It's a long weekend and you just have to take it match by match and keep your head right while everyone's breaking."
Messina will wrestle the No. 2 seed, Pope John's Eddie Ventresca, in the quarterfinals.
"I feel like I have nothing to lose and I'm just going to keep going for it all," Messina said. "There's nothing holding me back; no excuses. It's go time."
Also at 120 pounds, Jackson Memorial's Vin Scollo win 2-1 in tiebreaker over High Point's Devin Flannery to reach the quarterfinals. Scollo gets two-time state champion Anthony Clark of Delbarton in the quarterfinals.
Lacey's Hunter Gutierrez won 1-0 over Shore's Al DeSantis to reach the 132-pound quarterfinals. He will face Collingswood's Andrew Clark in a rematch of the Region 7 semifinals won by Clark, 2-0.
At 138, Howell's Darby Diedrich, the No. 2 seed, needed sudden victory to defeat Delbarton's Andrew Troczynski, 3-1. He will face Bergen Catholic's Alex Strashinsky in the quarterfinals.
Southern's Nick O'Connell won 6-4 over St. Augustine's Connor Kraus to reach the 152-pound quarterfinals. O'Connell also defeated Kraus in the Region 8 final. He will wrestle West Morris's Justin LeMay next.
Wall's Rob Kanniard, the No. 1 seed at 160 pounds, won by technical fall and major decision to cruise into the quarterfinals. He also extended his Shore Conference wins record to 162 victories. Manalapan's Matt Benedetti also reached the quarterfinals by pinning Ramapo's Justin Leonard late in the third period of a 1-1 bout. Kanniard will take on Paramus's Tony Asatrian and Benedetti will tangle with West Orange's Colin Morgan in the quarterfinals.
At 170, Howell's Shane Reitsma, Southern's Justin Stout and Raritan's George Burdick each advanced to the quarterfinals. The top-seeded Reitsma won by major decision twice and will face Northern Burlington's Anthony Giampietro next. Burdick had a pair of decisions, the latter coming over Monroe's Nicholas Weikel, 7-3. He will square off against Delbarton's A.J. Lonski in the 4-5 matchup. Stout won 7-2 over Northern Highlands' Anthony Sciuto and will face Camden Catholic freshman Martin Cosgrove, who stunned No. 3 seed and previously-undefeated senior Garrett Bilgrav of Robbinsville, 10-5.
Rumson-Fair Haven's Nick Addison, the No. 3 seed, won by 13-3 major decision over Jackson Memorial's Brock Winston at 182 pounds. He will meet Montville's Alex Garcia in the quarterfinals.
Middletown North's Jacob Anderson won 2-0 over Northern Burlington's Tommy Hill to reach the 195-pound quarterfinals. His opponent in the round of eight is Montville's Joe Daddario.
Joining Teresi in the 285-pound quarterfinals are Long Branch senior Kevin Cerruti and St. John Vianney senior Paul Liseno. Cerruti, the No. 4 seed, won 8-3 over Ewing's Chris Seifert and will next face Mt. Olive's Jayvon Davidson. Liseno, the No. 3 seed, won by fall in both his bouts, including a pin over Hunterdon Central's Ryan Joyce in the pre-quarterfinals. He will square off against Franklin's Marcus Estevez in the quarterfinals.
Actions resumes Friday morning at 9 a.m. with the first round of wrestlebacks. The quarterfinals are scheduled for 12:30 and the semifinals are at 6 p.m.
Managing editor Bob Badders can be reached at bob.badders@townsquaremedia.com. Follow him on Twitter @Bob_Badders. Like Shore Sports Network on Facebook and subscribe to our YouTube channel for all the latest video highlights.