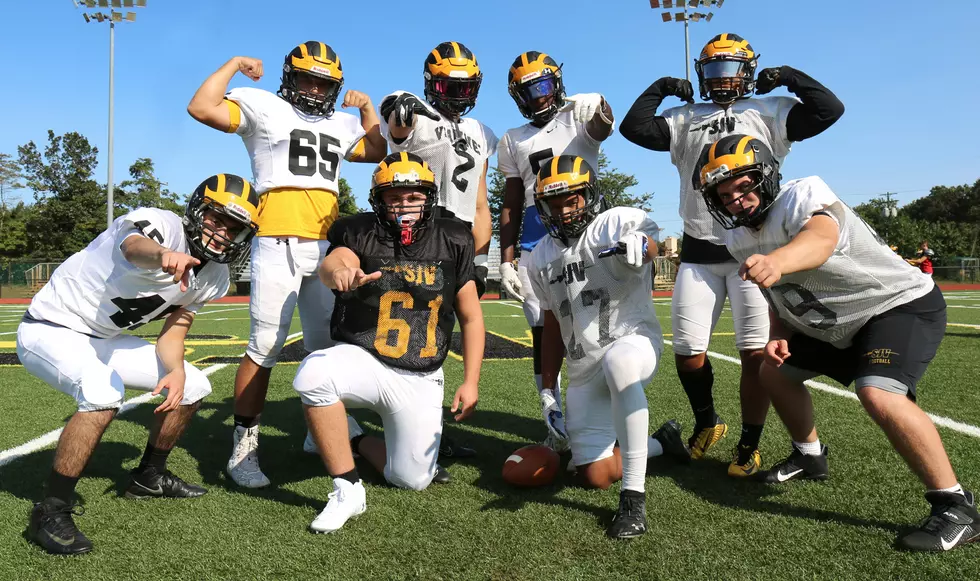 Not Done Yet: 2020 St. John Vianney Football Preview
Photo by Richard O'Donnell

Enter your number to get our free mobile app
From 2014 to 2017, St. John Vianney was routinely the Shore Conference's top team – playing a loaded schedule and playing deep into the NJSIAA Playoffs in one of New Jersey's toughest sections.
Over the past two seasons, marquee talent has graduated and the Lancers have come back to the pack while the schedule has remained grueling.
As has been the case over the past several seasons, St. John Vianney will have some serious talent to replace but in this abbreviated 2020 season, the schedule – which is absent every opponent from each of the past two seasons – opens the door for another high win total.
On the field, there will be some new faces, but also some similarities and some key entrenched starters. Josh East and Julian Young have been mainstays in the lineup and a number of young contributors from last year – led by dynamic sophomore quarterback Antonio Rosato – are ready for greater roles.
Another member of the Lancers who is stepping up his role is head coach Mike Alberque, who was an assistant under previous coach Joe Martucci and is also the school's athletic director.
"I work in the building, so the kids know me and they know I support them in whatever they're doing in the school," Alberque said. "I think what we were doing with coach Martucci in terms of gameplans and schemes was pretty much on-target and I brought back a good number of coaches from the staff so there is not a big difference for the guys who are back.
"I think the big difference is the energy in the summer and in the first week of the practice, which I think is because the kids were locked inside for so long. I'd love to take credit for their excitement but I think they would be fired up to do just about anything right now so we're going to try to take advantage of that."
Projected Starters (RS=Returning Starter; 3RS=Third-Year Starter)

RB: Peter Pezzullo, Jr.; Blake Clayton, Sr., Corey Pitts, Jr.; Tim Crudup, Sr.; Joey Abarno, Jr.
WR: Isaac Montalvo, Jr.; T.J. Crudup, Sr.; Troy Dey, Jr.
LG: Robert Lambe, Sr.; David Glass, Sr.
RG: Dominick McCaffery, Sr. RS; Tim O'Dowd, So.
DT: Jacob Davis, Jr.; Ethan Cawley, Jr.
DE: Blake Clayton, Sr. RS; Makal Davis, So.
ILB: Julian Young, Sr. 3RS
OLB: Nick Guarasi, Sr.; Mason Shenk, Jr.
CB: T.J. Crudup, Sr.; Peter Pezzullo, Jr.
FS: Isaac Montalvo, Jr.; Troy Dey Jr.
Head Coach: Mike Alberque, first season
Assistant Coaches: Jeff Papcun (Off. Coordinator), Mike Morgan (Def. Coordinator), Mike Warnock (OL), Ed Hernandez (DL/Special Teams), Dan Fierro (QB/Passing Coordinator), Tony Abarno (WR), Jamiel Sims (LB), Mark Alberque (DB), Brian Lucas (Freshman), Lou Liberatore (Freshman), Ruthann Rutledge (Athletic Trainer)
Player to Watch: Josh East (Sr., WR/CB) and Julian Young (Sr., TE/ILB)
East is a third-year starter who can wear many hats for the Lancers: he can play quarterback, carry the ball, cover and catch passes. This year, he will be the top returning wide receiver and No. 1 cornerback for a St. John Vianney team that will be strong again at the receiver position, as well as in the secondary thanks to a handful of quality two-way talent.
Young is St. John Vianney's other established two-way senior and he will again occupy the tight end and inside linebacker spots. Young led the team with 72 tackles in 2019 and with sophomore quarterback Antonio Rosato showing as a freshman he can get the passing game going, the Lancers tight end should have his moments on offense as well.
"Josh East is a pretty special player with all he can do on a football field," Alberque said. "Julian Young is also a very versatile player in his own right and he's also a very vocal kid, which is key when you're playing in a middle linebacker spot."
Player Under the Radar: Mason Shenk, Jr., K/OLB
Shenk showed promise as a sophomore kicker and could be poised to challenge for an All-Shore spot at the position over the next two seasons after knocking in 20-of-22 extra-point attempts and connecting for a 37-yard field goal last year. He is also in the rotation at outside linebacker in St. John Vianney's 3-4 scheme so he is more than just a big leg.
Impact Newcomer: Makel Davis, So., RT/DE
The Lancers will boast an inexperienced offensive line, with Davis slated to start at right tackle and junior Jacob Davis (no relation) lined up to take the starting left tackle spot. They are two of the four new starters on the offensive line along with returnee and right guard Dominick McCaffery. The Lancers return two starting defensive ends in Robert Lamb and Blake Clayton so Davis will work in to give the both a breather when needed.
"He got into some games last year so he is not completely new to the varsity game," Alberque said of Makel Davis. "You hope that time makes jumping into the starting lineup a little easier because he has the size and the ability to be very good."
Top Position Group: Receivers/Passing Game
Despite losing standout junior Jayden Bellamy to Bergen Catholic, the Lancers will still have a receiving corps that can stack up with any of the opposing receivers on their schedule and most other units at the Shore. East is a varsity football veteran, sophomore Kyle Verriest made plays as a freshman last year, T.J. Crudup transferred in from Barnegat for his senior season and juniors Isaac Montalvo and Troy Dey are also capable of making plays in the passing game. Throw in Young as the tight end and Rosato will have plenty of options when he drops back.
"Jayden is a special, special player and you don't find many kids with his talent, but as coaches always say, there is only one football to go around," Alberque said. "Even though we don't have Jayden, we still have a lot of skill guys who we're excited about using in different looks and they're all deserving of an opportunity."
Big Shoes to Fill: Peter Pezzullo, Jr., RB/CB
Kavon Chambers was a steady back at SJV, as well as at Central Regional prior to transferring for his final two seasons of high school. While his numbers took a dip last season, he still posted 7.8 yards per carry and seven touchdowns, so figuring out the backfield will be an early-season priority for Alberque and his staff. Pezzullo has the inside track to take over as the feature back on offense and on defense, he will add depth to a secondary that will have to pick up the slack with the transfer of Bellamy.
X-Factor: Antonio Rosato, So., QB
Even with a proven senior in C.J. Duell starting at quarterback last year, Rosato earned important snaps at quarterback as a freshman and showed he was ready right away. Now a sophomore, Rosato brings big-play ability both in the air and with his legs and his ability to absorb the entire playbook and adjust to running an entire game as the quarterback will determine how effective the St. John Vianney offense is this season.
"What separates Antonio is his ability to make plays with his legs," Alberque said. "He throws it very well and he also reads defenses pretty well and a lot of times, quarterbacks who are good in that aspect aren't as much of a threat running the ball but he absolutely is."
Friday, Oct. 2 at Red Bank, 7 p.m.
Friday, Oct. 9 vs. Raritan, 7 p.m.
Friday, Oct. 16 at Matawan, 7 p.m.
Friday, Oct. 23 vs. Holmdel, 7 p.m.
Friday, Oct. 30 at Ocean, 7 p.m.
Friday, Nov. 6 vs. Howell, 7 p.m.
More From Shore Sports Network