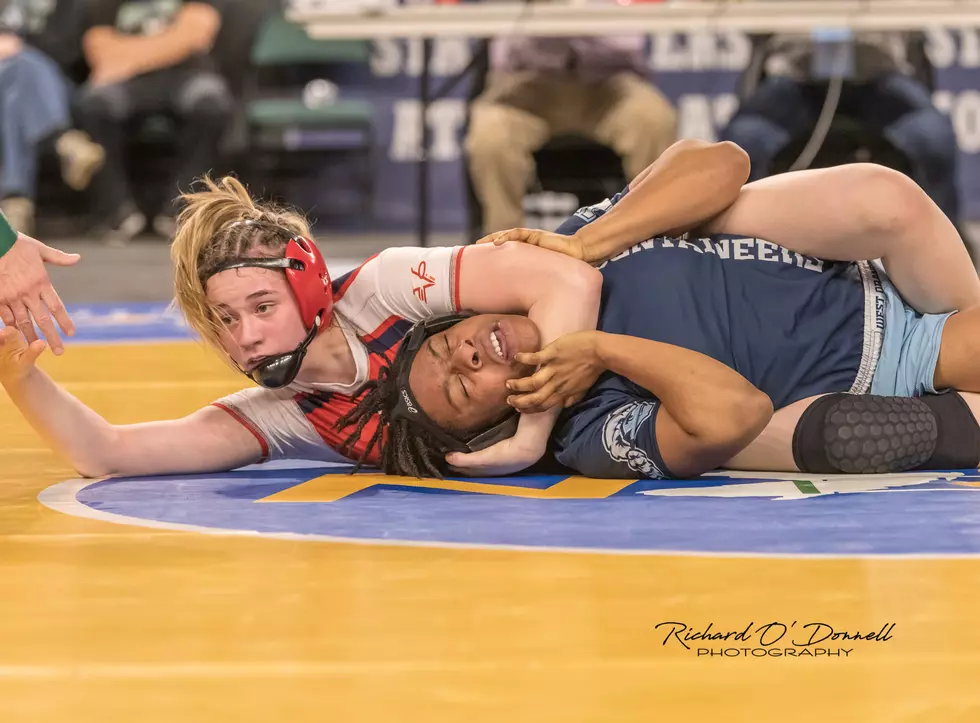 New Jersey Girls Wrestling 2021 South Region Pairings and Brackets
Photo by Richard O'Donnell.

Two defending region champions, including a returning two-time state champion plus five additional returning state medalists headline a group of 29 Shore Conference girls who have been seeded for Saturday's NJSIAA South Region wrestling tournament.
A maximum of 176 girls could be seeded for the North and South Region tournaments, a pandemic-caused departure from the last two seasons when teams could enter as many wrestlers as they wanted. Some weight classes have less than eight wrestlers, bringing the South Region total to 79 wrestlers. The Shore Conference is well-represented with over one-third of all competitors, including all six entrants at 180 pounds.
Saturday's South Region will take place at Williamstown High School. The North Region will be held at Union High School. The top-four finishers in each of the 11 weight classes will advance to the state tournament, which will be held on Saturday, April 10 at Phillipsburg High School.
Manalapan senior Jessi Johnson leads the way as a two-time defending NJSIAA champion and will be looking to win her second region title. She is the No. 1 seed at 161. Lakewood sophomore Jayla Hahn is a returning region champion and finished third in the state at 143 last year when she attended Central Regional High School. Jackson Memorial junior Jordyn Katz was the state runner-up at 143 pounds last season and is seeded No. 2 at 161. Manalapan senior Julian Manolas (6th at 107), Jackson Memorial junior Abigail Stanberry (6th at 151), Lakewood senior Ana Gonzalez (4th at 161) and Jackson Memorial senior Gina Novello (6th at 180) are also returning state medalists.
100
5-Eveyln Ford (Pennsville) vs. 4-Rosemary Santiago (Paulsboro), winner vs. 1-Julian Manolas (Manalapan)
6-Rhiannon Gaguski (Hopewell Valley) vs. 3-Sheila Cortez (Lakewood), winner vs. 2-Jaclyn McDowell (Gloucester City)
107
5-Cloe Wong (Raritan) vs. 4-Trinity Valentin-Walczak (Manalapan), winner vs. 1-Ava Rose (Princeton)
6-Chelsea Bautista (Brick) vs. 3-Marissa Plumeri (Steinert)
7-Jillian Parrino (Old Bridge) vs. 2-Jennifer Estrada (Trenton Central)
114
Sophia Hibbs (Kingsway) vs. 1-Chloë Ayres (Princeton)
5-Gianna Tandari (Jackson Memorial) vs. 4-Gianna DeDreux (Brick)
6-Mikayla Berry (Rancocas Valley) vs. 3-Emma Coesfield (Delsea)
7-Yasmin Saucedo (Lakewood) vs. 2-Riley Lerner (Cedar Creek)
121
8-Joelle D'Angelo (Lawrence) vs. 1-Kalli Roskos (Delran)
5-Miranda Zona (Jackson Memorial) vs. 4-Angelina Leone (Egg Harbor)
6-Jazleen Guzman (Raritan) vs. 3-Kaleigh Duffy (East Brunswick)
7-Maya Hemo (Cherry Hill East) vs. 2-Madison Trotman (Rancocas Valley)
128
8-Alexandra Kaiafas (Delran) vs. 1-Gabriella Miller (Old Bridge)
5-Sabrina Maniscalco (Manalapan) vs. 4-Skyy Hills (Cherry Hill West)
6-Frankie Distel (East Brunswick) vs. 3-Chloe Lawler (Jackson Memorial)
7-Dakota Sweet (Rancocas Valley) vs. 2-Karielys Reyes (Trenton Central)
135
8-Maya McCabe (Mainland) vs. 1-Emma Matera (Delran)
5-Dakota Morissy (Pemberton) vs. 4-Kaitlyn Bower (Rancocas Valley)
6-Iwalani Arguedas (Trenton Central) vs. 3-Lexi Mazzella (Bordentown)
7-Sofia Sepulveda Pizar (East Brunswick) vs. 2-Danica Haines (Palmyra)
143
8-Taylor Ludwig (Manalapan) vs. 1-Jayla Hahn (Lakewood)
5-Jakie Banister (Rancocas Valley) vs. 4-Anne Trainor (Hopewell Valley)
6-Kamila Bieszczad (Jackson Memorial) vs. 3-Alexa Firestone (Kingsway)
7-Melissa Wehrle (Spotswood) vs. 2-Alexis Rosano (Eastern)
151
5-Lia Almonte (Cherry Hill West) vs. 4-Savanna Marlin (Rancocas Valley), winner vs. 1-Katherine Bott (Kingsway)
6-Emiliya Sarnov (Howell) vs. 3-Abigail Stanberry (Jackson Memorial)
7-Erika Sarmiento (Palmyra) vs. 2-Rachel Forsman (Eastern)
161
8-Syrenah Hannah (Allentown) vs. 1-Jessi Johnson (Manalapan)
5-Peyton Rieger (Kingsway) vs. 4-Marlene Flores (Lakewood)
6-Olivia Palmer (Timber Creek) vs. 3-Amirah Giorgianni (Mainland)
7-Kaitlyn Huston (Manchester) vs. 2-Jordyn Katz (Jackson Memorial)
180
5-Ella Yanuzzelli (Southern) vs. 4-Julia Schleuss (Wall), winner vs. 1-Ana Gonzalez (Lakewood)
6-Shannon Glowacka (Marlboro) vs. 3-Gianna Seeley (Raritan), winner vs. 2-Gina Novello (Jackson Memorial)
215
5-Shellitha Collins (Ewing) vs. 4-Evelyn Santana (Cherry Hill West), winner vs. 1-Mia Lazaurs (Raritan)
3-Janel Carty (Marlboro) vs. 2-Alexsandra Bieszczad (Jackson Memorial)
LOOK: Here are the 25 best places to live in New Jersey
Stacker
compiled a list of the best places to live in New Jersey using data from
Niche
. Niche ranks places to live based on a variety of factors including cost of living, schools, health care, recreation, and weather. Cities, suburbs, and towns were included. Listings and images are from
realtor.com
.
On the list, there's a robust mix of offerings from great schools and nightlife to high walkability and public parks. Some areas have enjoyed rapid growth thanks to new businesses moving to the area, while others offer glimpses into area history with well-preserved architecture and museums. Keep reading to see if your hometown made the list.
More From Shore Sports Network