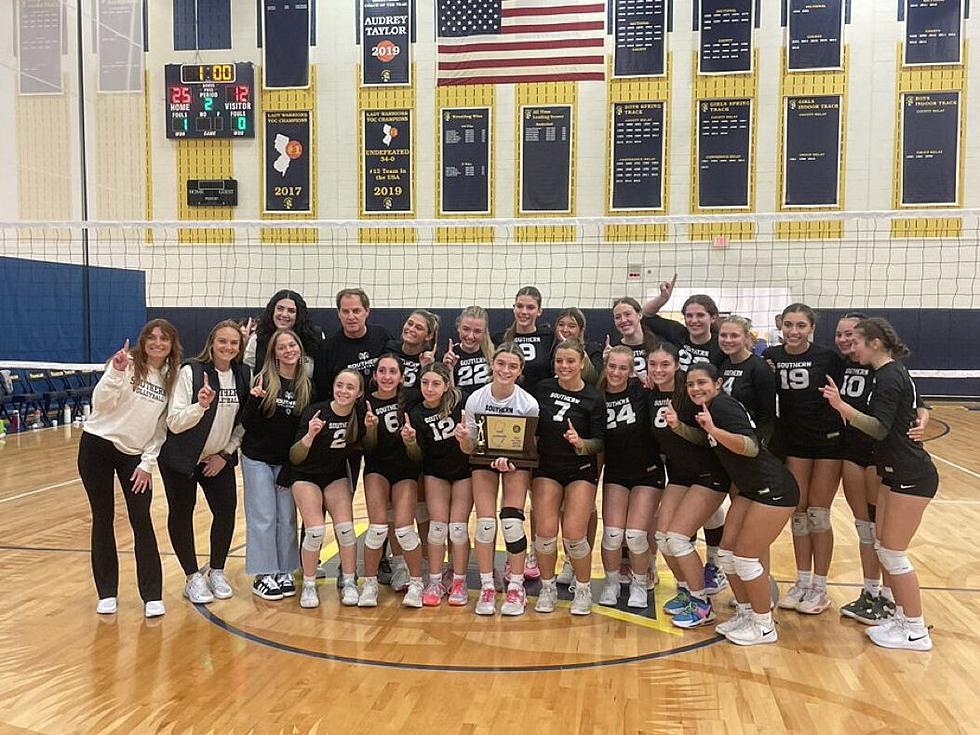 Never a Doubt: Southern Wins First Group Title in Fifteen Years
Photo: John Carelli
FRANKLIN TOWNSHIP-- While the 2023 season has been as dominant as ever for the Southern Regional Rams, Coach Maxwell honed in on letting the program know that there was one more mountain to climb in order to achieve the ultimate goal of winning a group title.
As undefeated Morristown was the last hurdle to climb, the Rams were rightfully ready for this matchup. The schedule has been a juggernaut, facing up against 12 different programs inside NJ.com Top 20 rankings.
"At the end of the day, our record doesn't matter," Maxwell said. "I'd rather have these girls playing against the best of the best, being able to reflect on whether it be a win or a loss. I'd rather us take on a program like Morristown or Williamstown in the middle of the season. It only benefits the group in the long run."
While the record has never mattered inside the eyes of Coach Maxwell, the record has shown how talented the Rams are, winning 31 of their 33 matches coming into the finals.
"I think it just shows how resilient of a group we are," senior outside hitter Sarah Capone said. "There's so much depth on this team. Being able to have Jordyn and Molly is just a bonus for all of us. They've been able to teach us so much, which we feed off of."
The road to the NJSIAA Group 4 finals was a rather challenging one. The Rams found themselves down 8-2 in the third set against Williamstown in the sectional finals, having to overcome a late deficit to win the title. In the Group 4 semifinals, the Rams didn't get off to their surging start as they've done so many times, finding themselves down a set to Monroe.
"It helped us," Coach Maxwell said. "The big hurdle is always in South Jersey getting through Williamstown. It's a sigh of relief and realize we come back and play in 48 hours. Easier said then done. We come out against Monroe and we're struggling. As poorly as we played in the first set, I know how I felt and I know how our leaders felt. We knew we were going to get it done."
That's exactly what the Rams did, waltzing through Monroe in the second and third sets in rather dominant fashion, finding themselves in the Group 4 final.
As the stage was set for Morristown and Southern Regional to cap off an electric slate of group finals, the Rams grouped together one final time to get ready for the biggest test to date.
While nerves are a thing for any team fighting for a state title, the nerves never once showed on the court for the Rams. Senior outside hitter Jordyn Hamlin provided dig after dig, leading all with 10.
It couldn't have been a stronger start for the Rams in the opening set, controlling the tone of the first set. Hamlin used the versatility and the depth of the Rams to get them out to a 12-4 lead in the first set.
"It never gives other teams a break," Hamlin said. "We have so many weapons out there that're coming to put a ball down and looking to play smart at all times. You might think we're coming to kill the ball and we place one right in there. We were able to do that so many times tonight."
Southern's domination across the first set continued, as another 6-3 run put the Rams up by 11 before another Morristown timeout. Senior Molly Regulski, who had an astounding 27 assists in the match, continued to play as one of the most lethal forces across the entire state.
Out of the timeout, the Rams looked to close out the first set and did just that. The lead expanded to 14 and the Rams saw themselves with a 25-11 victory.
"We know how talented of a program that is," Maxwell said. "I think being able to get ahead early and being able to hold the leads were huge. Especially after how Williamstown and Monroe went, these girls showed how resilient they are. They were always ready for this."
The second set was more of a battle early on, as Morristown and Southern kept exchanging one-point leads. This was until Leah Silva took over at serve.
At 11-10, Silva went on an incredible seven-point service run, delivering electric serves and three aces along the way. A one-point lead quickly expanded to eight, setting up the Rams in prime position down the stretch.
"We said hey Leah, keep doing what you're doing," Hamlin said. "You go back there, you get that ball and you put some pace on it. She did an absolutely incredible job with that."
There was a sense of the tides shifting for the Rams, as the lead continued to expand and the group title was points away.
"You probably didn't have to say much, but I think we all felt it," Maxwell said. "The waves are moving in our direction. When she went back to 11-10, it becomes 13, 14, 15. We were able to just look at each other and know that this is it. We're going on a run here and we're going to be able to finish this off."
An incredible 14-2 run gave the Rams the 25-12 set victory, bringing the program to their first group title since 2008.
"I remember coming here when I was in middle school and thinking how incredible this team was and thinking hey, this is where I'll be when I'm in high school," Hamlin said. "To finally be able to stand here as a senior on this night, knowing we came all the way and delivered is such an incredible feeling."
As Coach Maxwell liked to roll the dice all season with "high-risk" matchups against perennial programs, he knew that this group would once again be ready for the challenge.
"It's high risk when you throw that out there that we're ultimately playing for a state championship," Maxwell said. "We talk about it every year, but there's no guarantee. I know how hard Jordyn's worked and how much our senior leadership has worked. I wanted it for them so bad. You don't want your season to end. You want one more match and two more days."
While the Rams will be losing superstars Sarah Capone, Jordyn Hamlin and Molly Regulski to graduation, Maxwell reflected on what they bring as people and not as athletes.
"As good as she is as a player, she's a better person," Maxwell said about Hamlin. "In the hallways everyday with everybody, with staff and fellow students. And then you see it on the court. At times, she put this team on her back and got us out of these funks. If someone has a bad pass, she has their backs. If someone hits it out, she picks them up. You can't coach that."
For the Rams, they'll be able to celebrate for the time being. A year after coming up shy for the sectional title, the Rams went on a redemption tour and made themselves the headlining event. While it was a challenge all season long, the resiliency and the will of this program led them to the ultimate goal: winning a state title.
While dynasties are created from the skill-makers and talent that one program possesses, nothing can take away the incredible skills that Coach Maxwell possesses.
This is a coach that's coming up on 800 career victories that we're talking about.
As the program celebrates their group title throughout the town of Manahawkin, the dynasty continues on. With a strong cast of playmakers returning next season and arguably the greatest coach in the state returning, the Rams will once again be the perennial threat that they've been over the course of so many seasons. For now, it's time to bask in the glory and enjoy the state title.
| | 1 | 2 | | Final |
| --- | --- | --- | --- | --- |
| Morristown (23-1) | 11 | 12 | | 0 |
| Southern (32-2) | 25 | 25 | | 2 |
Southern Key Notables:
Emily Brunatti: 5 Digs, 1 Assist
Sarah Capone: 7 Kills, 1 Dig
Liliana Davis: 8 Service Points, 2 Digs
Jordyn Hamlin: 10 Digs, 7 Kills, 2 Service Points, 1 Block, 1 Assist
Molly Regulski: 27 Assists, 6 Service Points, 4 Digs, 2 Kills, 2 Aces
Leah Silva: 18 Service Points, 3 Aces, 3 Digs
Jessica Smart: 11 Kills
More From Shore Sports Network