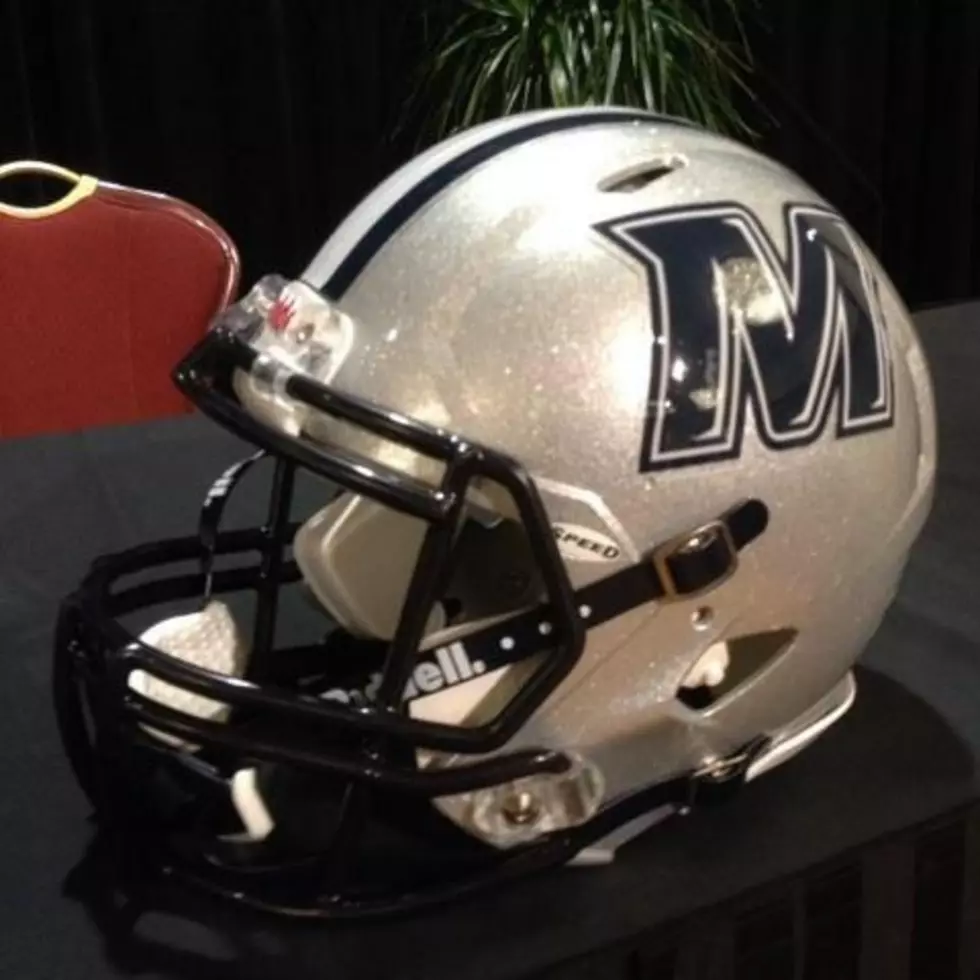 Monmouth University football starts CAA play with 42-23 win over Towson
Monmouth University football helmet (Monmouth Athletics)

By Mark Mohrman - Monmouth University Athletic Department

TOWSON, MD – The Monmouth University football team (1-1, 1-0 CAA) forced four second-half turnovers to open up Coastal Athletic Association play with a 42-23 win over Towson (0-2, 0-1 CAA).
The Hawks had 437 yards of offense, including 200 on the ground, while the defense had four sacks and recorded three turnovers in the win.
Monmouth fell behind 10-0 after the first stanza which included a 46-minute lightning delay. Sone Ntoh scored the first MU touchdown of the game on a 66-yard scamper up the middle on a fourth and one. The Harvard transfer's second career touchdown cut the score to 10-7 with 14:51 left in the second quarter. With 1:44 left in the half, Jaden Shirden capped a 13-play drive with a six-yard touchdown run to give the Hawks a 14-10 lead.
The Hawks scored 21 unanswered points when Assanti Kearney hauled in a 36-yard pass from Marquez McCray to push the lead to 21-10. Towson answered with a short inside run for a score to cut the lead to four. Towson was driving looking to take the lead when Eddie Morales III snatched a floating interception on the Monmouth one-yard line. Towson's defense forced an MU punt on the ensuing drive but Dre Tucker recovered a muffed punt to give the Hawks the ball back in Towson territory. Two plays later McCray hit Kearney for his second touchdown of the game, this time from 16 yards out.
Towson needed just five plays and 46 yards to climb to within five of the Hawks with 7:37 remaining after all-league selection D'Ago Hunter returned a kickoff for 49 yards. With 5:36 left Jake Brown recorded a sack fumble which was recovered by Miles Mitchell on the Towson 29. Ntoh scored the final two touchdowns of the game to give MU a 42-23 win.
NOTES AND QUOTES
"Both sides of the ball did very well tonight. From an offensive standpoint we were very balanced. We had more than 200 yards passing and 200 rushing yards, over 400 yards of total offense. Defensively to hold that team to 275 yards, somewhere in that ballpark, I think is exceptional. I was very happy with the way our defensive guys played as well."
- Head Coach Kevin Callahan on the victory
"Anytime you can play football like that where you've got each of the three phases complementing the other ones, you're going to be tough to beat. Offensively we had to grind it out. Jaden didn't have a lot of room but he made some really key runs and picked up some really tough yards. I think he showed today how durable he can be and how he's able to get the tough yardage. I'm very happy with the way Marquez operated in the pocket, getting the ball to our receivers, but I just can't say enough about the defensive side of the ball. The defensive line and linebackers did an exceptional job. Jake Brown, Ryan Moran, Remi Johnson and I think we rolled probably eight to 12 guys through on the defensive line. That helped us a lot, it kept guys fresh and it kept them hungry. And then on the back end we came up with some really big plays, Eddie Morales, Mike Reid, Davis Smith, all those guys.
- Head Coach Kevin Callahan on playing complementary football
"He's our short yardage, our goal line back. We've been used to having a guy like that and he kind of fits that mold, but I think he showed the speed and the ability to be not just a short yardage or a goal line guy, but to be a guy that can spell Jaden whenever we need him to."
- Head Coach Kevin Callahan on the play of Sone Ntoh
"The coaches did a great job preparing us and we went to work every day. We focused on tackling; we focused on the things that we could clean up and we trust each other when we're out there. We worked hard, the coaches got us ready, the players on the team, the defense, they all trust each other. We've got faith in each other and we just know if we go out there and play our football do our job, we're going to be a tough team."
- Linebacker Jake Brown on the focus of the defense in practice this week
Monmouth had two scores that took less than a minute of time off the clock
Jake Brown recorded his first sack as a Hawk in the first quarter
Shirden recorded his 11th 100-yard rushing performance of his career
Ntoh's 66-yard run was the longest play of the season against Towson
Freshman kicker Michael Calton Jr. had a career-high six points
Justin O'Bannon and Antonio Colclough recorded their first sacks of the season
Monmouth had two fumble recoveries and two interceptions, all coming in the fourth quarter
NUMBERS CRUNCH
Head Coach Kevin Callahan earned his 100th career conference victory
It was Monmouth's second win of the series, moving to 2-8 all-time against the Tigers
Brown finished with seven tackles, two sacks, and a forced fumble
Shirden finished with a career-high 32 rushes for 145 yards
McCray threw for 237 yards and completed 70% of his passes with the two touchdowns
Davis Smith recorded a fourth-quarter interception to close the game
Monmouth had 24 first downs in the contest
The defense held Towson to 96 yards rushing on night
UP NEXT
Monmouth will host Campbell next Saturday at Kessler Stadium at 1 p.m. Tickets are on sale now at MonmouthHawks.com/Tickets
More From Shore Sports Network