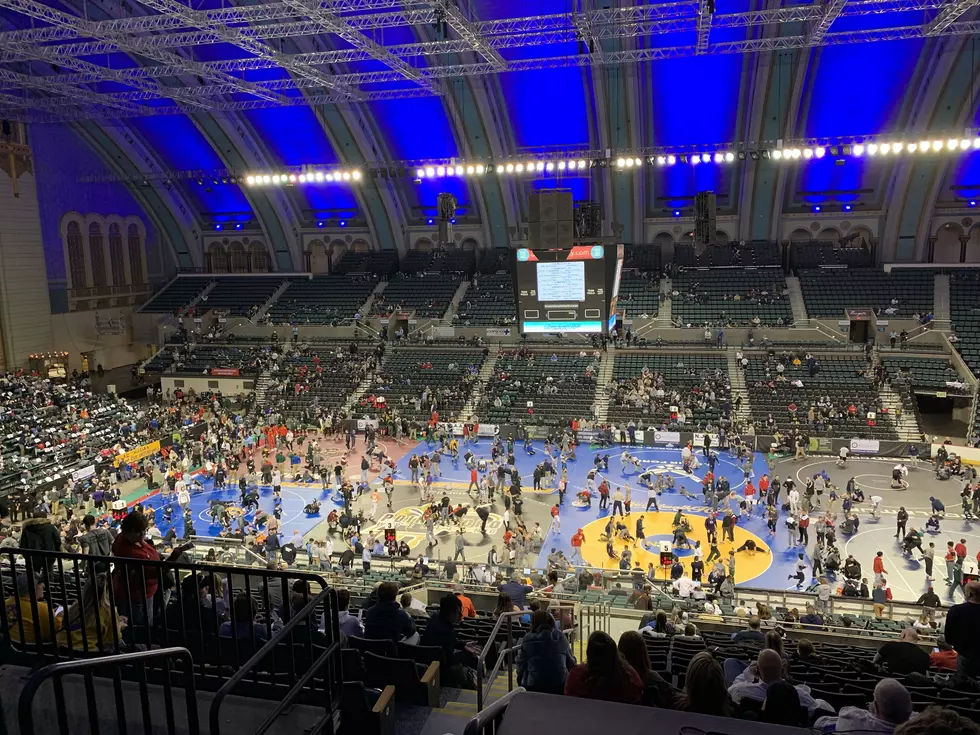 Klinsky, Peterson, O'Connell, Kanniard, Reitsma reach NJSIAA wrestling state finals
Photo by Robert Badders/Townsquare Media NJ
ATLANTIC CITY – This time last season, Wall's Rob Kanniard and St. John Vianney's Dean Peterson came one win short of claiming a state championship. Now they're back to finish the job.
On Friday night inside Boardwalk Hall, Peterson won by 7-2 decision over Delbarton's Nico Nardone to reach the NJSIAA 113-pound state championship match. The undefeated sophomore is now back in the spot he was last season and poised to become St. John Vianney's first-ever state champion.
"I'm not content with where I'm at until I get the title," Peterson said. "To be St. John Vianney's first state champ would be amazing. I want to do it for the team, for the culture."
Peterson cruised into Friday afternoon's quarterfinals with convincing wins on Thursday. In the quarterfinals, he dispatched of Pingry's Brandon Spellman by 12-1 major decision before beating Nardone in the semifinals. Peterson had defeated Spellman in the Region 5 final, 13-1.
"I had a good patch, almost a gimmee to the semifinals," Peterson said. "I was in Spellman's head and the first two opponents weren't that good; a little undersized for the weight class. Being the No. 1 seed makes it a lot easier."
Peterson was up 3-2 late in the third period when Nardone, who was third in the state at 106 last season, was nearly in on a shot. Instead, Peterson took Nardone down and put him to his back for two near-fall points.
"I kind of let him shoot himself out because I knew he was going to go out and attack me," Peterson said. "As soon as he let pressure off that I went with the roll."
In the state final, Peterson will square off against Emerson/Park Ridge junior Nick Babin, the No. 7 seed, who won 3-2 over Brick Memorial's Vincent Santaniello in the other semifinals. Peterson knows from his loss in last year's 106-pound final he can't hold back.
"You can't wrestle conservative," Peterson said. "It's all about letting it lose."
In the past two seasons, Kanniard's only loss is in last year's 160-pound state final to Bergen Catholic three-time state champion Shane Griffin, who is now a redshirt freshman at Stanford and nearly knocked off reigning NCAA champion Vincenzo Joseph early in the season.
Kanniard has been dominant as a senior with a 45-0 record that includes 44 wins by major decision or better. No one has scored an offensive point on him. It's been more of the same this weekend as Kanniard cruised into the 160-pound state final on Friday.
In the quarterfinals, Kanniard beat Paramus's Tony Asatrian, 11-4, before winning by 16-6 major decision over Manalapan's Matt Benedetti in the semifinals.
"It all comes down to this, my last match in high school and last match in a Wall singlet," Kanniard said. "I'm happy it's going to be in the final. I've worked my butt off for this and hopefully I get it done tomorrow."
Kanniard, who is signed to wrestle at Rutgers University, will square off against DePaul junior Connor O'Neil in the state championship bout. O'Neil is verbally committed to Rutgers.
"We're both going to Rutgers and we wrestle with each other sometimes, but you don't have any friends on the mat," Kanniard said. "Everyone out there is just another man in the way of my dream."
Kanniard and Peterson were two of five Shore Conference wrestlers who reached state finals on Friday night.
At 106 pounds, Middletown North junior Tyler Klinsky, the No. 2 seed, won by fall over Shore sophomore Jack Maida to reach the state championship match. Like Kanniard, Klinsky has been unstoppable this season with all but one of his 43 victories coming by major decision or better. He is Middletown North's first state finalist since 1974.
"I'm really excited for it," Klinsky said. "I've been working for it all year and I finally get a chance to do it."
Klinsky wrestled Maida in the Shore Conference Tournament final and built a double-digit lead before winning by fall. The end result Friday night may have been the same, but the path was much different. Maida struck first with a takedown – only the second takedown allowed by Klinsky all season – and lead 3-0 after escaping early in the second period. Klinsky methodically battled back with one takedown after another, stretching his lead to 11-5 before pinning Maida with 30 seconds left in the bout.
"I wasn't going as hard as he was, taking shots right away," Klinsky said. "I knew I had to stay back and stay on my re-attacks, and he ended up getting tired out."
"I knew I was better conditioned than him. He broke after the second time I took him down. I felt he eased off a bit and I was able to get to my shots more."
Before the semifinal bout with Maida, Klinsky won 5-3 over Bergen Catholic's Joseph Cangro in the quarterfinals.
Now comes the 106-pound bout everyone has been waiting to see: Klinsky vs. Hunterdon Central sophomore Brett Ungar (41-0).
"I think we wrestle very similar," Klinsky said. "I just have to keep doing what I'm doing and hopefully I'll be able to pull it out. He's been ranked higher than me all season and you want to know who's really No. 1. Now we can finally see what happens."
The only state champion in Middletown North's program history is Ken Hopfsensperger, who won the 115-pound title 45 years ago in 1974.
"People who wrestled in the 80s and 90s are all saying stuff to my coaches hoping I get it just because it's been so long," Klinsky said. "It would be great to bring it home for them."
On Jan. 26, Southern handily beat Phillipsburg in a match that would spark the Rams to the NJSIAA Group 5 team title. In that match, senior Nick O'Connell won by 11-3 major decision over Phillipsburg's Cody Harrison, who was ranked No. 1 in the state at 152 pounds. Since then, O'Connell has held the title of No. 1 in the state.
On Friday night came the rematch, and although Harrison came with some new looks it was O'Connell who once again prevailed with a 4-3 decision to reach the 152-pound state final.
"I knew if anybody's going to [counter] my style it's him," O'Connell said. "He switched up his lead leg; he did everything right. I didn't even get a shot on him on offense which is pretty unheard of considering I took him down five times last time with that left-handed sweep. I think I hit him with a switch and rode him out. I think that speaks to my defense, as well, that I can win on both sides."
Harrison was in on a shot in the closing seconds but O'Connell was able to hit a whizzer and hold him off to secure the win.
"I looked up and saw between our bodies there were three seconds left, so I was holding on for dear life," O'Connell said. "I think I was in there for 20 seconds; he had my arm beat and I just kept shimmying back trying to get my arm in there and I did."
The biggest difference for O'Connell this season is that he is finally healthy. He injured his meniscus during his sophomore year but still managed to place eighth in the state at 145 pounds. Last season he lost in the wrestlebacks at the state tournament but wasn't nearly himself thanks to a torn labrum.
"I was very injured last year," O'Connell said. "This year I've been able to go live and wrestle every single day with no injuries. My body feels great and that's really been the difference from last year."
O'Connell will wrestle Pope John's Robert Garcia in the championship bout. Garcia, the No. 4 seed, won by fall over Camden Catholic's Brandon Mooney in the other semifinals. Mooney had defeated the No. 1 seed, Delsea's Nick Bennett, in the quarterfinals. His is Southern's first state finalist since the late Kyle Casaletto in 2011 and can become Southern's first state champion since Glenn Carson in 2009.
"Obviously it's awesome," O'Connell said.  "I took eighth my sophomore year and that was awesome, I was 15-years old and got to walk in the parade of champions and be on the podium. But I'm 18 now and I want to do better things. I'm in the state finals…I've been watching this tournament since I was in fifth grade. I remember getting a room in Caesar's and watching all the South Plainfield guys in a row. Now it's just awesome I'm one of them wrestling tomorrow night on one mat in front of thousands of fans. It doesn't get better than that."
At 170 pounds, Howell junior Shane Reitsma won by 5-2 decision over Delbarton's A.J. Lonski to reach the state final in this third trip to the state tournament. Reitsma beat Northern Burlington's Anthony Giampietro, 14-9, in the quarterfinals before defeating Lonski.
"I feel like that tough region (Region 7), it definitely helped me to prepare for this weekend," Reitsma. "And also the Powerade Tournament was a tough test early that really helped with my mindset."
In the state final, Reitsma will face a familiar foe in Paulsboro's Brandon Green. Reitsma defeated Green, 6-4, in the Region 7 final.
"I've wrestled him a million times over the summer; I have a lot of respect for him and he's a really nice kid," Reitsma said. "I'm just looking forward to another rematch."
Falling in the semifinals were Maida, Santaniello, Benedetti, Rumson-Fair Haven's Nick Addison and Middletown North's Jacob Anderson. Addison lost 5-2 to Colonia's John Poznanski in the 182-pound semifinals and Anderson was defeated by Paramus's Kyle Jacob, 3-0.
Managing editor Bob Badders can be reached at bob.badders@townsquaremedia.com. Follow him on Twitter @Bob_Badders. Like Shore Sports Network on Facebook and subscribe to our YouTube channel for all the latest video highlights.
More From Shore Sports Network