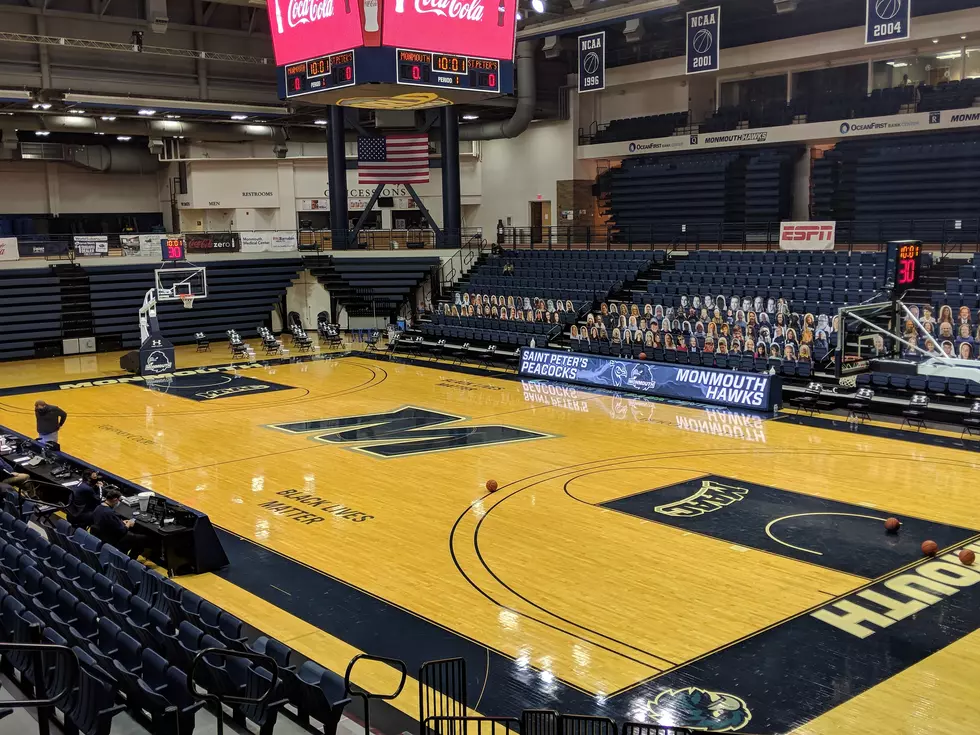 JSBL Basketball – Monmouth's Myles Foster Outplays Big-Ten Big Man for Unbeaten WCT
Photo by Matt Manley

As a 6-foot-7 big man at Monmouth University, Myles Foster always embraces an opportunity to play against bigger players from bigger programs, even if it is in a high-school gym during the height of the summer.
Normally those matchups happen during Monmouth's non-conference slate in November and December, but Foster got a chance to take on Rutgers center Cliff Omoruyi Wednesday at Manasquan High School during the Jersey Shore Baseball League regular season and he indeed made the most of it.
Foster went off for a game-high 30 points to go with eight rebounds Wednesday in a 97-70 win for his WCT Warriors Team over Sea Shore Auto, with Omoruyi making his JSBL debut.
"It's exciting to play against players like that," said Foster, a native of Brooklyn. "I actually know Cliff from AAU, so it wasn't the first time but it was still interesting. I just try to come out, play hard – the same way I play during the regular season – and try to work on some stuff. It was a good experience."
Foster and Omoruyi were not matched up for the entire game, but Foster showcased his first step and toughness near the rim in taking the 6-foot-11 Rutgers rim-protector off the dribble for scores in both halves of play. Omoruyi finished the 2021-22 season sixth in the Big Ten with 1.3 blocks per game, as well as second in field-goal percentage (62 percent) and is widely considered one of the conference's top returning players for 2022-23.
"He is really athletic," Foster said of Omoruyi. "He can jump out the gym, so I wanted to drag him out of the paint and use my speed a little bit. Just using the skills in my game that I know I'm good at – basketball is 90 percent mental, so I'm just trying to think the game, make the right plays, make the smart plays, set my teammates up and get the win."
On defense, WCT shut down the Sea Shore squad, with Omoruyi limited to six points and Rutgers teammate Mawot Mag scoring a team-high 23. Omoruyi did his scoring damage on the glass with seven of his 13 rebounds coming on the offensive end, but WCT wound up with an 18-16 edge on the offensive glass, even with a decided size advantage for Sea Shore.
Foster averaged 5.1 points and 3.0 rebounds in 12.4 minutes per game while shooting 53 percent from the floor as a sophomore in 2021-22. His points-per-game total was fifth on the team and his field-goal percentage second while playing the seventh-most minutes among Hawks players.
"When I first came to Monmouth, I had to adjust to the college game," Foster said. "I have been working every summer, working on becoming an all-around player. I watch other guys on our team and around the league and try to copy them to try to make myself a better player, on and off the court."
The WCT Warriors squad is now 6-0 and in first place in the JSBL regular-season standings in 2021-22, which is all-the-more impressive considering the team was not even supposed to exist, according to JSBL Board Chairman Greg Kapalko. The 2022 season was initially supposed to have seven teams but a number of late requests to join a team – including from Foster – necessitated the creation of an eighth team for the season.
Foster heard about the league from former Monmouth teammate George Papas, an All-MAAC guard who finished up his final year at Monmouth and has played multiple summers in the JSBL.
"A bunch of us were looking to play, I guess, and I just randomly got picked up," Foster said. "George Papas told me about the league, so I put my name in and just tried to come out and make the most of the chance to play and get better."
In addition to Foster, who leads the team with 31 points per game, WTC has gotten a lift from Princeton University players Zach Martini (25.5 per game) and Matt Allocco (19.75), as well as former Shore Conference standouts Devin Jensen (Manasquan), Chima Ekekeugbor (Christian Brothers Academy), Mason Jones (Manchester) and Will Sanborn (Red Bank).
With just one game remaining on the regular-season schedule and a head-to-head win over second-place Stern's Trailer, WCT is locked into the No. 1 seed for the JSBL Playoffs, which tip-off on Thursday at Manasquan High School. The top two seeds in the bracket will earn a double-bye, so WTC will not have to play until August 2 in the semifinals.
All about 'Medusa' at Six Flags Great Adventure
More From Shore Sports Network