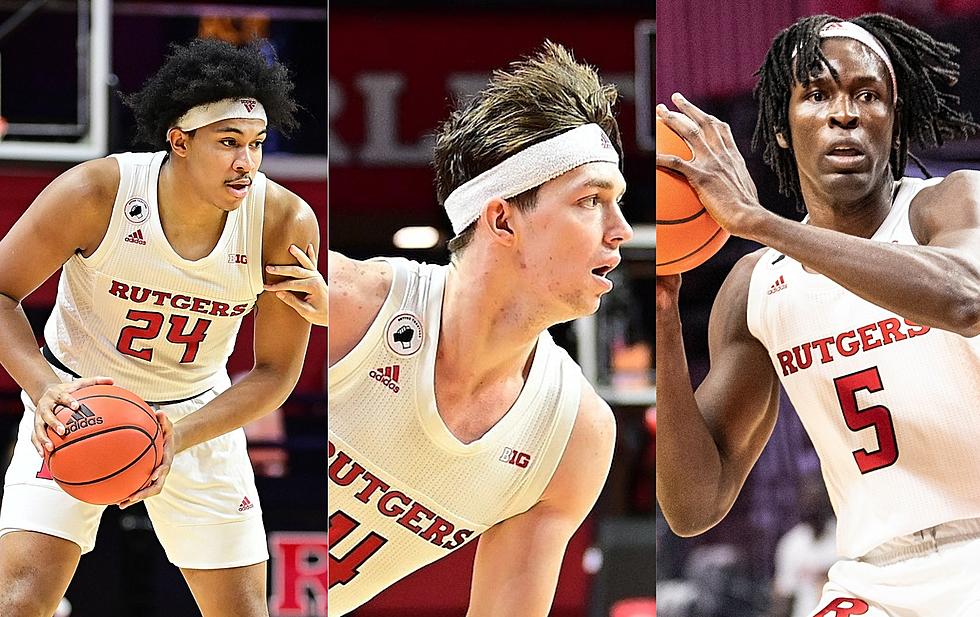 Jersey Boys: Trio of Former NJ High School Stars Ready for Next Step at Rutgers
Rutgers returnees and New Jersey products Ron Harper Jr., Paul Mulcahy and Cliff Omoruyi. Photo: Rutgers Athletics

Steve Pikiell insists he is not as wrapped up in bringing in New Jersey basketball talent to lead the men's basketball program at New Jersey's state university as some are, but if the people who do wish to see Jersey's finest wearing Rutgers red want to sway the Garden State's recruits toward Piscataway, Pikiell won't ask them to stop.
That played out when second-year freshman Cliff Omoruyi was a senior at Roselle Catholic High School and Rutgers faithful would shower him with affectionate chants – both during his recruiting visits to Jersey Mike's Arena and even at his high school team's home games.
Omoruyi – a four-star recruit and one of the highest-rated recruits Rutgers has secured – chose Rutgers over Arizona State and now, he, Ron Harper Jr. and Paul Mulcahy are carrying the torch for New Jersey players leading Rutgers back to prominence.
"Rutgers is a great university made of students from all 50 states and from countries all over the world," Pikiell said. "I love those guys if they are from New Jersey, but I also love those guys like Caleb McConnell who come up here from Florida. I think New Jersey understands we're a good basketball team and a great program and we're going to sell out a lot of games and play in the most televised league in the country."
All three New Jersey products were key members of the 2020-21 Rutgers team that reached the NCAA Tournament for the first time since 1991 and won the program's first NCAA Tournament game since 1983. This season – which tips off Wednesday against Lehigh at the newly-named home arena in Piscataway – the trio is likely to be even more crucial to Rutgers' success: Harper is a preseason All-Big-Ten wing player; Mulcahy is likely to have the ball in his hands more as a pass-first point guard following the transfer of Jacob Young to Oregon; and Omoruyi is a 6-foot-11 athlete who has more upside than any player on the Rutgers roster.
While their head coach downplays the importance of centerpiece talent coming from New Jersey, Harper, Mulcahy and Omoruyi are all about amplifying the connection of the program with the state as a whole.
"I think what makes my college experience here at Rutgers so special is I live right up the road, only an hour away," said Harper, who is from Franklin Lakes and played at Don Bosco Prep in Bergen County. "I was able to be part of a group that is bringing Rutgers back to glory and brought Rutgers back to the NCAA Tournament for the first time in 30 years. I did it at a school where the name wasn't sexy at the time, the location wasn't sexy but I came here and I believed in the people around me. So I definitely want to see all these Jersey guys come here. There are a lot of talented Jersey guys and it would be great to see a lot of them stay home."
Harper was one of Pikiell's most important signees during his early years as head coach. Much has been made in recent years of both Pikiell and guard Geo Baker sticking with one another when Pikiell was first hired and Baker had a limited number of scholarship offers, but Harper was also a big get for the Scarlet Knights. His stature within the state's basketball landscape, as well as his pedigree as the son of a five-time NBA champion with the same name loaned additional credibility to the job Pikiell was doing early in his tenure.
Of course, Harper has neither coasted off his name nor his high school career at Don Bosco Prep, where he led the Ironmen to back-to-back NJSIAA Tournament of Champions finals. He carved out a role on the Scarlet Knights as a freshman, was a top scoring option on a 2019-20 team that would have made the NCAA Tournament during his sophomore season, and was arguably the team's best player as a junior a year ago.
Harper spent his offseason testing the NBA Draft waters while working to improve his all-around game. He started 2020-21 on a shooting tear before cooling off considerably, so among his focuses has been becoming a more consistent shooter. His effort on the glass and the defensive end throughout his shooting struggles kept him indispensable.
"When I first went through the draft process, I'll be the first to admit that I didn't think I'd be back at Rutgers," Harper said. "I wanted to hear my name called, but I went through the process and I was close by, so me and the guys (at Rutgers) would play pick-up and there was just something about these guys. We have a real special group. These guys motivate me to get better in a way I haven't felt before in my life."
The Harper legacy at Don Bosco continues with younger brother, Dylan, entering his sophomore season with the Ironmen. Might the younger Harper be better than his older brother when he arrives at the college program of his choice?
"No," Harper said with a laugh. "Maybe at his age, but he has a long way to go. I was a late-bloomer. I'm just excited to see him keep developing and to see where he ends up."
Like Harper, Mulcahy was a high-profile high school player in New Jersey while starring at Gill St. Bernard in northern Somerset County. A native of Bayonne, Mulcahy was a four-year starter for one of the state's most competitive programs in the state and in his final season with the Knights, he averaged a triple-double in a First Team All-State season.
"I feel really proud to be representing New Jersey," Mulcahy said. "A lot of times, for people in New Jersey, there is a stigma to going to Rutgers and I get it that people want to go out of state. But then there are people who transfer in their first or second year to come here and they love it. For the guys who come here and stay, stay the course and figure it out, this is exciting."
In his first season at Rutgers, Mulcahy came off the bench and provided the Scarlet Knights with a unique skillset that emphasized his passing ability and size (6-6) for a point guard. Last season, Mulcahy drastically improved his shooting and connected on 39 percent of his three-point attempts to lead the team.
"Every year, his game has improved," Pikiell said of Mulcahy. "He has gotten better defensively. He is shooting the ball well from deep. He has gotten bigger, he has gotten stronger. He is making really good decisions. I think he is just always up for that challenge and he is just way more comfortable on the court."
Omoruyi is not a native of New Jersey, having moved to the United States from Nigeria prior to high school, but has embraced the state as his second home, particularly now that he is at Rutgers. The proximity to his high school alma mater was a factor in choosing Rutgers over a number of big-name programs and after hearing a packed Jersey Mike's Arena chanting "We want Cliff" in his direction while he was in attendance as a prospective recruit, Omoruyi is looking forward to experiencing the home crowd for the first time after playing through a freshman season in which fans were not allowed in the building formerly known as the RAC.
"From my freshman year (at Roselle Catholic) to my senior year, I watched the development of Rutgers," Omoruyi said. "The coaches just kept telling me to keep watching and keep watching and by the time I was a senior, they were going to be very good team. They said, 'You are going to make your decision yourself, but just watch the development and what how the fans come out.' Rutgers was one of the most together teams and I wanted to be a part of that."
Pikiell is also looking forward to seeing what Omoruyi can do this season after breaking in as a freshman last season. Omoruyi started the first six games of his freshman season before a knee injury sidelined him for five games. Upon returning, he came off the bench to back up starting center Myles Johnson, who transferred to UCLA for this season.
"Cliff works harder than any big guy we've had here ever, probably," Pikiell said. "If there is a big guy that works harder than him, I'd be shocked.
"He is top-shelf. He is as good as any big man we have ever had here. He can block shots, his work ethic is off the charts. He is making 15-footers now. His free-throw percentage is much better. I think people don't realize how hard it is to come into the best league in the country as a freshman."
"Coach Pikiell is giving me the green light to shoot and the freedom to do more with my offensive game," Omoruyi said. "Most of the season, I will be playing with my back to the basket, but if I get an open shot, I have the confidence to shoot the ball and I know my teammates and my coaches believe in me."
The Jersey trio helped Rutgers beat Clemson in the first round of the NCAA Tournament and come within an earshot of upsetting Houston in the second round before watching Houston go on to reach the Final Four. As three of five core members of last year's team coming back for 2021-22 along with Baker and Caleb McConnell, Harper, Mulcahy and Omoruyi are expecting bigger things for themselves, the team as a whole and the prospect of making Rutgers an appealing option for New Jersey's best players.
"We want to take this program as far as we can go this year," Harper said. "We want to put Rutgers on the map and that doesn't stop at just making the NCAA Tournament. We want to win the Big Ten, we want to go to the Final Four and we come out to practice and work with those goals in mind every day."
More From Shore Sports Network