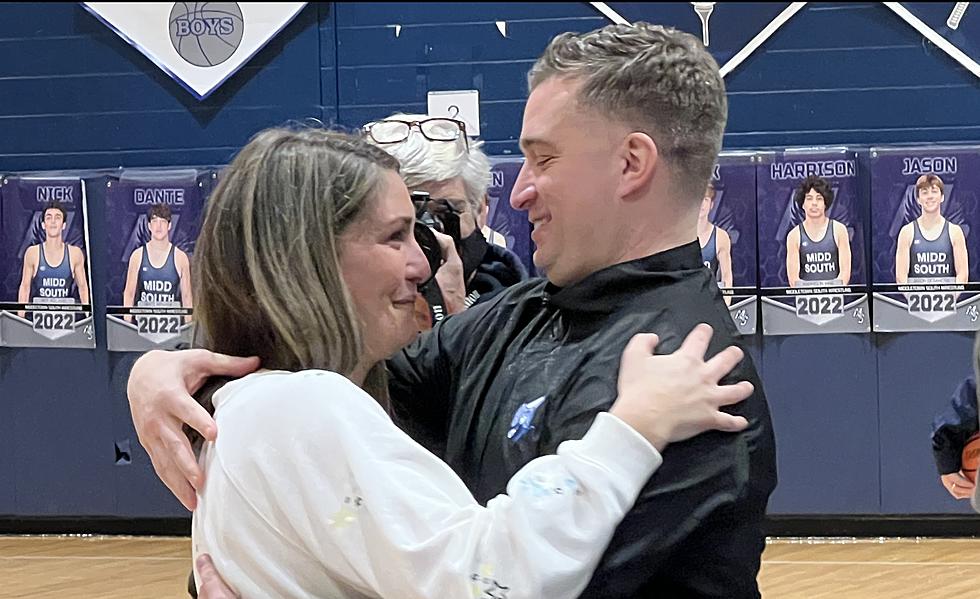 Girls Basketball – Manasquan Wins Classic Over Holmdel As Husband-and-Wife Coaches Square Off
Lisa Kukoda and Matt Kukoda share a post-game embrace after Lisa's Manasquan team beat a Holmdel squad coached by her husband. (Photo by Matt Manley)

MIDDLETOWN -- When Matt Kukoda put away his coaching clipboard to become an administrator four years ago, he figured the only basketball responsibility left in his life was the one he gladly took on several years earlier: his wife iLisa's biggest fan.
Somehow, though, Matt Kukoda's responsibility as a principal at Holmdel high school led him back to the sideline as an interim coach and on Saturday at Middletown South High School, he had to coach his team against his favorite coach and one of the state's best coaches.
Matt and Lisa Kukoda had a relatively uncomfortable few days between games as opposing coaches and after Lisa's Manasquan team outlasted Holmdel, 62-59, in the Shore Conference Tournament quarterfinals, the two shared a genuine moment on the floor and breathed a collective sigh of relief that their 48 hours as opponents had come to an end.
"I obviously think the world of him as a coach," Lisa Kukoda said. "I have seen what he has done at past programs and and the way that he has built basketball cultures where people are invested. All of those feelings come up when you're both on the sideline, but once you get into the game, the game becomes the game and you're focused on the players on the court."
"We compete to see who can get the seatbelt on first in the car," Matt Kukoda said. "We're no strangers to competing with one another, trying to make each other better. I hope we gave their team something to think about today and I know our girls left everything out on the court today.
"Do I want to see (Lisa) lose? Of course not. But the Holmdel girls worked hard to get in this position and they deserve a coach who gives them their best."
When the spousal head-to-head matchup ended, needless to say, Manasquan was the happier squad. The Warriors trailed Holmdel for most of the game but came on strong in the fourth quarter, erasing a deficit that reached as high as seven behind strong finishes by seniors Mary Donnelly and Brooke Hollawell, as well as sophomore Hope Masonius.
Hollawell gave Manasquan (23-3) its first lead since the third quarter when she drove to the rim and finished for a 58-56 Warriors lead with 2:25 left.
Holmdel(16-8) responded with a drive by junior Alexandra Loucopoulos to tie it with 2:03 left. Each defense then came up with a stop and Masonius then delivered a pair of go-ahead free throws with 1:05 left.
Sophomore Allison Cannon hit one of two free-throws with 29 seconds left and Masonius answered with one of two on the other end to make it 61-59 Manasquan. Holmdel took a timeout with 9.5 seconds for Matt Kukoda to draw up one more play, but Lisa's defense held for the stop.
Donnelly ended with a game-high 20 points, with Hollawell and Masonius each adding 12. Senior Abbey Ferguson matched Donnelly with 20 points to lead Holmdel and senior Katherine Martini added 14 in the loss.
Hollawell's key plays down the stretch were particularly encouraging given she is now about a year removed from suffering a torn ACL at the end of the 2021 season.
"She has been such a clutch player for us for four years and it was great to see her instincts even more than her shooting," Lisa Kukoda said. "A read on a back-cut into a flare for a three, a drive with the game on the line: those are just instinct plays that I think she's finally becoming comfortable doing again."
Holmdel's effort was another feather in the team's collective cap during a strange season that has seen the Hornets put together a 16-8 mark while facing stiff competition, with three of the losses coming on down-to-the-wire losses to Red Bank Catholic (twice) and Manasquan - the Nos. 2 and 3 teams in the SCT field.
After the first RBC loss, the Hornets underwent a midseason coaching change, with Matt Kukoda taking over the interim duties for Darren Ault, who was suspended indefinitely for what Kukoda, the principal, dubbed a "personnel matter".
"(Holmdel) is a wonderful community that put their trust in me in good times and in bad," Matt Kukoda said. "The same thing goes for the wedding vows. The Holmdel community asked me to step up and I'm happy to do so. It just so happened that it was Holmdel against Manasquan today."
Kukoda was a successful boys head coach at Wall High School, but this was a unique challenge in that he was taking over a team that had a direction and a personality, but now just needed a coach.
"I asked them, 'How do you want this to work? I can be your principal and your cheerleader, or I can be your coach," Matt Kukoda said. "They were starving for a coach. I didn't plan on shutting this thing down and just rolling the balls out there. We took the opposite approach and we'll give it everything we've got."
"He's the best leader I have seen and I think that is what's helped get him to where he is," Lisa Kukoda said. "I think people see that and they know he is invested with them and that's in everything that he does."
When the Shore Conference Tournament seeds came out Sunday, the Kukodas knew there was a good chance they would be on-court adversaries for a night. There is also a good chance it happens again in the NJSIAA Central Jersey Group II playoffs, with the two teams slated to meet in the sectional semifinals if the seeds stay true to form through the first two rounds.
For now, Lisa Kukoda will lead her team into the semifinals on Tuesday against Red Bank Catholic at RWJBarnabas Health Arena in Toms River and Matt will cheer her on without any conflicting feelings. In the meantime, he will try to get his talented Hornets team ready for a potential March rematch, at which point the basketball-crazed couple will have to live the last two days all over again.
While it is sure to be competitive in that still-hypothetical scenario, the Kukodas know how they'll feel at the end of it.
"We knew it was a possibility we could cross paths and obviously that's what happened and I think he's handled it in the best way possible," Kukoda said. "I'm just so proud of what he stands for and I think that this was a big part of it."
"She is perfect in every way: as a mother, as a wife, as a coach and an educator," Matt Kukoda said. "It's nice to be able to experience something like this with her."
In Other Girls SCT Action:
No. 2 Red Bank Catholic 56, No. 7 Toms River North 18
The husband-vs.-wife game to end the four-game lineup was not the only game that pitted family members against one another. Red Bank Catholic senior and McDonald's All-American Justine Pissott faced off against sister, Gia, as the Caseys (21-3) took down the Mariners (15-4) behind a dominant second half.
Toms River North hung around for the first 16 minutes and trailed, 24-13, at the break before RBC blew the game open with a 32-5 second-half advantage.
Junior Casey Prior led RBC with 16 points behind four three-pointers and Justine Pissott --  playing for the first time since Jan. 18 due to injury -- added 11 in the win.
No. 5 Rumson-Fair Haven 70, No. 4 Donovan Catholic 55
Rumson unleashed a second-half three-point barrage and dug in on defense to pull away from the Griffins (17-8), which avenged a loss to Donovan Catholic (19-5) in Decembers WOBM Christmas Classic and sent the Bulldogs to Tuesday's SCT semifinals against top-seeded St. John Vianney.
Senior Grace Colucci, junior Julia Corsentino and senior Charley Rosen combined for 62 of the points and 14 of Rumson's 16 three-point makes in the game. Colucci poured in a game-high 28 points with eight three-pointers, Corsentino went off for 24 points with four threes and Rosen hit a pair of threes on the way to 11 points, five rebounds and five assists.
Colucci and Corsentino also grabbed seven rebounds apiece.
Senior Olivia Conroy led Donovan Catholic with 23 points and classmate Kya Joseph added 14 for the Griffins, who took a 34-29 lead into the second half before Rumson took over with a 24-5 blitz during the third quarter.
No. 1 St. John Vianney 84, No. 8 Trinity Hall 39
Playing in its first ever SCT quarterfinal game, Trinity Hall was within one point of St. John Vianney late in the first quarter, but the Shore Conference giant sprung to life and routed the upstart Monarchs (12-10) to coast into the tournament semifinals Tuesday against Rumson-Fair Haven.
Senior Madison St. Rose netted a game-high 22 points and junior Zoe Brooks went for 18 to lead St. John Vianney (24-0), which will put its perfect 2021-22 record on the line Sunday against Sidwell Friends (D.C.) -- the No. 1 ranked team in the country -- down at a neutral site in Delaware. Junior Janie Bachmann also chipped in 11 points and eight rebounds in Saturday's win.
Sophomore Nina Emnace led Trinity Hall with 15 points and three assists in the Monarchs' final game of their deepest ever SCT run.
More From Shore Sports Network