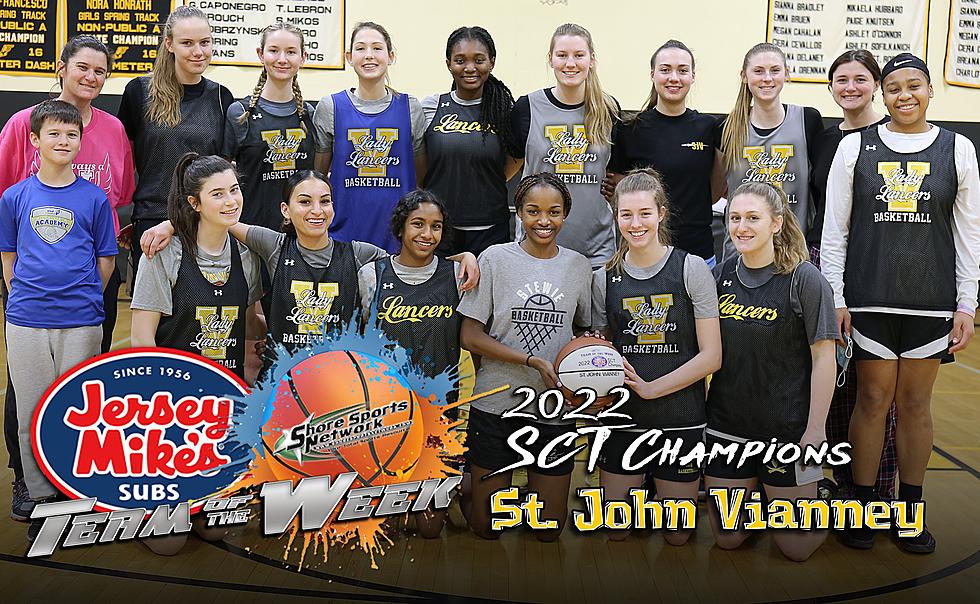 Girls Basketball – Jersey Mike's Team of the Week: St. John Vianney
Photo by Steve Meyer

Before the regular season even ended, the 2021-22 St. John Vianney girls basketball team proved that no team in New Jersey was anywhere near its class.
The Lancers did finally meet their match when they took a trip to Delaware and lost to the No. 1 team in the nation, Sidwell Friends (D.C.), but it was a necessary challenge for a team that has been at least 15 points better than every in-state opponent and that's on an off night.
From here on out, the Lancers are not competing with the rest of the state. They are competing with history.
After wiping out a six-point deficit in the second quarter to beat Manasquan, 62-46, for its 15th Shore Conference Tournament championship, St. John Vianney is primed to make a run at its eighth NJSIAA Tournament of Champions title, which will be the last Tournament of Champions played in New Jersey.
For conquering the Shore Conference and building their case as the greatest team in Shore Conference history -- girls or boys -- St. John Vianney is the Jersey Mike's Team of the Week.
St. John Vianney has not lost to a New Jersey opponent since the 2019 NJSIAA South Jersey Non-Public A final against St. Rose, capturing the Shore Conference Tournament championship in 2020 and the unofficial Shore Conference championship during a 14-0 2021 season.
This season, the Lancers brought back a talented group of returnees, led by Princeton commit Madison St. Rose, Fordham commit Ashley O'Connor and Holy Cross commit Megan Cahalan. They also added junior Zoe Brooks, a transfer from Trenton Catholic.
The combination has been explosive, as St. John Vianney entered Sunday's Shore Conference Tournament final against Manasquan having defeated all of its in-state opponents by at least 22 points.
On Sunday, though, Manasquan got off to a strong start thanks to a solid defensive gameplan and some early shooting success that built the Warriors a 19-13 by the midway point of the second quarter. Brooks then led a 12-4 run to close out the half and armed with a two-point lead heading into the second half, St. John Vianney tightened the screws on defense, St. Rose caught fire along with Brooks, and the Lancers polished off a 16-point win.
St. John Vianney opens its state championship push on Friday as the No. 1 seed against eighth-seeded Immaculata in the NJSIAA South Jersey Non-Public A opening round.
More From Shore Sports Network