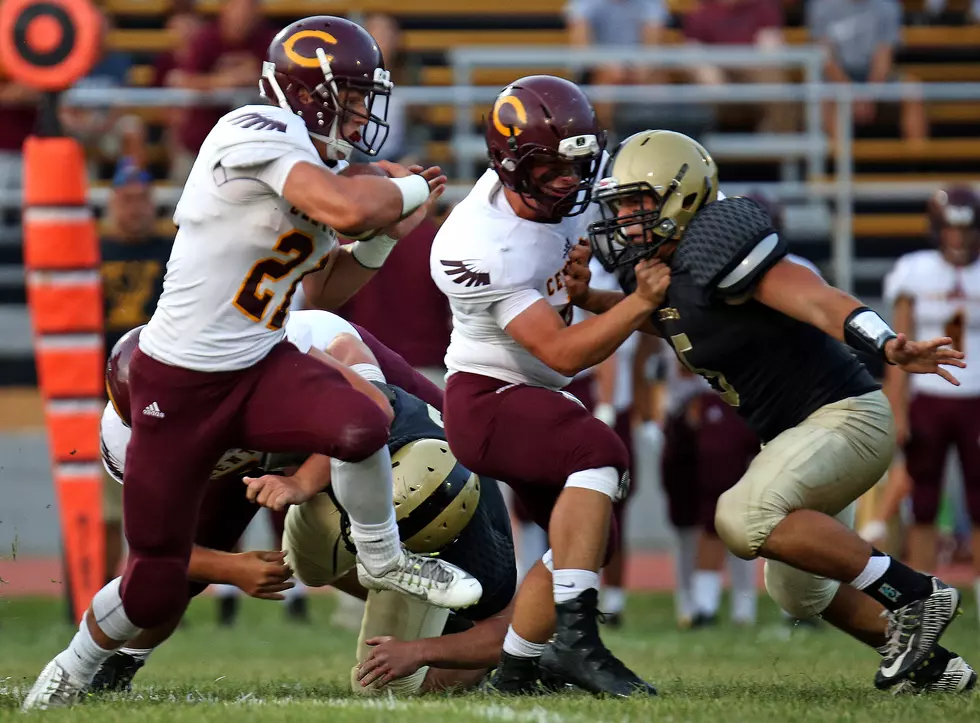 Football – Gridiron Classic Rosters
Central's Mike Bickford is among several star players set to play in the 2017 All-Shore Gridiron Classic. (Photo by Ray Richardson).
Here are the rosters for the 40th All-Shore Gridiron Classic, which will take place at 7 p.m. on Thursday June 29 at Shore Regional's Feeney Field. This page will be updated with any roster changes leading up to the game.
Matt DeGennaro, QB, St. John Vianney
Matt Pennell, QB/DB, Shore
Marc Carnivale, QB, Raritan
Charles Sabbagh, QB/DB, Freehold Township
Vito Aleo, RB/DB, Raritan
Carmen Catena, RB, Colts Neck
Cameron Caorsi, RB, Marlboro
Paul Reed, RB/DBAsbury Park
Ahlonte Hair, WR/DB, Freehold
Dwight Wilkerson, WR/DB, Middletown North
R.J. Janeczek, WR/DB, Wall
Damaso Jaime, WR/DB, Manasquan
Kahmar Rice, WR/DB, Neptune
Riley Keating, OL/DL, Marlboro
Richie Squeo, OL/DL, Keansburg
Paul Bavaro, OL/DL, Raritan
Alex Dalmau, OL/DL, Raritan
Gary Hoover, OL/DL, Neptune
Mike Devine, OL/DL, Shore
Zach Frick, DL/TE, Keyport
Andrew Conzo, DL, Matawan
Adam Schreck, DL/TE, Manasquan
Jake Goldfarb, DL/OL, Middletown North
Tyler Rebmann, DL, Monmouth
Paul Christopher, DL/TE, Shore
Kyle Dallicardillo, LB, Wall
Juwan Mitchell, LB, Mater Dei Prep
Ryan Cassidy, LB/FB, Marlboro
Tristan Wong, LB/RB, Holmdel
Anthony Tedesco, LB, Ocean
Dan Cacciatore, LB/WR, Howell
Jon Pimentel, LB/DE, Manalapan
Sean Kinniburgh, DB, Manalapan
Rory Sullivan, DB/WR, Raritan
Chris Brannagan, DB/WR, Red Bank
Max Hazard, DB/WR, Red Bank Catholic
Maxx Imsho, DB, Middletown South
Tyler Schulman, K, Freehold Township
Cody Weiner, K/P, Manalapan
Jon Lubintus, WR/DB, Mater Dei Prep
Josmere Taylor, DB, Asbury Park
Coaching staff: Derek Sininsky, St. John Vianney (head coach); Jack Nascimento, SJV (offensive coordinator), Jason Dagato, Marlboro (defensive coordinator) Jason Wombaugh (SJV), Keith Rescorl (SJV), Ed Hernandez (SJV), Kirk Wagner (SJV), Jeff Papcun (SJV), Rich Lamberrson (SJV), Pat Smith (SJV), Tom D'Ambrisi (SJV), Dominick Pedone (SJV), Brian Moore..
Dean Helstowski, LB, Brick
Anthony Costanza, QB, Brick
Rashon McCall, RB/LB, Brick
Liam Poland, OL/DL, Brick
Mike Bickford, RB, Central
Anthony Holloway, DB, Central
Denis Corbin, DL/TE/FB, Central
Jared Giamio, DE, Central
Joe Manso, DB, Brick Memorial
Will Sagarese, OL, Toms River North
Matt Melamed, OL, Toms River North
Joe Nardoza, DL, Toms River North
Pete LaQuaglia, LB, Toms River North
Jake Iadevaia, DL, Toms River South
Nick Page, LB/FB, Toms River South
Dylan Smith, OL, Southern
Sam Cammarata, K/P, Southern
Chris Citarella, WR/DB, Southern
Honore Richardson, DB, Lakewood
Jah'sir Cooper, LB/FB, Lakewood
Javier Duran, DL,  Jackson Liberty
Jake Stillwell, OL, Jackson Liberty
Eric Becker, LB/FB, Barnegat
Jake Schmitz, DB, Barnegat
Joe Hynes, OL, Point Boro
Aidan Connolly, DL, Point Boro
Hayden Frey, WR/DB, Point Boro
Justin Rafi, LB/FB, Point Boro
Matt Milden, DL/OL, Lacey
Chase Stephensen, WR/DB, Lacey
Jake Lloyd, OL, Manchester
Tariq Ali, DB, Manchester
Cade Watkins, OL/DL, Point Beach
Cody Liguori, DL/OL, Point Beach
Coaching staff: L.J. Clark, Lakewood (head coach); Evan Baubles, Lakewood (off. coord.), Kevin Smith, Barnegat (def. coord.), Len Zdanowicz, Brick (DT), Justin Fumando, Central (DE), Paul Covine, Barnegat (LB), Ryan Fullen, Monroe (DB), Lou Peccarelli, Lakewood (RB), John Tierney Lacey, (OL), Kevin Stockhoff, Brick (QB), Anthony Carrington (WR).
Managing editor Bob Badders can be reached at bob.badders@townsquaremedia.com. Follow him on Twitter @Bob_Badders. Like Shore Sports Network on Facebook and subscribe to our YouTube channel for all the latest video highlights.
More From Shore Sports Network