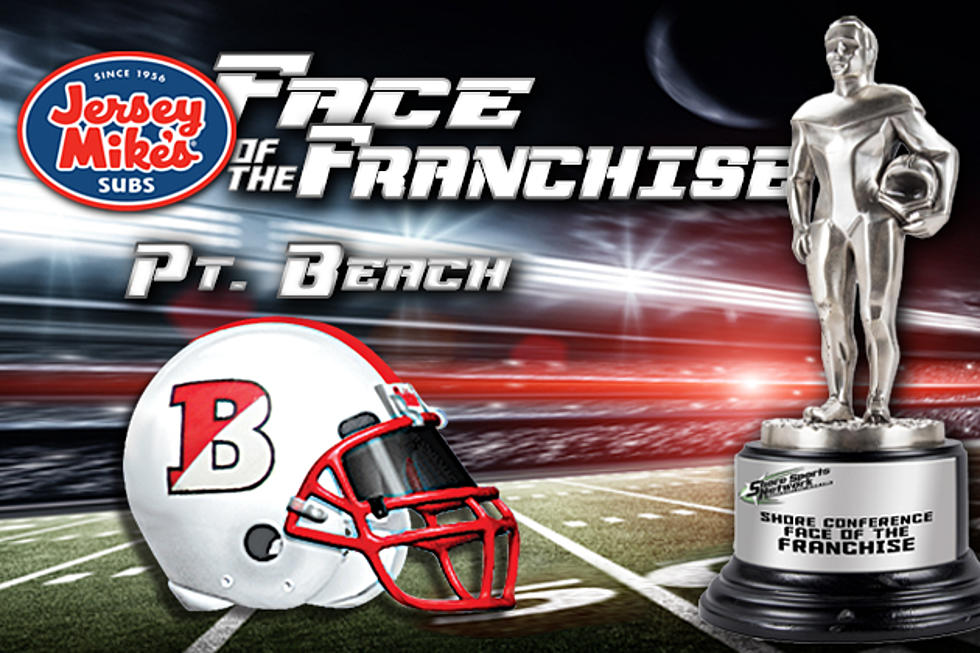 Face of the Franchise: Point Beach football
Steve Meyer

Enter your number to get our free mobile app
When a Shore Conference football program is mentioned there are certain people that always come to mind. For some, it's unanimous no matter what era you are from. For others, it's a fun debate comparing all-time greats from different eras whether they roamed the sidelines as coaches or broke records between the lines.
That got us at the Shore Sports Network wondering: when you think of Shore Conference football, who are the most prominent figures in each program's history? And if there was a mountain nearby and we knew a sculptor, whose faces should be carved on its side to be forever honored?
With that in mind, we came up with a football feature that will run throughout this summer, and it's called Face of the Franchise.
We reached out to all 43 football programs in the Shore Conference and in conjunction came up with five to six nominees for each school. The five names and their accomplishments will be listed and fans will have a chance to cast their votes to select who they feel is the Face of the Franchise for each program. Our SSN football crew of Bob Badders, Kevin Williams, Ed Sarluca and Matt Harmon will also put their heads together to make a selection. The polls will run for one week each.
At the end of the summer when the Face of the Franchise has been determined for all 43 programs, we'll run one final poll to see who the fans think should go on top of the mountain; five legends to represent the history of Shore Conference football.
POINT BEACH
Dickie Harris 
Harris was a star running back at Point Beach who graduated in 1967 before becoming a standout defensive back at the University of South Carolina and later in the Canadian Football League.
Harris was moved to the defensive backfield and used as a kick returner with the Gamecocks and flourished in those roles from 1969-1971, culminating with All-Atlantic Coast Conference (ACC) and first-team All-American selections in 1970. He had three 90-plus yard touchdowns in 1970: a 97-yard punt return touchdown against North Carolina and a 96-yard kickoff return for a touchdown and a 94-yard interception return for a touchdown, both against Georgia.
The New York Jets selected Harris in the fifth round of the 1971 NFL Draft and the Montreal Alouettes of the CFL also expressed interest in signing him. He elected to play in Canada and embarked on a Hall of Fame career. Harris played 10 seasons in Canada and was an eight-time CFL All-Star selection, including winning Defensive Player of the Year in 1979. He was part of two Grey Cup Championship teams with the Alouettes in 1974 and 1977. His 38 career interceptions remain a franchise record and his 118-yard interception return for a touchdown is the longest in franchise history.
Harris was inducted into the University of South Carolina Hall of Fame in 1998. In 1999, Harris was inducted into the Canadian Football Hall of Fame and in 2005 was voted one of the CFL's top 50 players of all time (No. 33) by Canadian Sports Network TSN.
Paul Struncius 
Point Beach's all-time leading passer led the Garnet Gulls to their first state championship game in 1982, set the state single-season passing record and then went on to play at Lafayette College.
As a junior, Struncius quarterbacked Point Beach into the Central Jersey Group 1 championship, its first in program history, where the Garnet Gulls fell to Middlesex, 25-14. A year later as a senior, Struncius threw for 2,451 yards to set a new single-season state record, breaking the old mark of 2,360 yards set by NFL Hall of Famer and South River legend Joe Theismann in 1965. In the 1983 season-opener, Struncious threw for 396 yards against Keyport.
Struncius played collegiately at Lafayette and was the team's starter in 1986. He returned to Point Beach and was a longtime assistant coach, including in 2013 when the Garnet Gulls, featuring his son, Sean, a standout two-way lineman, won the Central Jersey Group 1 title to give the program its first and only state sectional championship.
Alfred Gray 
A 1946 Point Beach graduate, Gray was a standout on the gridiron along with the basketball court and the baseball diamond, but his legacy is that of a decorated United States Marine Corps general.
He served in the Marine Corps for 41 years from 1950-1991 and from 1987 until his retirement was the Commandant of the Marine Corps, which is the highest-ranking officer in the USMC and a member of the Joint Chiefs of Staff. He fought in the Korean War and the Vietnam War and received numerous awards including a Purple Heart, Silver Star, Legion of Merit and Bronze Star Medal.
The Alfred M. Gray Research Center at the Marine Corps Base in Quantico, Virginia is named in his honor.
Jack Ford
A 1968 Point Beach graduate, Ford was an All-Shore back as a senior before attending Yale University and embarking on a long and successful career as a broadcast journalist.
Ford graduated from Yale in 1972 and then earned his law degree from Fordham University. His broadcasting career began in 1984 at WCBS-TV in New York as the station's legal commentator. He joined Courtroom Television Network in 1991 and then moved to NBC News in 1994 as the chief legal correspondent. In 1999, Ford joined ABC News and became a correspondent for 20/20 and Good Morning America. He was also the moderator of ESPN's The Sports Reporters in 2002 and 2003. Since 2009, Ford has been a CBS News Legal Analyst.
Ford has won two Emmy Awards, a Peabody Award, an American Radio and Television Award, a National Headliner Award the March of Dimes FDR Award.
John "Chip" Sherman 
Sherman was an All-Shore and All-State running back, standout wrestler and track athlete and 1976 graduate before heading to Missouri where he enjoyed a Hall of Fame career as a coach.
Following high school, Sherman played collegiately at Tarkio College in northwest Missouri where he was a four-year starter and an NAIA All-American in 1979. He was twice invited to attend training camp with the Dallas Cowboys. He then began his coaching career at Kansas City's Grandview High School as the team's offensive coordinator from 1983 to 1988. He was then hired as the head coach at Platte County High School, a program that had just three winning seasons in the prior 15 years. Sherman coached Platte County from 1988 to 2008 and turned the program into a state power, going 191-37, winning state championships and 2000, 2001 and 2002 and producing a 52-game winning streak.
He went on to rebuild Kansans programs at Salina South, Shawnee Mission East and Olathe West, reaching the 250 win mark for his career. In 2017, Sherman was inducted into the Missouri Sports Hall of Fame.
Keith Hertling 
A member of the Point Beach Hall of Fame, Hertling was a three-sport star who earned 12 varsity letters across football, indoor track and outdoor track, garnering All-County and All-State honors before graduating in 1975. Hertling attended Benedictine College in Kansas where he was a three-time All-American running back. He was inducted into the Benedictine College Hall of Fame in 1994.
Hertling then coached for seven years at Kansas University, William Paterson University and Washburn University. He founded Popeye's Cardio Fitness in Topeka, KS and was a leader in the fitness industry for 20 years.
Hertling is currently a member of the corporate team at Jersey Mike's Subs as the Senior Vice President of Leadership Coaching and Culture.
TACKLE THESE: Check Out the Best Uniforms In Each NFL Team's History
Managing editor Bob Badders can be reached at bob.badders@townsquaremedia.com. Follow him on Twitter @Bob_Badders. Like Shore Sports Network on Facebook and subscribe to our YouTube channel for all the latest video highlights.
More From Shore Sports Network