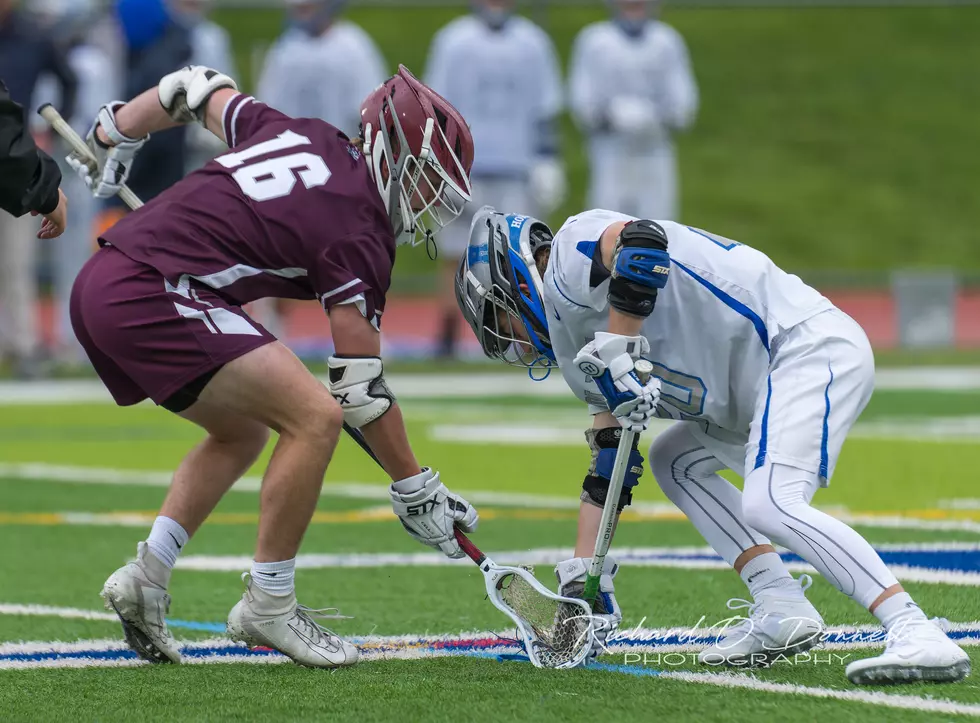 Elite Sports PT Shore Conference Boys Lacrosse Top 10 for May 10
Richard E. O'Donnell

It's great to be back.
The Shore Conference Tournament gets underway tomorrow and concludes on May 22 with the championship game. The state tournament will follow. It's an exciting time for high school lacrosse and we're thrilled to be back to chronicle it all.
Let's get right to it with the latest Elite Sports Physical Therapy Boys Lacrosse Top 10.
Elite Sports PT Boys Lacrosse Top 10 for May 10
1. Rumson-Fair Haven (11-4). Last week: No. 1
Since the last rankings were released, all the Bulldogs have done is won five of six games, including dominant wins over Shore Regional, Ocean City, Red Bank, and Red Bank Catholic. The lone setback was a 9-7 setback to a Mahnasset (NY) team that is ranked No. 6 in the country by Inside Lacrosse. To the surprise of no one, RFH earned the No. 1 seed for the Shore Conference Tournament, which starts on Thursday with preliminary round games and concludes with the SCT final on May 22. Senior Cole Cashion continues to lead the way, offensively, with 45 goals and 18 assists but there is plenty of balance from top to bottom on yet another Rumson team that has the goods to win every tournament they enter. Upcoming games: Wednesday vs. No. 8 Holmdel; Saturday vs. TBA in SCT first round.
2. Wall (11-3). Last week: No. 3
Wall is riding a six-game winning streak and moves up one spot thanks to Manasquan's win over CBA on Tuesday. The Crimson Knights own a 7-6 win over Manasquan on April 19. Since falling to Westfield, 8-4, on April 24, Wall has ripped off wins over St. Rose, Shawnee, Donovan Catholic, St. Joseph (Metuchen), Barnegat, and Southern to earn the No. 2 seed in the Shore Conference Tournament. Senior attackman John McCurry is in the midst of another huge offensive season with 50 goals and 39 assists through 14 games. Upcoming games: Thursday at Bridgewater-Raritan; Saturday vs. TBC in SCT first round.
3. Manasquan (10-3). Last week: No. 4
The Warriors picked up a key win over rival CBA by rallying from an early 4-1 hole to secure a 13-9 victory. Since a 7-6 loss to Wall on April 19, Manasquan has won six of seven games with the only loss coming to nationally-ranked Salesianum (Del.). Seniors Matt Porazzo (25g, 19a) and James Farinacci (29g, 9a) and sophomore Brandon Kunz (21g, 16a) lead the scoring for a balanced offense while junior goalie Nick Bounassi has been stellar behind a standout defensive unit. Manasquan is the No. 3 seed for the Shore Conference Tournament. Upcoming games: Thursday vs. Moorestown; Saturday vs. TBA in SCT first round.
4. Christian Brothers Academy (8-5). Last week: No. 2 
The Colts drop down two spots after a 13-9 loss to Manasquan. CBA has lost four of its last six games but considering the qualify of the opponents in those losses - St. Augustine, Iona Prep, Hun, and Manasquan, that statistic is certainly deceiving. The Colts are the No. 4 seed in the Shore Conference Tournament and will host Toms River East on Saturday. Statistically, senior attackman Nick Blalock (25g, 23a), senior midfielder Ian Macrae (21g, 20a), and senior attackman Brendan Donnelly (24g, 4a) lead the offense. Upcoming games: Saturday vs. Toms River East in the SCT first round.
5. Southern (9-3). Last week: No. 5
The Rams hold steady at No. 5 despite going 3-2 in their past five games with wins over Jackson Memorial (21-7), Manalapan (15-1), and Central (19-0) and losses to Allentown (10-9 in OT) and No. 2 Wall (14-6). Southern holds a win over Shore Regional on April 17 that separates them from the rest of the pack between five and 10. Southern has six players with 22 or more points, led by senior midfielder Joey DeYoung (43g, 17a) and senior attackman Hayden Lucas (33g, 26a). Upcoming games: Saturday vs. Red Bank Catholic in the SCT first round; Monday vs. Shawnee.
6. Shore (8-4). Last week: No. 6
This is where the rankings get tricky. Between Shore, Red Bank, Middletown South, Holmdel, and Red Bank Catholic, it's a bit of a mess in terms of head-to-head results. Shore has wins over Red Bank and Holmdel but a loss to RBC. Red Bank has wins over Holmdel, RBC, and Middletown South but the loss to Shore. Holmdel was defeated by Red Bank and Shore but owns wins over RBC and Middletown South. We're sticking with the Blue Devils at No. 6. Shore has three 40-point scorers with Ben Levy (20g, 31a), Carson Spallone (32g, 17a), and Sam Madalone (15g, 30a) leading the way. The Devils also received a huge lift with the return of All-Shore senior goalie Walker Hunter, who had been out with an injury he sustained during football season. Shore is the No. 8 seed in the SCT. Upcoming games: Thursday vs. Middletown South in the SCT first round.
7. Red Bank (12-2). Last week: No. 7
Since a 17-7 loss to Shore on April 5, Red Bank has won 11 of 12 games with the only defeat during the span being a loss to No. 1 Rumson. The subsequent 10-game winning streak included wins over Holmdel, Red Bank Catholic, and Middletown South. RBR's standout trio of senior midfielder Henry Spencer (45g, 15a), senior midfielder Ryder Villani (37g, 15a), and junior midfielder Andrew Pape (23g, 22a) have all had very strong seasons. Red Bank earned the No. 5 seed for the Shore Conference Tournament. Upcoming games: Saturday vs. Manalapan in the SCT first round.
8. Holmdel (12-2). Last week: No. 9
The Hornets are one of the hottest teams in the Shore right now with a seven-game winning streak that continued with a dominant 16-5 win over Middletown South on Monday. Holmdel also defeated Lenape and Red Bank Catholic during that span. Veterans Kyle Kapcsos (25g, 22a) and Will Gilfillan (30g, 37a) have been great while the play of junior Gary Collyer (29g, 23a), freshman Finnegan Buchan (32g, 11a), and freshman Jack Cannon (11g, 14a) as first-year starters has been crucial to the team's success. Holmdel's specialists have also played great with senior goalie Andrew Arredondo posting a 68% save percentage and sophomore FOGO Jack Powers winning at a 79% clip at the face-off X. Holmdel earned the No. 6 seed in the Shore Conference Tournament. Upcoming games: Wednesday vs. No. 1 Rumson-Fair Haven; Saturday vs. Point Boro in the SCT first round.
9. Middletown South (8-4). Last week: No. 8
The Eagles have now lost three of their last four games with defeats coming at the hands of Red Bank, Allentown, and Holmdel with a win over Middletown North mixed in. Middletown South remains firmly in the Top 10, however, thanks to its victories over Red Bank Catholic, Howell, and Manalapan from earlier in the season. Senior attackman Steve Kirschner leads the team in scoring with 24 goals and 13 assists and senior midfielder Beau Servidio has provided great versatility with 25 goals, 9 assists, and solid face-off work. The Eagles are the No. 9 seed in the Shore Conference Tournament and have a chance to shake up the rankings right away. Upcoming games: Thursday at No. 6 Shore in the SCT first round.
10. Red Bank Catholic (7-6). Last week: not ranked
The revolving door at No. 10 continues and this week it's the Caseys who will try to buck the trend of one-and-done. Five of RBC's six losses have to come to ranked Shore Conference teams and the other was to West Essex on April 10. The Caseys' win over No. 6 Shore put them over the top for the final rankings spot. Senior midfielder Torin Harmon tied for the Shore Conference scoring title last season and leads the team with 64 points on 27 goals and 37 assists. Harmon along with junior attackman Peter Villare (33g, 14a), senior midfielder Sam Fertal (35g, 10a), and junior attackman Jackson Lu (22g, 17a) are the team's top scorers while senior goalie Christian Schrader has a 60% save percentage: Upcoming games: Saturday at No. 5 Southern in the SCT first round.
Honorable mention:
Toms River East (8-2)
Manalapan (8-4)
Jackson Memorial (8-2)
Barnegat (11-3)
Point Boro (9-3)
Donovan Catholic (8-5)
Freehold Township (7-4)
Howell (6-7)
Archive
More From Shore Sports Network