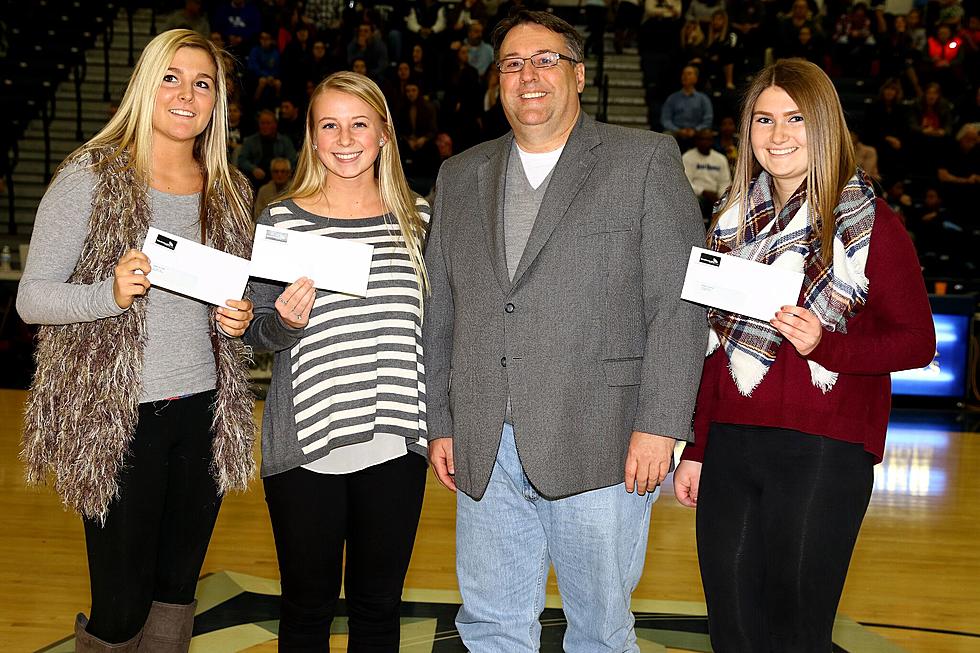 Christmas Classic Scholars Honored
Kathryn Hyde, Amanda Bruno, Neil Bryant, Megan Schulman
A big part of the history and tradition of the WOBM Christmas Classic has little or nothing to do with what takes place on the basketball court at the Pine Belt Arena.
Since the tournaments inception in 1984 student-athletes that have shined in the classroom have benefitted from the success of one of New Jersey's premier holiday hoops events.
At halftime of the December 30th championship games six players who took part in the 2015 WOBM Classic and are now college freshman became the latest recipients of scholarships through the sponsorship and support of RWJ Barnabas Health/Community Medical Center.
During the girls title game Neil Bryant, Vice President of Support Services at CMC presented checks to Megan Schulman (Freehold Township), Kathryn Hyde (Wall) and Amanda Bruno (Toms River East). Schulman, a Math/Statistics major at Washington University in St. Louis received $750 while both Hyde (University of Maryland/Accounting) and Bruno (Florida State/Math) were awarded $500 to help with their college expenses.
At halftime of the boys championship game Allison Clemente, Manager, Major Gifts and Stewardship of the CMC Foundation also presented scholarship checks to William Porter (Brick Memorial), Luke Benigno (Middletown South) and Tyler McShea (Donovan Catholic). Porter, a finance major at Penn State University was awarded $750 while Benigno (William & Mary/Government) and McShea (Stevens Institute of Technology/Engineering) received $500 each.
The first academic scholarship recipient was John Klimkiewicz who helped Southern Regional win the inaugural WOBM Christmas Classic in 1984. Today Dr. Klimkiewicz is an Orthopedic Surgeon and a partner in Washington Orthopaedics & Sports Medicine. He serves as the head team physician for Georgetown University athletics and the NHL's Washington Capitals.
Klimkiewicz has been followed by 117 others who have received nearly $77,000 in scholarship awards which is what separates the WOBM Christmas Classic from any other high school basketball tournament in the state.
A special thanks to our presenting sponsor RWJ Barnabas Health for their continued support of this program.
More From Shore Sports Network