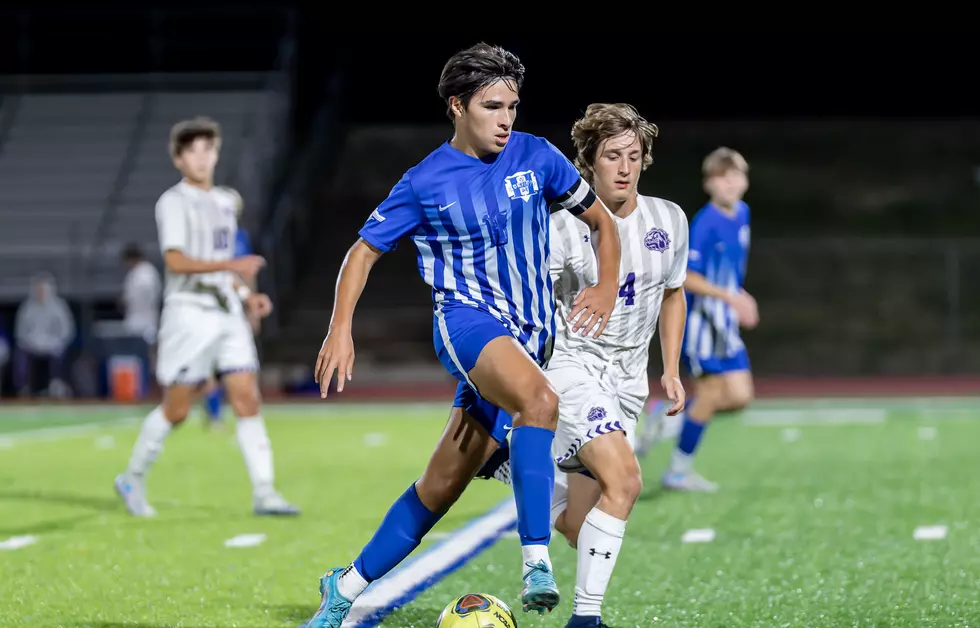 Boys Soccer – Top Returning Shore Conference Players for 2023
Holmdel junior David Weiner. (Photo: Tom Smith | tspsportsimages.com)

The first official day of high-school soccer tryouts in New Jersey is less than a week away as we barrel toward opening day on Sept. 7. Now that we know the new format to the Shore Conference Tournament, let's have a look at some of the most decorated boys players from last season that are due back this fall. Unlike most scholastic sports, soccer teams often have to compete with academy teams for players, so the list of impact returning players is not always quite as long as expected.
Returning Shore Sports Network All-Shore Players
First Team
Stephan Kapranov, Jr., Forward, Holmdel
Kapranov exploded onto the scene in 2022, his first as a high-school player after opting for academy soccer as a freshman. The powerful striker finished second in the Shore Conference in both goals and total scoring, converting 18 goals and six assists for a Holmdel team that won the NJSIAA Central Jersey Group III championship.
David Weiner, Sr., Midfield, Holmdel
The only team returning a First-Team All-Shore player is Holmdel and the Hornets have two. While Kapranov was the threat near the goal, Weiner dominated the middle of the field for the Central Group II champions, finishing with 12 goals and nine assists for Holmdel. With Kapranov and Weiner back as, perhaps, the Shore's most dynamic duo, Holmdel expects to challenge for the No. 1 spot at the Shore and in Group II.
Second Team
Dylan Millevoi, Sr., Forward, Christian Brothers Academy
With senior First-Teamers Will Thygeson and Jack D'Eletto leading the scoring, Millevoi matched Thygeson with a team-high 11 goals to go with three assists as the third-leading overall scorer on the No. 1 team in the state.
Nick Damiano, Sr., Midfield, Wall
Damiano will miss the 2023 season due to a torn ACL he suffered in May, which takes Wall's most dynamic player off the field. The Crismon Knights should again thrive defensively, but missing Damiano (nine goals and four assists in 2022) will make returning to the Central Group II final or a second consecutive year much more difficult.
Lawrence Mancino, Sr., Defense, Christian Brothers Academy
While Holmdel is the only team in the Shore Conference with two returning First-Team players, CBA has Holmdel – and everybody else – beat with four total All-Shore players returning. A third-year starter, Mancino is the top returning defender for the Colts and also brings scoring ability to the back after notching four goals and three assists in 2022.
Miles Gallagher, Sr., Goalkeeper, Christian Brothers Academy
Gallagher was set to be the backup heading into the preseason, but an injury to incumbent Joe Grossman opened the door for Gallagher to not only step in, but to thrive. He allowed just seven goals in 20 games and racked up 14 clean sheets for a CBA side that won its last 19 games after losing on opening day.
Third Team
Shawn McCann, Sr., Forward, Middletown South
Only three players in Class A North scored more goals than McCann did last season, when the Eagles forward slammed home 11 goals to go with six assists.
Kenny Caruso, Sr., Forward, Toms River South
Another high-scoring attackman heading into his senior year, Caruso finished second among all players in Class A South in 2022 with 14 goals while also dishing out two assists.
Kyle Moore, Jr., Forward, Colts Neck
Colts Neck had as dynamic a forward group as any team at the Shore and Moore is the one who is back, coming off nine goals and five assists as a sophomore.
Dimitry Corba, Sr., Midfield, Christian Brothers Academy
With Millevoi up top and Thygeson and D'Eletto working the wings, Corba picked apart opposing back lines in racking up 10 assists to go with four goals for the SCT champs.
Anthony Cano, Sr., Defense/Midfield, Monmouth
A defensive center midfielder, Cano has shown a nose for the goal during the first three years of his career, which included 10 goals and six assists for a Falcons team that overcame an inexperienced roster to win a state tournament game.
Jack Harmon, Sr., Goalkeeper, St. Rose
St. Rose made a run to the Non-Public B championship game for the first time since 2010 and battled three-time defending champion Gill St. Bernard's to a scoreless draw before falling on penalties. Harmon was the x-factor in the postseason run for the Purple Roses, finishing the season with eight shutouts and just 13 goals allowed in 19 matches.
Returning Coaches' All-County Players
All-Monmouth
First Team
Stephan Kapranov, Jr., Forward, Holmdel
David Weiner, Sr., Midfield, Holmdel
Second Team
Kyle Moore, Jr., Forward, Colts Neck
Nick Damiano, Sr., Midfield, Wall (Injured; out for season)
Kervins Lafortune, Sr., Forward, Neptune
Shawn McCann, Sr., Forward, Middletown South
Trevor Barrett, Jr., Midfield, Marlboro
Anthony Cano, Sr., Midfield/Defense, Monmouth
Third Team
Chris Lopez, Sr., Forward, Long Branch
Jake Petillo, Sr., Midfield, Wall
Sasha Korolev, Sr., Midfield, Ocean
Ammar Danish, Sr., Forward, Freehold Boro
Cade Jacobs, Sr., Midfield, Marlboro
Griffin Linstra, Jr., Defense, Manasquan
Liam McGinn, Sr., Defense, Raritan
Ocean County
First Team
Joey Kurak, Sr., Midfield, Manchester
John Witkowski, Sr., Midfield, Point Pleasant Boro
Kenny Caruso, Sr., Forward, Toms River South
Anthony Ruggiero, Sr., Forward, Toms River North
Bobby Calvo, Jr., Goalkeeper, Toms River East
Second Team
Justin Markovitch, Sr., Forward, Toms River East
Keith Swistock, Sr., Midfield, Central
Matteo Pasqualichio, Sr., Midfield, Lacey
Third Team
Matt Fletcher, Sr., Midfield, Donovan Catholic
Stephen Csatari, Sr., Midfield, Jackson Memorial
Nick Prosperi, Jr., Defense, Southern
Owen Clearwaters, Sr., Forward, Point Pleasant Boro
Giovanni Batista, Sr., Defense, Jackson Liberty
Returning Coaches' All-Division Players
Class A North
Shawn McCann, Sr., Forward, Middletown South
Trevor Barrett, Jr., Midfield, Marlboro
Ammar Danish, Sr., Forward, Freehold Boro
Cade Jacobs, Sr., Midfield, Marlboro
Class A Central
Stephan Kapranov, Jr., Forward, Holmdel (Player of the Year)
David Weiner, Sr., Midfield, Holmdel
Nick Damiano, Sr., Midfield, Wall (Injured; out for season)
Anthony Cano, Sr., Midfield/Defense, Monmouth
Jake Petillo, Sr., Midfield, Wall
Liam McGinn, Sr., Defense, Raritan
Class A South
Kenny Caruso, Sr., Forward, Toms River South
Anthony Ruggiero, Sr., Forward, Toms River North
Jackson Markovitch, Sr., Forward, Toms River East
Keith Swistock, Sr., Midfield, Central
Bobby Calvo, Jr., Goalkeeper, Toms River East
Class B North
Kyle Moore, Jr., Forward, Colts Neck
Kervins Lafortune, Sr., Neptune
Chris Lopez, Sr., Forward, Long Branch
Sasha Korolev, Sr., Midfield, Ocean
Griffin Linstra, Jr., Defense, Manasquan
Class B Central
Dev Nayer, Jr., Forward, Ranney
Kevin Mortenson, Sr., Defense, Ranney
Jimmy Borowski, Sr., Defense, Point Pleasant Beach
Bennett Mayer, Jr., Defense, Point Pleasant Beach
Trey Junkin, Sr., Defense, Ranney
Jack Harmon, Sr., Goalkeeper, St. Rose
Class B South
Joey Kurak, Sr., Midfield, Manchester
John Witkowski, Sr., Midfield, Point Pleasant Boro
Matteo Pasqualichio, Sr., Midfield, Lacey
Matt Fletcher, Sr., Midfield, Donovan Catholic
More From Shore Sports Network