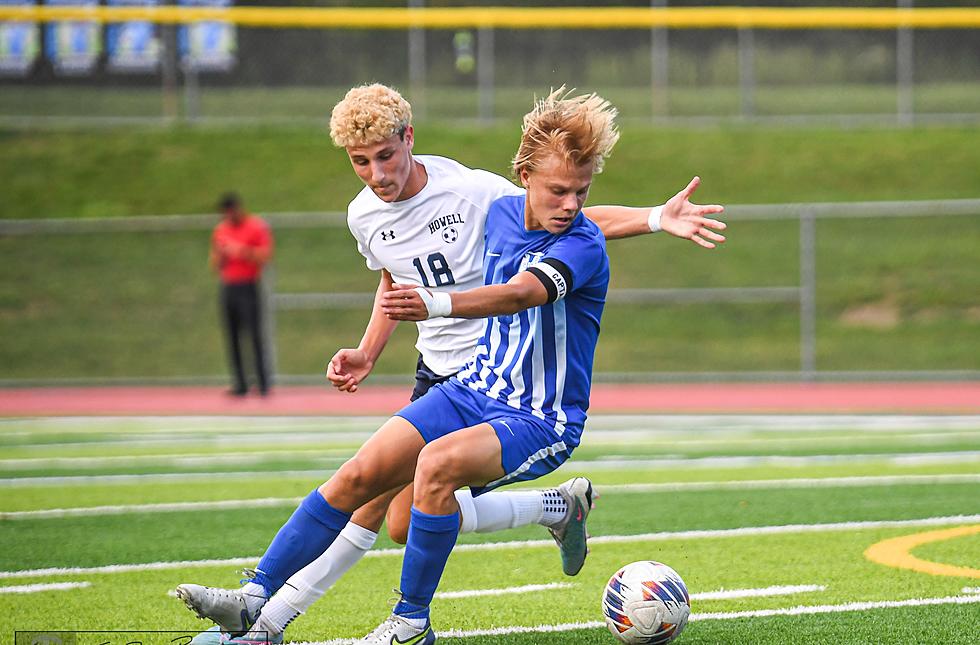 Boys Soccer – NJSIAA Tournament Preview: The Shore in Groups 1 and 2
Holmdel junior Stephan Kapranov defended by Howell junior Tye Maser. (Photo: Tom Smith | tspsportsimages.com)
The Central and South Jersey sections of Group II have been dominated by two teams over the past decade: Holmdel and Delran. Other teams have managed to win the Central Group II title over Holmdel, but when it comes to representing the Southern half of the state in the Group II championship, either Holmdel or Delran has played in 11 of the last 14 state finals -- including each of the last five.
For the teams not named Holmdel in the Central Jersey section, reaching the state final likely means going through both Holmdel and Delran -- both of which are No. 1 seeds again in 2023. While that remains a difficult proposition, this might be the best opportunity that the field has had against the two behemoths in a decade. Delran has lost seven games this season, while Holmdel failed to win its Shore Conference Class A Central division and also failed to reach the 22-team knockout round of the Shore Conference Tournament.
Both teams remain built to win championships and both will be at home for as long as they last in their respective sections, but the opportunity is there for someone else to beat them.
Group I, meanwhile, has been more of a revolving door, but has a clear-cut favorite -- at least in Central Jersey. Shore Regional is not only the defending sectional champion, but the Blue Devils are an improved team from the one that outscored the opposition, 21-2, in their four Central Jersey Group I matches in 2022.
Central Jersey Group II
Shore Teams in the Field: No. 1 Holmdel, No. 4 Rumson-Fair Haven, No. 6 Manasquan, No. 7 Point Pleasant Boro, No. 9 Wall, No. 13 Raritan
Top Seed: Holmdel
Defending Champion: Holmdel
Favorite: Holmdel. After a shocking elimination from the Shore Conference Tournament during the group-play stage, following by an overtime loss to Rumson-Fair Haven just three days later that relegated them to second place in the Class A Central division, Holmdel has turned its attention to finishing the season with a championship. The Hornets have two of the best players in the Shore Conference in Stephan Kapranov and David Weiner and the two played like it while leading Holmdel to the Shore Conference Coaches Cup championship. The two losses are going to sting for a while, but they are still the only two losses Holmdel has suffered this season. The defending champs remain the team to beat.
Darkhorse: No. 12 Delaware Valley. Count Raritan among the group of double-digit sleepers in the NJSIAA Tournament, but the Terriers get the darkhorse distinction because their first-round game appears, on the surface, to be more winnable. Both Raritan and Wall will hit the road on Wednesday with real chances to advance, with Raritan facing off against a Rumson side that beat the Rockets, 2-0, on opening day. After starting the season 0-5, the Rockets are 7-1 with a win over Wall, which gave both Holmdel and Rumson all they could handle.
Bracket Breakdown: Depending on how the early-round matches play out, there could be a lot of rematches between Shore opponents on the way to deciding a Central Jersey Group II champion. Holmdel, in particular, stands out: the Hornets could get a rematch vs. Wall in the sectional quarterfinals, a potential third showdown with Rumson in the sectional semifinals, and – if they make it that far – a second clash with Manasquan. Speaking of Manasquan, the Warriors have been inconsistent throughout the season, but got a favorable draw that could spell a run to the championship game. They share a side of the bracket with Point Boro, which has the seniors to make for a dangerous opponent, plus some noteworthy wins (Colts Neck, Southern) to draw upon in the first two rounds.
Championship Prediction: Manasquan over Holmdel. In order to get back to the sectional final, Holmdel will have to play the first two rounds without center back Tyler Gravier (red card), which could put the Hornets in danger if Wall is the team visiting them on Saturday. Holmdel was impressive in the Shore Coaches Cup final vs. Rumson and appears to be on top of its game on the attack heading into the state tournament. Manasquan, however, nearly took down Holmdel during the regular season and with a manageable road to the final, there is a good chance the Warriors get another chance to upset the Hornets.
Round-by-Round Predictions
First Round
(1) Holmdel over (16) East Brunswick Magnet
(9) Wall over (8) Bordentown
(12) Delaware Valley over (5) A.L. Johnson
(4) Rumson-Fair Haven over (13) Raritan
(3) South River over (14) Piscataway Magnet
(6) Manasquan over (11) Spotswood
(7) Point Boro over (10) Metuchen
(2) Governor Livingston over (15) Carteret
Quarterfinals
(1) Holmdel over (9) Wall
(4) Rumson-Fair Haven over (12) Delaware Valley
(6) Manasquan over (3) South River
(2) Governor Livingston over (7) Point Boro
Semifinals
(1) Holmdel over (4) Rumson-Fair Haven
(6) Manasquan over (2) Governor Livingston
Championship
(6) Manasquan over (1) Holmdel
South Jersey Group II
Shore Teams in the Field: No. 8 Manchester, No. 16 Barnegat
Top Seed: No. 1 Delran
Defending Champion: Delran
Favorite: Delran. The Bears have owned this section and will be seeking their eighth straight sectional championship – all in South Jersey Group II. Delran sports a rather pedestrian 10-7 record, but that is the result of a stacked schedule that includes losses to some of the best programs in the stats: Hunterdon Central, CBA, Scotch Plains-Fanwood, Lenape, Clearview, Cherokee and Paul VI. They have been beatable, but is there a team in the bracket that can actually beat them?
Darkhorse: No. 7 Haddon Heights. No double-digit seed in the field jumps off the page and any team on the same side of the bracket as Delran was dealt a bad hand. On the other side of the bracket, however, there is opportunity and the seventh-seeded Garnets are a 12-4-1 team that has hung with everyone on the schedule – including a No. 2 West Deptford team that will likely be awaiting the arrival of Haddon Heights in the quarterfinals.
Bracket Breakdown: Manchester and Barnegat are the Shore's only hope in South Jersey Group II and both are lined up to face Delran early on. Barnegat will draw Delran right away and if Manchester can fend off Haddonfield in the first round, the Hawks will make the trip to Delran, barring a shocker from Barnegat. On the other side of the bracket, the favorite is No. 3 Cedar Creek, an undefeated side that started the season 14-0 before three straight ties heading into the state tournament.
Championship Prediction: Delran over Cedar Creek. A Delran-vs.-Cedar-Creek championship would feature a lot on the line: Delran's seven straight sectional championships against what would be an undefeated record for the Pirates if they make it. With Delran holding home-field advantage, the Bears will remain the favorite until they get beat.
Round-by-Round Predictions
First Round
(1) Delran over (16) Barnegat
(9) Haddonfield over (8) Manchester
(5) Lindenwold over (12) Oakcrest
(4) Cinnaminson over (13) Willingboro
(3) Cedar Creek over (14) Pleasantville
(6) Sterling over (11) Middle Twp.
(7) Haddon Heights over (10) Overbrook
(2) West Deptford over (15) Collingswood
Quarterfinals
(1) Delran over (9) Haddonfield
(4) Cinnaminson over (5) Lindenwold
(3) Cedar Creek over (6) Sterling
(7) Haddon Heights over (2) West Deptford
Semifinals
(1) Delran over (4) Cinnaminson
(3) Cedar Creek over (7) Haddon Heights
Championship
(1) Delran over (3) Cedar Creek
Central Jersey Group I
Shore Teams in the Field: No. 3 Shore, No. 12 Point Pleasant Beach, No. 14 Henry Hudson, No. 16 Asbury Park
Top Seed: Highland Park
Defending Champion: Shore
Favorite: Shore. The defending sectional champions are a year removed from running roughshod over Central Jersey Group I and this year, the Blue Devils are a year older and a year better. Shore has played a far tougher schedule that any other team in the field and while most of their high-level games are losses, there are a few big wins in there: Robbinsville (No. 1 in Central Group III), Central Regional (No. 4 in South Group IV) and two wins over Wall (No. 9 in Central Group II and 2022 CJ II runner-up).
Darkhorse: No. 8 College Achieve Central. The Plainfield school has tested itself throughout the season, including in a 4-3 loss to Jackson Memorial last week. Point Beach has some youth that could be ready to ready to make a run as well after a run to the sectional semifinals a year ago.
Bracket Breakdown: After outscoring its opponents 21-2 during the 2022 Central Group I Tournament, Shore is set up for a repeat as long as the Blue Devils remain on their game. They could get a rematch of last year's sectional final with No. 6 Florence in the sectional quarterfinals and No. 2 Middlesex is the likely team Shore would have to beat in the sectional semifinals. The other side of the bracket has some uncertainty to it, with College Achieve posing a threat to top-seeded Highland Park, No. 4 South Hunterdon and No. 5 Manville.
Championship Prediction: Shore over College Achieve Central. The Blue Devils are on a mission to get to the Group I final for the first time since 1970 and win the first one in program history. Shore still has a relatively young roster with a chance to win a state championship sometime in the next two-to-three seasons, but there will be a chance right in front of them this year.
Round-by-Round Predictions
First Round
(1) Highland Park over (16) Asbury Park
(8) College Achieve Central over (9) Dunellen
(12) Point Beach over (5) Manville
(4) South Hunterdon over (13) Somerset Tech
(3) Shore over (14) Henry Hudson
(6) Florence over (11) New Egypt
(7) Roselle Park over (10) Woodbridge Magnet
(2) Middlesex over (15) STEMCivics
Quarterfinals
(8) College Achieve Central over (1) Highland Park
(4) South Hunterdon over (12) Point Beach
(3) Shore over (6) Florence
(2) Middlesex over (7) Roselle Park
Semifinals
(8) College Achieve Central over (4) South Hunterdon
(3) Shore over (2) Middlesex
Championship
(3) Shore over (8) College Achieve Charter
More From Shore Sports Network