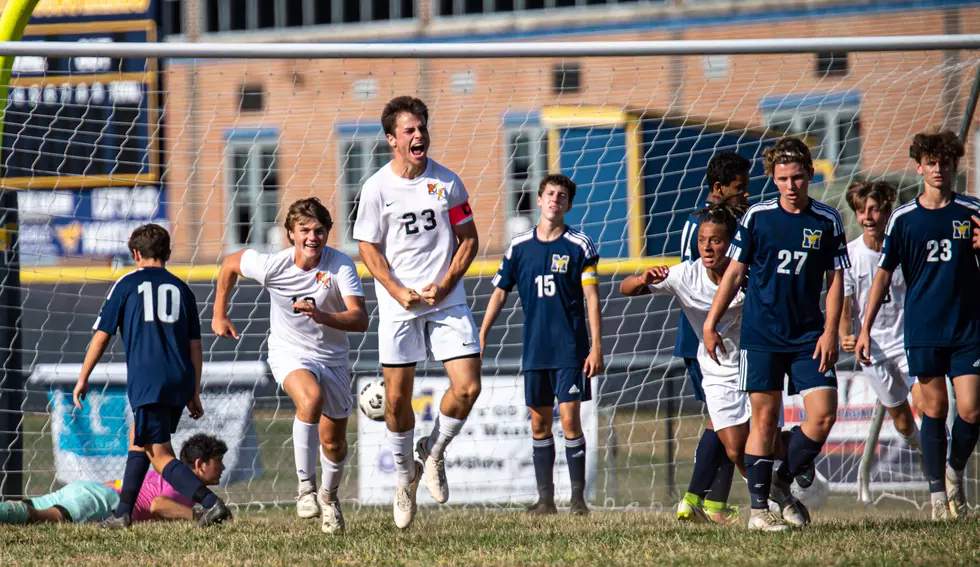 Boys Soccer – Howell Leads Five New Teams Into Shore Sports Network Top 10
tspsportsimages.com)

The first 11 days of the 2022 boys soccer season are complete, which is plenty of sample to re-evaluate the Top 10 coming into the season. The first few days of the season completely threw the rankings out of whack, but they have stabilized somewhat in the week since.
With that being said, you are about to read about five new teams coming into the Top 10 this week and that is with the biggest week of games to date coming up this week. The turnover is significant this week and it could get even more extreme a week from today.
1. Christian Brothers Academy (4-1, 1-1) Last Week: 1
CBA struggled to put an attack together during its first two games of the season, getting shut out in a 1-0, overtime loss to Marlboro before clipping LaSalle Prep of Pennsylvania, 1-0. Since then, the Colts have gotten going, thrashing Middletown South, 5-0, before handling two defending NJSIAA Group champions: Delran (2-0 final) and Gill St. Bernard (4-1). Even with a lot of new starters in the middle of the formation (striker, center midfield, central defenders and goalkeeper), CBA has been able to execute its possession game while also limiting chances and goals of its opponents so far. If the first game showed the Colts are not perfect, the last two have shown they are still worthy of being considered the Shore's best.
2. Holmdel (5-0, 2-0) Last Week: 5
Although they have yet to take on an opponent that could be considered a Shore or state title contender, the Hornets have been as impressive as any team in the Shore Conference to open the season. The Hornets have posted 21 goals in five matches without allowing any and their latest win was a 1-0 victory at Jackson Memorial in which the Hornets showed they can handle a grass surface against a defensive-minded team. If Holmdel can keep playing like it has to start the season, it won't have to play any more games on grass, because the Hornets – who play in a Class A Central division full of teams that play on turf – will be seeded very favorably come October.
3. Howell (5-0, 2-0) Last Week: Not ranked
The Rebels surge into the top 10 thanks to a dominant start to the season. A year ago, Howell finished sixth place in the Class A North standings, with all seven of its losses coming vs. A North teams and all seven being decided by one goal. This season, no team has come within two goals of the Rebels, nor have any of their five opponents scored on them. Senior Nick Spisak has returned as one of the Shore's more dynamic players, while sophomore Nick Turturro is one of its most dynamic newcomers. The Rebels will put their hot streak to the test Tuesday vs. CBA.
4. Freehold Township (3-1, 1-1) Last Week: 3
Like CBA, Freehold Township suffered a surprising defeat on opening day before immediately righting the ship. Since dropping their opener at Middletown South, the Patriots have defeated Rumson-Fair Haven, Wall and Freehold Boro – all convincingly. Noah Jones, Tim Bertscha and Aidan Englander have been the senior leaders so far and with 12 goals in the last three games, it appears Freehold Township has found the goal-scoring it was looking to replace coming into the season.
5. Ocean (2-1-1, 2-0-0) Last Week: 6
After nailing down a huge, 2-0 win over Long Branch on Wednesday, Ocean could not reach the back of the net in a scoreless draw at Brick Memorial. Couple that result with a 4-3 loss at St. Peter's Prep, and there could be some holes in Ocean's case as a top-five team at the Shore. Ultimately, though, the Spartans have been at their best in two huge division games – the first at Neptune and the second coming against Long Branch – and those are the most important games they have played to date.
6. Neptune (3-1, 1-1) Last Week: 7
After dropping the opener to Ocean, 1-0, Neptune has rolled to three straight wins and the latest – a 2-1 triumph over Middletown North – guaranteed the Scarlet Fliers not only stay in the Top 10 this week but even move up a spot. With Ernst Louisius and Kervins Lafortune up top, there is no doubt the scoring firepower is there, but the defense and midfield play has been solid enough so far for the Fliers to dream big.
7. Point Pleasant Boro (5-0, 3-0) Last Week: Not ranked
Another team to debut in the Top 10, the Panthers are back in the rankings for the first time in half-a-decade and they are in with a bang. After opening the season with a big win over defending Class B South champion Lacey, Point Boro capped this past week with a dominant, 4-1 win over defending NJSIAA Central Jersey Group II champion Rumson-Fair Haven in which the Panthers led, 4-0, at halftime. Point Boro has only one division game scheduled for this week but it is a big one – a battle for first-place Wednesday at Jackson Liberty.
8. Middletown North (3-2, 1-1) Last Week: Not ranked
Middletown North is the only two-loss team in the Top 10, but that is a function of what has been a challenging schedule so far. The Lions lost their opener to No. 3 Howell, but on the bright side, they are the only team thus far to come within two goals of the Rebels. More recently, Middletown North dropped a 2-1 game to Neptune, so both losses are to teams ahead of the Lions in the rankings. As far as the wins go, Middletown North was able to knock off Marlboro after the Mustangs opened their season with a win over CBA.
9. Marlboro (2-1, 2-1) Last Week: Not ranked
Marlboro sent shockwaves through the Shore by stunning CBA on opening day with a golden goal in overtime, then beat another 2021 Shore Conference Tournament semifinalist when they topped Manalapan, 1-0. Middletown North cooled off Marlboro's hot start on Wednesday and it was Marlboro's third straight 1-0 game to open the season. The Mustangs have a huge week ahead, with division games against Middletown South and Howell, followed by a Saturday morning trip to play Rumson-Fair Haven.
10. Toms River South (3-0, 3-0) Last Week: Not ranked
After slipping past Central, 1-0, in its season-opener, Toms River South has caught fire scoring goals and its looking like the early favorite in Class A South. The Indians put up 11 goals in their next two games – wins over Southern (4-2) and Brick (7-1) in running their record to 3-0, but the task gets much tougher this coming week. Toms River South is set to host reigning Class A South champion Toms River North on Wednesday and will wrap up the week on Saturday when it hosts hot-starting Jackson Liberty.
Dropped Out
Rumson-Fair Haven (2-2, 1-0) Last Week: 2 – Losses to Freehold Township and Point Boro are not bad on their face, but both were extremely one-sided, which has created some questions for Rumson to answer ahead of the Shore Conference Tournament. A big game vs. Holmdel looms this week.
Long Branch (1-2, 0-1) Last Week: 4 – The Green Wave are still in the conversation and with B North home to several quality teams, Long Branch can definitely win its way back into the rankings.
Toms River East (1-1-1, 1-0-1) Last Week: 8 – A loss at Shore Regional knocks Toms River East out of the rankings, but the Raiders bounced back nicely with a 5-0 win over Jackson Memorial. Class A South is wide open and Toms River East still has a direct path to win it.
Manasquan (3-1, 1-0) Last Week: 9 – After its scheduled opening-day game vs. Long Branch was postponed due to a bus issue for Long Branch, Manasquan got trucked by Howell two days later in the actual opener. Since that loss, though, the Warriors have rattled off three straight wins and as the schedule picks up, they will have a chance to get back in.
Wall (1-2-1, 1-0-0) Last Week: 10 – Wall has struggled to score goals in the early going, putting up three in four matches so far. The Crimson Knights were able to follow up two straight losses with a win over Raritan, but then went scoreless in a 0-0 tie at St. John Vianney.
Top 10 Watchlist
Colts Neck (3-0, 2-0) – The schedule will ramp up over the next couple weeks, but Colts Neck is off to an encouraging start after outlasting Jackson Liberty on the road to cap a three-game winning streak heading into a week that includes games with Long Branch and Neptune.
St. Rose (3-1, 2-0) – Before dropping a 1-0 game to Manasquan on Friday, the Purple Roses ripped off three straight wins to open the season, which included big wins over Ranney and Wall.
Jackson Liberty (3-1-1, 3-0-0) – The Lions are a legitimate Class B North title contender after taking down Lacey last week and can really gain the inside track this week by beating Point Boro.
Toms River North (2-0-1, 2-0-1) – With almost a completely new starting lineup, Toms River North finds itself off to a solid start, with wins over Central and Southern and a draw against Brick Memorial in which the Mariners were five seconds away from winning in regulation.
Manalapan (3-2, 1-2) – Manalapan's two losses so far are to Top 10 teams (Marlboro and Howell), which is just life in Class A North. Speaking of which, this week includes games against Freehold Township and Middletown North.
Middletown South (2-3, 1-1) – Despite a three-game losing streak, Middletown South has already picked up wins over Freehold Township and Brick Memorial.
LOOK: 50 images of winning moments from sports history
Sometimes images are the best way to honor the figures we've lost. When tragedy swiftly reminds us that sports are far from the most consequential thing in life, we can still look back on an athlete's winning moment that felt larger than life, remaining grateful for their sacrifice on the court and bringing joy to millions.
Read on to explore the full collection of 50 images Stacker compiled showcasing various iconic winning moments in sports history. Covering achievements from a multitude of sports, these images represent stunning personal achievements, team championships, and athletic perseverance.
More From Shore Sports Network