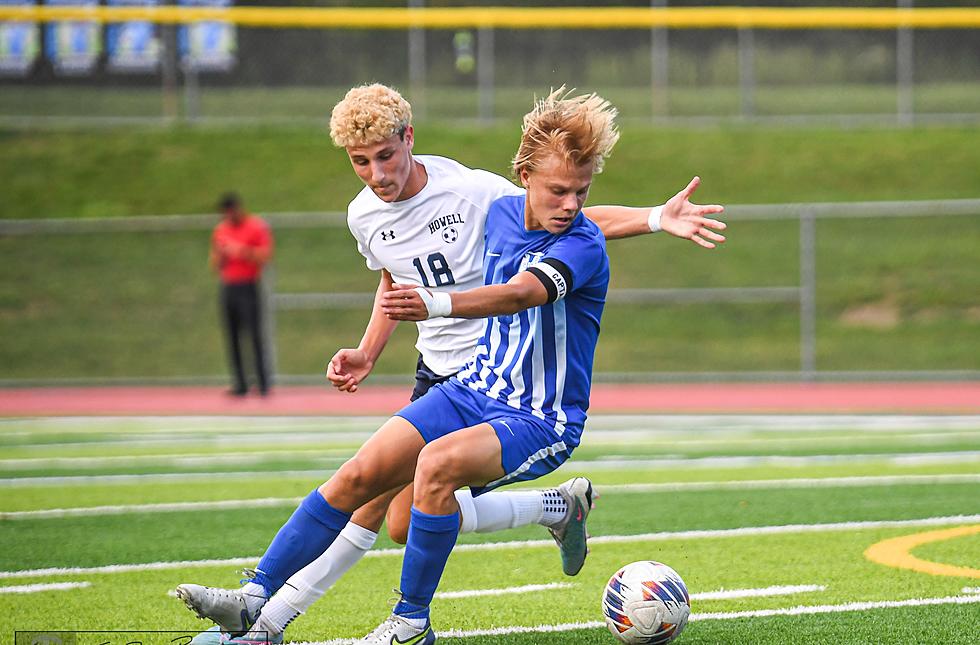 Boys Soccer – 2023 NJSIAA Sectional Final Previews
Holmdel junior Stephan Kapranov defended by Howell junior Tye Maser. (Photo: Tom Smith | tspsportsimages.com)
2023 NJSIAA Sectional Championships
Saturday, Nov. 4
Central Jersey Group IV
No. 2 Howell (13-2-2) at No. 1 Princeton (19-2), 3 p.m.
Howell at a Glance
Head Coach: Rich Yuro
Last Sectional Championship: 1988
Last Appearance: 2021
Road to the Final: Defeated No. 15 Northern Burlington, 4-0; No. 10 Manalapan, 3-1; No. 14 Old Bridge, 3-0
Princeton at a Glance
Head Coach: Ryan Walsh
Last Sectional Championship: 2017
Last Appearance: 2017
Road to the Final: Defeated No. 16 Montgomery, 4-0; No. 8 Jackson Memorial, 3-0; No. 4 Monroe, 2-1
Howell will try to win the title that has eluded the program for the last 35 years and will have to do it against a capable opponent while nursing a bevy of injuries. Starting wingers Bryce Ocholla and Kam Brown sat out Wednesday's semifinal win over Old Bridge due to injury and juniors Tye Maser and Eric Pray left Wednesday's game with injuries and did not return. It is not the ideal set of circumstances for the Rebeles, but Howell displayed its depth in beating Old Bridge, 3-0, and both Ocholla and Brown could potentially be available to play on Saturday in Princeton.
Through all of the adversity, junior Nick Turturro has remained a lethal scorer for Howell, while seniors Marcello Romano, center back Brent Romano, outside back Aiden Pacheco and goalkeeper Patrick Martin have been solid throughout the season. Juniors John Fiorillo, and Tyler Borenstein have stepped their games up recently, with Borenstein recording a hat trick on Wednesday.
Howell will contend with a Princeton team that has lost just twice this season – once to defending Group II champion Robbinsville and again to a Pennington team that plays outside the governance of the NJSIAA. The Tigers have conceded just eight goals all year and the 2-1 win over Monroe on Wednesday marked just the fourth game in which Princeton has allowed a goal.
Princeton also packs scoring punch, led by 23-goal scorer Pasquale Carusone, who has scored a goal in each of his team's last two wins. The Tigers also boast a standout freshman in Harvey Smith, who has also scored in each of Princeton's last two wins.
Change the Pick?
Pre-Tournament Prediction: Howell over Marlboro
Howell was the pick to win the section at the outset, but the Rebels are somewhat compromised by all of the injury issues. The Rebels found a way to upend Princeton on penalties in the first round two years ago, but there are no surprises this time around. That being said, Howell remains the pick to take home the hardware for the first time since 1988.
South Jersey Group IV
No. 3 Toms River North (15-3) at No. 1 Washington Township, 10 a.m.
Toms River North at a Glance
Head Coach: Joe Mahon
Last Sectional Championship: 2021
Last Appearance: 2021
Road to the Final: Defeated No. 14 Williamstown, 2-0; No. 6 Eastern, 2-0; No. 2 Lenape, 2-1
Washington Twp. at a Glance
Head Coach: Shane Snyder
Last Sectional Championship: 2018
Last Appearance: 2018
Road to the Final: Defeated No. 16 Atlantic City, 8-2; tied No. 8 Southern, advanced on penalties; defeated No. 5 Rancocas Valley, 6-0
Although Cherokee is the defending South Jersey Group IV champion through the end of Saturday's title game, this year's South Jersey Group IV championship pits the two most successful championship programs in South Jersey over the last decade. Washington Township won five straight sectional titles from 2014 to 2018 and when the Minutemen dynasty ended in 2019, Toms River North picked up the ball and won it in both 2019 and 2021. Throw in an impressive 2020 season that ended with a modified sectional championship in a COVID-shortened campaign, and Toms River North has established a championship run of its own.
The Mariners can take that championship run to the next level by winning their fourth sectional championship in five years and doing it against a team five years removed from a 25-1 season that marked the Minutemen's fifth straight South Jersey Group IV title. It would represent the first championship for Toms River North's players as starters. Seniors Luke Montanile, Kosta Papanikolas and Anthony Ruggiero saw time on the 2021 team off the bench and have grown into greater roles.
Washington Township has put together two dominant performances during the tournament, with a penalty-kick win over Southern in between. The Minutemen have scored 83 goals this season in 20 games, which dwarfs Toms River North's 46 goals in 18 matches. Drew Heil is in the midst of a huge season with 28 goals and nine assists, while fellow senior Ajani Dwyer has posted 17 goals and 13 assists.
While Toms River North does not have the robust scoring numbers, the Mariners have built a fortress around the goal, with just nine goals allowed all season and 13 shutouts for the defense and goalkeeper Mike Vivolo. The Mariners have allowed at least two goals in each of their three losses and did not allow more than one in any of their 15 wins, so beating the Minutemen on the road likely means becoming the fifth team this season to hold Washington Township to one goal or fewer.
Change the Pick?
Pre-Tournament Prediction: Toms River North over Washington Township
Even in Washington Township's golden era, Toms River North was always a difficult out for the Minutemen. Mariners coach Joe Mahon has his teams prepared to face each opponent and that is magnified in the state tournament. Toms River North beat Washington Township in last year's sectional quarterfinal, so the Minutemen will be out for revenge. Both teams are better, but Toms River North is considerably better and are poised to add a fourth trophy in the last five years. We're sticking with the Mariners.
Central Jersey Group II
No. 6 Manasquan at No. 1 Holmdel, Noon
Manasquan at a Glance
Head Coach: Tom McGill
Last Sectional Championship: None
Last Appearance: 2018
Road to the Final: Defeated No. 11 Spotswood, 5-2; No. 3 South River, 4-1; No. 2 Governor Livingston, 3-2 (OT)
Holmdel at a Glance
Head Coach: Matt Isaacson
Last Sectional Championship: 2022
Last Appearance: 2022
Road to the Final: Defeated No. 16 East Brunswick Magnet, 6-0; No. 9 Wall, 2-0; No. 5 A.J. Johnson, 2-1 (OT)
The Central Jersey Group II championship game is one of six around the state that will feature a rematch from the regular season and in the case of Holmdel and Manasquan, it was a thriller of a regular-season game. Manasquan pushed Holmdel into overtime, but the Hornets pulled out a win with a golden goal by junior Joe Wang. Junior Stephan Kopranov scored the first two goals for Holmdel, while Cristian Gonzalez and Cruz Farkas delivered the two blows for Manasquan.
Since that overtime showdown on Sept. 22, both teams have experienced their share of ups and downs. The loss at Holmdel with the first of three in a four-game stretch and that loss to the Hornets started a 4-6-1 run by Manasquan. Holmdel, meanwhile, lost to Central eight days later to drop out of the Shore Conference Tournament and three days after that, lost to Rumson-Fair Haven in a game that ultimately determine the Class A Central championship.
Whatever both teams missed out on during those downturns, everything is on the line on Saturday. After the overtime loss to Rumson, the Hornets have won nine in a row. On the other side, Manasquan enters the game having scored 12 goals in three state-tournament wins and will be looking to capture its first ever NJSIAA sectional championship five years after coming up one win short.
Holmdel will have a personnel decision to make with senior David Weiner – a standout midfielder who has played center back in each of the past two games due to the absence of two starters and produced outstanding results. Junior Tyler Gravier returned to the lineup in Wednesday's 2-1, overtime win over Arthur L. Johnson, which ended on a penalty kick by David Weiner.
The key to Saturday's game will be whether or not Holmdel feels the need to play Weiner on the back line and if the Hornets are able to generate enough scoring chances with Kapranov, Jaime Martin, Frankie Brusco and Kieran Hynes leading the attack. Manasquan already proved it can cause Holmdel problems with its multi-pronged attack, led by Gonzalez, Cruz Farkas, Lucas Farkas, Brandon Kunz and Luke Roy.
Change the Pick?
Pre-Tournament Prediction: Manasquan over Holmdel
Holmdel's lineup shuffle has injected some life into the Hornets, although they were still fortunate to escape Johnson on Wednesday and Wall last weekend. The same can be said for Manasquan, which gave up two goals in the final seven minutes of regulation before beating Governor Livingston in overtime, 3-2. Now that the championship match is set, Holmdel is the favorite to take home its ninth sectional championship in the last 18 seasons. In the interest of consistency, Manasquan remains the pick.
Central Jersey Group I
No. 8 College Achieve Central (15-3) at No. 3 Shore (14-7), 10 a.m.
College Achieve Central at a Glance
Head Coach: Antonio Spadaro
Last Sectional Championship: None
Last Appearance: None
Road to the Final: Defeated No. 9 Dunellen, 9-0; No. 1 Highland Park, 2-0; No. 4 South Hunterdon, 2-1
Shore at a Glance
Head Coach: Christian Pontier
Last Sectional Championship: 2022
Last Appearance: 2022
Road to the Final: Defeated No. 14 Henry Hudson, 5-0; No. 6 Florence, 1-0; No. 7 Roselle Park, 2-1
A year after steamrolling through the Central Jersey Group I section for its first sectional title since 2015, Shore has had to sweat its wins out a little more this year. The Blue Devils – who outscored its four Central Jersey Group I opponents by a combined score of 21-2 last year – squeaked out wins by a one-goal margin over both Florence and Roselle Park in back-to-back rounds and will now face a College Achieve side that could very well be a tougher matchup than either of the last two Shore opponents.
College Achieve is playing in its first sectional final in just its fourth season as a program. After debuting as a varsity program in 2018, the school did not field a varsity team in either 2019 or 2020. Last year was the big breakout for the Phoenix, which went 13-2 and won its first state-tournament game before being eliminated by Roselle Park in the Central Jersey Group I quarterfinals.
While College Achieve is hoping to win three more tournament games than last year to secure its first sectional title, Shore is hoping for three more this year in order to win the program's first ever overall state title. Senior Maxx Eichenbaum started as a freshman and sophomore, but missed out on last year's run to a sectional title while playing academy soccer. He and fellow seniors Tyler Jackson, goalkeeper Kevin Barfield, and Sean Newbert want to go out on top and give the many remaining Blue Devils in 2024 a chance at a three-peat.
Change the Pick?
Pre-Tournament Pick: Shore over College Achieve Central
Shore has a more experienced, well-rounded roster this season and yet, the Blue Devils have not been quite as sharp during this year's NJSIAA Tournament as they were a year ago. None of that matters now, however, because the Blue Devils are right where they want to be: one win away from a second straight sectional championship and hosting the Group I semifinal with a chance to reach the group final for the first time since 1970. Bank on the Blue Devils.
More From Shore Sports Network