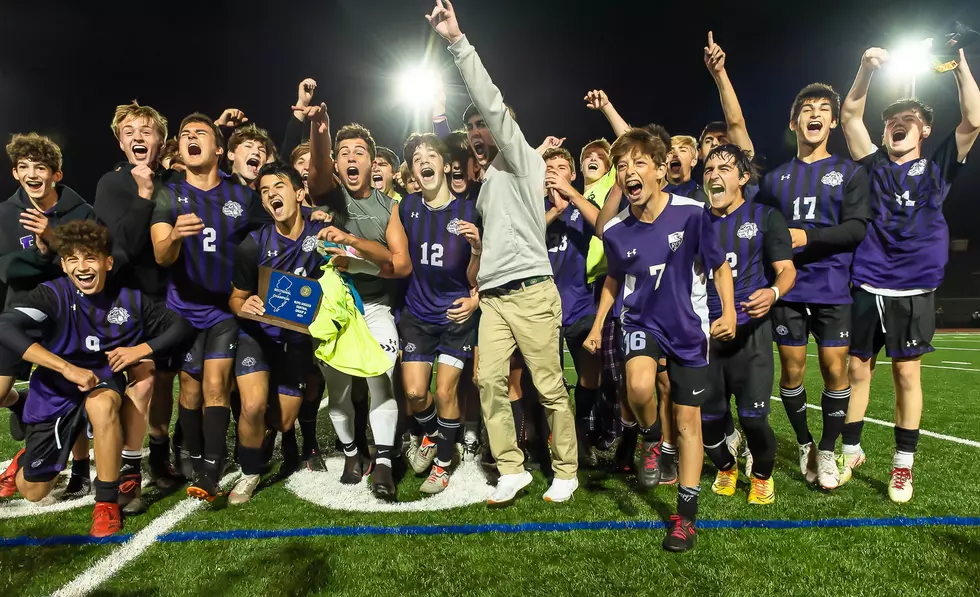 Boys Soccer – 2022 Shore Sports Network Preseason Top 10
Tom Smith | tspsportsimages.com

The 2022 high school soccer season in New Jersey opens Thursday with four Shore Conference teams officially setting out to defend NJSIAA sectional championships after a memorable year in 2021. Three of those four teams – Christian Brothers Academy, Freehold Township and Toms River North – will be doing so while replacing more than a half the starting lineup and their 2021 goal-scoring. Filling the void for standout senior talent from a year ago will be a general theme for most of the Shore Conference this year, so a lot of new stars will be announcing themselves during the early part of the 2022 season.
As for the top teams in the conference, track record tends to translate, so while there is plenty of unknown heading into opening day and there are certain to be some surprises, it's always best to bank on the teams – and the players – that have done it before.
1. Christian Brothers Academy
Even with only five starters set to return to the starting lineup, CBA is again the heavy favorite to win the Shore Conference Tournament. The Colts graduated Shore Sports Network Player of the Year Dylan Cupo, but still bring back three dangerous finishers up top in Will Thygeson, Jack D'Eletto and Dylan Millevoi. There are some holes the Colts will need to fill in order to beat the likes of Delran and Gill St. Bernard during the regular season and the other Non-Public A powers in the NJSIAA Tournament, but few Shore teams, if any, will have the firepower to match CBA on most days.
2. Rumson-Fair Haven
If any team has the players on paper to hang with CBA, Rumson would seem to be the choice. The Bulldogs have the only returning First-Team All-Shore player in the entire conference in Alec Pentikis, who is part of a quartet of attacking players – Antonio Santos, Ronan Hogg and Jacob Brown the others – who are proven finishers at the varsity level. The defense is also a year better and if the Bulldogs can get caught up in goal after graduating three-year starter Aiden Colburn, they should be complete enough to at least hang with CBA and Delran in potential postseason clashes.
3. Freehold Township
While Rumson likely has the soccer talent on paper to provide CBA with the best challenge from within the Shore, Freehold Township has the program pedigree. Now under the direction of new head coach Mike Tepedino. the Patriots also have some outstanding talent as well, led by returning midfielders Tim Bertscha and Noah Jones. Freehold Township also took a big hit to graduation and talented sophomore Joshua Jerome left for the academy ranks, but the Patriots have a long track record of reloading immediately.
4. Long Branch
Now in a new division, Long Branch heads into the regular season with a much better chance to capture a division championship now that teams like CBA and Freehold Township are not in the way in Class A North. Class B North won't be all that much easier, though, with quality sides throughout the division schedule. Long Branch has some major players to replace at every level of the field, but will return a few key pieces while welcoming in an impact transfer from Brazil in Nick Davhi Borges.
5. Ocean
Despite Aidan Tisony leading the conference in scoring, Ocean had trouble cracking the Top 10 last season due to injury and accompanying inconsistency, so the first order of business for the Spartans over the offseason was to get healthy. With Archeley Eugene, Daniel Abrams and Stephen Aliaj all back in the fold, the Spartans should again be a dangerous team going forward and this year with a more adept, healthier back line.
6. Holmdel
Holmdel brought back almost no scoring from 2020 into last season and managed to have another strong showing behind a lockdown defense, star goalkeeper and an 18-goal scorer in Brendan Worobel. Losing Tommy Chyzowych in goal will be a significant loss, but the Hornets return a field group that will be strong in the midfield with Max Woodward and David Weiner and similarly-solid in the back. If Holmdel can work out something up top and get solid play in goal, Rumson will be on notice in the Class A Central race and in both postseason tournaments.
7. Neptune
After winning a share of the Class B North championship and playing its best soccer at the end of 2021, Neptune returns most of its lineup with designs on having a banner season. The Scarlet Fliers' back line took a hit when All-Shore defender Nate Kerr elected to play academy soccer, but with Ernst Louisius, Kervins Lafortune and Lee Petrowski bringing back a combined 34 goals up top, Neptune is still plenty of confident in what is coming back.
8. Toms River East
After finishing a distant second place behind Toms River North in Class A South a year ago, this year is better set-up for Toms River East to reclaim the division crown for the first time in 10 years. Kajas Matazinskas and Ryan Kozlej will be the engine of the team this year, with Matazinskas a serious threat to lead the Shore in goals this season.
9. Manasquan
With a young, deep team that battled its way to a share of the Class B North championship in 2021, Manasquan returns a lineup that is a year older and even deeper than a year before. Coach Tom McGill believes he can go as many as 20 deep, and while that could lead to so trial-and-error in the early going, Manasquan has the potential to construct a difficult side with which to contend for opponents.
10. Wall
The Crimson Knights have a lot of scoring to replace, but they return an experienced defense while a pair of promising juniors in Nick Damiano and Cooper Harmon emerge into bigger roles. After beating Rumson in the Shore Conference Tournament last season and losing to Holmdel on penalties in the state tournament, Wall has to like its chances battling both for the Class A Central title over the next month.
Top 10 Watchlist
Manalapan – With a top keeper and another solid defense lined up, the Braves will again be a frustrating opponent coming out of Class A North.
Marlboro – The Mustangs also have a solid defensive unit with a couple of potential breakout goal-scorers playing up top.
Point Pleasant Boro – The Panthers are poised for their best season in at least five years, with the potential to roll through Class B South and make a run during either or both postseason tournaments.
Toms River South – Last year was a frustrating one for Toms River South, but the Indians finished strong and have a better feel for one another heading into 2022.
Toms River North – The lineup looks totally different from the one that won three straight sectional titles, but it's usually a good bet to expect Toms River North to round into form by October.
Middletown North – The talent and experience are in place for the Lions to make major noise in Class A North, as long as they can find a little more scoring from the front of their formation.
Howell – Last year was a resurgent season for the Rebels and there is just enough back to keep the machine humming along in a tough division.
Brick Memorial – The Mustangs have some major goal-scoring threats and if they can stay organized in the back with a mostly-new defense and goalkeeper, they become a favorite in Class A South.
Colts Neck – Scoring woes plagued Colts Neck when David Tuschmann was hurt last season, but the Cougars have some potential scorers ready to step forward in a tough B North division.
St. Rose – Possession and defense should be strong suits of the Class B Central favorites, so the key to pushing the Purple Roses over the top will likely be finding some capable finishers to replace all the scoring that graduated.
LOOK: The most extreme temperatures in the history of every state
Stacker
consulted 2021 data from the
NOAA's State Climate Extremes Committee (SCEC)
to illustrate the hottest and coldest temperatures ever recorded in each state. Each slide also reveals the all-time highest 24-hour precipitation record and all-time highest 24-hour snowfall.
Keep reading to find out individual state records in alphabetical order.
More From Shore Sports Network