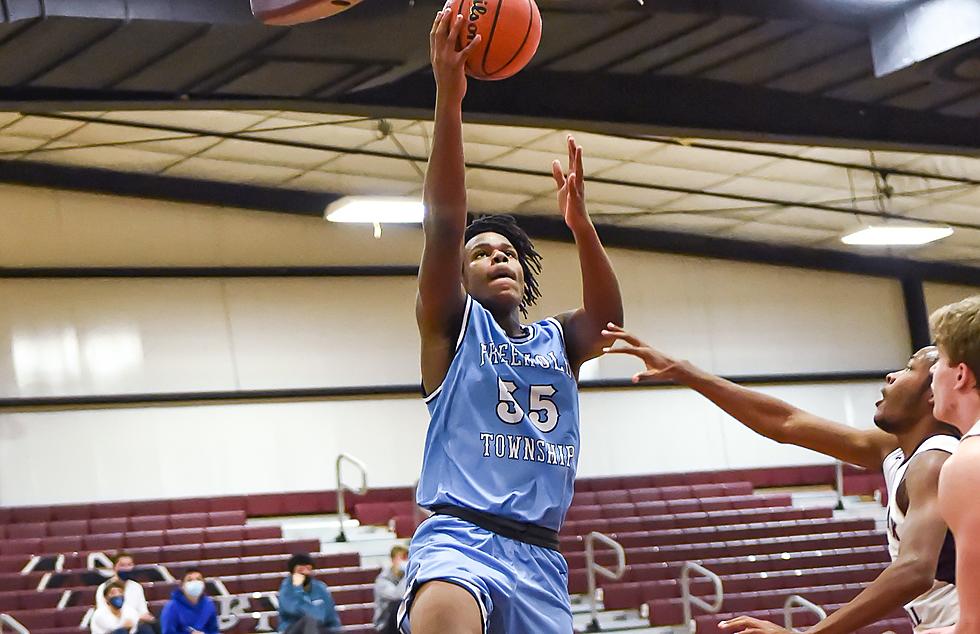 Boys Basketball – Wall, Barnegat Host Summer League Action This Week
Tom Smith | tspsportsimages.com

The month of July is nearly over, and once August hits, the high school sports season is not far off. Even with official practices approaching, high school teams are sharpening their skills and going through summer team-building – particularly on the basketball court.
There is, of course, the AAU circuit for some of the upper-echelon players around the state and the country, but high-school summer leagues are also a big part of the equation during this period on the calendar. This week, in particular, is noteworthy because it marks the final regular-season week of one local league and the entire season of another.
Wall High School Summer League Churns Toward Playoffs
The Wall Municipal Complex hosted opening night of this year's Wall Township High School Basketball Summer League on July 6 and Monday marks the first day of the final week of the league's regular season. Nineteen teams have been a part of the season to date and eight will make it to next week's three-round playoffs.
The standout teams heading into the season's final week have been Central Regional (5-0), Freehold Township (6-1) and Shore Regional (6-1), with Lacey (4-1), Jackson Liberty (5-2) and Monmouth Regional (5-2) also turning in strong showings so far.
The success of Central and Freehold Township the casual Shore Conference basketball follower, given that Freehold Township is routinely a contender in the Shore Conference Class A North division while Central is coming off a solid 2021 season behind the efforts of returning All-Shore forward Justin Soranno. Lacey is coming off an up-and-down abbreviated 2020 season, but the Lions have been building a young core and their success is not entirely out-of-nowhere.
The other three teams deserve some additional focus for their play this month. Jackson Liberty appeared to turn a corner in finishing .500 this past winter under first-year coach Don Connor and is set to bring back some key pieces for the upcoming 2021-22 season. The fact that the Lions are near the top of the standings at Wall suggest that surge to end 2021 likely was no fluke.
Shore and Monmouth endured some struggles during the winter, so the standout play of each is especially noteworthy, if not somewhat preliminary given that it is July. Shore began to work in some of its young, up-and-coming talent last season, led by rising junior Liam Majewski and rising sophomore Alex George.
Despite a modest won-loss record, Monmouth graduated a group of quality seniors following the 2021 season so the Falcons have some replacing to do. At least as far as the summer goes, that process is going well so far.
Brick Memorial (4-2), South Brunswick (4-2) and Southern (2-0) all have winning records as well heading into the final regular-season week. Brick Memorial got off to a promising start in 2021 but an injury to Luke Braaten stalled the Mustangs the rest of the way. Braaten is healthy again and Brick Memorial will have an experienced group of juniors surrounding Braaten in 2022, with the group showing flashes at Wall.
Southern is coming off its best season in a long time, cracking the eight-team Shore Conference Championship Pod during the 2021 campaign. The Rams graduated three starters and the returning backcourt duo of Jaden Anthony and Nick Devane are poised to lead the way.
South Brunswick, meanwhile, is the lone team from outside the Shore Conference in the league and is now a little shy of a year-and-a-half removed from winning the Central Jersey Group IV title before having the plug pulled on its season due to the COVID-19-related cancellation of the remaining 2020 postseason.
Red Bank and St. Rose are each 2-3 with two games scheduled for the final week, giving each an outside shot to qualify for the eight-team playoff. Both teams could be cited as squads that were better than their 2021 records suggests, although both graduated senior classes that contributed both quantity and quality.
The rest of the field includes Raritan (2-4), Keyport (2-4), Pinelands (2-5), Point Pleasant Beach (2-5), Freehold Boro (2-6), Wall (1-4), Brick (1-4) and Matawan (1-7).
Battle at Barnegat Summer Team Camp Returns for Seventh Year
Since Mike Puorro took over as head coach of Barnegat's boys basketball team, the Battle at Barnegat Team Camp has been a staple of the program and this week, there will be 12 programs participating down at Barnegat's home gym.
Five of the teams will make the trip to Barnegat for all four days during the week, with two games per day for a total of eight. In addition to Barnegat being the obvious team among the five, Freehold Township will take on a full plate during the week after already putting up the 6-1 mark at Wall during the first three weeks of the month.
Howell, Toms River South and Point Pleasant Boro are the other three teams scheduled for eight games. Howell is a team to watch in 2022 with just about an entire lineup due back from a team that made real strides in 2021. Point Boro also brings everyone from its rotation back and is hoping to use this week as a jumping-off point for a resurgent season in 2021-22. Toms River South also has some talent coming back, led by leading 2021 scoring Gavin Migliori.
Middletown South and Donovan Catholic are the other two Shore Conference teams participating, with Middletown South slated for games on Monday and Tuesday and Donovan Catholic playing on Monday and Thursday.
Cherokee, Wildwood Catholic, Egg Harbor, Cape May Tech and Collingswood round out the 12-team field, with Cherokee and Collingswood each picking up just one-night's-worth of games. Wildwood Catholic was the Non-Public B runner-up in 2020 and Egg Harbor has a group of seniors that sparked a run to the South Jersey Group IV semifinal as sophomores and went 14-1 in 2021.
Games at the Battle of Barnegat will take place in two gyms, with time slots of 5, 6, 7 and 8 p.m. in each gym. Each game consists of two 20-minute halves with a running clock until the final two minutes.
More From Shore Sports Network