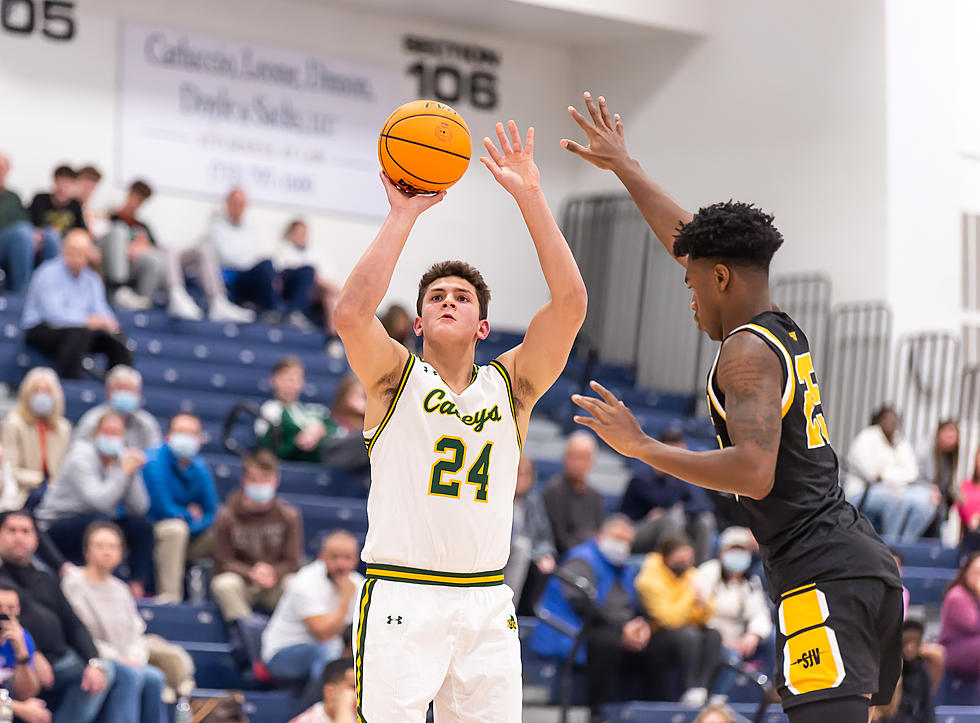 Boys Basketball – Top Shore Rankings on the Line at Hoop Group Boardwalk Showcase
Red Bank Catholic senior Alex Bauman rises for a shot over St. John Vianney senior Nate Williams. (Photo: Tom Smith | tspsportsimages.com)

2022 Hoop Group Boardwalk Showcase
Saturday, Jan. 8, 2022
At Collins Arena, Brookdale Community College
The Lineup
No. 1 Marlboro (7-1) vs. No. 2 Red Bank Catholic (7-1), 1 p.m.
The top two teams in the Shore Sports Network rankings meeting at the Boardwalk Classic is a major headliner, although this one has lost a little bit of shine because a) these two teams already met in the WOBM Christmas Classic championship game and b) Marlboro lost at CBA on Tuesday and is in danger of dropping out of the top spot when the new rankings hit on Monday.
That being said, the first clash between these two was a tremendous game – a close affair from tip until final buzzer that Marlboro pulled out, 61-58. The Mustangs are likely to be shorthanded again with senior Zach Molod (illness) out for the remainder of the week, but the Shore's current No. 1 team has shown it has enough firepower to play with anyone in the area as long as senior standouts Jon Spatola and Jack Seidler are healthy and getting the kind of production that fellow senior starters Jay Ratner and Vin Spatola have been supplying lately.
Red Bank Catholic now has its chance to make a big for the No. 1 ranking, although the Caseys might need some help from St. John Vianney to get there by the next Top 10 release. While Marlboro's all-senior starting lineup (with Molod healthy) is its calling card, Red Bank Catholic has shown depth in its sophomore class that manifests as depth for the entire team. On top of senior standouts Alex Bauman, C.J. Ruoff and Cyril Arvanitis, the Caseys have gotten major contributions from returning sophomores Gioacchino Panzini and Zach Meeks, as well as sophomore newcomers Colin Cavanaugh, Tyler Burnham and Luke Iasparro. Throw in freshman Ryan Prior and senior transfers Alex Brown and Wyatt Haselbauer and RBC is currently the Shore's deepest team.
Saturday marks RBC's chance to get back at Marlboro, but with how stacked both of these teams are, it likely won't be the last time they clash.
No. 3 Christian Brothers Academy (7-0) vs. No. 6 St. John Vianney (8-1), 2:40 p.m.
CBA was originally slated to meet up with Ranney, which would have been a rematch of the Albert E. Martin Buc Classic Holiday final just as the first game is a rematch of the WOBM Classic final. Ranney, however, is in the middle of a COVID-related shutdown and was forced to pull out of the showcase.
St. John Vianney also lost its original partner for the showcase, with Rumson-Fair Haven also shut down until next week due to COVID. Prior to Ranney dropping out, Howell was lined up to replace Rumson as St. John Vianney's opponent, but with Ranney also going dark this week, the Hoop Group elected to simply match up CBA and St. John Vianney rather than track down yet another last-minute participant for the showcase.
Now that all of that is settled, we have a matchup of two of the Shore's hottest teams to follow up 1-vs.-2. There is actually a scenario in which Marlboro vs. Red Bank Catholic could be No. 1 vs. No. 2 on Saturday and St. John Vianney and CBA could be Nos. 1 and 2 by Monday, which would likely entail a St. John Vianney winning this game and Marlboro taking down Red Bank Catholic to set up the defensible position that St. John Vianney should be No. 1, with CBA, Marlboro and Red Bank Catholic following in that order.
Beyond the ranking implications, Saturday's matchup of ranked non-publics will be a great test for both, with CBA looking to stay undefeated while St. John Vianney tries to make a major statement by taking down, arguably, the Shore's most tradition-rich program while they are at the top of their game. The Lancers have already beaten a team with a similar profile in Manasquan, but while the Warriors are still figuring things out as a team heavy on freshmen and sophomores, CBA is already locked in.
Senior guard Nate Williams positioned himself as an early frontrunner for Shore Conference Player of the Year with his Shore-best average of 24.8 points per game during the Lancers' 8-1 start, while the further development of sophomore Dylan Seay, senior Omar Calderon and junior transfer Jordan Winnick have buoyed St. John Vianney during its strong start against stiff competition.
CBA has been far more balanced in its process, with five different players leading the team in scoring in the first seven games. Pat Lautato has done everything CBA could as from a senior captain, while junior returnees Will Bradley and Joe White have taken their games to the next step. Sophomore Peter Noble and freshman Justin Fuerbacher have injected some fresh energy into the starting lineup and senior James Durney might be the Shore's best sixth man with his ability to score and defend off the bench.
St. John Vianney could very well be ticketed for a top-five spot in the rankings but Saturday is the Lancers' chance to make it undeniably clear. CBA, meanwhile, will try to move to 8-0 and move into the Shore's No. 1 spot for the first time since February of 2016.
No. 7 Manasquan (5-2) vs. St. Joseph Metuchen (3-1), 4:20 p.m.
Manasquan has endured some growing pains to start the 2021-22 season, but those were to be expected for a team with five new starters – two of which are sophomores and two of which are freshmen. If that's not enough of a silver lining, Manasquan is 5-2 with losses to Rutgers Prep and St. John Vianney, which represent losses to the No. 10 team in the state and No. 6 team in the Shore Conference.
The young Warriors will continue their headlong dive into the deep end of the pool this Saturday against St. Joseph of Metuchen, which is currently ranked No. 11 in the state by NJ Advance Media. Senior Ethan Simmon and juniors Anthony Williams and Josh Ingram lead the way for the Falcons, whose lone loss during a 3-1 start is to 8-0 and No. 7 in the state St. Thomas Aquinas.
Manasquan counters with a lineup that is led by 6-foot-6 senior Matt Solomon, who has been a reliable source for double-doubles and solid defense in the early going. Freshmen Darius Adams and Griffin Linstra have made an instant impact and sophomores Ryan Frauenheim and Alex Konov are part of a balanced offensive starting five, with Frauenheim already emerging as a leader during his second season at the varsity level.
At some point, Manasquan is going to advance from the developmental stage of the season into one in which the Warriors compete with some of the state's best. Saturday's Boardwalk Showcase finale is another great test to see if Manasquan is ready to take that step.
More From Shore Sports Network