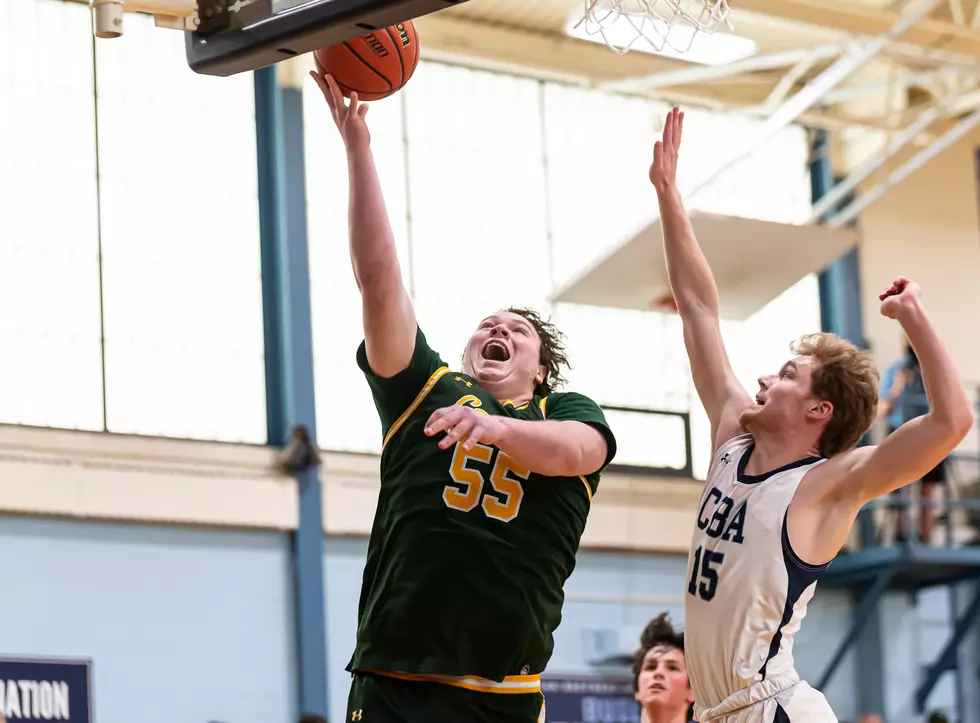 Boys Basketball – Stars of the Boardwalk: Burnham, Hester, Hodge Brothers, Manasquan Role Players
Red Bank Catholic sophomore Tyler Burnham. (Photo: Tom Smith | tspsportsimages.com)

The annual Hoop Group Boardwalk Showcase Saturday at Brookdale Community College did not have a defining game, with all five matchups in the lineup ending with a margin of victory of nine points or more, but there were a number of career-firsts from some of the top players at the showcase and some huge wins for a few of the programs in the field.
Red Bank Feels the Burn
Like so many of his predecessors at Red Bank Catholic, Tyler Burnham is going to play college football but is making sure to leave his mark on the basketball court before its time to specialize.
The 6-foot-6, 300-pound junior center was unstoppable on Saturday, going off for 30 points and 15 rebounds to lead his RBC team to a big, 74-65 win over rival Red Bank Regional.
It was a career-best performance for Burnham, who picked up two fouls in the first quarter and, after a brief stint on the bench, came back into the game and picked up where he left off.
The Caseys led by double-figures for most of the second half, but Red Bank did cut its deficit to 66-60 with just over three minutes to go. Bucs junior Braydon Kirkpatrick also had a career-high night, putting up 25 points and converting a four-point play as part of the run that cut the RBC lead to six.
Burnham, however, had an answer with a pair of unanswered scores in the paint to quickly push the lead back to 10. From there, Red Bank Catholic's defense stepped up, Burnham cleaned up the glass and the Caseys sealed the win in the first of three games the two teams will play during the regular season. The two rivals will meet again on Thursday in the first of their to Class B North showdowns.
Burham was Saturday's star, but in scoring 74 points, Red Bank Catholic had several players on top of their game. Sophomore Ryan Prior shot 4-for-8 from three-point range and finished with 14 points, eight rebounds and six assists -- one of four Caseys players to hand out at least five assists.
Junior Colin Cavanaugh handed out seven assists to go with 12 points and junior Pasquale Sabino -- who scored RBC's first seven points of the game -- put up 10 points, five rebounds and six assists in the win. Junior Luke Iasparro also handed out five assists to go with six points on a pair of three-pointers for the Caseys.
The Big "I" Carries Ranney Again
Isaac Hester transferred to Ranney before the 2020-21 season and joined a star-studded Panthers team that allowed him to fit in as a standout scorer surrounded by experienced varsity basketball talent.
Two years later, Hester is, by far, the most experienced member of the Ranney team and has had to carry his team in all facets, which he did once again Saturday against Holmdel.
Hester went for 24 points, eight rebounds and four assists to lead a 59-50 Ranney win over the Hornets -- the fifth straight win for Ranney after opening the season with four consecutive losses.
With Saturday's performance, Hester has now scored at least 21 points in every game Ranney has played and is averaging better than 26 per game for the season. While he again continues to make his case as the Shore's top scorer, Hester has also been crucial to Ranney as a leader for its less-experienced players.
Junior Drew Buck is the one Ranney returnee with starting experience and he came through with an 11-point second half during a 16-point performance vs. Holmdel. Sophomore MeSean Williams stepped up as the third scorer for Ranney by pouring in 14 points, including three three-pointers.
Ranney's other players are not likely to provide much scoring on a given night, but senior Glen Cantalupo was active on the glass (eight rebounds) and freshman Shaan Nayer provided good energy off the bench, including three blocked shots.
The Panthers will face a tough test this coming week with games at undefeated St. Rose, Neptune and Immaculata. Saturday's game against Immaculata will mark the first game in which senior guard and Patrick School transfer Jahlil Bethea can play for Ranney, which will give the Panthers another weapon to complement Hester.
Family Fun
The Hodge brothers and St. Rose have been one of New Jersey's breakout stories of the year in boys basketball and their skills were on full display Saturday at Collins Arena against St. John Vianney.
Freshman Jayden Hodge showed off his scoring prowess with a game-high 22 points to earn game MVP honors and Matt Hodge finished just shy of his first triple-double since coming over from Belgium in a 63-43 win for the Purple Roses.
While Matt Hodge scored only 12 points, two of his six field goals were highlight-reel dunks and the 6-8 junior also contributed 12 rebounds, nine assists, three blocks and two steals.
Sophomore Bryan Ebeling also scored 12 points and blocked two shots, while senior Jackson Gordon chipped in eight points off the bench on a pair of three-pointers.
St. Rose will take a 9-0 record into this week and on Saturday against Keyport, the Purple Roses will be able to debut three more transfers: junior Gioacchino Panzini (Red Bank Catholic), sophomore Peter Mauro (Gill St. Bernard's) and sophomore Evan Romano (Holmdel).
Role (Player) Call for Manasquan
Darius Adams is Manasquan's standout sophomore scorer, while juniors Ryan Frauenheim and Alex Konov have both had big scoring games during the early part of the season, but Manasquan's unsung cast members were the stars of a 73-47 win over Hightstown.
The Hoop Group made sure to recognize one them, with sophomore Griffin Linstra taking home the game's Most Valuable Player award. Not only did Linstra put up 12 points, 10 rebounds and six assists, but he held Hightstown senior guard Keenan Reiss -- who entered the game averaging better than 17 points -- to four points.
While the hardware usually goes to players like Adams, who did score a game-high 20 points Saturday, Linstra's performance is no surprise to Andrew Bilodeau and the Manasquan coaching staff, who have been giving Linstra the toughest defensive assignments since his freshman year.
Saturday was also a good day for first-year starter Quinn Peters and fellow senior and sixth man Jack Dettlinger. Peters posted 14 points and seven rebounds and Dettlinger provided 11 points and eight rebounds. Dettlinger scored nine of his points in the first half, including a two-hand, fast-break dunk off a behind-the-back feed from Linstra.
Manasquan is now 7-3 and has won each of those seven games by no fewer than 24 points for an average margin of victory of 35.5 points.
CBA Seeing Red After Loss to Gill St. Bernard
With its frustrating, 55-39, loss to Gill St. Bernard on Saturday, Christian Brothers Academy dropped to below .500 for the third time this year. The Colts went scoreless for a nine-minute stretch that included the entirety of the second quarter and small segments of both the first and third quarters, which resulted in a 31-8 halftime deficit.
CBA coach Geoff Billet is a former standout at Rutgers, but he saw a little bit too much Rutgers on Saturday. Gill St. Bernard's leading scorer and game MVP was freshman Dorsett Mulcahy (17 points), who is the younger brother of former Gill star and current Rutgers point guard Paul Mulcahy.
Rutgers's current head coach, Steve Pikiell was in attendance Saturday at Brookdale to watch his sophomore son, Kevin, who was first off the bench for the Knights on Saturday and finished with two points.
LOOK: Here are 25 ways you could start saving money today
These money-saving tips—from finding discounts to simple changes to your daily habits—can come in handy whether you have a specific savings goal, want to stash away cash for retirement, or just want to pinch pennies. It's never too late to be more financially savvy. Read on to learn more about how you can start saving now. [
From:
25 ways you could be saving money today
]
More From Shore Sports Network