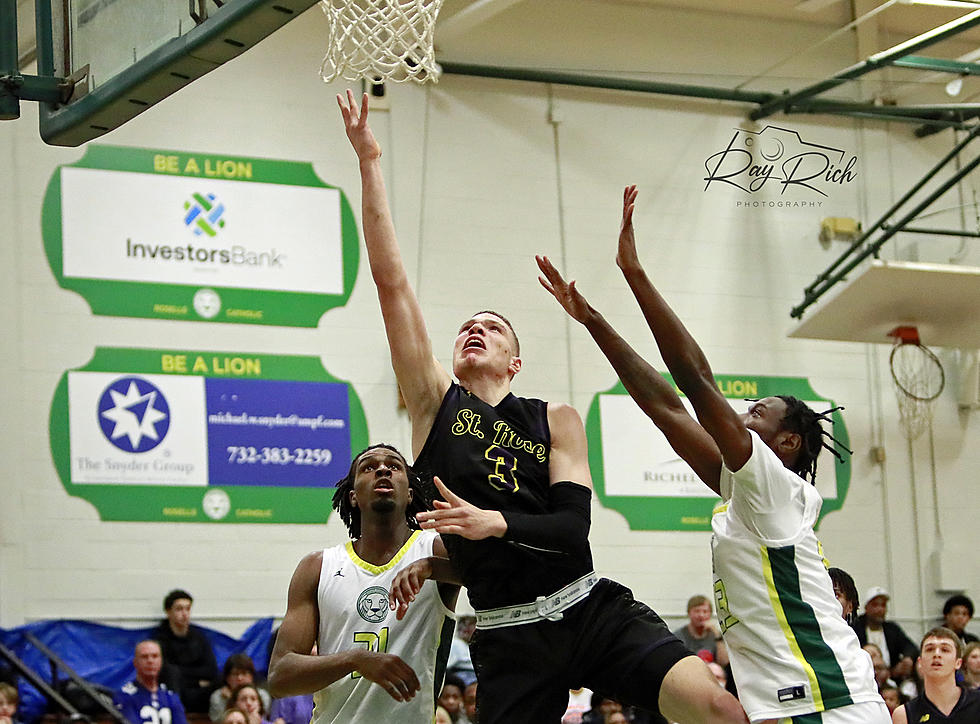 Boys Basketball – St. Rose Caps Breakthrough Season With Ultimate Test in State Final
St. Rose junior Matt Hodge splits Roselle Catholic defenders Mackenzie Mgbako (left) and Akil Watson (right) for a layup. (Photo: Ray Rich Photography)

NJSIAA Non-Public B Championship Game
Friday, March 3, 2023
At Jersey Mike's Arena, Rutgers University
St. Rose vs. Roselle Catholic, 7 p.m.
St. Rose (24-4)
Head Coach: Brian Lynch
Last Group Championship: 1977
Road to the Final: Defeated No. 8 Holy Cross Prep, 65-47; No. 4 St. Joseph Hammonton, 87-52; No. 2 Bishop Eustace, 59-43
Top Players
Matt Hodge, Jr., 6-8 (14.6 points, 8.6 rebounds, 4.2 assists, 1.8 steals, 1.3 blocks)
Jayden Hodge, Fr., 6-4 (12.7 points, 4.4 rebounds, 2.2 assists, 2.1 steals)
Gio Panzini, Jr., 6-5 (10.3 points, 7.7 rebounds, 2.3 assists, 1.4 blocks)
Peter Mauro, So., 6-0 (8.1 points, 2.7 assists)
Bryan Ebeling, So., 6-1 (9.5 points, 1.6 steals)
Evan Romano, So., 6-2 (7.8 points)
Roselle Catholic (21-5)
Head Coach: Dave Boff
Last Group Championship: 2022
Road to the Final: Defeated No. 13 Koinonia, 101-25; No. 5 Morris Catholic, 98-63; No. 1 St. Thomas Aquinas, 90-72; No. 6 Montclair Immaculate, 71-61
Top Players
Simeon Wilcher, Sr., 6-4 (15.7 points, 4.6 rebounds, 5.6 assists, 1.8 steals)
Mackenzie Mgbako, Sr., 6-10 (16.5 points, 9.1 rebounds, 2.2 assists, 1.4 blocks)
Akil Watson, Sr., 6-8 (11.8 points, 2.3 assists)
Rich Brisco, Jr., 6-8 (6.9 points, 5.8 rebounds, 1.6 blocks)
Tarik Watson, Jr., 6-7 (7.7 points, 4.1 rebounds)
Sebastian Robinson, Sr., 6-3 (11.0 points, 3.3 assists, 1.75 steals)
Christian Pierre-Louis, Sr., 6-2 (5.8 points, 4.5 rebounds, 1.25 steals)
Jalen Grant, Fr., 6-0 (4.6 points, 1.9 assists)
With the arrival of one star junior and two promising underclassmen from Europe and the transfer of three talented players from New Jersey, the St. Rose boys basketball team went from solid to spectacular seemingly overnight. Head coach Brian Lynch had a solid debut season as head coach a year ago, leading the Purple Roses to a 12-11 record against a difficult schedule and competitive first-round exits in both the Shore Conference and NJSIAA Tournaments. That, however, was with an entirely different, senior-led team.
Now, the Purple Roses lean on a top-seven in the rotation that consists of two juniors, three sophomores and two freshmen – a foundation that could have St. Rose competing for more than just a sectional title. In a way, St. Rose is already competing for more than a sectional title given that not only would a win Friday night at Rutgers give the Purple Roses their first state title in 46 years, but it would make them one of several teams with a reasonable claim to finish No. 1 in New Jersey.
In order to join that conversation, St. Rose will have to beat a team that has bulldozed New Jersey competition this season with a record of 20-0 vs. in-state opponents. One of those 20 wins came against St. Rose on Jan. 21, when Roselle Catholic rode a hot-shooting game from Duke commit Mackenzie Mgbako (27 points on 10-for-15 shooting) to a 77-56 win over the Purple Roses in Roselle. Matt Hodge turned in a strong performance (21 points, nine rebounds, five assists and two blocks) for St. Rose, but the Purple Roses played without Jayden Hodge due to the flu and with Peter Mauro just getting over the flu after missing the previous game vs. Manasquan.
Even at full strength – at which St. Rose appears to be after back-to-back impressive wins over St. Joseph of Hammonton and Bishop Eustace – the Purple Roses will have a hard time dealing with Roselle Catholic's talent. The Lions boast three power-five conference commits in Mgbako, Simeon Wilcher (North Carolina) and Akil Watson (Arizona State) and role players that would be stars on any other team in the state. One of them – Sebastian Robinson – actually was a star player for the 2021-22 Group IV champion Elizabeth team that beat Marlboro in the Group IV final.
Tarik Watson and Rich Brisco are two more players with significant size that will challenge St. Rose's small team, while Christian Pierre-Louis is a lockdown defender who so impressed Lynch in the first meeting that Lynch called him one of the best on-ball defenders he had ever seen at the high-school level.
Roselle Catholic is shooting for sixth group championship after winning all five of its state titles in the past 10 seasons. The Lions were also the last team to win the NJSIAA Tournament of Champions, which Roselle Catholic retired with a classic, overtime win over Camden in March of 2022.
For St. Rose to have a chance, the Purple Roses will need to keep the rebounding margin respectable, cut back on the turnovers and be very selective about trying to run on Roselle Catholic and giving the Lions a chance to run right back. Mauro and Jayden Hodge will be key figures in the latter two pursuits and given neither were at full strength the first go-round, their performance could be a major difference-maker for St. Rose.
In all three keys for St. Rose, the answer to all three problems is Matt Hodge. He is the team's best rebounder, its best decision-maker and its best athlete. Hodge's strong performance the first time the two teams met helped St. Rose hang around into the late stages of the third quarter before St. Rose lost control of the pace and let Roselle Catholic run away. Bryan Ebeling and Gio Panzini both gave the Purple Roses solid efforts that day, so it will truly take the entire rotation delivering in order for the Roses to have a chance to win Friday night.
The underlying story heading into Friday will be St. Rose trying to overtake Roselle Catholic as the premiere team in Non-Public B, if not in this championship game, then by this time next year. St. Rose is slated to bring everybody back, but one look at Roselle Catholic's front line of 6-10, 6-8, 6-8 and 6-7, plus one of the great big-game performers in the last two decades of N.J. high school basketball in Wilcher, reveals a very large gap to close in the next 12 months.
Prediction
St. Rose doesn't necessarily have to close the gap significantly on Friday as it pertains to their 2024 championship aspirations, but with an opportunity right in front of them, it's worth a try. It doesn't take a creative mind to imagine Matt Hodge being the best player on the floor on Friday night – at least for one night. He is that good and he was almost that good the first time the teams met. With a season-best effort from Hodge, the stage will be set if the rest of the Roses can follow suit. It is a lot to ask, but it is a great chance for a young team to see how far it has to go to be the state's top team by the end of next year. The Pick: Roselle Catholic, 70-55
Most Mispronounced Words In America 2022
Most Mispronounced Words In America 2022
More From Shore Sports Network