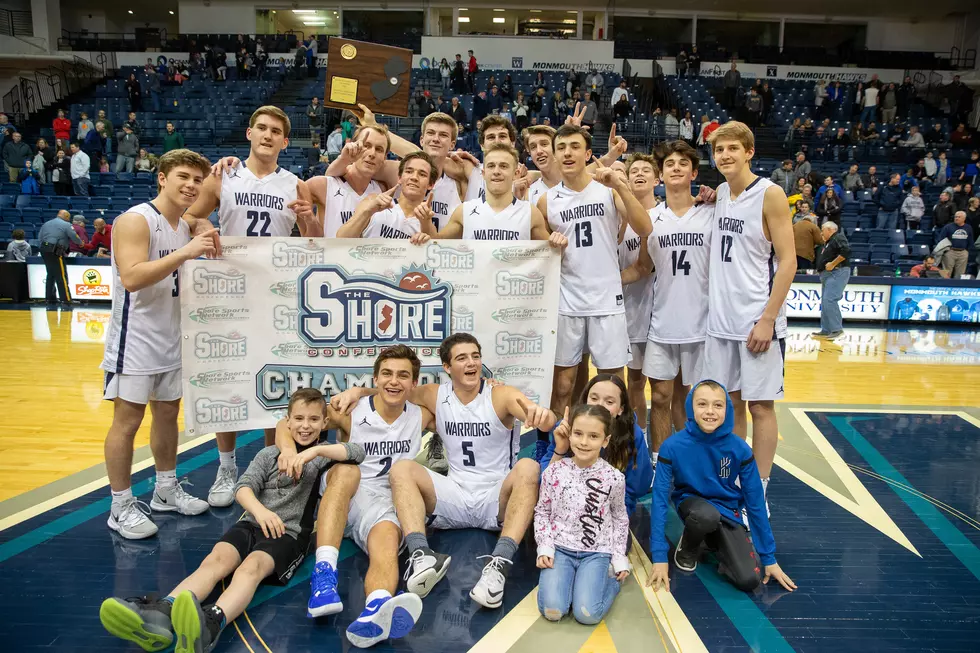 Jeep Store Boys Boys Basketball – SSN 2019-20 Final Top 10
Photo by Paula Lopez

Enter your number to get our free mobile app
The 2019-20 boys basketball season marked the first time ever that the Shore Conference had a defending NJSIAA Tournament of Champions winner, but that figured to be a one-year outlier with Ranney graduating nearly its entire championship team. While that is true for now, Manasquan provided an awfully impressive follow-up to Ranney's two-year run of dominance by seizing the mantle as the Shore's best team and representing the conference throughout the state.
If not for the cancelation of the state tournament due to the COVID-19 coronavirus pandemic, who knows how far Manasquan could have carried the Shore's flag? Even without those answers, Manasquan, Wall, Holmdel and Marlboro each represented the Shore well with deep NJSIAA Tournament runs and plenty of other teams had their moments over the course of 2019-20. Here is one last look at how the Shore Conference field shook out over what is sure to be a season few will soon forget.
1. Manasquan (31-1, 14-0) Last Week: 1; Preseason: 1
Since December, Manasquan has been the unquestioned class of the Shore Conference and while Holmdel proved to be a worthy challenger, the Hornets didn't beat them and no one else came particularly close. With the writing on the wall early in the season that no Shore team was beating Manasquan, the long view became a showdown with Camden – the No. 1 team in N.J. – in the Group II semifinals. Both teams earned a spot in the game but the game never happened due to the COVID-19 pandemic and we will forever wonder how good this Manasquan team was and if a public school was ready to end a 20-year Tournament of Champions title drought. What we do know, however, is for the first time in more than 60 years, Manasquan was unquestionably the best team in the Shore Conference.
2. Holmdel (23-5, 12-2) Last Week: 2; Preseason: 7
The gap between No. 1 and No. 2 this year was substantial but the team that takes the runner-up spot has not been this area of the Shore Conference pecking-order in 20-plus years. Holmdel started the season outside the top five and after losing to eighth-seeded Carteret in the first round of the Husky Christmas Classic, it looked like the Hornets might have some issues. As it turned out, Carteret was one of the better teams in Middlesex County and Holmdel quickly righted the ship. From that point on, the only team that took down Holmdel was Manasquan and the Warriors did it four times. Not only did Holmdel not lose to any team other than Manasquan in 2020 but the Hornets also played Manasquan down to the wire twice – which is more than any other Shore Conference team can say. If there was any question whether or not Holmdel should finish ahead of the Middletown South-Toms River North duo, the win over Lincoln in the Central Group II semifinals should have put it to rest.
3. Middletown South (26-3, 14-0) Last Week: 4; Preseason: 3
The 2019-20 season will be remembered as the season that could have been. The Tournament of Champions was canceled with a public-school team likely to be the No. 1 seed, Wildwood Catholic did not get a chance to prove itself as the real deal in Non-Public B, Bergen Catholic did not get its shot at redemption after coming up one win shy of the T of C title last year, and the Manasquan-Camden Group II showdown never happened. Another game that never happened was Middletown South vs. Toms River North, despite both teams competing in the WOBM Classic, lining up as the potential 2-vs.-3 game in the Shore Conference Tournament and each entering the NJSIAA Tournament as the top seeds in Central and South Group IV. With no head-to-head result to settle the score, the Eagles nudge ahead of Toms River North for the same reason they were seeded higher in the Shore Conference Tournament: Class A North was much tougher than A South, which is the bulk of the two resumes.
4. Toms River North (24-5, 14-0) Last Week: 3; Preseason: 4
Up until the NJSIAA Tournament, Toms River North did just about everything right this year. The Mariners handled the A South schedule for the fifth straight season, running its consecutive divisional wins streak to 74 games. They also challenged themselves outside of A South, including matchups against Manasquan, Rutgers Prep and Lincoln before the start of the postseason. For the first time in 24 years, Toms River North reached the Shore Conference Tournament championship game and although they lost in a rout, the Mariners were still in great position to make a run in the state tournament. That 75-49 loss to Manasquan in the SCT final, however, seemed to shake up Toms River North and the Mariners lost to No. 16 Egg Harbor in the first round of the South Group IV Playoffs. It was the bitter end to a promising season for a team that will graduate five starters and could find life in Class A South tougher next year.
5. Marlboro (23-7, 11-3) Last Week: 5; Preseason: 10
Like Holmdel, Marlboro could not get over the hump against the first-place team in its division, despite playing Middletown South tough in two out of the three meetings between the Class A North rivals. Marlboro also lost twice to Toms River North, giving the Mustangs five losses against just two teams. Injuries and illness saddled Marlboro during the second half of the regular season, but the Mustangs got relatively healthy in time to make the deepest state-tournament run in program history. After beating Hillsborough and North Brunswick in the first two rounds of the Central Jersey Group IV bracket, the Mustangs took down New Brunswick on the road to reach the sectional semifinal round for the first time in program history. A short jumper by sophomore Jack Seidler with 15 seconds left in the sectional final vs. South Brunswick put Marlboro on the cusp of its first sectional title but a buzzer-beater by the Vikings broke the Mustangs' hearts. Alex Ratner is moving on via graduation, but the rest of Marlboro's core will be back to make another run at a championship next year.
6. Red Bank Catholic (17-10, 7-7) Last Week: 6; Preseason: 9
While Red Bank Catholic has a pair of shaky losses to St. Rose and Monmouth, as well as a home loss to 11th-seeded Notre Dame in the NJSIAA South Jersey Non-Public A Tournament, the Caseys also have a few key wins that give them the bump up to No. 6 to finish the year. RBC picked up convincing victories over Wall and CBA during the regular season, then reached the Shore Conference Tournament semifinals for the first time since 1994 by beating a Mater Dei Prep squad that really came on at the end of the year. The Caseys also made their postseason run with senior star Charlie Gordinier sidelined by a hand injury so there may have been even more potential if the Caseys could have stayed healthy. As it is, 2020 marked an important step forward for the program, which has a solid group of sophomores returning as juniors for next season.
7. Wall (24-7, 14-0) Last Week: 10; Preseason: 6
There are two sides to Wall's resume – one side that suggests the Crimson Knights should be somewhere in the top-five and another that suggests they should be fighting for the No. 10 spot. With that in mind, they fall just about in the middle at No. 7 and considering no team ranked No. 8 or lower in the final rankings beat Wall, this seems like the right spot. CBA and Mater Dei have more impressive wins on their respective resumes and Ranney beat Mater Dei twice, so the Panthers all have a strength-of-wins argument to finish ahead. Wall, however, went unbeaten in divisional play and won a second straight Central Jersey Group III championship. When a team starts a season, the two major goals are a regular-season championship and a state sectional championship and Wall grabbed both – even going unbeaten in Class B North. With losses to five of the six teams ranked ahead of them, this is as high as those accolades can take Wall in the rankings this year. Replacing Quinn Calabrese and Michael Caputo won't be easy, but Wall is set to return a strong group again next year as it pursues a threepeat in CJ III.
8. Christian Brothers Academy (15-13, 9-5) Last Week: 7; Preseason: 5
As previously stated, CBA should not be penalized in the rankings for an administrative mistake that wiped out their Shore Conference Tournament run before it started, but not playing in that tournament was a missed opportunity for the Colts. To their credit, they made up for it by beating a very good St. Thomas Aquinas team in the opening round of the South Non-Public A Tournament and nearly took out Camden Catholic in the following round. CBA dealt with injuries as much as any team in the Shore Conference and still picked up some nice wins along the way – Marlboro, St. Joseph Metuchen, Mater Dei Prep, Ranney – and did not really drop any bad losses. With their quality of schedule and with some wins against that schedule, the Colts still did more than enough to justify a top-10 finish and – with an entire starting-five due back – will be a team two watch in 2021.
9. Ranney (17-10, 12-0) Last Week: 8; Preseason: 2
On its entire body of work, Ranney's case to finish in the top 10 is the weakest of any team to finish in the Top 10. A loss to Red Bank early in the year gives a host of B North teams a cause to finish ahead and on top of that, the Panthers did not beat any Shore Conference teams with a winning record, outside of their division wins. That being said, Mater Dei did some really good work outside of Class B Central to validate the division and Ranney handled Mater Dei in two meetings. Throw in a strong showing in a loss to Roselle Catholic on Jan. 29 and Ranney showed enough during the season to justify a top-10 ranking despite a rather ordinary collection of wins. Ranney played 2019-20 with no seniors so the Panthers should return with a Shore Conference contender in 2021.
10. Mater Dei Prep (17-11, 10-2) Last Week: 9; Preseason: Not ranked
Although the Seraphs were only two years removed from reaching the Shore Conference Tournament final for the third straight year, it felt like a longer time after a difficult 2018-19 season. This year's team took the growing pains of last year and turned them into a positive by competing through a tough regular-season schedule that led into a strong postseason showing. Mater Dei won four tournament games between the Shore Conference and NJSIAA Tournaments and the biggest was a buzzer-beating win over second-seeded Middletown South in the SCT round of 16. The Seraphs also nearly rallied for a win over RBC but bounced back by winning two road games in South Jersey Non-Public B. Mater Dei handled both Doane Academy and third-seeded Immaculata in the first two rounds before running into eventual sectional champion Wildwood Catholic. Two losses to Ranney and one to CBA keep the Seraphs at No. 10 but it is a strong No. 10 after a nice rejuvenation campaign.
Manalapan (15-10, 8-6) – The Braves spent a large portion of the season as a ranked team and would have finished that way had they been able to figure out a way to beat Manalapan (0-3) or Middletown South (0-3).
Lakewood (20-8, 12-2) – After perhaps its worst season in program history a year ago and a 1-3 start to open this season, Lakewood bounced back by once again winning the B South title and reaching the 20-win plateau.
St. John Vianney (18-10, 8-6) – With an SCT win for the first time in 12 years, 18 wins for the first time in 15 years, and a road state tournament win for the first time in more than 20, the 2019-20 Lancers raised the bar for SJV boys basketball.
Neptune (16-14, 8-6) – The Central Group III final at Wall was a microcosm of Neptune's season trying to push into the Top 10: so close but just couldn't quite finish. Still, a run to the CJ III final is another example of Neptune showing up in March.
Matawan (14-13, 10-4) – The Huskies played a very tough out-of-division schedule and went 4-9, even drawing an under-seeded Burlington Township in the opening round of the NJSIAA Central Group III Tournament. The second-place showing in a deep, competitive B North field is worth acknowledging.
Ocean (14-11, 6-8) – The Spartans acquitted themselves nicely in the Shore Conference Tournament by beating Rumson on the road and pushing No. 2 Holmdel for 32 minutes.
Rumson-Fair Haven (17-11, 9-5) – A first-round SCT loss to Ocean was Rumson's worst loss but an early-season win over Red Bank Catholic was the best win. All-in-all, a good showing by a Bulldogs team replacing a lot of talent, but no results that really jump out.
More From Shore Sports Network