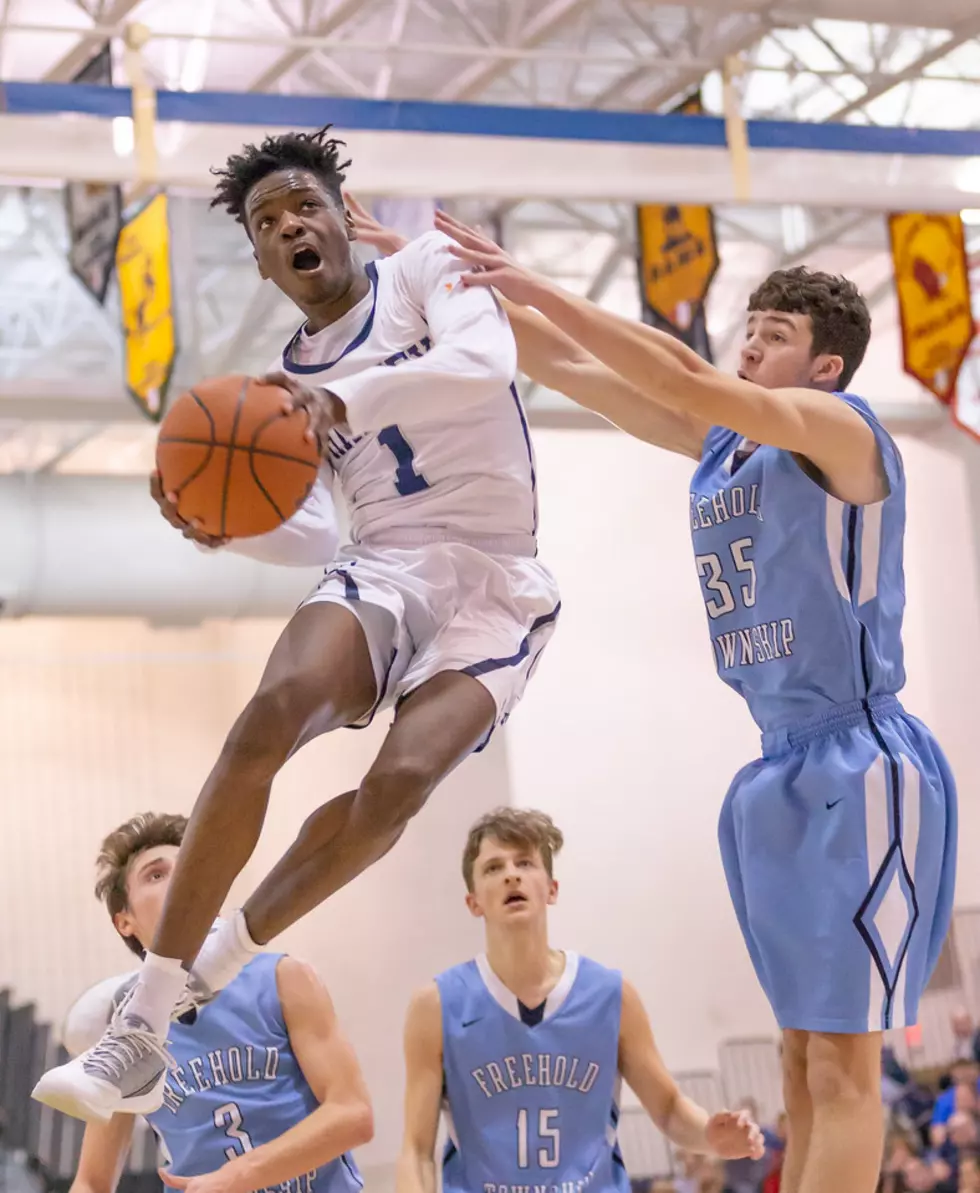 Boys Basketball – Ranney Rolls Past Freehold Twp, Into SCT Final
Ranney senior Bryan Antoine. has put himself among the Shore's all-time greats. (Photo by Paula Lopez)
*Watch the replay on SSNTV at the bottom of the post*
TOMS RIVER - As Scottie Lewis described it, his Ranney boys basketball team went from the squad that was everybody's darling last season to the bad guy in the Shore Conference.
"(Assistant) Coach (John) Tierney said last year we were everybody's angels. Now we are everybody's demons," Lewis said. "We're the the villains. No one likes us and we have accepted that. You want to hate us - we'll give you something to hate."
Thursday's challenger was fourth-seeded Freehold Township in the Shore Conference Tournament semifinals and Ranney saw to it that the Patriots never had a chance.
The top-seeded Panthers darted out to an early double-digit lead behind a stifling defensive effort and rolled on to a 78-50 win over the Patriots to advance to the Shore Conference Tournament championship game for the second straight season.
"It's a business when we step on this floor," Lewis said. "You are going to get our best effort every game, no matter who the opponent is."
Lewis, who was Ranney's standout in each of its first two SCT wins, battled foul trouble on the way to scoring 10 points but got plenty of help from the rest of his teammates. Fellow senior and McDonald's All-American Bryan Antoine scored a game-high 20 points, senior Ahmadu Sarnor poured in 13 and junior Phillip Wheeler and freshman Elijah Perkins each chipped in 11 for the Panthers.
Ranney (23-3) held Freehold Township (19-4) to two points in the first quarter and Antoine came out firing after he and his team entered the game mired in a shooting slump. Antoine came into the game averaging only 11 points in three games since becoming the Shore Conference's all-time leading scorer, in part due to nagging shoulder and foot injuries.
Antoine connected on three three-pointers in the first quarter and shot 8-for-12 from the floor in the game.
"I have to give credit to all the guys - Alex Klatsky, Chris Autino, Ahmadu, Phillip Wheeler and Elijah Perkins," Antoine said. "Those guys, whenever we see a box-and-one against me or a triangle-and-two with me and Scottie, they step up. I think Wheeler had 20 points against Middletown South and he had a bunch more today. That's huge. Elijah has played great defense and is making plays. Chris is actually scoring in the post. It's not just me and Scottie clicking in the game."
Following the dominant first quarter, Freehold Township settled into the game and trailed by 19 points both at halftime (34-15) and the end of the third quarter (54-35). Ranney, however, put an already one-sided game farther out of reach with a 12-0 run that bumped the lead from 18 to 30 at 72-42.
Lewis and Freehold Township counterpart Greg Billups, who scored all 11 of his team-high 11 points in the second half, both got into early foul trouble while matched up with one another.
"I kind of feel like I have been targeted a little bit," Lewis said of his foul trouble. "I feel like things are being done to me when I have the ball that don't get a whistle and if I do the same thing, it gets called. I have learned to live with it and I'm trying to do a better job playing through it."
After Ranney shot a paltry 0-for-17 from three-point range in its quarterfinal win over Middletown South, it bounced back Thursday, beginning with Sarnor hitting the team's first three-point attempt of the game to open the scoring.
"When we went back to practice this week, coach made sure to remind us we shot 0-for-16 or whatever it was," Antoine said. "He said there is no way we were going to shoot like that again so I think we kind of just put it behind us and everybody kept looking for their shot. I got a couple good looks early on and felt like they were going in."
Lewis followed with a jumper and Antoine a three-pointer before Lewis woke up the crowd by gliding over a Freehold Township defender for a one-handed slam (16:00 into the stream below).
Antoine then connected on his next two three balls to push the lead to 16-2. Ranney finished the game 8-for-20 (40 percent) from beyond the three-point arc.
Freehold Township's early offensive woes stemmed from an early bout with turnovers and missed shots on open looks. The Patriots missed their first seven shots, shot 1-for-10 in the first quarter and turned the ball over nine times in the first 12 minutes.
"We were pretty sure Freehold Township was going to come out and do what they do," Ranney coach Tahj Holden said. "Brian (Golub) is a great coach. He always gets his guys to play hard and even after we came out and shut them down early, they fought back, made us work, beat us on the offensive glass more times than we would like. It knew it wasn't going to be easy and I think our energy early, especially defensively, set the tone for us."
Senior Seth Meisner, senior Cristian Corcione and sophomore Joe Lardaro each added seven points for Freehold Township.
Ranney will try to make it two straight Shore Conference Tournament titles Saturday night, when the Panthers take on No. 2 Manasquan at OceanFirst Bank Arena on the campus of Monmouth University at 5 p.m.
Over the past two seasons, no team has come closer than 16 points to beating Ranney in the Shore Conference Tournament, with the Panthers enjoying an average margin of victory of 28.4 in seven SCT wins since last year.
None of that matters heading into Saturday against a Manasquan team that has been dominant in its own right, heading into Saturday on a 16-game winning streak that includes 12 victories by a double-digit margin. The Warriors led Christian Brothers Academy by as many as 22 points on Saturday before icing a 70-64 win.
"I know it's going to be our last game in the Shore Conference but we're playing a team that's very good," Antoine said. "I don't think we're thinking about giving everyone a show. We want to go out and play hard and play to win because we know that's what we're going to get (from Manasquan)."
Watch the Replay of Ranney vs. Freehold Twp. Below
More From Shore Sports Network