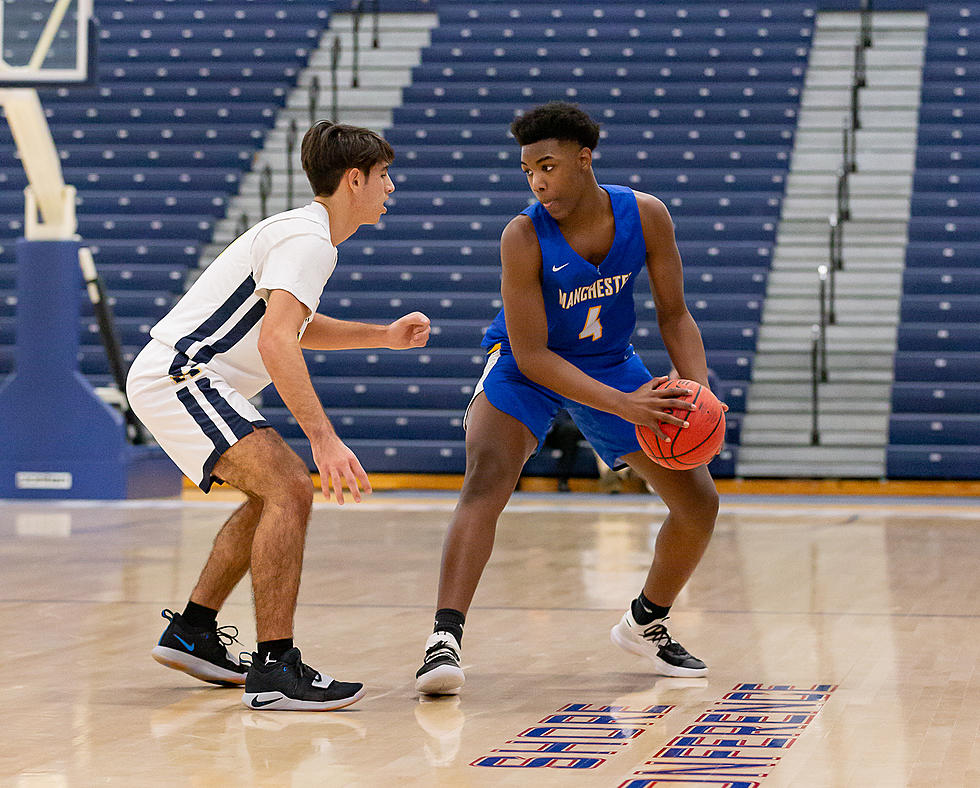 Boys Basketball – New Year's Resolutions: Ocean County
Manchester junior Savon Myers. (Photo by Paula Lopez)
Enter your number to get our free mobile app
On Thursday, we took a look a some potential New Year's resolutions for the boys basketball teams of Monmouth County, most of which will open their season on Wednesday, Jan. 27. Today, it's time to give the Ocean County teams something to shoot for as most of them gear up for a Jan. 26 opening night.
Here are 17 New Year's Resolutions - listed in alphabetical order - for the 2021 boys basketball season, one for each of Ocean County's teams.
Barnegat: Bring on the changing of the guard(s)
Guard has two meanings in this instance – one internal and another external, as it pertains to Barnegat. The Bengals graduated some key pieces from last year's squad, none more impactful that bruising forward Isaiah Gerena. Barnegat has the guards to keep improving as a team and could feature a faster-paced, perimeter-oriented game to unleash Jaxon Baker and the rest of the backcourt. The other meaning has to do with the pod reshuffling, which takes Lakewood and Donovan Catholic out of the picture this year and gives the Bengals a chance to make a serious play for a first-place finish.
A consolation for a 2-18 record during 2019-20 season was that Brick got some brownie points from opposing coaches for playing hard and the Green Dragons will need more of the same in 2021 with some of the new players that will be working in. In this pod, in which Lakewood is likely to take a step back and Brick Memorial also has some production to replace, there are some games to be won for a team that really does outwork the rest of the field.
Brick Memorial: Develop some inside scoring
In Brick Memorial's pod, only Central has proven interior offense, so there could be an opportunity for a team that can work the glass and pick up easy points in the paint. Brick Memorial should have solid guard play, but beating Jackson Memorial, Howell and Lakewood in the back court will be challenging, so a complementary inside game could be the answer. Hayden Guzenski is the top returning forward while Luke Braaten played as a 6-6 sophomore last season and could be a key to the Mustangs' success.
Central: Dominate the paint and finish the job
Central has a one-two front-court punch of 6-6 junior Justin Soranno and 6-3 forward I-Meer Johnson that is going to be very hard for the other rosters in the pod to contain. Not only are the two players bigger than most of the players who will guard them but both are athletic, with Johnson returning as one of the Shore's top overall athletes on the basketball court. Central has some sorting out to do with its starting guards, but there will be some depth and diversity of skill there. If those elements all come together, this might be the year the Golden Eagles finally finish at the top of the standings and make a run at the top spot in Ocean County.
Donovan Catholic: Cash in on the late start to the season
An inability to practice before Jan. 11 will hurt every team, but there are some perks for some programs. Donovan Catholic was hurt by some lingering fall-season injuries and unavailable players at the outset of 2019-20 and never quite gelled. This year, the Griffins hope to have a full roster for game one and a full roster it is. Donovan Catholic has plenty of guard play, athleticism on the wing, some size and some overall strength thanks to a previously-young nucleus that is a year older. If the Griffins are healthy from the jump – which is definitely not a certainty for any team this year – they will challenge Toms River North for the top spot in their pod and the county as a whole.
Jackson Liberty: Turn it up on defense
Last year was bound to be a struggle for the Lions, who had to find away to replace Daniel Sofield after he carried them to their best season in program history. After a year to try to find themselves, Jackson Liberty's returning players have some experience and a chance to establish themselves on more solid ground within the Shore's only five-team pod. The best way for most teams to get results is by defending and this group could have some potential in that regard, with 6-5 center Phanique Dupree playing the role of one of the Shore's better shot-blockers and a collection of athletic guards back to turn up the pressure and on the perimeter.
Jackson Memorial: Match the Lakewood style with Jackson athletes
Randy Holmes takes over the Jackson Memorial program with an impressive resume at Lakewood in his review mirror, but he made the point that he wants to be able to adjust his team's style to the players on the roster. At Jackson Memorial, Holmes shouldn't have to change too much, as the Jaguars have had plenty of athleticism over the years, as well as some size. This year's roster will be a little heavier on guards, but the group has some skill and athleticism that Holmes can mold into a swarming team that looks something like what he was able to produce year after year at Lakewood.
Lacey: Build around the super sophomores
The Lions should have their share of senior experience – including third-year starter Jacob Bowles – to help them navigate the season but the two most promising all-around players heading into 2021 are a pair of sophomores who showed plenty of promise as freshmen. Troy Buxton was a capable shooter and flashed his point guard ability in his first year and 6-6 center Carson Howard was already one of Ocean County's best big men as a freshman. With a tough supporting cast of seniors who embrace their roles, those two should shine even more for a Lions team that could be a sleeper in the county.
Lakewood: Embrace the small victories
There is a fear among some who have been close to the Lakewood program that the boys basketball team could see a significant drop-off with Randy Holmes leaving for Jackson Memorial. The rosters have been thinner in recent years than they were just five years ago, although the top players on last year's team were still good enough to lead the Piners to a Class B South title. Even if winning a division or a pod this year is not in the cards, new coach Jonathan Jones will have to keep his team focused on making every possible gain they can by playing hard every night and enjoying every victory – especially in the COVID-19 season.
Manchester: Win Ocean County
It's hard to say how a team can definitively win a county this season but looking at the schedule for the Hawks, they will have a chance to make their case as Ocean County's best team. It starts with the group they bring back, led by junior standouts Savon Meyers, Wyatt Haselbauer and D'Maari Brown. Factor in a schedule that includes out-of-pod games vs. Toms River North, Jackson Memorial, Donovan Catholic and Southern on top of an eight-game pod schedule that should favor the talented Hawks. It remains to be seen what a strong showing will get Manchester as far as postseason placement goes, but making a case as Ocean County's best team would certainly help.
Pinelands: Make opponents work
Last year was a challenge for Pinelands, which was coming off a strong two-year run and did not have a lot of experience back from those teams. One thing the Wildcats were able to do was slow teams down and keep opponents from reaching their typical scoring output and that is likely to be a gameplan this year as well. Pinelands has a quality lead guard who can run the offense in Josh Kline but has a lot of questions beyond him. Establishing some reliable underclass talent could be a long-term goal but for this year, the Wildcats should focus on being that pesky team that opponents are happy to get past.
Point Beach: Set the new bar
No one can argue with the results Nick Catania got while head coach at Point Beach for 16 seasons, which included a Shore Conference Tournament title, three sectional titles, an overall Group championship and an impressive list of Division I recruits – all as a Group I school. New coach Ed Goodman would jump at the chance to build just part of that resume, but he has also indicated that things will be different with him at the helm. Goodman has already indicated he wants to build around "Point Beach kids," an allusion to Point Beach's propensity to bring in transfers and exercise its might as a choice school (allowing out-of-area students to pay tuition to attend). The Garnet Gulls were more local last year and have a good returning group to start with a new directive, so expectations should remain fairly steady in the short term.
Point Boro: Regain the toughness factor
Point Boro's best teams under Kevin Hynes have been feisty on defense and on the boards and while the last few Panthers teams have had that personality at times, they were beaten on those fronts a few too many times to get to the top of the B South standings. This year's team will have some proven guard play led by junior Matt Lee and if some of the rising sophomores can develop that hard-nosed mentality at an early stage of their careers and Brian Duda can set an example as a senior, there are a bunch of games to be won this season and, potentially, a division to be won in 2022.
Southern: Slow down the speedsters
Few teams made it a point to grind the game to a slow pace like Southern did last year, with the Rams leaning on their physicality to keep games close. With all-division forward Jay Silva back in the front court, they probably shouldn't stray far from that approach, even as Luke Infurna and Nick Devane return to the back court with an ability to get up and down with their big man. It might make sense to pick out some more spots to get out on the break, but in a pod with rosters that can push the pace (Toms River North, Donovan Catholic, Lacey), Southern can provide a clashing style that could disrupt those opponents.
Toms River East: Establish a new team identity
For the last three seasons, Toms River East relied quite a bit on the Goodall family for its production, with cousins Mike and Ryan Goodall providing most of the offensive production. Throw in all-around center Riley Engelhard and the Raiders have a ton of production to replace in 2021. That means Toms River East will have to redefine itself as a team, led by a versatile returning starter in Mark Roma and a sharpshooting senior in Charlie Monica.
Toms River North: Forget the streak
With a 74-game winning streak in Shore Conference divisional play – all in Class A South – Toms River North has a high standard to live up to while running out a team in 2021 that has to replace its three top scorers. On the bright side, the games this year are not technically divisional games, so the count may be on hold for this year. Even if we are counting these pod games as "divisional games" these Mariners should just put it out of their minds. This is a totally new group in a totally different field of teams and the focus for coach Rory Caswell will be forming a new unit that will be capable of competing with some of the Shore's best by the end of February.
Toms River South: Pass Toms River East in the Toms River pecking order
The last time Toms River South played under a first-year head coach, Tymere Berry went off for an All-Shore season. New coach Vin Arminio will not have a player like Berry to hand the ball to, so the expectations won't be quite as grand. With that being said, there is an opportunity for Toms River South to take a step forward with both Toms River North and Toms River East coming back to the pack to different degrees this season. With East losing so much of its scoring, South will surely be looking to pounce and beat the Raiders to set the tone under its new coach.