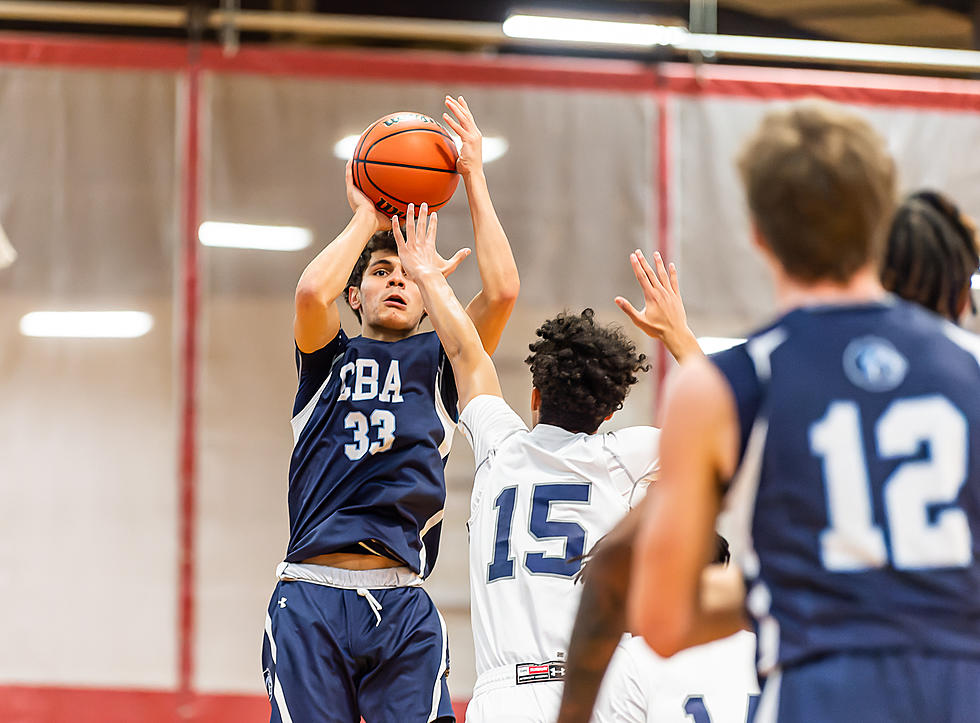 Boys Basketball – CBA Ascends to No. 1 Spot in Latest Top-10 Shakeup
CBA senior Pat Lautato rises up for a shot. (Photo: Tom Smith | tspsportsimages.com)

There have been three different teams ranked No. 1 in the Shore Sports Network Top 10 since the 2018-19 season but there has not been an in-season change at No. 1 since the 2016-17 season, when Ranney knocked Mater Dei Prep from its perch before Mater Dei eventually came back to beat Ranney, grab the No. 1 seed in the Shore Conference Tournament and win a second straight SCT.
Over the next two seasons, Ranney was a dominant, wire-to-wire No. 1 team before Manasquan took over as the dominant Shore Conference team in both 2019-20 and 2021. This year, Marlboro entered as the No. 1 team and has immediately been tested in games against teams that also want that top spot in the conference and have shown to have the wherewithal to get there.
This week finally ends the four-year streak of wire-to-wire No. 1 teams in the Shore Conference and now that the seal has been broken, there is potential for some hot potato with the No. 1 spot. The newest No. 1 team is scheduled face the No. 2 team this coming Saturday and No. 3 later in the month, while No. 2 is slated to face Nos. 4 and 7 before January is over and No. 3 takes on Nos. 1 and 5 before the end of the month.
Throw in a rotation of teams shaping up for the bottom two spots in the rankings and this year's Top 10 appears like it will be in treatment for the entire regular season, leading up to what should be the most competitive Shore Conference Tournament in a while.
1. Christian Brothers Academy (8-0, 3-0) Last Week: 3
For the first time in nearly six full years, CBA is back in the No. 1 spot in the Shore Sports Network rankings. The Colts are off to an unbeaten start through eight games and those eight games have been anything but soft. The Colts have beaten teams ranked No. 7 (Freehold Township), No. 6 (St. John Vianney), No. 4 (Rumson-Fair Haven), No. 3 (Ranney) and No. 1 (Marlboro) at the time CBA beat them, so not only does CBA have the conference's best record, but the Colts also have the Shore's best strength of schedule.
What makes CBA's start all-the-more impressive is that the Colts are doing it with three new starters – two of whom are first-time varsity players in sophomore Peter Noble and freshman Justin Fuerbacher. Pat Lautato is playing like a senior and third-year starter at CBA, not to mention a serious First-Team All-Shore candidate, while juniors Joe White and Will Bradley have expanded their roles off last season. Senior James Durney has also been one of the Shore's most effective sixth men, providing shooting, handle and defense off the bench.
While CBA has unquestionably had the best start to the season, the Colts have not dominated every opponent. They started the season with comfortable wins over Holmdel and Freehold Township, but have been in close games since – including a pair of competitive games against Red Bank (2-4) and Manalapan (3-4). This week comes with two more Shore Conference Class A North divisional landmine games in Middletown South and Howell and if the Colts can escape both and stay healthy, they will head into Saturday's home showdown with Red Bank Catholic with a chance to add another huge win to an undefeated start.
2. Red Bank Catholic (8-1, 3-0) Last Week: 2
Although they are not undefeated, the Caseys have a compelling case to be No. 1 even before they get a chance to beat No. 1 CBA on Saturday in Lincroft. RBC's only loss is to Marlboro and that was when Marlboro was at full strength. The Caseys later beat the Mustangs and, like CBA, did so when Marlboro was missing starting senior guard Zach Molod. CBA still has a better collection of wins relative to RBC, but the Caseys made their case by beating St. John Vianney handily and leading wire-to-wire vs. Marlboro – both more convincing than the manner in which CBA beat those two teams. One way or another, the two teams are scheduled to settle it on the court later this week, although RBC will also have to deal with Holmdel and Rumson-Fair Haven first.
3. Marlboro (7-2, 2-1) Last Week: 1
As accomplished as Marlboro's all-senior starting lineup is, the question surrounding the Mustangs heading into the season was how much their depth was ready to help and how much coach Mike Nausedas would lean on it. He did not turn away from his starting five much at all in the WOBM championship game win over Red Bank Catholic, but was then forced to last week when Molod fell ill. The result was a pair of losses to the top two teams in the rankings and while that could understandably call the Mustangs' depth into question, it is also part of a perfect storm working against Marlboro. This last week might have been the toughest the Mustangs will have all year and not only was Molod out, but stars Jack Seidler – who scored his 1,000th point this week – and Jon Spatola are working through minor shooting slumps. Once the Mustangs get whole and the two stars really star clicking, Marlboro will be back in the No. 1 conversation.
4. Ranney (3-1, 1-0): Last Week: 4
At this stage of the season, it is tough to figure out what to do with Ranney and other teams that are going through COVID-related stoppages. The Panthers opened the season ranked No. 3 in the Shore Sports Network Top 10 and while they don't have some of the wins that other top-five contenders have, they had every opportunity to beat CBA in the Albert E. Martin Buc Classic final and ended up losing in overtime. Ranney might have actually have a chance to beef up their resume a bit with a trip to Keyport Tuesday, with the Red Raiders entering that game a perfect 5-0 and in the top perch in the Class B Central division.
5. St. John Vianney (8-2, 2-0) Last Week: 6
The Lancers missed out on a chance to make a jump into the top three, but they continue their methodical climb up the rankings and are now a top-five team in the Shore Conference. Nate Williams is playing as well or better than any player in the conference and his play is elevating a team that is now starting to get used to playing top teams in big games. Yes, they came up short against Red Bank Catholic and CBA, but the Lancers beat a Manasquan team that looked very good in beating St. Joseph of Metuchen on Saturday. St. John Vianney will also have some more chances to move up, including a shot at Marlboro on Jan. 29, but the Lancers would be wise to lock in on winning the Class B North division and avoid slip-ups against teams like Middletown North, Red Bank and Neptune.
6. Manasquan (6-2, 2-0) Last Week: 7
Coach Andrew Bilodeau was confident after a 20-point loss to Rutgers Prep to open the season that his inexperienced team was going to improve and start picking off some of the more experienced teams Manasquan is lined up to play at showcases throughout the season. Well, it's already happening. The Warriors took care of Immaculata up at Bergen Catholic on Jan. 2, then knocked off St. Joseph Metuchen – the No. 11 team in the state heading into the day – in Saturday's Hoop Group Boardwalk Classic. Manasquan doesn't have any noteworthy Shore Conference teams left on its schedule, but still has a trio of non-conference games left against Roselle Catholic, West Side Newark and Union Catholic. With good showings in those matchups and a spotless performance in the Class C North division, Manasquan could find itself back in the top five.
7. Rumson-Fair Haven (3-1, 0-0) Last Week: 5
Rumson is off to a rough start to the season and it has nothing to do with the way the Bulldogs have performed on the court. First, it was the trio of ankle injuries that befell their starting lineup, with standouts Geoff Schroeder, Scott Gyimesi and Trent Sloan all dealing with said injury early on. Technically, Gyimesi and Sloan didn't miss any regular-season time, but Schroeder is just rounding into form now. Of course, Schroeder hasn't missed many games because the Bulldogs have been missing games. Not only has Rumson been shut down since Dec. 30, but it also had a game vs. Raritan postponed while the Rockets were shut down. Other teams, meanwhile, have recorded some big wins, so the Bulldogs will be hungry to join the party, which they have a chance to do later this week, when they take on Red Bank Catholic.
8. Manchester (4-2, 1-0) Last Week: 8
In a lot of ways, Manchester is currently its own tier within the Top 10. The Hawks need a few things to happen in their favor to jump up in the rankings, but at the same time, they are also pretty secure in their top-eight standing. Savon Myers has been outstanding so far, much like Nate Williams has been for St. John Vianney, and by the end of the month, the Hawks will also be working transfer Amari Ayala-Petty into the mix. Manchester should roll through its next four games before a big three-game stretch against Jackson Memorial, Donovan Catholic for a third time and Ranney.
9. Raritan (3-1, 0-1) Last Week: Not Ranked
The Rockets make their debut in the Top 10 coming off a win over previously-unbeaten Voorhees on Friday in a benefit event at Montgomery High School. Raritan also has double-digit wins over St. Rose and Steinert and was one bad third quarter away from taking No. 2 Red Bank Catholic to the wire. This team still has plenty to prove, but the early returns look good for a team with a quality senior point guard in Justin Rivera and very good mix of juniors and seniors sprinkled throughout the rotation, including coming off the bench.
10. Middletown North (3-3, 1-0) Last Week: Not Ranked
It has been an up-and-down start for Middletown North but a lot of that has to do with the quality of the competition the Lions have played. Their losses are to Manchester, Ranney and Westfield and the Manchester loss came with senior Tommy Giannone out sick. The big win, meanwhile, was going on the road to top Brick Memorial, which was sitting in the No. 9 spot in the rankings last week. By beating a team in the top 10, Middletown North becomes a team in the Top 10 and will try to solidify its spot later this week when the Lions are due for a shot at St. John Vianney.
Dropped Out
Brick Memorial (3-2, 2-0) Last Week: 9 – The loss to Middletown North knocks Brick Memorial down in the Top 10 pecking order, but the Mustangs won their most important game of the week when they pulled out a dramatic road win over Jackson Memorial to take over first place in Class A South.
Jackson Memorial (3-3, 2-1) Last Week: 10 – Although the Jaguars lost to Brick Memorial, they were on the verge of winning the game and their other two losses are to No. 2 Red Bank Catholic and No. 6 Manasquan. It would not take much for Jackson Memorial to climb back into the picture, especially with an upcoming game vs.
Top 10 Watchlist
Holmdel (5-3, 2-0) – There have been some growing pains, but Holmdel is a young team emerging as a Top 10 contender and will continued to get a chance to test themselves this week with a game against Red Bank Catholic.
Donovan Catholic (3-3, 1-1) – After a big win over Freehold Township, the Griffins were not able to keep up with Manchester and will get one more shot at the Hawks as part of their pursuit of a Class B South championship.
Freehold Twp. (4-3, 2-1) – The Patriots have slowly rounded into form and after losing a close one at Holmdel, they bounced back with their biggest win of the season by beating Howell on Thursday.
Howell (4-2, 1-1) – The Rebels were primed to move into the Top 10, but a rough night at Freehold Township in a 17-point loss put that on hold. Playing in Class A North, Howell will have more chances to prove itself.
Keyport (5-0, 4-0) – The Red Raiders are one of four unbeaten teams left at the Shore and one of only two with five or more wins. They will face their biggest test Tuesday when Ranney comes to town.
Manalapan (3-4, 1-3) – Sub-.500 teams don't typically get a top-10 shoutout but the Braves have solid wins over Old Bridge and Holmdel and their losses are to Freehold Township by eight, Marlboro and Seton Hall Prep by big margins and CBA by 10 after leading at halftime.
More From Shore Sports Network