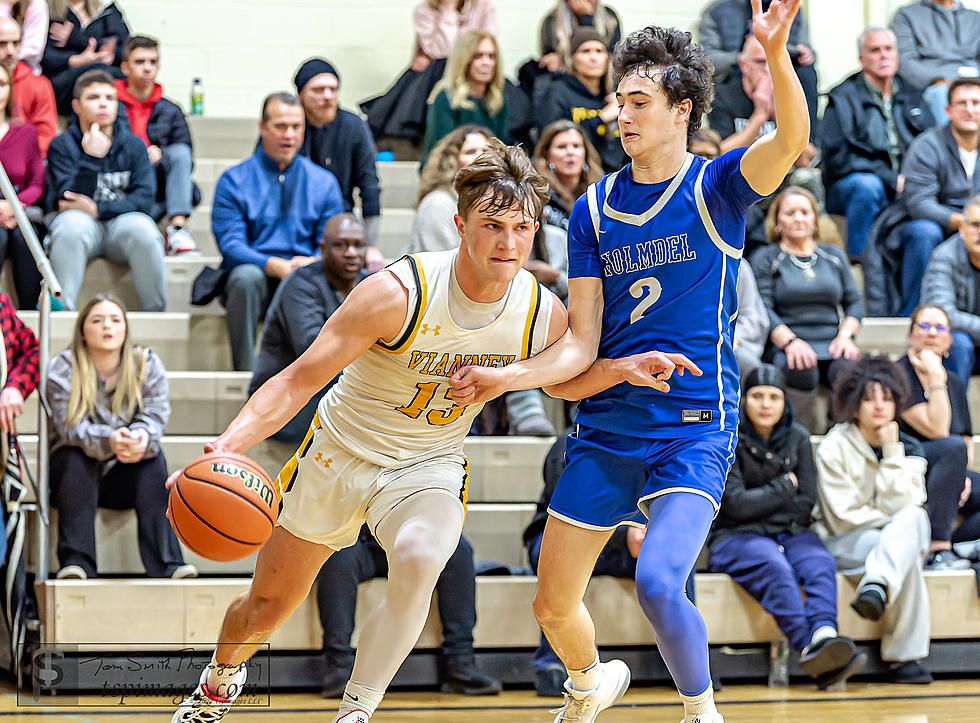 Boys Basketball – 2023 NJSIAA Tournament Preview: The Shore Non-Publics
SJV senior Kyle Verriest drives along the baseline with Holmdel junior Ben Kipnis defending. (Photo: Tom Smith | tspsportsimages.com)

One year ago, two Shore Conference teams played their way to the cusp of a Non-Public state championship, only to come up short in the fourth quarter of their respective championship games in a title-game double-header at Lenape High School.
After Ranney and Red Bank Catholic came within striking distance of championship trophies a year ago -- Ranney losing to Trenton Catholic in the Non-Public B final and Red Bank Catholic to Rutgers Prep in Non-Public A -- the field is reset and a new set of teams and players will be playing for one of the four spots in the sectional finals at Lenape on March 1.
The Shore Conference teams in Non-Public A will have their work cut out for them, with just one of them guaranteed a first-round home game and none of the four teams from the Shore in the field earning one of the three byes.
In Non-Public B, the odds of a Shore Conference champion are much greater, probably even likely. The reward for winning the South Non-Public B final, as usual, is a state final against whichever powerhouse emerges from the North Jersey bracket, with state No. 1 and reigning NJSIAA Tournament of Champions winner Roselle Catholic the favorite to make it to Rutgers on March 3.
Shore Teams in the Field: No. 8 Red Bank Catholic, No. 10 Christian Brothers Academy, No. 12 St. John Vianney, No. 13 Donovan Catholic
Top Seed: Camden Catholic
Defending Champion: No. 7 Rutgers Prep
First-Round Byes: Camden Catholic, No. 2 St. Augustine, No. 3 Immaculata
Favorite: Camden Catholic. This is another South Jersey bracket that could wind up with any number of winners. The Irish have a built-in advantage in the quarterfinals and semifinals as the home team, although in this section, there won't be an easy matchup for the top seed. That especially holds true for a Camden Catholic squad led by two sophomores in Tobe Nwobu and Luke Kennevan and while the Irish have proven themselves with wins over the likes of Camden Eastside, Paul VI, Egg Harbor and Bishop Eustace, winning three straight against this field will not be easy. The same, however, can be said for No. Paul VI, No. 2 St. Augustine, No. 3 Immaculata and No. 7 Rutgers Prep – all of which figure to be the top contenders for the title.
Darkhorse: No. 11 Pingry. The Big Blue have had a solid season at 13-9 and seven of the nine losses have been by margins of five points or less and have lost by double-figures only once. Pingry also has a seven-point loss, which happened to come against Immaculata – the team Pingry would play should it knock off No. 6 St. Joseph Metuchen in the opening round. While St. Joe's has had some big wins this season – including over a Rutgers Prep and Union Catholic from this field – and have played a loaded schedule, they have had some close calls as well during a 15-10 campaign, including a loss to 8-18 Newark Central.
CBA could be a factor at No. 10, but the Colts will have to find a shooting stroke that just has not been there for most of the season. A first-round matchup vs. Rutgers Prep is not the ideal draw for the Colts given how explosive the Argonauts are, and a win there would mean a trip to face a tough St. Augustine team. If CBA is to make a run, it will need to be on the cusp of playing, far and away, its best basketball of the season.
Bracket Breakdown: If the best version of every team is taken into consideration, the top seven seeds in this field are all in play to win the sectional championship. Even Red Bank Catholic and No. 9 Notre Dame pose a threat on any given game, so this bracket has a chance to be upside-down in short order. Rutgers Prep came into the year as the preseason favorite among this group and the Argonauts enter play Wednesday as the No. 7 seed – which likely means three wins away from home in order to win the section. One of those wins would have to be at St. Augustine, which has exceeded the preseason expectations and enters the tournament with just five losses – all to high-caliber teams: Camden, Camden Eastside, Don Bosco and Egg Harbor twice.
With two of its four losses coming against Camden, Camden Catholic is battle-tested, but will likely have to get through a Paul VI that has also been through the ringer and split the regular-season series with the Irish. Those two could find themselves having to beat a Shore Conference team to get to the semifinals, with Paul VI already preparing for a first-round game against a scrappy Donovan Catholic squad. No. 5 Union Catholic is the other contender on the top-half of the bracket and will take on St. John Vianney in round one. RBC, meanwhile, will have a difficult road block in Mercer County Tournament runner-up Notre Dame, but the young Caseys squad earned a home game for round one and have the shooters to pose a threat, however long they stick around in the postseason.
Championship Prediction: No. 2 St. Augustine over No. 4 Paul VI. Both Camden Catholic and Paul VI are sophomore-driven teams and Paul VI has come on strong since starting the season 2-4 – evidenced by a 32-point win over Bishop Eustace after losing to the Crusaders the when the two teams met in December. St. Augustine, meanwhile, is spearheaded by a trio of juniors Elijah Brown, Semaj Bethea and Matt Kouser and will be a hungry team after losing to Egg Harbor in the Cape-Atlantic League final. Rutgers Prep in the quarterfinals would be a serious challenge, but if the Hermits hold serve at home, they could be a dangerous team at Lenape in the March 1 sectional championship game.
Round-by-Round Picks
Opening Round
(9) Notre Dame over (8) Red Bank Catholic
(5) Union Catholic over (12) St. John Vianney
(4) Paul VI over (13) Donovan Catholic
(6) St. Joseph Metuchen over (11) Pingry
(7) Rutgers Prep over (10) CBA
Quarterfinals
(1) Camden Catholic over (9) Notre Dame
(4) Paul VI over (5) Union Catholic
(6) St. Joseph Metuchen over (3) Immaculata
(2) St. Augustine over (7) Rutgers Prep
Semifinals
(4) Paul VI over (1) Camden Catholic
(2) St. Augustine over (6) St. Joseph Metuchen
Championship
(2) St. Augustine over (4) Paul VI
Shore Teams in the Field: No. 1 St. Rose, No. 3 Ranney
Top Seed: St. Rose
Defending Champion: No. 10 Trenton Catholic
First-Round Byes: St. Rose, No. 2 Bishop Eustace, Ranney
Favorite: St. Rose. The last time St. Rose played a tournament game as a favorite, the Purple Roses lost to the team they could be playing in the sectional final. St. Rose squandered a 13-point lead with less than two minutes to go – a stretch in which everything that could go wrong went wrong for the Purple Roses. They then lost a tune-up game to Marlboro, so while St. Rose comes into the tournament with more firepower on its roster than any team in the section, getting over the two recent losses could be an obstacle. The Roses should overmatch their first two opponents, but the championship game – likely against either Bishop Eustace or Ranney – will represent another challenge for the No. 1 seed to overcome.
PHOTO GALLERY: St. Rose vs. Ranney by Ray Rich Photography
Darkhorse: No. 12 Doane Academy. None of the double-digit seeds look particularly dangerous when it comes to making a deep run in the tournament, but Doane is the one best positioned to win a first-round game. Doane has played some close games against competitive teams and has a top scorer in Mike Evans putting up better than 20 points per game. Drawing No. 5 Calvary Christian in the opening round gives Doane a good chance to notch a win and there is enough experience on the résumé to feel good about a quarterfinal matchup at No. 4 St. Joseph Hammonton.
Bracket Breakdown: A year ago, Ranney made a run to the sectional final by going on the road in the semifinals to beat St. Joseph of Hammonton, then came up just short against Trenton Catholic in the sectional final. The Panthers brought back only two starters from last year's team, but they are two key ones in Isaac Hester and Drew Buck, plus Ranney has added an explosive guard in senior Jahlil Bethea since the end of last season. That positions Ranney to go take on Bishop Eustace in the sectional semifinal – a potential matchup that should be a wildly-entertaining appetizer ahead of the championship game at Lenape on March 1.
St. Rose's talent is going to be hard to deal with for the other teams in this bracket, with Ranney showing how it can be done in the Shore Conference Tournament semifinal win over the Purple Roses. Matt Hodge was still outstanding in defeat against Ranney, but foul trouble caught up to St. Rose and its two best supporting offensive players that night (Gio Panzini and Bryan Ebeling) fouled out. If St. Rose can get all of its top six players clicking, it's hard to see anyone beating the top seed but if a team like Ranney or Bishop Eustace can make the Roses dependent on Matt Hodge to score, the Purple Roses can be beaten – as they have been recently.
Championship Prediction: St. Rose over Ranney. It should be said that Ranney deserves a significant amount of credit for playing mistake-free basketball for the final two minutes of regulation in the SCT semifinals, which was an absolute necessity to wipe out a 13-point deficit in under two minutes. With that being said, St. Rose could not have had more go wrong – most of it self-inflicted. If not for two key foul-outs, a 6-for-17 showing from the free-throw line and four turnovers in their final eight possessions, the Purple Roses still would have pulled out that win over Ranney. Now add the motivation that loss has provided and St. Rose should be a team on a mission as it sets out to win its first sectional title since 2004.
PHOTO GALLERY: SCT Final: Manasquan vs. Ranney by Ray Rich Photography
Round-by-Round Picks
Opening Round
(8) Holy Cross Prep over (9) Wildwood Catholic
(12) Doane Academy over (5) Calvary Christian
(4) St. Joseph Hammonton over (13) Moorestown Friends
(6) Gloucester Catholic over (11) Princeton Day
(7) Holy Spirit over (10) Trenton Catholic
Quarterfinals
(1) St. Rose over (8) Holy Cross Prep
(4) St. Joseph Hammonton over (12) Doane
(3) Ranney over (6) Gloucester Catholic
(2) Bishop Eustace over (7) Holy Spirit
Semifinals
(1) St. Rose over (4) St. Joseph Hammonton
(3) Ranney over (2) Bishop Eustace
Championship
(1) St. Rose over (3) Ranney
Here Are The Top 11 "Wealthiest Towns" in New Jersey from Property Club
New Jersey's 11 "Wealthiest Towns" Towns
More From Shore Sports Network