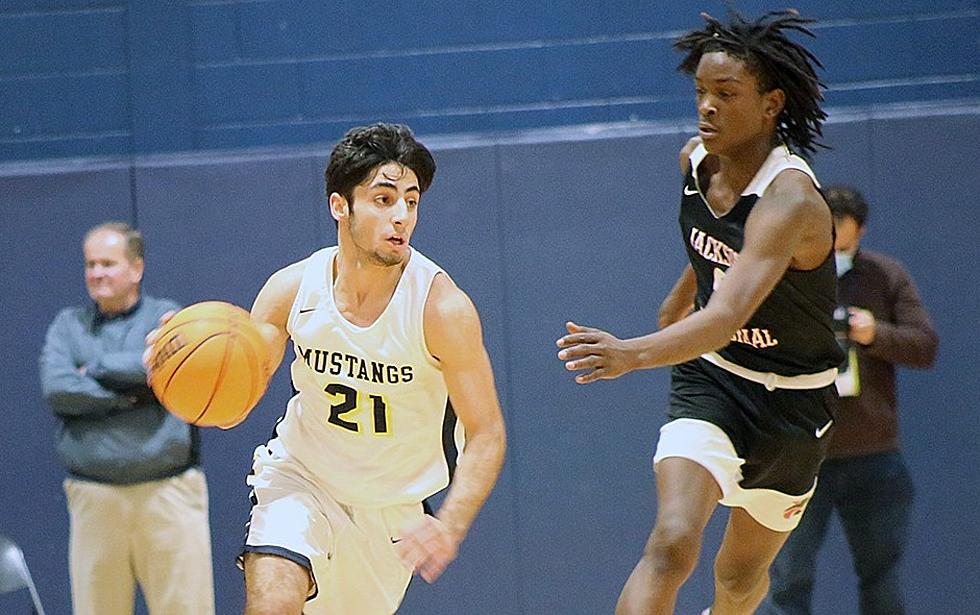 Boys Basketball – 2022 NJSIAA Tournament Preview: Group IV
Marlboro senior Jonathan Spatola and Jackson Memorial junior Respect Tyleek. Photo: Steve Meyer.

The Shore Conference has a very quiet history within the NJSIAA Group IV Tournament, at least when it comes to making it to the Group championship game. Three years ago, Freehold Township lost to Newark East Side in the Group IV final, which made the Patriots the first Shore Conference team in 38 years to make it that far in Group IV.
In fact, between 1943 and 2019, Neptune was the only Shore Conference program to play in a Group IV championship game.
Over the years, there have been Group IV teams from the Shore who have at least been a threat to make it to the Group IV final, but few that have had a realistic chance to beat programs like Linden, Elizabeth or Newark East Side once they get there. This year could finally be the year for the Shore, with Marlboro boasting its best team ever -- one that has gone toe-to-toe with the noteworthy programs over the past two years (St. Peter's Prep, Ranney, Manasquan). With all due respect to very good Freehold Township teams from 2007 and 2019, this Mustangs group looks like the Shore's best bet of the last 20 years or so.
There are eight other Shore Conference teams competing in Group IV this year and only one of them is seeded better than No. 8 in their respective sections. Jackson Memorial has had a resurgent year and could make a run to the final in Central Jersey Group IV. There may be another sleeper in there somewhere, but within a few days, Marlboro is likely to be the flag-bearer for the Shore Conference in Group IV.
Below is a look a both the Central and South Jersey sections of Group IV, with an additional focus on the Shore Conference teams in play.
Shore Teams in the Field: No. 1 Marlboro, No. 3 Jackson Memorial, No. 8 Howell, No. 9 Freehold Twp., No. 10 Manalapan, No. 13 Middletown North
Defending Champion (2020): No. 4 South Brunswick
Top Seed: Marlboro
Favorite: Marlboro
Darkhorse: No. 12 Montgomery. The Cougars have played one of the toughest schedules of any team in the section, with losses coming against Rutgers Prep (twice), Gill St. Bernard and Robbinsville. They also have a couple of solid wins over Immaculata and Bound Brook, so Montgomery has shown enough upside to have a shot to win at least a game as a double-digit seed. The only downside for Montgomery – which also holds true for Howell, Freehold Township and Middletown South – is it is on the same side of the bracket as Marlboro so any of those teams will have to best the No. 1 seed to reach the final. Of the Shore Conference teams, Manalapan might have the best-laid conditions to make a surprise run.
Bracket Breakdown: Marlboro is primed to make a serious run at its first ever sectional title after losing to South Brunswick at the buzzer in the 2020 championship game. The Mustangs could meet the defending sectional champions in the semifinal if the seeds hold true to form. On the other side of the bracket, No. 2 Monroe and No. 3 Jackson Memorial could be on a semifinal collision course, but both are beatable enough that none of that should be written in ink. At No. 7, Trenton is always a threat to make a run, but Manalapan could be a tough first-round draw if the Braves are hitting from distance.
Championship Prediction: Marlboro over Monroe. When Marlboro is on its game, the rest of the field can't really compete with the Mustangs. Howell and Freehold Township each had a competitive showing during the regular season, but Marlboro hit another gear every time it needed to. We got a potential championship preview when the Mustangs met Jackson Memorial in the Shore Conference Tournament quarterfinals and Marlboro outclassed the junior-heavy Jaguars by 41 points. The only issue might be fatigue, with the Mustangs having just won the Shore Conference Tournament on Sunday. That being said, if this isn't Marlboro's year, it may never be.
Round-by-Round Predictions
Opening Round
(1) Marlboro over (16) Sayreville
(8) Howell over (9) Freehold Twp.
(12) Montgomery over (5) Hightstown
(4) South Brunswick over (13) Middletown South
(3) Jackson Memorial over (14) Rancocas Valley
(6) Northern Burlington over (11) East Brunswick
(10) Manalapan over (7) Trenton
(2) Monroe over (15) Old Bridge
Quarterfinals
(1) Marlboro over (8) Howell
(4) South Brunswick over (12) Montgomery
(3) Jackson Memorial over (6) Northern Burlington
(2) Monroe over (10) Manalapan
Semifinals
(1) Marlboro over (4) South Brunswick
(2) Monroe over (3) Jackson Memorial
Championship
(1) Marlboro over (2) Monroe
Shore Teams in the Field: No. 8 Central, No. 11 Southern, No. 16 Toms River North
Defending Champion (2020): Atlantic City
Top Seed: Cherry Hill East
Favorite: Cherry Hill East
Darkhorse: No. 11 Southern. There are a few candidates for a potential first-round upset, with No. 9 Eastern and No. 13 Kingsway looking like possibilities to make it to Wednesday evening. Southern is built to keep games low-scoring and to hang around in these games, and the Rams have a chance to match up well with Clearview in round No. 1. On the other side of the bracket, Toms River North will try to do to Cherry Hill East what Egg Harbor did to the Mariners in 2020: knock out a No. 1 seed in the first round.
Bracket Breakdown: All year, there have been three standout, state-ranked teams in the South Group IV section: Cherry Hill East, No. 2 Lenape and No. 3 Egg Harbor. Cherry Hill East earning the top seed is a big advantage, because the Cougars only have to beat one of the other two teams, but in a Group IV section, there are always a chance for surprise team. Central will get a home game and if the Golden Eagles can play like they did in the SCT first round, they should pick up a win and take a shot at No. 1 Cherry Hill West in the next game.
Championship Prediction: Lenape over Cherry Hill West. The Cherry Hill West win over Lenape this season was an instant classic, so it would only be fitting for Lenape to pay back the Cougars. Lenape is, perhaps, the most athletic team in Group IV and, like Marlboro, came into 2022 knowing this should be its year.
Round-by-Round Predictions
Opening Round
(1) Cherry Hill East over (16) Toms River North
(8) Central over (9) Eastern
(5) Shawnee over (12) Vineland
(4) Cherokee over (13) Kingsway
(3) Egg Harbor over (14) Atlantic Tech
(11) Southern over (6) Clearview
(7) Millville over (10) Williamstown
(2) Lenape over (15) Bridgeton
Quarterfinals
(1) Cherry Hill East over (8) Central
(5) Shawnee over (4) Cherokee
(3) Egg Harbor over (11) Southern
(2) Lenape over (7) Millville
Semifinals
(1) Cherry Hill East over (5) Shawnee
(2) Lenape over (3) Egg Harbor
Championship
(2) Lenape over (1) Cherry Hill East
More From Shore Sports Network