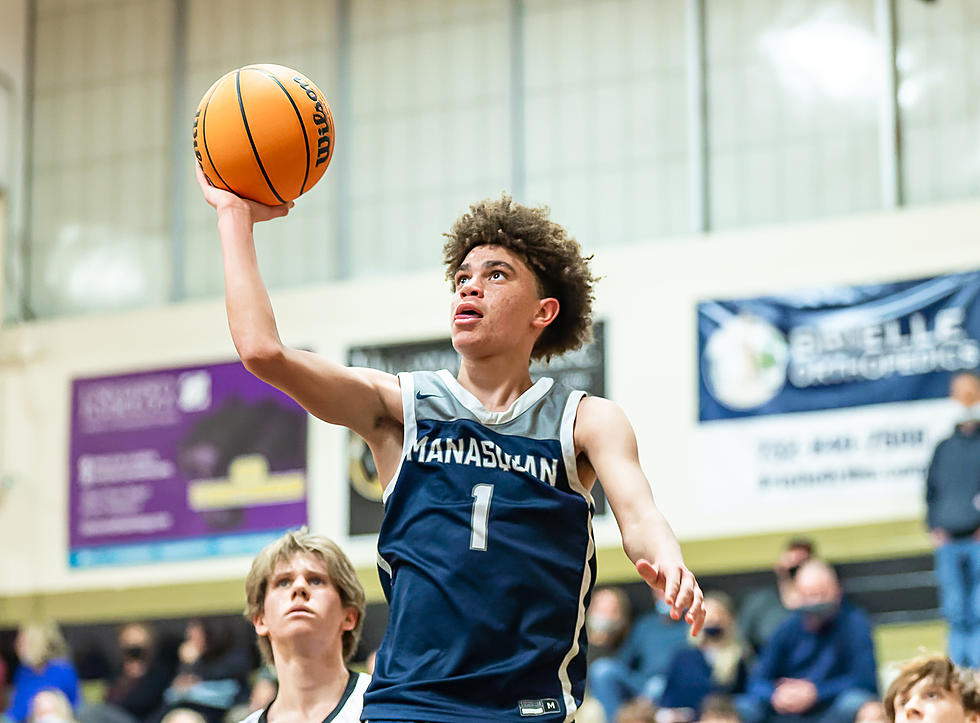 Boys Basketball – 2022 NJSIAA Tournament Preview: Group 3
Manasquan freshman Darius Adams. (Photo: Tom Smith | tspsportsimages.com)

Since the 2014-15 season, the Manasquan boys basketball team has won three NJSIAA sectional championships and all three of those championship victories marked the Warriors' last win of the season. Two were followed up by losses in the Group II semifinals and the 2020 season ended prematurely due to the outbreak of COVID-19.
That run of hard-luck after the sectional final all came in Group II and now, the Warriors are set to make their debut in Group III. Over the years, Group III was always assumed to be the more powerful of the two when compared to Group II -- the power points formula, for instance, awards more points to a team for defeating a Group III school with the same record as a Group II school.
And yet, any team hoping to win a championship -- either sectional or overall Group -- would be way better off in Group III and that has been the case for several years now. After having to deal with the likes of Rumson-Fair Haven, Bordentown, Camden and Haddonfield for those six years, Manasquan is now in what could be the best position it has even been to reach and win a group championship game, despite the fact that this is the youngest team the Warriors have had in at least a decade.
If Manasquan benefits from a wide-open bracket, it stands to reason that a number of teams could benefit from the even field. Brick Memorial has its best team in 12 years and has moved down from Group IV, while programs like Robbinsville, Pemberton and Woodrow Wilson are hoping to make it a special year in either Central or South Jersey.
With a field this wide-open, there is a chance for a lot of teams to do something they have never done before. Here is a closer look at some of those teams in Central and South Jersey.
Shore Teams in the Field: No. 1 Manasquan, No. 3 Brick Memorial, No. 7 Jackson Liberty, No. 8 Red Bank, No. 9 Middletown North, No. 11 Brick, No. 13 Matawan, No. 14 Colts Neck, No. 15 Wall
Defending Champion (2020): Wall
Top Seed: Manasquan
Favorite: Manasquan
Darkhorse: No. 10 Hopewell Valley. This has the look of a bracket that should stay pretty true to form, but on the other hand, the higher seeds are not unbeatable. Hopewell has a toss-up game in the first round against Jackson Liberty and, should that go its way, would likely rematch with Robbinsville after losing by 19 in the regular season. With an experienced roster, the Bulldogs look like the best bet among the double-digit seeds in Central Jersey Group III. If a Shore Conference team has that kind of run cued up, watch out for Colts Neck. The Cougars have a go-to scorer in Will Surdez and they play a good team game for veteran coach Lou Piccola, who is retiring after the season. Red Bank and Middletown North are both quality teams, but the winner of their game will have to get through Manasquan to go any further.
Bracket Breakdown: As previously mentioned, the higher seeds in this bracket should all have a great opportunity to keep advancing. Manasquan is playing as well as any public-school team in the state and has won championships in each of the past three seasons. Robbinsville has a talented 6-foot-5 senior in Brian Herbert and good role players around him, but may have to contend with Brick Memorial's high-tempo group of guards around 6-7 big man Luke Braaten. After those three, things could be a little more up-for-grabs, but expect the headliners to still be standing by the end of the week.
Championship Prediction: Manasquan over Robbinsville. The last two rounds of this sectional tournament have a chance to be very entertaining, particularly a potential semifinal between Brick Memorial and Robbinsville, with the winner possibly playing top-seeded Manasquan in the final. Both Robbinsville and Brick Memorial have a unique player leading good overall teams, so edge to Robbinsville as the home team if it comes down to those two. Whoever wins will likely have their hands full with a Manasquan team trying to bounce back from an SCT loss to Marlboro by winning yet another sectional crown – this time in Group III.
Round-by-Round Predictions
(1) Manasquan over (16) Steinert
(8) Red Bank over (9) Middletown North
(5) Ewing over (12) Somerville
(4) Lawrence over (13) Matawan
(3) Brick Memorial over (14) Colts Neck
(6) Hamilton West over (11) Brick
(7) Jackson Liberty over (10) Hopewell Valley
(2) Robbinsville over (15) Wall
Quarterfinals
(1) Manasquan over (8) Red Bank
(5) Ewing over (4) Lawrence
(3) Brick Memorial over (6) Hamilton West
(2) Robbinsville over (7) Jackson Liberty
Semifinals
(1) Manasquan over (5) Ewing
(2) Robbinsville over (3) Brick Memorial
Championship
(1) Manasquan over (2) Robbinsville
Shore Teams in the Field: No. 16 Pinelands
Defending Champion (2020): No. 12 Timber Creek
Top Seed: Moorestown
Favorite: No. 4 Woodrow Wilson
Darkhorse: No. 6 Mainland. The Mustangs have had some ups and downs, but one of the ups was a win over top-seeded Egg Harbor in the Cape-Atlantic League quarterfinals. That illustrates how dangerous Mainland can be in what looks like a wide-open field.
Bracket Breakdown: There are a number of teams that could raise the trophy on March 8, with Moorestown, No. 2 Pemberton, No. 3 Burlington Twp., Woodrow Wilson and Mainland all in the conversation. Woodrow Wilson has probably been the best combination of consistent with high-level competition on the schedule, which makes the Tigers a dangerous team heading into a potential semifinal showdown with top-seeded Moorestown.
Championship Prediction: Woodrow Wilson over Burlington Twp. With two losses to Camden and four other close losses to quality opponents, Wilson has been through the battles and done so against championship-caliber competition. The Tigers will be an extremely tough out and may not go out at all in the sectional playoffs.
Round-by-Round Predictions
(1) Moorestown over (16) Pinelands
(9) Hammonton over (8) Ocean City
(5) Deptford over (12) Timber Creek
(4) Woodrow Wilson over (13) Delsea
(3) Burlington Twp. over (14) Absegami
(6) Mainland over (11) Westampton Tech
(10) Cherry Hill West over (7) Cedar Creek
(2) Pemberton over (15) Seneca
Quarterfinals
(1) Moorestown over (9) Hammonton
(4) Woodrow Wilson over (5) West Deptford
(3) Burlington Twp. over (6) Mainland
(2) Pemberton over (10) Cherry Hill West
Semifinals
(4) Woodrow Wilson over (1) Moorestown
(3) Burlington Twp. over (2) Pemberton
Championship
(4) Woodrow Wilson over (3) Burlington Twp.
More From Shore Sports Network