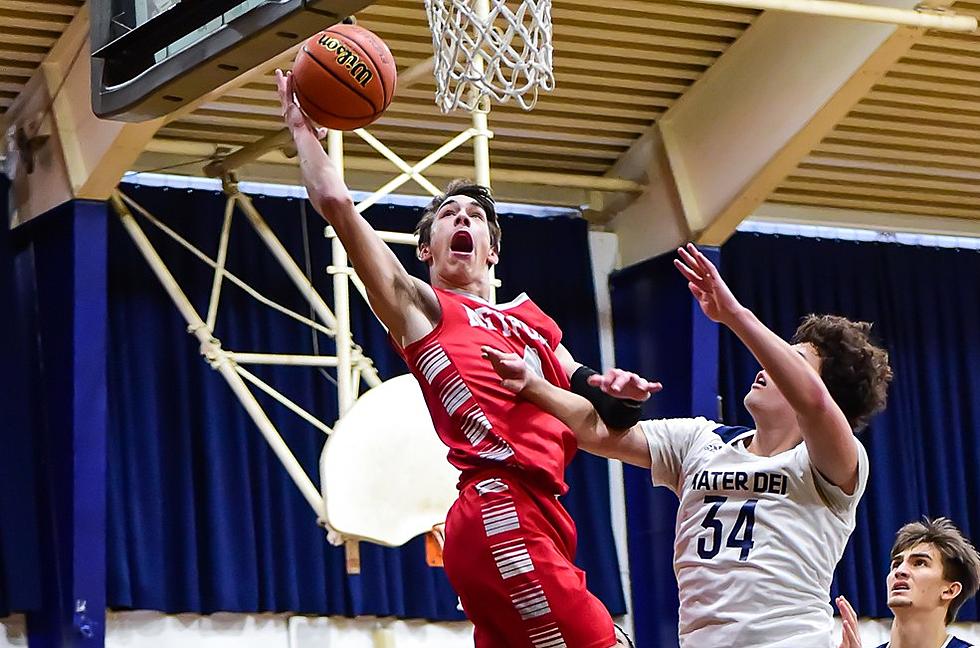 Boys Basketball – 2022 NJSIAA Tournament Preview: Group 1
Keyport senior DJ Thomson (Photo by Tom Smith | tspsportsimages.com)

Of all the sections throughout the state, few have been as kind to the Shore Conference in boys basketball as Central Jersey Group I has. A little more than a decade ago, Asbury Park began a championship run that yielded the Blue Bishops back-to-back Group I championships in 2011 and 2012.
A year later, Point Pleasant Beach captured its first ever Group I championship and the following year, made it back-to-back sectional championships before losing in the Group I state semifinals.
In 2015, Shore Regional extended the Shore Conference's streak to five straight champions in Central Jersey Group I and the conference added another title three years later with Point Beach's 2018 CJ I championship.
One team notably absent from that decade of dominance is Keyport, which now boasts its best team since last winning the Central Group I championship in 2004. The Red Raiders have been building toward this week for four years, when this senior group joined the program as instant-impact freshmen at the varsity level.
The Red Raiders are guaranteed home games through the first three rounds of the tournament and with the program in position to make its deepest state tournament run in 18 years, you can bet the community will follow them to Burlington City if both top seeds reach the championship.
Keyport is one of five Shore Conference teams in the Group I field, which you can learn a little more about by reading on.
Shore Teams in the Field: No. 2 Keyport, No. 6 Shore, No. 8 Point Beach, No. 12 Asbury Park, No. 14 Henry Hudson
Defending Champion (2020): No. 1 Burlington City
Top Seed: Burlington City
Favorite: Burlington City
Darkhorse: Shore. The Blue Devils struggled in the week leading up to the NJSIAA Tournament so they will have to regroup in time to deal with South Amboy and then, as long as they win, most likely New Egypt in round two. If Shore can get straightened out, it will be a battle-tested team that has played the hardest schedule of any team in the section just because of its Class A Central division slate alone. If Kevin Burns is healthy (he played, but did not score in Beach's final regular-season game on Thursday), Point Beach might also be able to hang with Burlington City in a potential quarterfinal matchup, while Asbury Park is a wild card as a No. 12 seed.
Bracket Breakdown: While no team in the section is so good that they should feel unbeatable this week, there are only a couple teams that look capable of winning the section. Burlington City is the defending champion, the No. 1 seed and a perennial contender in the section, so the Blue Devils are well set-up to win it. Keyport, though, has the firepower to put a scare into Burlington City in a possible championship game, while New Egypt and Shore hope to knock off Keyport's best team in 18 years on the way to a finals appearance.
Championship Prediction: Burlington City over Keyport. It was 2004 the last time Keyport won a Central Jersey Group I title and while the Red Raiders have had some big games this season – two division clashes with Ranney and a venture into the Shore Conference Tournament – everything they did was to get them ready for this week, when Keyport will try to end a drought of nearly two decades and take this team even farther behind its senior-led core.
Round-by-Round Predictions
(1) Burlington City over (16) David Brearley
(8) Point Beach over (9) Highland Park
(5) Florence over (12) Asbury Park
(4) Perth Amboy Tech over (13) Academy for Urban Leadership
(3) New Egypt over (14) Henry Hudson
(6) Shore over (11) South Amboy
(7) South Hunterdon over (10) Manville
(2) Keyport over (15) Somerset Tech
Quarterfinals
(1) Burlington City over (8) Point Beach
(5) Florence over (4) Perth Amboy Tech
(6) Shore over (3) New Egypt
(2) Keyport over (7) South Hunterdon
Semifinals
(1) Burlington City over (5) Florence
(2) Keyport over (6) Shore
Championship
(1) Burlington City over (2) Keyport
More From Shore Sports Network