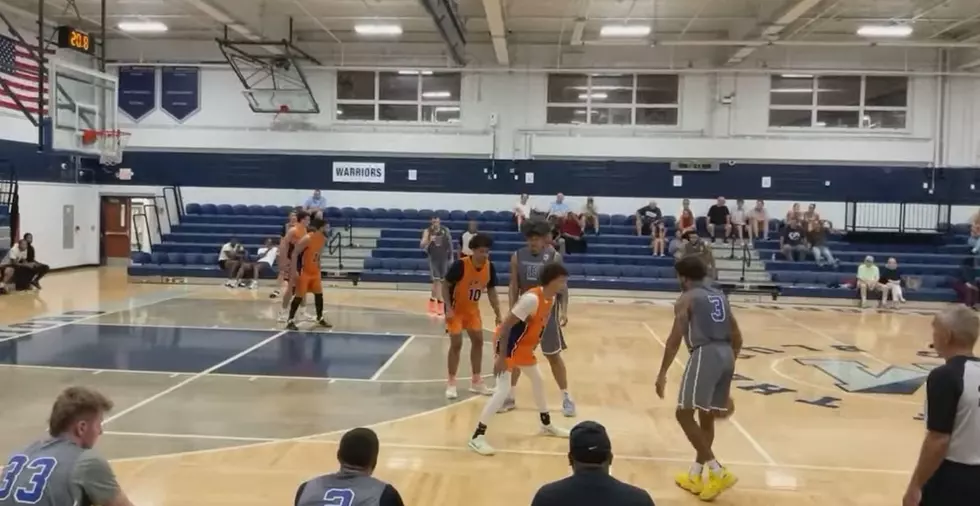 Basketball – JSBL Playoffs: Larson Ford Eyes Record 11th Championship After Ousting Defending Champs
Trevis Wyche looks for room to drive for his game-winning shot. (Image: JSBL on YouTube)

The semifinals of the Jersey Shore Basketball League Playoffs are set and while Monday night's quarterfinal double-header at Manasquan High School ensured there will be a new champion in 2022, a familiar name is shaping up to be the tournament's most dangerous team heading into the final four.
Larson Ford -- the 2019 champion and the JSBL program with more championships than any other -- knocked out defending champion Sea View Jeep Monday, 109-97, to march on to the JSBL semifinals Tuesday against No. 2 seed Stern's Trailer.
After going 2-4 over its first six games, Larson Ford closed the regular season with a 129-114 win over Sea View to secure the No. 6 seed in the playoffs, then earned another chance to beat the defending champs and No. 3 seed in the playoffs by topping No. 7 Sea Shore Auto in the first round on Thursday.
A pair of former New Jersey high school stars with ties to the Los Angeles Lakers helped carry Larson on Monday, as they have for the latter part of the season. Nate Pierre-Louis, who starred at Roselle Catholic and Temple before getting run with the Lakers in the NBA Summer League this year, led Larson Ford with 35 points and Jaheim Tanksley added 32 in the win.
Derrick Caracter also pitched in with a double-double, which included 20 points and 15 rebounds for Larson. The 6-foot-9 Caracter was major prospect at St. Patrick's, started his college career at Louisville before transferring to the University of Texas-El Paso, and spent a stint in the NBA with the Lakers.
Justin Robinson led Sea View with 27 points and 12 assists, but came up well short of his season scoring average. Monmouth's all-time leading scorer broke his own single-season record by averaging 48 points per game this season.
Wyche's Late Score, Big Performance Leads Orthopaedic
Fifth-seeded Orthopaedic Institute and fourth-seeded RKE Athletic played a neck-and-neck game that came down to the final seconds, with former St. Peter's standout Trevis Wyche coming through in the final seconds to send Orthopaedic to the semifinals with a 119-117 win.
After his team got a stop on the defensive end with 30 seconds to go and the game tied at 117, Wyche walked the ball up and drove the lane for a hanging floater that dropped for a two-point lead with 14 seconds left.
RKE had a chance to tie or win the game with an underneath out-of-bounds play with 2.7 seconds left, but a desperation three-pointer came up short.
Wyche finished with 28 points, five rebounds and eight assists to lead the victors, while Steve Harris posted 22 points and 13 rebounds for Orthopaedic.
Monmouth Regional alum Tyler Hawkins led RKE with 28 points and Sidney Brown poured in 27 in defeat.
Orthopaedic Institute will next get a crack at the top-seeded WCT Warriors Tuesday at Manasquan in the JSBL semifinals.
Video, image courtesy of the JSBL on YouTube
LOOK: Here are the pets banned in each state
Because the regulation of exotic animals is left to states, some organizations, including The Humane Society of the United States, advocate for federal, standardized legislation that would ban owning large cats, bears, primates, and large poisonous snakes as pets.
Read on to see which pets are banned in your home state, as well as across the nation.
More From Shore Sports Network