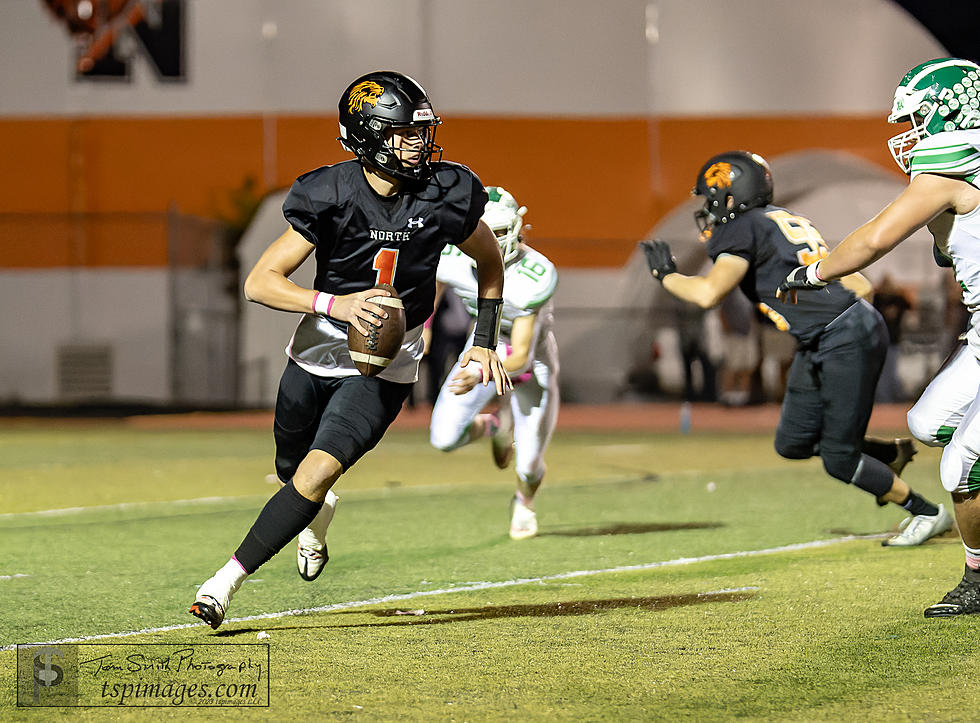 2023 NJSIAA North 2, Group 4 Football Playoffs Preview
Tom Smith | tspsportsimages.com

NORTH 2, GROUP 4
Last year's champion: North Hunterdon (did not qualify for playoffs)
Matchups:
(8) Colonia at (1) Roxbury
(5) Middletown North at (4) Irvington
(6) Sayreville at (3) Montgomery
(7) Wayne Valley at (2) Mount Olive
The Favorite: Roxbury (9-0)
The Gaels', who are ranked No. 18 in the state by NJ.com, defeated Livingston, 41-0, last week to complete the first undefeated regular season in program history. They own a 10-7 win over No. 2 seed Mount Olive from Sept. 29 that gave them the top seed. Second-year head coach Ryan Roumes has Roxbury back in championship contention for the first time since the 2014 and 2015 seasons when they won eight games each year. Senior quarterback Anthony Skawinski has thrown for 1,011 yards and six touchdowns and senior Jahmani Miller (699 yards, 4 TDs) leads a balanced rushing attack that also includes Skawinski (377 yards, 9 TDs) and senior Matt Rattay (5 TDs). Senior Colin Richter is the team's top wideout with 38 receptions for 500 yards and seven touchdowns. Rattay is also one of several standouts on defense with a team-high 83 tackles, three sacks, and four tackles for loss. Senior Jadon DeRosa leads the team with four sacks while Richter and senior Jared Irwin each have four interceptions. Roxbury's last sectional title was in 2012.
Contenders: Mount Olive (8-1); Montgomery (8-0-1)
Mount Olive is ranked No. 20 in New Jersey and its only loss was a 10-7 setback to Roxbury, so it will figure to be a true toss-up if they meet in the championship game. The Marauders have a strong resume that includes seven wins against playoff teams. Mount Olive can beat teams on the ground and through the air with junior quarterback Jake Asbury having thrown for 1,268 yards and 12 touchdowns and rushing for 290 yards and five scores. Junior running back Tyler Cummings has a team-high 906 yards and 11 touchdowns and senior Adam DeCristofaro has 459 yards rushing and seven touchdowns. Senior Jack Mullery is the team's leading receiver with 28 catches for 410 yards and five touchdowns. The defense has several players with multiple sacks and tackles for loss, led by senior defensive back Jake Carlo and junior linebacker Daniel Rodriguez with four sacks each and junior linebacker Dan McGary with 16 tackles for loss. DeCristofaro has a team-high five interceptions.
Montgomery nearly finished the regular season with a perfect record but had to settle for a tie in a 42-42 thriller with Linden on cutoff weekend. Wins over Watchung Hills (28-21), Plainfield (23-14), and Somerville (27-21) highlight their victories. Montgomery has a devastating duo in the passing game with senior quarterback Michael Schmelzer and senior receiver Matthew D'Avino. Schmelzer has thrown for 1,794 yards and 22 touchdowns and D'Avino will almost certainly cross the 1,000-yard mark as he enters the playoffs with tremendous numbers of 62 catches for 997 yards and 16 touchdowns. Schmelzer has also rushed for 365 yards and 10 touchdowns. Senior running back Brady Post is the team's leading rusher with 628 yards and 11 touchdowns and also excels on defense at linebacker with 53 tackles, 5.5 sacks, and eight tackles for loss.
Dark Horse: Irvington (5-4)
Irvington is loaded with talent and features one of the top defensive backs in the country in junior Vaboue Toure, which will certainly be a challenge for Middletown North's passing game in the first round.
Shore Shots: Middletown North (5-3)
Even though there are two undefeated teams and another with only one loss as the top three seeds, there isn't an absolutely overpowering team in the section. It's conceivable Middletown North can make a run if it gets hot. The Lions do have a daunting path as the No. 5 seed but have played very well since their Week 5 bye with three straight victories. Senior quarterback Luke Sheehan is coming off a game in which he threw for 288 yards and ran for the go-ahead touchdown in a 28-21 win over Marlboro, which is seeded third in South Jersey Group 5. Senior Dylan Briggs leads a deep receiving corps and senior Neno Morgan-Acker and junior Shane Volante power the running game. Senior linebacker Justin Soto leads the way on defense.
Non-Shore Player to Watch: Vaboue Toure, Jr., DB, Irvington
Committed to Penn State, Toure is considered one of the top defensive backs in the country, according to NJ.com recruiting analyst Todderick Hunt, and is ranked as the No. 2 overall recruit in the state. He also had Power 5 offers from the likes of Alabama, Ohio State, Notre Dame, Oklahoma, Florida State, and others.
Badders' pick: Roxbury
Stump's pick: Mount Olive
More From Shore Sports Network