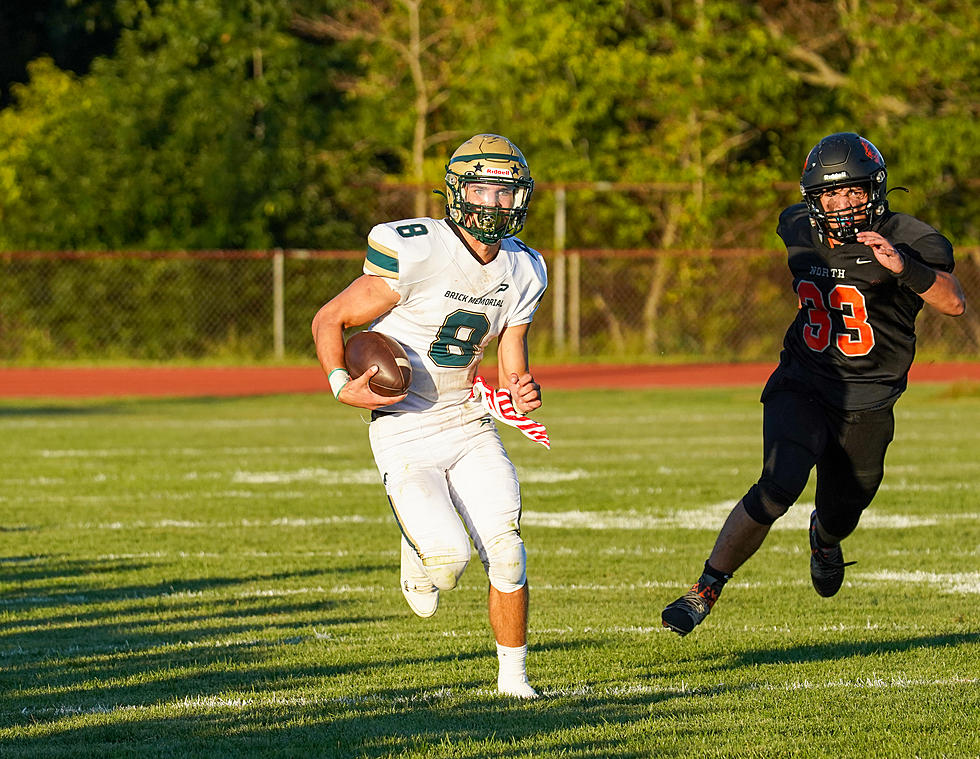 2023 NJSIAA Central Jersey Group 4 Football Playoffs Preview
Bob Badders | rpbphotography.com

CENTRAL JERSEY GROUP 4
Last year's champion: Mainland (now in South Jersey Group 4)
Matchups:
(8) Pennsauken at (1) Winslow Township
(5) Ocean City at (4) Hammonton
(6) Long Branch at (3) Jackson Memorial
(7) Moorestown at (2) Brick Memorial
The Favorite: Winslow Township (7-2).
The Eagles, who lost to Middletown South in last year's semifinals, have only won one sectional title in program history. However, they enter as the favorite after a regular season featuring a rough-and-tumble schedule in the West Jersey Football League and the fact that Mainland was seeded in the South Jersey bracket. Winslow nearly took down Cherokee in a 22-19 loss and has strong wins over Delsea and Cedar Creek. They also had Washington Township beat and lost on a Hail Mary on the final play.
They average 33.2 points per game and feature a balanced attack that has produced just under 2,000 yards passing and 1,200 yards rushing. Their freshman quarterback, Jalen Parker, has burst on the scene with 1,500 yards and 21 touchdowns passing with only three interceptions.
They also have a game-breaking wide receiver in 6-foot-3 senior Jaylan Hornsby, a transfer from Camden who is committed to Texas A&M. He has 12 catches for 213 yards and 5 touchdowns in five games since he became eligible after sitting out due to the transfer rule. He's considered one of the top 15 recruits in the senior class in New Jersey.
The team's offensive coordinator is former Penn State signal-caller and New York Jets draft pick Christian Hackenberg, and their head coach is former Penn State standout running back Bill Belton.
Contenders: Brick Memorial (9-0); Jackson Memorial (7-1).
The Mustangs, ranked No. 4 in the SSN Shore 16, are coming off their first undefeated regular season in program history and are now searching for their first NJSIAA title since winning this bracket in 2008. Record-setting senior quarterback Connor Dietz has garnered the headlines, but it's been Brick Memorial's defense, led by sophomore linebacker Trey Tallmadge, that has raised its level dramatically this season. The Mustangs are also flying high after a stunning comeback win over Brick got them to 9-0 for the first time.
Barring two major upsets by Moorestown (6-3), the Shore is guaranteed a finalist with Brick Memorial and the winner of the Jackson Memorial-Long Branch game meeting in the semifinals.
The Jaguars, ranked No. 10 in the SSN Shore 16, are pushing for their first state title since 2015 behind a rugged defense and a running game led by sophomore Jonah Glenn, who has piled up more than 1,300 yards rushing to go with 12 touchdowns. Seniors Albert D'Alessandro, Ethan Kalinauskas and Jaiden Hernandez lead the team in tackles, while senior defensive lineman Shaun Hubbard has 11 sacks to put him among the best in the Shore. Jackson's calling card is a defense that has not allowed more than 17 points in a game this season and has two shutouts.
If Brick Memorial and Jackson Memorial face off in the playoffs, it will be their first meeting in the postseason since the Jaguars beat the Mustangs in the first round in 2017. Their most famous playoff game, of course, was the epic 2005 sectional final in which Jackson Memorial won on a touchdown pass with no time left on the clock.
Dark horse: None
Shore Shot: Long Branch (4-4)
You could probably also count Long Branch in the dark horse category, as the Green Wave will try to make a run to the final on the road against a pair of Shore Conference opponents. They start with a trip to the Jungle to face Jackson Memorial after losing 57-20 to Colts Neck in their regular-season finale last week. They allowed 185 yards rushing to Colts Neck running back Chris Scully, which means they need to shore things up in the interior of their front seven with Jaguars sophomore star running back Jonah Glenn looming on Friday.
Senior Da'Von Craft has emerged as a power back for Long Branch and put up 108 yards and two touchdowns in the loss to Colts Neck. The other positive development is senior quarterback Earnest Reevey got the cast off his throwing hand last week after wearing it since breaking his hand in a Week Zero victory. He is also a stellar runner who can now be a passing threat again as well.
The Green Wave are trying to make an underdog run to their first state title since winning back-to-back crowns in 2017-18.
Non-Shore Player to Watch: Cameron Miller, Jr., WR/CB, Winslow Township
Winslow's roster is pretty stacked. In addition to Hornsby, the Texas A&M commit, the Eagles also feature Miller. He's a four-star recruit who has 20-plus FBS offers, including ones from reigning national champion Georgia, along with Michigan, Penn State, Oregon and Ohio State. He is having a monster season with 43 catches for 912 yards and 8 touchdowns receiving.
It's an embarrassment of riches, as sophomore running back Julian Peterson also has offers from Penn State, West Virginia and others, and sophomore wide receiver Nyqir Helton has offers from Penn State, Pittsburgh and others. Helton has 19 catches for 433 yards and 7 touchdowns this season.
Badders' pick: Winslow Township
Stump's pick: Winslow Township
More From Shore Sports Network