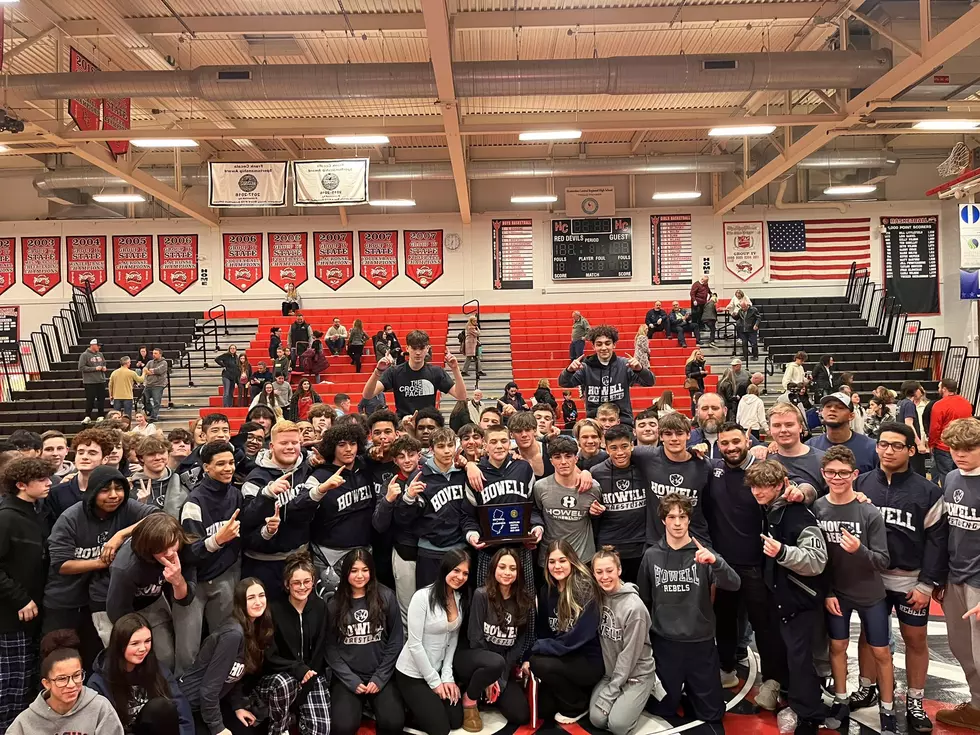 Xavier Ortega's clutch victory helps Howell upend Hunterdon Central for NJSIAA Central Jersey Group 5 title
Photo courtesy of Howell High School.

The biggest win of Xavier Ortega's career helped his team secure a state sectional championship on Wednesday night.
Squaring off with Hunterdon Central's Anthony Rossi in a gigantic swing bout between returning state qualifiers, the Howell sophomore locked Rossi in a cradle for a five-point move in the first period that fueled a 6-5 victory at 120 pounds. Ortega's triumph ignited a four-bout winning streak for the Rebels, who left Flemington with a 34-33 victory over the top-ranked Red Devils to repeat as NJSIAA Central Jersey Group 5 sectional champions.
Hunterdon Central had taken a 15-9 lead after back-to-back pins at 106 and 113 pounds when Ortega and Rossi took the mat. Last season, Ortega was a District 22 and Region 6 champion last season at 113 pounds and reached the third round of wrestlebacks at the state tournament. Ross is a two-time state qualifier who reached the blood round at 106 pounds last season.
Junior standout Sebastian Ortega followed his brother's clutch win with a 26-11 technical fall at 126 pounds and junior standout Giovanni Scafidi won by fall in 3:48 to give Howell a 23-15 lead. Hunterdon Central then forfeited to JJ Machnik and the Rebels took a 29-15 lead with five bouts left. Hunterdon Central was without starters Evan Thompson (132) and Will Cella (138) plus several other key backups, according to Andy Mendlowitz of MyCentralJersey.com. Cella was a District 17 third-place finisher at 126 pounds last season.
Rhett Washleski won by technical fall at 144 pounds to pull Hunterdon Central to within nine points, but Howell's Kieran Bruen, bumping up a weight to 150 pounds, secured a 16-0 technical fall of his own to give the Rebels a 34-20 lead with three bouts left. Howell had to limit bonus points in the next two weights with state qualifier Thomas Brunetti lurking for the Red Devils in the final bout, and Gavin Merkel and Russell Halvorsen did their jobs at 157 and 165 pounds, respectively. Hunterdon Central's Henry Wilkinson won 7-6 over Merkel at 157 and Jacob Saus beat Halvorsen by 13-2 major decision, but that left Howell with an insurmountable seven-point lead heading into the final bout.
Not to be forgotten were the two wins in the first three bouts by DJ Henry and Thomas Richards. Henry won by fall in 3:04 at 190 pounds to start the match and Richards won 4-2 in sudden victory over Ryan Seemon at heavyweight. A stalling call on Seemon in the final five seconds provided a point for Richards and sent the bout to overtime.
The sectional title is the second in a row and sixth in program history for Howell, all of which have come since 2014. The Rebels (23-6), who were 5-5 at one point this season, will travel north to face defending Group 5 champion Phillipsburg in the Group 5 semifinals at 6 p.m. on Friday night. Phillipsburg won the North 2 sectional title with a 46-17 win over Westfield.
Honoring our Military and Veterans
More From Shore Sports Network