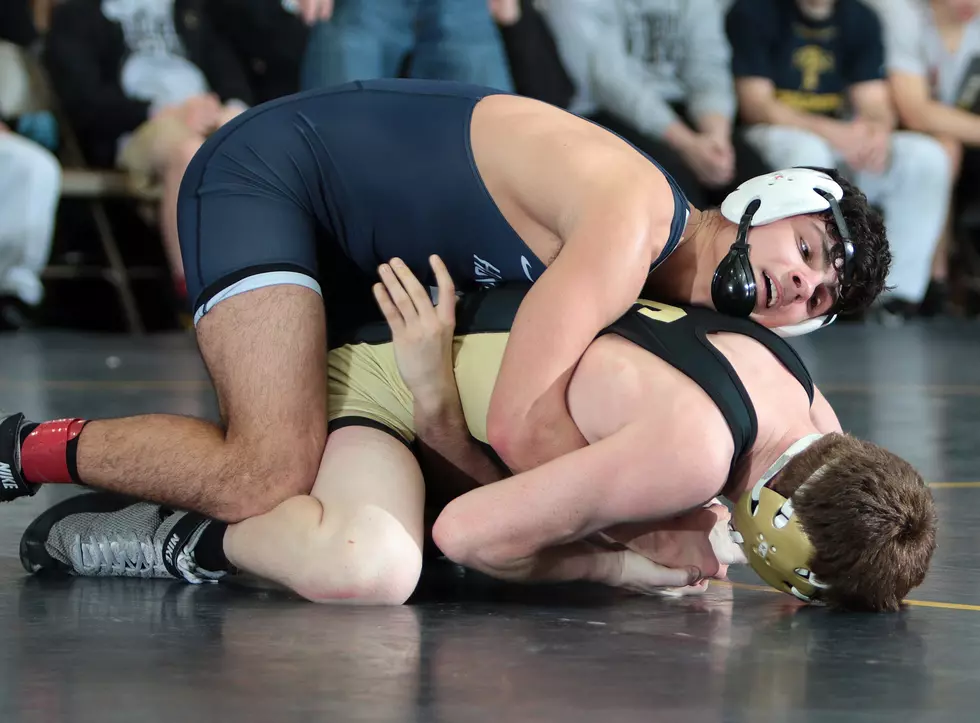 Wrestling – Shore Conference Tournament Preview
Howell and undefeated junior Dan Esposito (top) are the No. 1 seed in the Shore Conference Tournament and are in search of their second SCT title. (Photo by Ray Richardson).
If it's late January at the Shore then it must be time for the Shore Conference Tournament. The only conference in New Jersey to hold a dual-meet tournament, the wrestling SCT returns for the 41st time to crown the king of wrestling in Monmouth and Ocean counties.
The 20-team tournament was seeded on Sunday and begins tonight with seeds 13 through 20 battling it out in the preliminary round. The pre-quarterfinal and quarterfinal rounds are Thursday at the site of the top four seeds. The semifinals and the championship match will be held at 3:30 and 5 p.m., respectively, on Saturday Jan. 28 at Jackson Liberty High School.
17-Freehold at 16-Holmdel, winner vs. 1-Howell
9-Ocean vs. 8-Brick Memorial
12-Wall vs. 5-Long Branch
20-Christian Brothers Academy at 13-St. John Vianney, winner at 4-Colts Neck
19-Shore at 14-Toms River North, winner at 3-Middletown North
10-Point Boro vs. 7-Jackson Memorial
18-Freehold Township at 15-Lacey, winner at 2-Raritan
Southern and Point Beach once again decided to opt out of the tournament. Southern is ranked No. 2 in the Shore Sports Network Top 10 while Point Beach is undefeated and the Class B Central division champion.
The days of the Shore Conference Tournament as we know it could be coming to an end, however. Many coaches have expressed their frustrations with the tournament in recent years, and the growing feeling is that it has become stale. At the seeding meeting the possibility of a Shore Conference individual tournament was discussed. With the district realignment of teams throughout New Jersey prior to this season, this is now a real possibility. Prior to this season and since 1992, Region VI was comprised entirely of Shore Conference teams, making the Region VI Tournament the defacto SCT individual tournament.
There are several hurdles to clear such as the structure of the tournament and when in the season to hold it, not to mention what kind of financial burden this would place on schools compared to the current team tournament. But the fact that an individual SCT is being seriously discussed means it will likely happen sooner than later.
For now we soldier on with the team tournament, and this year's version should provide a decent amount of intrigue in all rounds. Now we'll take a look at what to expect during the three-day tournament that will crown the 41st Shore Conference Tournament champion.
Howell is the No. 1 team in the Shore Sports Network Top 10 and the No. 1 seed for the Shore Conference Tournament, and there's no reason to dispute either ranking.
The Rebels are 16-1 and have clinched at least a share of the Class A North division title for the 12th straight season. Their only loss is a 30-29 setback to Hunterdon Central, which like Howell is a top 10 team in New Jersey. The Rebels were a unanimous selection for the No. 1 seed.
Howell is known for being very good in the first seven weights with talent and depth, and this year is no different. The Rebels have double-digit bout winners at every weight from 106 through 145 pounds, led by junior Dan Esposito and his perfect 19-0 record at 132 pounds. Junior Kyle Slendorn at 126 and sophomore Darby Diedrich at 120, both state qualifiers last season, are 18-1, and freshman 113-pounder Luke Rada is 16-4.
In recent years Howell's middle and upper weights have been manned by upperclassmen, and many times juniors and seniors — the "program kids" — who have waited for their chance to start. This year's makeup is different with just four senior starters on the entire team. Senior Eric Keosseian, the eighth-place finisher in the state tournament at 220 pounds last season, leads the way with a 17-2 record. Senior Jake Nash is 17-3 at heavyweight and seniors Nick Sulkowski (145) and Danny Schick (195) are both 12-8.
The youth movement up top features sophomore Xavier Kelly at 152, sophomore Christian Murphy at 160 and freshman Shane Reitsma at 170. Reitsma has been outstanding in building an 18-0 record while Murphy is 17-2 to surpass his win total from last season when he went 16-13. Kelly has only been wrestling briefly but is a great athlete who has been able to translate those skills to the mat. He is 15-5 on the season.
Howell was an SCT finalist last season, falling to Christian Brothers Academy, 34-28, in a match that came down to the final bout. The Rebels won their only SCT title in 2014 with a 28-27 win over Brick Memorial.
Raritan and Middletown North are the No. 2 and No. 3 seeds, respectively, and both are having great seasons that have them in contention to win what would be their first Shore Conference Tournament title.
Raritan enters the tournament with an 18-1 record and has clinched at least a share of the Class A Central title for the seventh straight season. The Rockets lone defeat came at the hands of Phillipsburg, which is a top-five team in New Jersey. The Rockets own wins over tournament qualifiers Wall (48-20), Long Branch (41-19), CBA (57-14) and St. John Vianney (45-17), and also have a 29-21 win over state-ranked North Hunterdon.
Raritan has 12 double-digit bout winners, led by returning state qualifier Russell Benson, who is 20-1 at 132 pounds. Sophomore 113-pounder Charles Barrale is a perfect 17-0, junior A.J. Erven is 18-3 at 126 pounds, junior Christian Sookdeo is 16-3 a 138 and senior Jimmy VanFechtmann is 15-4 at 145 to highlight the lower half of the lineup.
Junior Ethan Wolf has had a breakout season with an 18-2 mark at 220 pounds, while sophomore George Burdick, who transferred from Keansburg after last season, has been a huge addition with a 19-2 record at 170. Sophomore Anthony Aquilano (9-3 at 152) battled an injury to start the season and struggled immediately upon returning, but has rounded into form over the last two weeks.
Middletown North is one of just a handful of undefeated teams in New Jersey and is in the midst of its best season in 20 years. The Lions have clinched the Class B North division title for their first outright division championship since 1996. They have wins over four SCT qualifiers: Wall (35-30), Long Branch (48-16), Ocean (42-19) and Brick Memorial (32-29).
The Lions have 10 wrestlers with at least 10 wins and have standouts in the lower, middle and upper weights. Junior 145-pounder Stanley Wojdylak is 19-2, including a win over Ocean standout 138-pounder Jake Benner. Junior 170-ponder Nicko Cofone is 15-2 at 170 pounds and senior Thomas Anderson is 15-3 at 182 pounds to lead the upperweights. Senior Brian Winz at 195 pounds has also had a very good year with a 16-5 record.
Down low Middletown North has received a big boost from three freshman that have combined for a 48-5 record. Tyler Klinsky is 20-2 at 106 pounds and Fred Luchs is 19-3 at 113. Thomas O'Keefe is stuck behind Klinsky in the lineup, but has made the most of his time with a perfect 9-0 record.
Both Raritan and Middletown North have the depth and length of lineup to contend with Howell, and if the seeds hold and they square off in the semifinals it should be a great match.
Colts Neck is the No. 4 seed, so the Cougars aren't exactly in the underdog category, but injuries and team issues have them down four starters entering the tournament. Colts Neck has an undefeated standout at 113 pounds in junior Joey King (23-0) and has 13 wrestlers with 10 or more wins. Their depth is underrated, as well. Despite being without several starters over the past few weeks they have won 12 of 13 matches.
However, a 48-21 loss to Howell makes it hard to pick the Cougars to go all the way and win the SCT. It would take a serious turnaround to beat the Rebels if the teams face off in the semifinals. Colts Neck will also have its hands full with Long Branch in the quarterfinals should the seeds hold.
The Green Wave aren't without their flaws, but are battle-tested and tough at every weight. They have 10 double-digit bout winners, including 20-bout winners Ryan Zimmerman at 106, Carlos Irizzary at 126 and Pete Wersinger at 182.
No. 9 Ocean vs. No. 8 Brick Memorial: The Spartans are good from 106 through 145 while the Mustangs are best from 132 through heavyweight. Brick Memorial has two hammers in state title contenders Gianni Ghione (132) and Nick Rivera (heavyweight). Ocean's standout is junior Jake Benner at 138, and there's at least a chance Ghione could go up to 138 to battle Benner.
No. 12 Wall vs. No. 5 Long Branch: Wall has been forfeiting multiple weights in many matches this season, but where the Crimson Knights are good they're very good. The regular-season meeting was a 33-31 win for Long Branch.
No. 11 Brick vs. No. 6 Manalapan: Manalapan's quality nonconference win over Paramus last weekend was a big reason why the Braves jumped to the No. 6 seed. Their losses this season are to Howell and Colts Neck. Brick, meanwhile, has lost just to Brick Memorial and Southern. This match will answer a lot of questions about both teams.
-Holmdel, the No. 16 seed, is in the SCT for the first time
-No. 7 Jackson Memorial is the highest seeded Ocean County team. It is likely the first time in history Monmouth County teams have earned the first six seeds.
-Brick Memorial is the all-time leader with 15 SCT titles
-Just 10 different teams have won the SCT in its history.
Wrestling editor Bob Badders can be reached at badders@allshoremedia.com. Follow him on Twitter @Bob_Badders. Like Shore Sports Network on Facebook and subscribe to our YouTube channel for all the latest video highlights.
More From Shore Sports Network