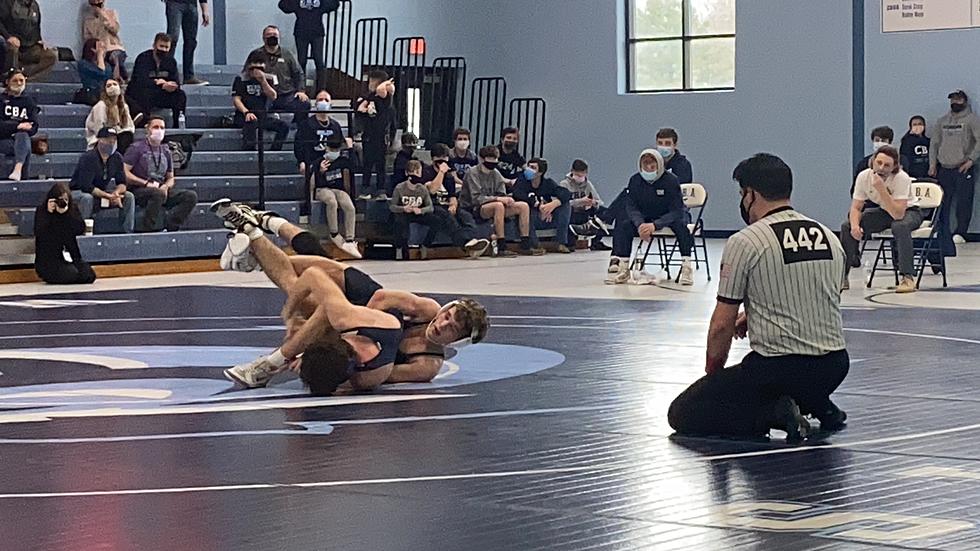 Wrestling: Christian Brothers Academy Snaps Howell's Class A North Winning Streak
Townsquare Media NJ

MIDDLETOWN – When Christian Brothers Academy had its magical 2016 season that featured a share of a division title, a district team crown, a Shore Conference Tournament championship and Sebastian Rivera becoming the program's first state champion in nearly half a century, it seemed like a Halley's Comet moment.
Since that year, the Colts have yet to finish a season with a winning record and in the immediate seasons following, CBA looked like it would revert to a program that had the potential to be solid but would not again be among the Shore's elite. But then, prior to the 2019-2020 season, CBA hired former South Plainfield and Rutgers standout Billy Ashnault as head coach. Last year the Colts welcomed in an outstanding 2023 class and since then have added a few impact transfers. Suddenly, the thought of CBA returning as a powerhouse seems entirely plausible.
That brings us to Thursday night when CBA, ranked No. 5 in the Shore Sports Network Top 10, welcomed No. 3 Howell for a massive Class A North match. Speaking of Halley's Comet moments, Howell entered Thursday's match having lost only one division match in the last 15 years.
Make that two.
The young and talented Colts authored a foundational victory on Thursday evening, winning eight of 14 bouts from the Rebels and coming away with a 33-23 victory that puts them in place to win their first outright division title in program history. CBA won some key toss-up bouts, received bonus-point victories from their aces and snapped Howell's 34-match Class A North winning streak. It is Howell's first divisional loss since CBA won 28-27 on criteria on Jan. 7, 2016, and just the second A-North defeat for the Rebels in their last 109 division matches.
"These guys, their goal was to beat Howell," Ashnault said. "We want to win every match we step on the mat and compete in but that was the goal: beat Howell. These knew it was important."
Juniors Taig Sheehy and Vin Principe won toss-up bouts at heavyweight and 120 pounds, respectively, down the stretch and junior state medalist Garrett Totten delivered the match-clinching pin in the final bout at 126 pounds. Senior Sam Nini (138), sophomore Zander Silva (170) and sophomore Robert Canterino (220) provided bonus-point victories and sophomore Julian George won a ranked matchup with Howell senior Kyle Nase at 132 pounds.
Among Howell's six wins were important individual victories from senior Paul Jakub and freshman Sebastian Ortega. Jakub, ranked No. 4 at 152 in SSN's individual rankings, defeated No. 2 Tyler Barrett, 5-2. At 113 pounds, Ortega used a late reversal to win 2-1 over No. 3 Alex Nini, another standout freshman.
The Rebels wrestled without two of their top grapplers, however. Senior Nieko Malone, a two-time state qualifier who is committed to Rider, was serving his one-match suspension after being disqualified during Howell's win over Marlboro on Tuesday. He would have been at 126 pounds. Sophomore Colin Bradshaw, a state qualifier at 113 pounds last season, remains out and has yet to make his season debut.
"We have kids still out but it's no excuse because (CBA) wrestled really well and they're a quality and much-improved team," said Howell head coach John Gagliano. "We're fighting COVID and losing kids since the day the season started. It's a battle we just have to deal with, but we got beat today and we were outwrestled."
Gagliano didn't say for sure whether Howell would have bumped Nase away from George, who was a state top-12 finisher last season, if they had a full lineup but did admit his squad lacked its usual flexibility. George scored two takedowns in the first period and another in the second on his way to a 9-2 decision.
"We talked about doing different things but, honestly, we were just looking to do individual matchups," Gagliano said.
At 138, No. 3 Sam Nini was dominant with a 16-1 technical fall in 5:28 over James McGee to give CBA an 8-0 lead. Sophomore Nick Stump, a district third-place finisher at Monroe last season and ranked sixth in the Shore, used four takedowns and a reversal to defeat Nick Acque, 11-4, and push CBA's lead to 11-0 through three bouts.
Another marquee matchup came at 152 where Jakub, a two-time state qualifier, met Barrett, who was a region champion and a state qualifier last season. The bout was tied at one in the third period when Jakub pancaked Barrett to his back for a four-point move on his way to a 5-2 victory. Jakub was ranked No. 4 and Barrett ranked No. 2.
Howell junior Hunter Mays has quickly established himself as a force after moving from Pennsylvania, and with CBA winning the toss and taking choice in the even bouts had the opportunity to control the 160-pound bout. They chose to bump Silva up to 170 and Mays overwhelmed Silva's replacement, Angelo DeRose, and won by fall in 1:05 to cut CBA's lead to 11-9.
Silva did the same at 170 against JT Goodman, scoring a whopping 12 takedowns and winning by 25-10 technical fall in 5:34 to extend the Colts' lead to 16-9.
Howell won the next two bouts to tie the match at 16 as No. 9 Nick Cerulli won 8-4 over Mason Garber at 182 and No. 7 Hunter Lino scored seven takedowns to secure a 16-5 major decision over Peter Grippo at 195.
At 220, Canterino gave the Colts the lead for good when he scored three takedowns and turned Dane Colfer three times for a total of nine near-fall points to win by 16-0 technical fall in 4:40. The heavyweight bout was a true toss-up between Sheehy and Howell sophomore Thomas Richards. There were no offensive points scored in the bout but Sheehy emerged with a 2-1 victory that put CBA in the driver's seat. Howell's bench was incensed when Richards was called for an illegal hold (full-nelson) in the third period as he was about to turn Sheehy. The penalty point tied the bout at one and an escape by Sheehy gave him the lead.
"We just wanted to get one of those matches up top (220 and 285)," Ashnault said. "Sheehy weighed in at 198 pounds wrestling a kid that weighed 272 pounds. We knew he had it in him, it was just getting out from bottom and lasting six minutes."
Sheey's win put CBA up by eight points with four bouts left. Howell freshman JJ Machnik cut into that lead with a 14-2 major decision over Tyler Venet at 106 pounds before Ortega upset No. 3 Alex Nini, 2-1, when he scored a reversal with 25 seconds left in the bout. Despite the setback and the fact that its lead was now only one point, CBA was still in good shape because it had Totten lurking in the final bout.
Principe made sure the Colts would enter that final bout with the lead by defeating Kieran Bruen, 6-3, on the strength of a pair of takedowns. Totten, who was seventh in the state at 113 pounds last season wrestling for Northern Burlington, then put the finishing touch on one of the CBA's biggest wins in program history by pinning Sawyer Ostroff in 1:11. It wasn't a dramatic walk-off pin, but it was a clinching victory, nonetheless.
"This is what I wanted to come here for," Totten said. "Hard matches and to get better. You know it's going to be a lot of pressure if you're the last match. They picked 132 right as I was about to step on the scale. My dad told me if it comes down to you just go out there and score points and you'll be fine, and that's exactly what happened."
"I knew we had Totten at 126 no matter what," Ashnault said. "Our goal going in was wrestling straight forward (down low); we knew we were going to make a move up top at 160 but besides that, we were going to wrestle straight up. We were prepared (for Howell) with or without Malone because we have Totten there and he's a stud."
CBA's ascension to a juggernaut seems imminent, and Thursday's victory was a prime example. So too, albeit in defeat, was a loss to North Hunterdon, the top-ranked public school in New Jersey, where CBA won eight bouts but lost because it was pinned in all six losses. In that match, CBA gave up six points in every bout from 170 through heavyweight and then at 106. Against Howell, the Colts had a 13-11 advantage in those weights.
"From the top to the bottom we wrestled hard," Totten said. "Gotta give it up to the upperweights, they learned from the North Hunterdon match and we didn't give up bonus like that and that was the key to winning this match."
"As our team comes together we have elite guys and then guys who are second- and third-year wrestlers," Ashnault said. "We've been close so that fueled them a little bit for this match."
The Colts haven't fully arrived yet, but they are coming. Ashnault's plan is to have them among New Jersey's best every season, and if that happens you can point to March 25, 2021, as the day the spark became a flame.
Box Score
No. 5 CBA 33, No. 3 Howell 23
132: No. 2 Julian George (CBA) d. No. 5 Kyle Nase, 9-3
138: No. 3 Sam Nini (CBA) tf. James McGee, 5:28 (16-1)
145: No. 6 Nick Stump (CB)A d. Nick Acque, 11-4
152: No. 4 Paul Jakub (Howell) d. No. 2 Tyler Barrett, 5-2
160: No. 1 Hunter Mays (Howell) p. Angelo DeRose, 1:05
170: No. 3 (at 160) Zander Silva (CBA) tf. JT Goodman, 5:34 (25-10)
182: No. 9 Nick Cerulli (Howell) d. Mason Garber, 8-4
195: No. 7 Hunter Lino (Howell) md. Peter Grippo, 16-5
220: No. 7 Robert Canterino (CBA) tf. Dane Colfer, 4:40 (16-0)
285: Taig Sheehy (CBA) d. Thomas Richards, 2-1
106: No. 6 JJ Machnik (Howell) md. Tyler Venet, 14-2
113: Sebastian Ortega (Howell) d. No. 3 Alex Nini, 2-1
120: Vin Principe (CBA) d. Kieran Bruen, 6-3
126: No. 2 Garrett Totten (CBA)p. Sawyer Ostroff, 1:11
LOOK: See the iconic cars that debuted the year you were born
More From Shore Sports Network