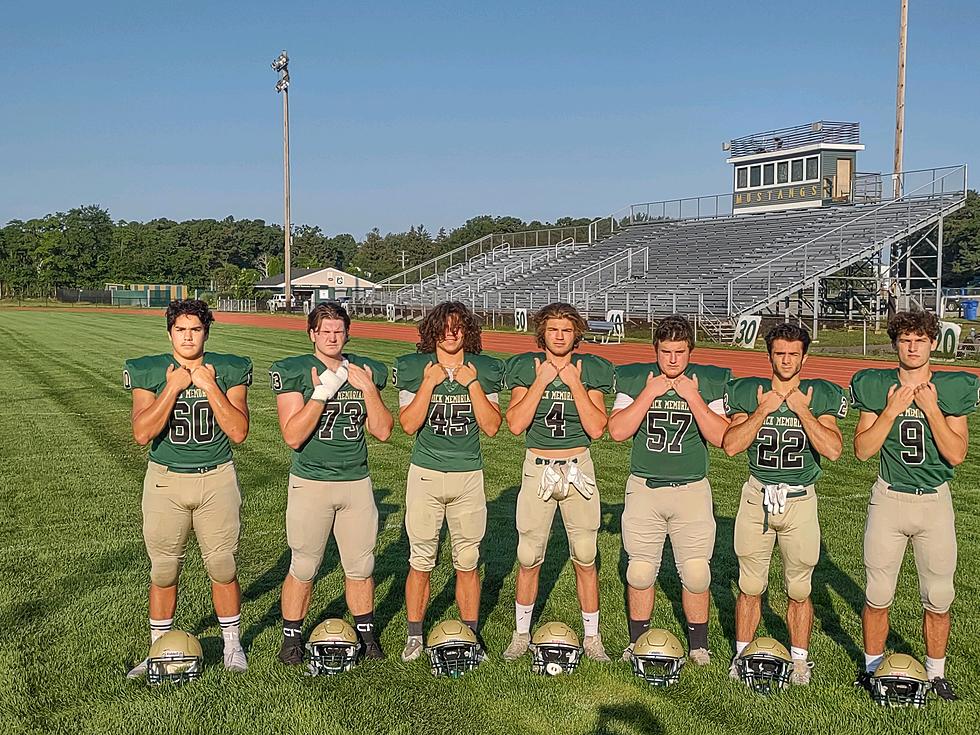 Will the Skill Thrill? – 2021 Brick Memorial High School Football Preview
Sam Azzoretti (60), Colin Mullahey (73), Mike Angrosina (45), Jake Gallo (4), Evan Gillen (57), ake LaRocca (22), Damien DiLuccio (9). )Photo provided by Brick Memorial football.)

To rebound from a string of three straight losing seasons – a first under head coach Walt Currie and the first for the program in over 20 years – Brick Memorial will be leaning on a veteran group of linemen while hoping its skill players can develop quickly.
To be fair, it's not like Brick Memorial has been a bottom-feeder over the last few seasons. The Mustangs were 4-6 in 2018, 3-6 in 2019 and 3-5 last season. They'll try to get back on the winning side of things and return to their usual spot of competing for division and state championships, but in order to do so, the Mustangs will need some unproven newcomers to make their presence felt.
Brick Memorial has veered away from its classic flexbone triple-option offense over the past couple of seasons but the option concepts remain in the Mustangs' spread option offense. The strength is clearly in the trenches with five senior linemen returning as starters along with a senior tight end. The veteran group includes Evan Gillen (5-foot-10, 245) at left tackle, PJ Mazzeo (6-foot-1, 235) at left guard, Colin Mullahey (5-foot-11, 215) at center, Sam Azzoretti (5-foot-10, 230) at right guard and Brett Baxter (6-foot-3, 250) at right tackle. Senior Mike Angrosina, a returning starter, is at tight end along with sizeable junior Ben Wooley (6-foot-3, 225).
At the skill positions, senior wide receiver Jake Gallo is the lone returning starter. Senior Damien DiLuccio is the other wide receiver and senior Jake LaRocca steps in as the starting running back.
Debuting at quarterback will be 6-foot-1, 175-pound sophomore Connor Dietz. As the lone sophomore on either offense or defense he doesn't have to be a do-it-all player, but he's still the quarterback and with that comes a certain degree of leadership responsibilities and expectations. As with any quarterback, his development will be vital to Brick Memorial's success, both this year and beyond.
Defensively, Brick Memorial will look to improve on the 24.4 points per game it allowed last season and once again it will start with the guys with their hands in the dirt. The defensive line returns three of four starters with Azzoretti and Gillen as the interior linemen and Mullahey as a starting defensive end. The other defensive end will be the 6-foot-3, 250-pound Wooley.
The unit of linebackers is led by Angrosina, a returning starter at inside linebacker. Gallo slides down to outside linebacker after starting in the secondary last season and Nolan steps in as the other outside linebacker.
DiLuccio is the lone returning starter in the secondary as the strong safety. Juniors Jeremiah Crispin and Eli Benjamin are the cornerbacks and LaRocca is the free safety.
Brick Memorial will play in the Independence Division this season with crosstown rival Brick plus Howell, Lacey and Middletown North. The Mustangs will also play longtime Class A South rival Toms River South and close their regular season vs. Marlboro.
There are questions marks, sure, but having an experienced group of linemen is certainly a sturdy foundation to start with. If Brick Memorial's new starters can develop quickly, the Mustangs could be back to their winning ways this fall.
At a Glance
Projected starters (RS=returning starter, 3RS=3rd-year returning starter)
Offense: Spread Option
Returning starters: 7
QB: Connor Dietz, So.
RB: Jake LaRocca, Sr.
WR: Jake Gallo, Sr., RS; Damien DiLuccio, Sr.
TE: Mike Angrosina, Sr., RS; Ben Wooley, Jr.
LT: Evan Gillen, Sr., RS
LG: PJ Mazzeo, Sr., RS
C: Colin Mullahey, Sr., RS
RG: Sam Azzoretti, Sr., RS
RT: Brett Baxter, Sr., RS
Defense: 4-2-5
Returning starters: 6
DE: Colin Mullahey, Sr., RS
DT: San Azzoretti, Sr., RS
DT: Evan Gillen, Sr., RS
DE: Ben Wooley, Jr.
OLB: Jake Gallo, Sr. (Started at FS last year)
MLB: Mike Angrosina, Sr., RS
OLB: Joe Nolan, Jr.
CB: Jeremiah Crispin, Jr.
CB: Eli Benjamin, Jr.
SS: Damien DiLuccio, Sr., RS
FS: Jake LaRocca, Sr.
Special Teams
K: Nico Maribo, So.
P: Joe Nolan, Jr.
STAFF
Head coach: Walt Currie, 15th season
Career record: 78-67
Team record last five years:
2020: 3-5
2019: 3-6
2018: 4-6
2017: 7-4
2016: 2-8
Assistant coaches: Rob Brown (Defensive Coordinator); James Mahoney (Offensive Coordinator); Bill Brunner (OL); Paul Walski (OL); Bob Merola (TE); Keith Farr (WR); Pete Walski (WR/CB); William Brunner Sr. (DT); Mike Mahoney (DE); Nick Moschella (LB); Brady Watson (Safeties); Jimmy Bright (Freshmen); Ryan Graham (Freshmen); Sue Penrod (Athletic Trainer).
Player to Watch: Mike Angrosina, Sr., TE/ILB
Angrosina is one of several two-way returning starters for Brick Memorial. He'll look to lead the defense as the middle linebacker and at tight end will be called upon to contribute on the ground and through the air.
Player Under the Radar: Jake Gallo, Sr., WR/OLB
Gallo is the lone returning skill player with starting experience and enters as the No. 1 target for new quarterback Connor Dietz. After starting in the secondary last season he will slide down to outside linebacker.
Impact Newcomer: Connor Dietz, So., QB
The quarterback position is important in any offense and even more so in an option offense given the post-snap reads and responsibilities. Dietz's development this season will be something to watch as the Mustangs try to return to contention.
Top Position Groups: Offensive and Defensive Line
The entire offensive line is back and three of four defensive linemen are also returning starters. Those guys will have to lead the way and set the tone early in the season while the skill players find their way.
Big Shoes to Fill: Skill Positions
Brick Memorial's offense was mostly a two-man show last season with quarterback TJ McArthur and running back/wide receiver Akhi Barksdale producing the bulk of the yards and touchdowns. With both having graduated it will be up to a new cast to of characters to take the reins.
X-Factor: Development of New Starters
If the first-year starters can perform like seasoned veterans sooner than later, Brick Memorial should be able to contend for a division title and make some noise in the state playoffs. If not, it will be an uphill battle to get to a .500 record.
Season Schedule
Thursday, Sept. 2 – at Howell, 6:30 p.m.
Friday, Sept. 17 – at Toms River South, 7 p.m.
Saturday, Sept. 25 – vs. Brick, 1 p.m.
Friday, Oct. 1 – at Middletown North, 7 p.m.
Friday, Oct. 8 – vs. Lacey, 7 p.m.
Friday, Oct. 15 – vs. Marlboro, 7 p.m.
LOOK: Here are the 50 best beach towns in America
Every beach town has its share of pluses and minuses, which got us thinking about what makes a beach town the best one to live in. To find out,
Stacker
consulted
data from WalletHub
, released June 17, 2020, that compares U.S. beach towns. Ratings are based on six categories: affordability, weather, safety, economy, education and health, and quality of life. The cities ranged in population from 10,000 to 150,000, but they had to have at least one local beach listed on TripAdvisor. Read the
full methodology here
. From those rankings, we selected the top 50. Readers who live in California and Florida will be unsurprised to learn that many of towns featured here are in one of those two states.
Keep reading to see if your favorite beach town made the cut.
More From Shore Sports Network