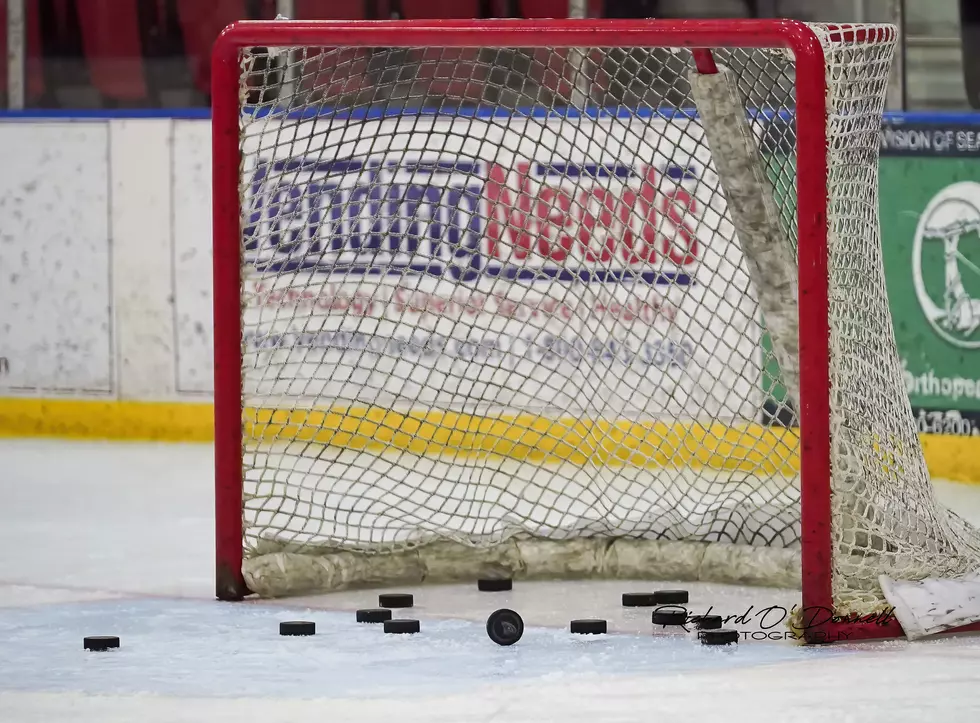 VOTE: Shore Conference Ice Hockey Player of the Week
Photo by Richard O'Donnell

With our foray into ice hockey coverage comes another feature very familiar to Shore Sports Network readers: The SSN Player of the Week vote.
There were some great individual performances in Week 4 of the season and now it's time to get your vote in for who had the top performance in the conference to choose the Shore Sports Network Ice Hockey Player of the Week. The winner will be announced on Wednesday right here on ShoreSportsNetwork.com. Voting will end Tuesday at midnight.
Scroll down to see the candidates and make your selection. If you'd like to vote more than once, just wait one hour and come back.
Week 5 Player of the Week nominees (listed alphabetically)
Jack Bilancione, Sr., Goalie, Catholic (St. Rose/Donovan/RBC)
The Catholic tri-op went 1-1 during the week and Bilancione, a Red Bank Catholic student-athlete, was outstanding in both games. The team was short-handed in a 3-2 loss but Bilancione came through with 23 saves to keep the team in the game despite having players playing out of position and a short bench. Catholic then defeated rival Manasquan, 4-2, and Bilancione made 30 saves to backstop the victory.
Nate Block, Jr., Fwd., Middletown South
Block totaled four goals and two assists in four games as the Eagles went 1-1-2 with the defeat coming at the hands of Lakeland, which is ranked No. 9 in New Jersey. Block scored twice and added an assist in a 3-3 tie against Manasquan and the very next night, he scored the game-tying goal on an end-to-end rush with 4.6 seconds left to force a 2-2 draw. He added a goal and an assist in a 5-2 victory over Central.
Ryan Fortunato, So., Fwd., Toms River East/South
The Raiders went 1-1 during the week with both games coming against Ocean. Fortunato scored twice to lead the way in a 4-3 victory and then had a goal and an assist in a 7-3 loss. He has eight goals and three assists this season.
Colin Gartz, Sr., Fwd., St. John Vianney
The Lancers had only one game during the week, a 5-0 shutout over Freehold. It was senior night for SJV and Gartz made the most of it by scoring twice and adding two assists.
Jaxon Hook, Jr., Fwd., Wall
The Crimson Knights went 2-0 during the week and Hook was a standout with a goal and two assists in a 3-2 win over Catholic (St. Rose/RBC/Donovan) and a goal and two assists in a 4-2 victory over Manalapan. He has three goals and six assists in six games this season.
Dmitrii Kapranov, Jr., Goalie, Marlboro/Holmdel
Marlboro had only one game during the week and emerged with a 3-2 victory over Middletown North. Kapranov has been superb all season and had another very good game with 23 saves. His final stop was fantastic as he made a sprawling left pad save in the final seconds to preserve the win and stretch the Mustangs' unbeaten streak to six games.
Pat Olenski, Jr., Fwd., Ocean/Shore/Monmouth
Olenski had three goals and four assists in two games as the Spartans went 1-1 against Toms River East/South. In a 4-3 defeat, Olenski had a goal and an assist. Ocean responded with a 7-3 victory in the second meeting of the week and Olenski had two goals and three assists. He has six goals and six assists in four games this season.
Brett Pritchard, Jr., Fwd., Rumson-Fair Haven
Since tallying his first goal of the season on Feb. 11 in Rumson's third game of the season, Pritchard has been on fire. He led the way in two games this week with two goals and an assist in a 6-1 win over Red Bank and a goal and two assists in a 5-0 win over Southern. He has seven goals and three assists in his last four games for the undefeated Bulldogs.
Braden Ryan, Jr., Fwd., Manasquan/Point Beach
Ryan scored three goals and added one assist in three games during the week, including a standout performance against Middletown South. Ryan scored twice, including the game-tying goal with 12.9 seconds left in regulation in a 3-3 draw. The next night, the team's skated to a 2-2 tie and Ryan had a goal in the second period that gave Manasquan the lead until Middletown South scored with 4.6 seconds left.
KEEP READING: See the richest person in every state
More From Shore Sports Network