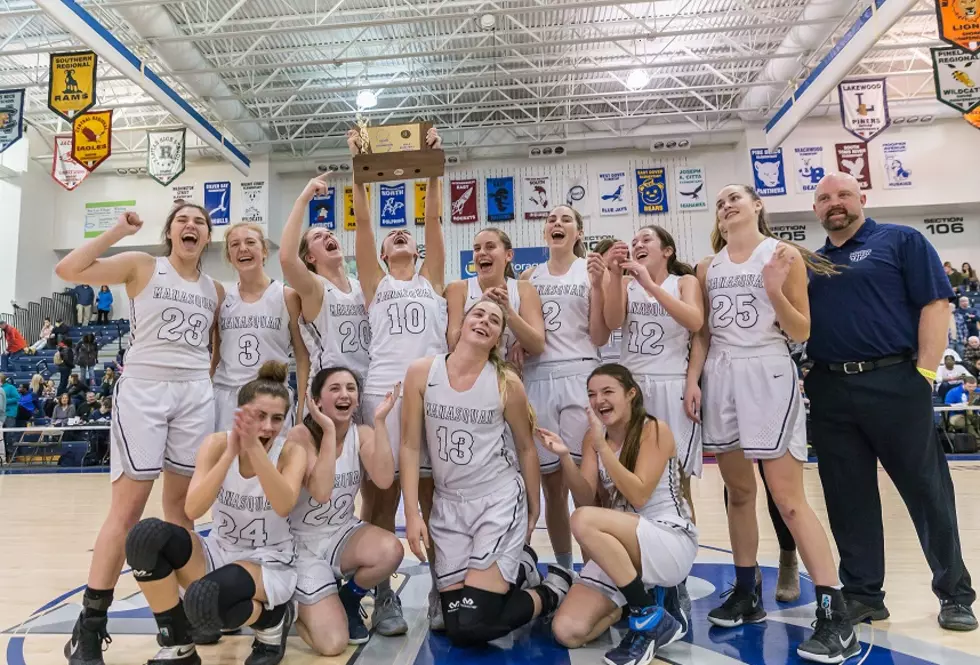 TOC Semifinal Preview: 5-Saddle River Day vs. 1-Manasquan
Manasquan (Photo by Paula Lopez)
Tournament of Champions
Semifinal Round
Friday, March 16
At RWJBarnabas Health Arena, Toms River
5-Saddle River Day (24-6) vs. 1-Manasquan (30-2), 7:30 p.m.
Saddle River Day Road to the TOC semifinals: Defeated Marist, 98-42, Hudson Catholic, 76-50 and Lodi Immaculate, 48-33, for its second straight North Jersey, Non-Public B title. Defeated defending champion Rutgers Prep, 73-49, for its first Non-Public B state championship. Defeated University, 92-63, in the quarterfinals of the Tournament of Champions.
Manasquan Road to the TOC semifinals: Defeated Bordentown, 79-26, Matawan, 79-23, Holmdel, 72-40, and Lincolin, 67-43, for its fifth consecutive Central Jersey, Group 2 title. Defeated Manchester, 63-41, and Newark Tech, 95-79, for its fifth straight Group 2 state championship. Had a bye into the semifinals of the Tournament of Champions.
Saddle River Day
Projected starting lineup
2-Carolyn Carrera (Sr. G 5-4)
3-Jaida Patrick (Jr. G/F 5-11)
5-Sydney Watkins (Sr. G/F 5-7)
23-Michelle Sidor (Jr. G 5-8)
33-Jenna Jordan (Jr. F 6-2)
10-Lauren Garofalo (Fr. G 5-6)
14-Jordan Janowski (So. G 5-6)
Manasquan
Projected starting lineup
2-Lola Mullaney (Jr. G 5-10)
10-Dara Mabrey (Sr. G 5-7)
13-Faith Masonius (Jr. G/F 6-0)
14-Carly Geissler (Sr. G 5-6)
25-Emma McMenaman (Sr. F 5-9)
4-Maci Black (Fr. G 5-3)
23-Allison Waters (Fr. G 5-8)
24-Annie Mako (Jr. G 5-6)
Familiarity: Saddle River Day already has a first-hand account of Manasquan. The two met on Dec. 30 in Paterson with the Warriors building a 73-43 cushion through three quarters en route to an 87-77 victory. While it absorbed the loss, Saddle River Day also absorbed some lessons it could apply in the rematch. The Rebels were still a work in progress back then, with newcomers Jaida Patrick and Sydney Watkins getting acclimated to the system. The two are now engrained and valuable elements within the operation. Patrick handed outa mind-blowing 16 assists as part of a triple-double that included 21 points and dozen rebounds in Wednesday's 92-63 quarterfinal win against fourth-seeded University.
Defense: Can't say it any simpler. These are two of the most explosive offensive teams New Jersey has to offer; Saddle River Day averages 73.1 points a game while Manasquan counters with 69.5. Defense will be imperative and happens to be as much of a strength for Manasquan, as its scoring firepower. Dara Mabrey sinks her teeth into a defensive assignment and could draw junior Michelle Sidor (26.2 ppg, 98 3-pointers), whose range is limitless (like parking lot limitless) and exploratory nature off the dribble just as crippling.
Conversely, the Rebels have to account for Mabrey (22.6 ppg, 65 3-pointers), Lola Mullaney (15.9 ppg., 45 3-pointers) and Faith Masonius (18.4 ppg., 21 3-pointers). However, concentrate on that dymanic threesome and senior Carly Geissler is capable of applying a sting as she did in the Group 2 final against Newark Tech with a pair of pivotal 3-pointers.
Manasquan has also gotten increasingly comfortable employing a 2-3 zone to complement its man-to-man. The Warriors are anything but passive within the look, quick to trap the wings and fast flashing on perimeter shooters.
Interchangeable parts: The importance of Mabrey, Masonius and Mullaney to the Manasquan offense is no secret. Yet, what makes them so tough to stop is the variety of ways in which they score. Great ball visions finds them cutting inside, the extra pass opens them for clean looks along the arc and a defender that presses up hastily is quickly introduced to their skill off the bounce. If each can work all three elements of her offensive game into the overall equation, the Warriors are at their best.
Battle on the boards: This game could be decided underneath, where a host of active rebounders from both sides will compete for every carom. Jenna Jordan (14.6 rpg.), Patrick (11.1 rpg.) and Watkins (7.1 rpg.) headline the troup Saddle River Day will unleash on the glass which has to matched by the efforts of Masonius (10.5 rpg.), Mullaney (5.9 rpg.), Mabrey (4.6 rpg.) and Emma McMenaman (3.6 rpg.). Expect a physical grudge match in the paint.
Experience: This setting is nothing new for Manasquan, which is seeking to reach an unmatched fifth straight TOC final in pursuit of its first championship since 2015. All five starters are acquainted and equipped to deal with the pressure of the situation and it shows through their cohesiveness.
Get out and go: Both teams love the idea of running the floor and establishing a brisk pace. A fast start for Manasquan, keyed by efficiency and getting to the the hoop, would by an ideal way for the Warriors to start this showdown...and open some room on the perimeter. What they don't finish at the rim can be converted at the foul line, where they shoot 77.0 percent as a team, led by Mabrey  (122 of 137, 89.0 percent).
More From Shore Sports Network