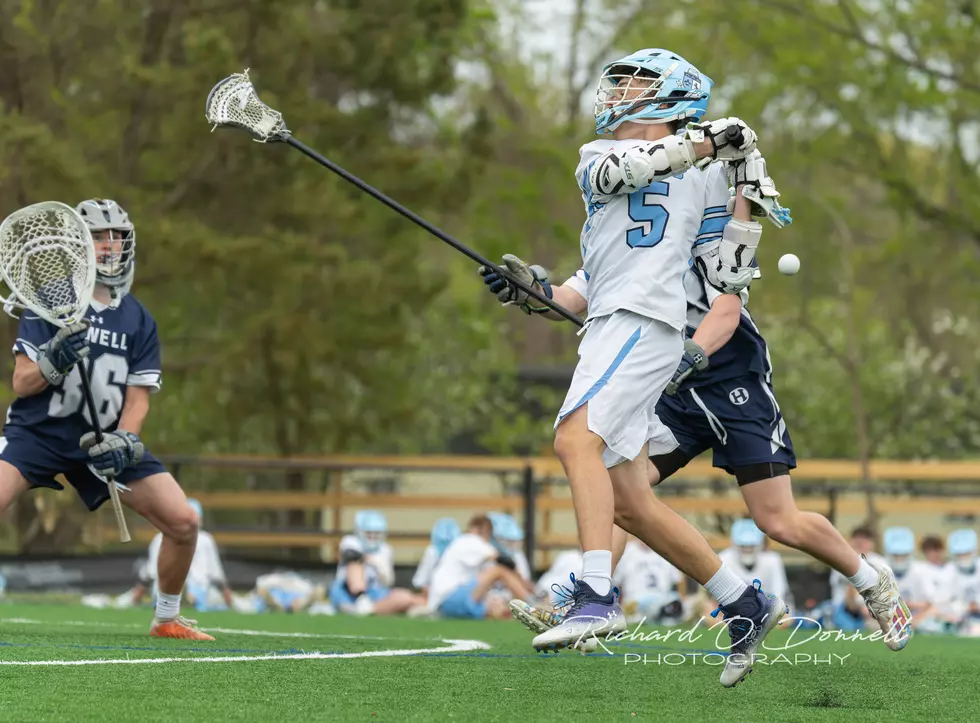 Timely Scoring, Patient Defense Lead No. 6 CBA Lacrosse Past No. 7 Howell for Class A North Division Title
Richard E. O'Donnell

MIDDLETOWN -- When the high school lacrosse season began on March 30, Christian Brothers Academy was a team returning just three starters and set to rely on several underclassmen to play significant roles.
Fast forward just over a month and the Colts have grown into division champions and a group ready to make noise in the postseason.
With a stout defensive effort and timely goals at the other end of the field, CBA, ranked No. 6 in the Shore Sports Network Top 10, earned a 9-6 victory over No. 7 Howell to claim the Class A North division title on Tuesday afternoon at Keane Field. Both teams entered with undefeated divisional records entering the A-North finale. Junior attackman Nick Blalock led the way on offense with three goals and one assist while sophomore goalie Brandon DeSena made 10 saves to backstop a complete defensive effort.
Junior attackman Ian Macrae scored two goals and had one assist for CBA and sophomore attackman Ryan Martin had a goal and two assists. Junior attackman Brendan Donnelly had a goal and an assist and senior midfielders Sean Tennyson and Max Avrillon each scored once.
The unit comprised of close defensemen Peter Canterino, Ryan Caufield, and Luke Krebs, LSM Quinn Kelly, LSM Tyler Buchenberger, and Avrillon and Tennyson as defensive middies held down a Howell offense that has five players with 18 or more goals.
Howell was led by senior goalie Colin Fay, who made 10 saves, and senior face-off specialist Glenn Giordano, who gave the Rebels plenty of possessions by going 12-for-15 at the face-off X. Junior attackman Nate Lorenzo scored a team-high three goals and one assist and senior midfielder Doug MacKenzie scored twice. Senior attackman Vin Burns scored once while Giordano, senior midfielder Tyler Burns, junior attackman Jack Marich. and sophomore midfielder Ian McDow chipped in with one assist each.
"One of our goals was to win the division and we faced a really tough Howell team that that's well-coached and well-prepared," said CBA head coach Dave Santos, who recently won his 300th career game and is CBA's only head coach in program history. "Luckily, our defense played very well today. Our offense got looks but their goalie is very good and made some big saves to keep it close all game."
"A lot of credit goes to Brandon, obviously; he played a great game today," Canterino said. "We communicated really well as a team and the attackmen rode really well, which gave us a chance to take some breathers and get composed and ready for the next possession."
CBA started the scoring when Blalock buried a feed from Martin at 8:34 and then scored with 1:12 on the clock to give the Colts a 2-0 lead after the first quarter. CBA would have had an even greater advantage if not for Fay, who made six very good saves in the opening 12 minutes to keep Howell within striking distance. Howell had an extra-man opportunity in the final minute of the quarter but DeSena came up with a kick save to keep the Colts up by two.
The lead grew for CBA 1:35 into the second quarter when Blalock set up Macrae to make it 3-0. Howell got on the board when MacKenzie ripped a shot from the wing at the 8:49 mark. Then, on an EMO, Lorenzo made a long pass all the way across the box to MacKenzie, who found twine to cut CBA's lead to 3-2 with 5:01 left in the half.
Early in the third quarter, Martin used his big frame to bully his way inside the Howell defense for a goal that made it 4-2 CBA. Howell won the ensuing face-off and proceeded to hold the ball on offense for the next three minutes and 40 seconds. The Rebels worked themselves into several solid scoring situations but CBA was able to stand pat, which led to Avrillon scoring in transition to make the score 5-2 with 6:10 left in the third quarter.
"The defense had to face some really long possessions and keep their focus for a minute and a half/two minutes," Santos said. "Brandon made some big saves in some big spots. We had Tyler Buchenbeger come off the bench after Ryan Caufield came out with an injury; we were getting contributions from a lot of different guys. The D-middies: Tenny, Max, and Packy (Quinn) were all outstanding today. It was a really good collective team defensive effort."
Giordano's work at the face-off X led directly to the next two goals as Howell cut CBA's lead to 5-4 with a pair of lightning strikes. Both times it was Giordano winning the face-off clean and sprinting toward the goal that led to two Howell goals in a span of 11 seconds. He assisted on the first goal to make it 5-3 before Lorenzo was able to grab a rebound and fire it home to make it 5-4.
The response from CBA came just over two minutes later when Macrae scored off a pass from Martin at 3:25. Howell looked to have trimmed it to a one-goal deficit after three quarters when Tyler Burns found Vin Burns inside for a goal with 22 seconds on the clock. Giordano won the next face-off, as well, but CBA was able to force a turnover and Tennyson converted a transition goal at the other end with one second left on the clock, re-establishing CBA's two-goal lead.
"I say it all the time, you only go as far as your seniors are going to take you," Santos said. "Those (Avrillon and Tennyson) are two key seniors who in a big moment stepped up to score goals. We don't rely on them to score much, they're both key for us, defensively, but in big spots they both went forward and finished. They were game-changers, both of those goals."
Blalock flashed his skill once more in the fourth quarter when he took a pass from Donnelly and went behind the back to beat Fay and put the Colts up 8-5. Howell stayed close when Lorenzo netted his third off an assist from Marich at 7:01 but Donnelly added another CBA goal with 4:10 on the clock.
CBA is now 9-6 on the season and heading into the Shore Conference Tournament playing their best lacrosse of the sesaon. The Colts' 4-3 record in their last seven games doesn't exactly scream "hot streak" but you have to consider the opponents they just played. CBA played national No. 7 Lawrenceville Prep and national No. 18 Georgetown Prep, and then took on the No. 1 team in the country, St. John's College High School, last weekend. The results were predictable as the Colts were outscored 57-12 in three straight losses. But they also believe it was a turning point in their season.
"I'm really happy with the progress we've made the last couple of weeks and I think going down to DC really helped us a lot," Canterino said. "We didn't get the wins but it made us better as a team and really prepared us for the stretch coming up. Howell is a really good team but I think the DC prep really gave us an edge here."
"We knew what we were going to get out of that and that was that those teams were going to expose our weaknesses," Santos said. "We went down there, they exposed our weaknesses, and we watched film, learned, and got better for it. We went 0-3 but we are definitely a better team for it."
The SCT will be seeded Wednesday night and the Colts are currently No. 4 in the Shore Conference in the LaxNumbers rating, which is the major criteria the seeding committee uses. Rumson-Fair Haven, Manasquan, and Wall are expected to be the top three seeds. After the SCT, CBA will try to navigate a deep and powerful Non-Public A state bracket.
"I think we're ready," Canterino said. "We have a really good team. We're young but we've built that chemistry throughout the year and I'm really comfortable with where we're at now."
Box Score
No. 6 Christian Brothers Academy 9, No. 7 Howell 6
Howell (11-4, 7-1) 0 2 3 1 -- 6
CBA (9-6, 8-0)      2 1 4 2 -- 9
GOALS - H: Nate Lorenzo 3, Doug MacKenzie 2, Vin Burns 1; CBA: Nick Blalock 3, Ian Macrae 2, Ryan Martin, Brendan Donnelly, Sean Tennyson, Max Avrillon.
ASSISTS -- H: Nate Lorenzo, Jack Marich, Ian McDow, Tyler Burns, Glenn Giordano; CBA: Ryan Martin 2, Nick Blalock, Ian Macrae, Brendan Donnelly.
SAVES -- H: Colin Fay, 10; CBA: Brandon DeSena, 10
SHOTS -- Howell, 31-29
Howell vs. CBA Lacrosse, 5/3/22
Check Out the RWJ Barnabas Health Field of Dreams in Toms River
More From Shore Sports Network