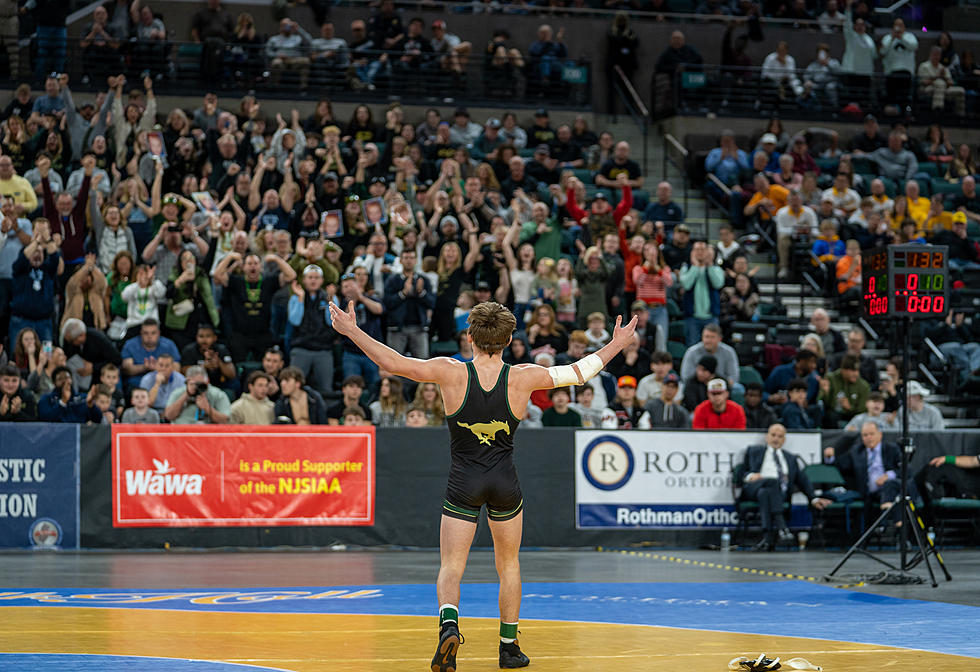 The Storybook Ending: Brick Memorial's Anthony Santaniello ends career with second state title, M.O.W.
Robert Badders

ATLANTIC CITY -- As the clock ticked down with under 20 seconds left, Anthony Santaniello looked over to coaches Mike and Dave Kiley and grinned. He had done it. All the training, all the hard work, it all paid off. Finally, Santaniello was a state champion on the center mat at Boardwalk Hall.
On Saturday night, Santaniello put the finishing touches on the greatest wrestling career in Brick Memorial history by delivering an emphatic 10-0 major decision over Mount Olive's Jack Bastarrika to secure the NJSIAA 132-pound state championship. As the final seconds ran off, Santaniello rose to his feet and saluted the large crowd of family members and Brick Memorial supporters who showered him with applause. It was his second state title, but first at Boardwalk Hall. And it was definitely the sweetest.
"Finally," Santaniello said. "It feels like a relief. As much as I said I wanted to just have fun, it's hard because I never won it here. Either did Vin (brother Vincent), or my dad in this building. It's not fun to keep taking second. I finally got it done."
Santaniello's first state title and his brother Vincent's were won in 2021 when the tournament moved to Phillipsburg High School because of the Covid pandemic. In his prior two trips to Boardwalk Hall he finished second. Vincent was also a state runner-up in Boardwalk Hall, as was their father Vinnie.
After the victory, Santaniello jumped over the boards and into the crowd where his family and friends were sitting in section 120.
"It was emotional," Santaniello said. "My sister was balling her eyes out, so was my mom, and I even saw some tears in my dad's eyes. My sister said we broke the Santaniello curse.
"I'm surprised I didn't cry. I wish I soaked it in more but you really can't because it happens so quick. I just feel great. There's no better feeling than winning in Boardwalk Hall."
The result you feel you deserve and the one you actually get do not always match up, and  Santaniello had to learn that the hard way during his high school wrestling career with a pair of losses in the state finals. But this time, he earned the magical ending, closing his career as a two-time state champion, a four-time state finalist, and a four-time region champion. He lost just three times during his career and all three came against state champions.
"It cemented how great he is," said Brick Memorial head coach Mike Kiley. "He needed that. He's one of the best ever, and for him to only have one doesn't do him justice. I've never seen someone swipe back points on him. You can count on one hand how many takedowns he's given up, can count on one hand how many people he's lost to. It's an unbelievable career and to cement it like that, it's the right thing."
Santaniello was breathtaking from start to finish, winning by technical fall in the first round, by fall in the second round, by technical fall in both the quarterfinals and semifinals, and by major decision in the state final. He scored 81 points in five state tournament matches and did not allow an offensive point. He was voted as the state tournament's Most Outstanding Wrestler.
State finals losses should not be considered blemishes, but that is the way the elite-level wrestlers look at it. What bothered Santaniello most about his two state finals defeats was that he clammed up and didn't wrestle his usual high-octane style. There was no such problem in this state final. Santaniello immediately got to Bastarrika's legs and after a long scramble finished the takedown with 50 seconds on the clock. With 20 seconds left, Santaniello turned Bastarrika for two back points and a 4-0 lead. From there, he was on his way to glory.
Bastarrka chose bottom to start the second period and Santaniello put the match away with three turns for a total of six back points to take a 10-0 lead. In the third, Santaniello rode Bastarrika for the entire two minutes to lock up state title No. 2. Mike Kiley yelled out "15!" as time wound down and Santaniello looked over and smiled.
"In that moment, I knew I had it," Santaniello said. "Looking over at coach Kiley; we put in so much work, trained so hard. Everyone does in wrestling - you have to - but I don't think anyone in the state really matches the level I train at. With 15 seconds on the clock I looked at him and we both knew it paid off."
"That was a really cool moment," Kiley said. "I'll remember that forever."
Brick Memorial's wrestling program has a tradition that is unmatched by most schools in New Jersey. The Mustangs have experienced great success at both the team and individual levels, especially over the past four seasons in which they've had 12 state finalists and seven state champions. But now, Anthony Santaniello stands alone as the most accomplished wrestler in Brick Memorial history. He matched his good friend Evan Tallmadge and Nick Angen with two state titles. He is the only wrestler in program history to reach four state finals, and just the second, along with his father, to win four region titles. He is special in every sense of the word.
"We've had some great people come through here," said Kiley, who himself was a standout wrestler for Brick Memorial that helped the Mustangs win back-to-back Group 4 titles in 2008 and 2009. "The Santaniellos broke records and Anthony is just on another level. He's unbelievable."
"You can't replace him. I cried on the mat, for him and because it was the last time I'll get to coach him. What a pleasure it's been."
Next up for Santaniello is the University of Oklahoma where he will set his sights on winning NCAA titles. That time will come. Tonight, he secured his status as the green and gold G.O.A.T.
For Anthony Santaniello, it was the storybook ending.
10 Highest Paid Athletes in the World in 2022
Between the 10 of them, they will bring in a total of more than $992 million in 2022.
More From Shore Sports Network