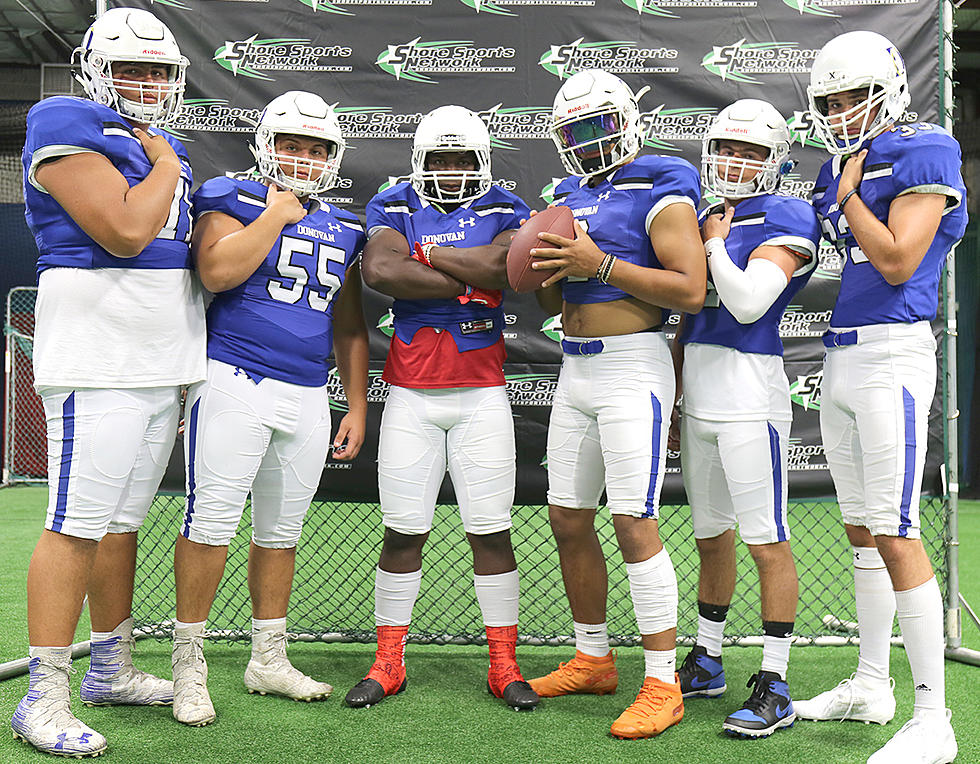 The Fruits of Labor: 2019 Donovan Catholic Football Preview
Donovan Catholic's Tom Buxton (71), Elio Siragusa (55), Nasir Calhoun (6), Ryan Clark (2), Jared Helstowski (21) and Chris Aldrich (33). Photo by Steve Meyer/Townsquare Media NJ
Ever since head coach Dan Curcione arrived at Donovan Catholic along with offensive coordinator Chip LaBarca Jr. to guide a young and talented roster, the question has been when, not if, the Griffins would become a top-flight team in the Shore Conference.
At first, the gains were both modest and significant as Donovan rose from the ashes of an 0-10 season in 2016 to go 4-6 in Curcione's first year. Then last year with almost the entire team returning, Donovan went 7-3 and came within one game of a division title. In 2019 the Griffins will have the most returning starters of any team in the Shore – 10 on both offense and defense – as they aim to take another major step up the Shore Conference hierarchy.
Donovan's spread offense is led by one of the top returning quarterbacks in the Shore in senior Ryan Clark, who was a Third Team All-Shore selection last season. Seniors Nasir Calhoun and Damian Johnson and junior Jahdir Loftland all return in the backfield after seeing varying levels of playing time last season. Senior Andre Laney was one of the leading receivers in the Shore as a sophomore and is back after playing in only a few games last season. Speedster James Bivins also returns at wide receiver with junior Ethan Capone and sophomore Levi Wilkins at tight end. Four starters return on the offensive line with FBS recruit Cam McNair (Jr., 6-5, 320) at left tackle, senior Elio Siragusa (5-11, 220) at center, sophomore Dominick Brogna (6-1, 265) at right guard and senior Tom Buxton (6-3, 305), a Third Team All-Shore pick last fall, at right tackle. The newcomer is sophomore Caron McNair (6-3, 265) at left guard.
The Griffins' 3-4 defense has McNair and giant sophomore Nico Ippolito (6-3, 335) at defensive tackle with Brogna and senior Chris Aldrich (6-3, 205) as defensive ends. A great linebacking corps features juniors Quamire Green (5-11, 215) and Dominick Nocero (5-11, 215) at inside linebacker and Loftland and senior Xavier Ellis (6-3, 235) at outside linebacker. In the secondary, Bivins and Laney are the cornerbacks with senior Jared Helstowski as the strong safety and junior John Schlendorf as the free safety.
Senior Keaon Torres returns as the kicker after converting 32 of 37 extra points and kicking two field goals last season.
Clearly the ingredients are there for Donovan to have one of the best seasons in program history. The schedule is also more challenging for the Griffins this season, which has been something they've been looking forward to. After playing in the small-school National Division last season, Donovan will jump up to the Liberty Division. Instead of playing the likes of Point Beach, Keansburg, Keyport, and Asbury Park, they'll now face Central Regional, Holmdel, Lacey, Manasquan and Red Bank in division contests. Outside of the division, the Griffins will face Linden, Point Boro, Lakewood, and top-ranked Red Bank Catholic.
"We play a much more challenging schedule than last year and we are looking forward to it," Curcione said. "To be considered one of the best you have to beat the best programs."
Player to Watch: Ryan Clark, Sr., QB
When Donovan Catholic takes the field against Linden on Sept. 6, Clark will begin his fourth year as the Griffins' starting quarterback, a rare feat at any program. Last season, Clark threw for 1,013 yards and nine touchdowns and ran for 653 yards and 14 touchdowns en route to earning Third Team All-Shore status. Clark has offers from UMass and Monmouth and interest from several other FCS programs.

Player Under the Radar: Xavier Ellis, Sr., OLB
Ellis had a very good junior year with 63 tackles, a team-high 15 tackles for loss and a team-best five sacks for a defense that allowed 13.5 points per game, which was a dramatic improvement over the prior season. At 6-foot-3 and 235 points, Ellis has the potential to terrorize opposing offenses as one of the best edge rushers in the Shore.
Best Unit: Offensive line
You could really take your pick here and make an argument for any position group. We'll highlight the offensive line, which has four of five starters back and boasts some serious size across the board. With Cam McNair at left tackle, Caron McNair at left guard, Siragusa at center, Brogna at right guard, Buxton at right tackle, Donovan Catholic averages 6-foot-2 and 275 pounds along the offensive line. Add in Capone (6-1, 215) and Wilkins (6-3, 215) at tight end and you have a group that has the potential to dominate the trenches on a weekly basis.
Donovan Catholic will be successful if… 
…It plays to its potential and raises its level of play against its best opponents. The Griffins are talented and experienced with a great balance of seniors, juniors and sophomores who should all contribute in some capacity. The upperclassmen began to lay the foundation for success two years ago and are now in a position to see tangible results in the form of championships. All that's left to do is execute on game day.
Player to Watch Part 2: Cam McNair, Jr., OL/DL
McNair is a massive individual at 6-foot-5 and 320 pounds who will be a load to handle on both sides of the ball. He has the ability to dominate in the trenches on the offensive line and wreck an opponents' running game from his spot at defensive tackle. McNair already has scholarship offers from West Virginia, Pittsburgh and Rutgers, and only figures to get more interest as he improves over the next two years.
Player Under the Radar Part 2: James Bivins, Jr., WR/DB 
If his track numbers are any indicator, Bivins (5-9, 175) may very well be the fastest football player in the Shore Conference. After catching 10 passes for 107 yard and three touchdowns and rushing for 218 yards and two touchdowns as a sophomore, Bivins had a monster outdoor track season by winning county and state sectional 100-meter titles and finishing third at the Meet of Champions. If Bivins gets a step on a defender, he's gone, and with several other talented skill players that opposing defenses need to worry about, Bivins should get his share of chances at making big plays.
Top Unit Part 2: Linebackers 
All four linebackers return for the Griffins with Green and Nocero on the inside and Ellis and Loftland on the outside. Nocero led the Griffins with 97 tackles last season while Green made 91 stops. Ellis led the team in tackles for loss (15) and sacks (5) while Loftland had 49 tackles and one sack.
Head coach: Dan Curcione, third season (sixth overall).
2018 record: 7-3 (5-1 in National Division)
Assistant coaches: Chip LaBarca Jr. (off. coord.), Jack Nascimento (QB), Dean Helstowski (RB), Jon Power (OL/DL), Sean McPherson (DB), Ryan Wells (OLB), Dean Helstowski Jr. (volunteer asst.), Mike Heilala (freshmen), Eric Bruno (freshmen), Mark Deppen (strength and conditioning), Bob DeStefano (athletic trainer).
BIG SHOES TO FILL: Nico Ippolito, So., DT
Considering Donovan only graduated two senior starters there aren't many shoes to fill. Nick Kenmure was an All-Division defensive lineman last season and Ippolito and his 6-foot-3, 335-pound frame will jump into the group up front.
X-FACTOR: Andre Laney, Sr., WR/DB
Laney had a breakout year as a sophomore when he was third in the conference in receiving yards. He played in just four games last year and recorded just 10 catches for 190 yards and one touchdown. If he is back playing at the level he did two years ago, he and Clark will be among the most dynamic quarterback-receiver duos in the Shore.
IMPACT NEWCOMER: Caron McNair, So., OL/DL
The younger McNair is only slightly smaller than his brother, checking in at 6-foot-3 and 265 pounds. He'll start along the offensive line and add some heft to a group that was already imposing.
PIVOTAL GAME: Oct. 25 vs. Red Bank Catholic
When the reigning Non-Public Group 3 champion Caseys come to Toms River in Week 7 there won't be any kind of championship on the line, but for a team eager to prove itself, RBC will be the measuring stick. It's not hyperbole to suggest this could be the biggest game in program history.
Managing editor Bob Badders can be reached at bob.badders@townsquaremedia.com. Follow him on Twitter @Bob_Badders. Like Shore Sports Network on Facebook and subscribe to our YouTube channel for all the latest video highlights.
More From Shore Sports Network