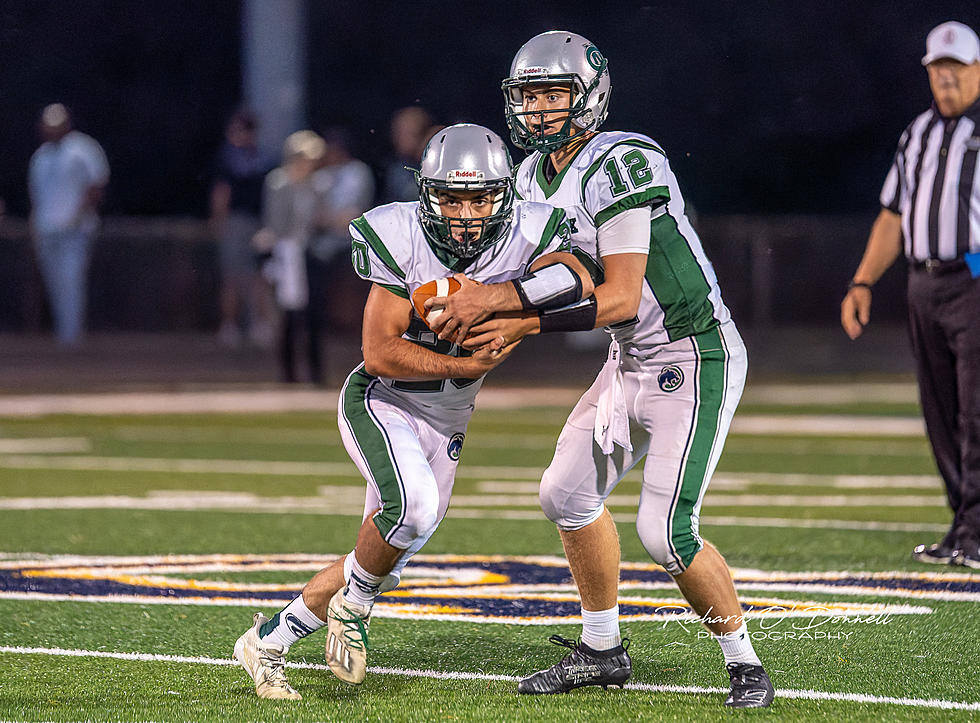 The Drive: No. 5 Colts Neck Sinks Toms River North with Late Scoring March
Richard O'Donnell

TOMS RIVER – When Colts Neck's defense came up with a stop to force a punt with just over eight minutes left in the fourth quarter, it was giving the ball back to an offense that had been more opportunistic than overwhelming. But head coach Matt Ahearn saw a unit that was ready to reap the rewards of three-plus quarters of physicality in the trenches.
"I was talking to coach Ahearn before the drive, eight minutes left, and he goes, 'See how much time is up there? We're going to run all that down and we're going to score'," said senior quarterback Tommy Fallon. "Sounds like a plan, I said."
What transpired next was Colts Neck's version of "The Drive".
Starting at their own 23-yard line with 8:07 left in the fourth quarter, the Cougars authored a massive 14-play, 77-yard drive to take the lead and complete a comeback from a two-touchdown deficit. Fallon and senior running John Manos combined for 13 consecutive runs down to the 6-yard line before Fallon used a play fake, rolled out, and connected with sophomore tight end Eric Loureiro for the go-ahead touchdown as Colts Neck, ranked No. 5 in the Shore Sports Network Top 10, rallied for a 28-21 Shore Conference American Division victory over Toms River North on Friday night at Gernard Field.
With Colts Neck's offensive line of senior left tackle Dan Volpe, senior left guard Matt Jannucci, senior center Jack Machu, sophomore right guard Matt Liggio, and senior right tackle Ryan Whalen leading the way, Fallon and Manos averaged five yards per carry on a methodical drive that faced just two third downs. The running room that wasn't there earlier in the game certainly was now, a product of a line that averages 6-foot-2 and 272 pounds leaning on Toms River North for all 48 minutes.
"It all starts up front," Fallon said. "We were getting five yards a carry and we had that feeling we were going to go down and score and win this game."
"We have to play a four-quarter game," Ahearn said. "We don't have the skill guys sone teams do to throw the ball all over and score 50 points in the first quarter. So that's our game plan, run the ball, and hopefully, it pays dividends in the end."
Click here for a photo gallery by Richard O'Donnell.
Football: Colts Neck vs. Toms River North (Richard O'Donnell)
Fallon ran for 89 yards and a touchdown on 11 carries and threw for 32 yards and two touchdowns. Manos ran for 72 yards and a touchdown on 19 carries, sophomore wide receiver Aiden Diaz had a 28-yard touchdown catch, and sophomore Sam Surdez blocked a punt that set up a touchdown.
Colts Neck had to overcome a great performance by Toms River North sophomore quarterback Micah Ford, who led the Mariners by rushing for 145 yards and two touchdowns on 21 carries and throwing for 115 yards and a touchdown on 6 of 12 passing. Sophomore running back Josh Moore ran for 69 yards on 13 carries and had a 28-yard touchdown catch.
Ford gashed Colts Neck on the opening drive, rushing for 58 yards on five carries and throwing a 28-yard touchdown pass to Moore to give the Mariners a quick 7-0 lead. Toms River North's advantage grew to 14-0 in the second quarter when Ford spearheaded a 65-yard drive that culminated with him breaking free for a 33-yard touchdown run.
At that point, Colts Neck had run just 10 offensive plays, gained only one first down and 22 yards of offense. It was starting to look like the first major upset in the rankings was beginning to unfold.
"It was early, that was the saving grace," Ahearn said. "And we've been in that situation before looking back to last year with Freehold Boro, so it's not like it's a new thing for them. And I mentioned games from (Thursday) where teams were down big and came back to win. They kept believing and that was the most important thing."
One turning point actually came before Toms River North's second touchdown. The Mariners had a fourth-and-1 from the Colts Neck 5-yard line on the first play of the second quarter but Ford was out of the game with a brief injury. The Cougars stopped the Mariners for no gain.
"Huge," Ahearn said. "And to get a couple of first downs and get us away from our end zone, that was a key point for us."
Colts Neck's comeback began on the series following Toms River North's second score. The kickoff was returned out to the TRN 47-yard line where Fallon and company went to work on a seven-play scoring drive. Colts Neck had a fourth-and-four from the TRN 23-yard line but a false start penalty pushed them back five yards. It could have been a devastating blow to a team not built for third- or fourth-and-long, but it was no harm, no foul thanks to Fallon. On the fourth-and-9, Diaz got behind the defense and Fallon hit him in stride for a 28-yard touchdown with 59 seconds left in the first half.
"That fourth-and-9, we knew we had to have something good happen," Fallon said. "I saw him out there and threw it over the top."
Colts Neck received the ball to begin the third quarter but the plan of double-dipping with a score to end the first half and another to begin the second did not materialize. Instead, the Cougars used a big special teams play to get back into the end zone.
After topping Toms River North three-and-out thanks to a third-down sack by senior defensive end Louis Guerra, the Mariners set up to punt from their own 12-yard line. That's where Surdez knifed through the protection and blocked the punt, which Colts Neck recovered at the TRN 10-yard line. Two plays later, Manos powered in for a 3-yard touchdown and Christian Monteforte added the extra point to tie the game at 14.
Toms River North pulled back in front late in the third quarter with an impressive 8-play, 80-yard drive. Ford had a key 26-yard completion to junior tight end Ty Kazanowsky on third-and-7 from their own 34-yard line. Three plays later, Ford sprinted to the left corner of the end zone for a 14-yard touchdown and a 21-14 lead with 22 seconds left in the third quarter.
Colts Neck answered on the next series, however, when a kick return to midfield by junior Matt Celli set up the Cougars with good field position. On the fourth play of the drive, Fallon weaved his way through the Toms River North defense for a 39-yard touchdown run that knotted the score at 21.
From there, Colts Neck's defense got one final stop at midfield to give the ball back to an offense that was ready to take the game over on the ground.
"I tell these guys all the time and they know it; we win our games up front," Ahearn said.
The American Division will be unforgiving this season, and both teams found that out in Week 1.
"Hats off to Toms River North, they came out with a great game plan and they were very physical," Ahearn said. "This was a tough, hard-fought win. It's a good thing we have a bye next week."
Box Score
No. 5 Colts Neck 28, Toms River North 21
| | | |
| --- | --- | --- |
|   | Colts Neck | Toms River North |
| First downs | 12 | 15 |
| Rushes-yards | 34-192 | 36-220 |
| Passing | 4-8-0 | 7-13-0 |
| Passing yards | 32 | 120 |
| Fumbles-lost | 0-0 | 1-0 |
| Penalties-yards | 2-10 | 7-65 |
| | | | | | |
| --- | --- | --- | --- | --- | --- |
| | 1 | 2 | 3 | 4 | F |
| Colts Neck (1-0, 1-0) | 0 | 7 | 7 | 14 | 28 |
| Toms River North (0-1, 0-1) | 7 | 7 | 7 | 0 | 21 |
Scoring Summary
TRN – Micah Ford 28-yard pass to Josh Moore (Dylan Corsi kick)
TRN – Micah Ford 33-yard run (Dylan Corsi kick)
CN – Tommy Fallon 28-yard pass to Aiden Diaz (Christian Monteforte kick)
CN – John Manos 3-yard run (Christian Monteforte kick)
TRN – Micah Ford 14-yard run (Dylan Corsi kick)
CN – Tommy Fallon 39-yard run (Christian Monteforte kick)
CN – Tommy Fallon 6-yard pass to Eric Loureiro (Christian Monteforte kick)
Individual Statistics
RUSHING – CN: Tommy Fallon 11-89, John Manos 19-72, Chris Scully 4-31; TRN: Micah Ford 21-145, Josh Moore 13-69, Nick Lebria 2-6.
PASSING – CN: Tommy Fallon 4-8-0 32; TRN: Micah Ford 6-12-0 115; Talon Grande 1-2-0 5.
RECEIVING – CN: Aiden Diaz 1-28, Eric Loureiro 1-6, Tyler Donnelly 1-2, John Manos 1-(-4); TRN: Josh Moore 3-39, Trey Rinella 1-33, Ty Kazanowsky 1-26 Nick Lebria 2-23.
Have You Even Heard of the 30 Tiniest Towns in[carbongallery id=
New Jersey?"]
More From Shore Sports Network