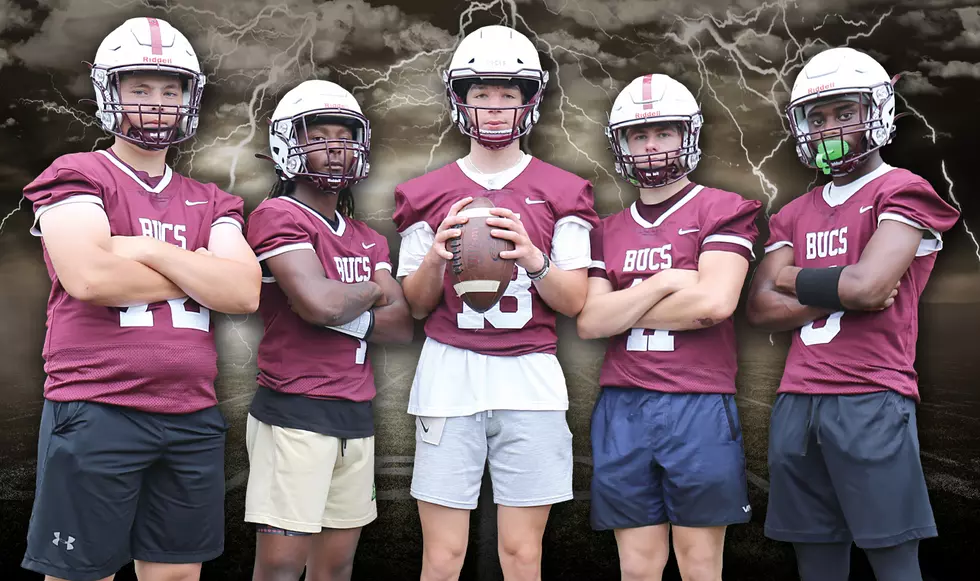 The Buc Starts Here: 2022 Red Bank Regional High School Football Preview
From left: Hank Dal Pra, Lamar Hicks, Pierce Olsen, Brendan Laughlin and Ky'Yam Martin. (Photo: Steve Meyer)

The Red Bank Regional football team is only two years removed from finishing off back-to-back seven-win seasons, so a 4-7 showing in 2022 wasn't generating any outsized headlines for the program. It was, however, an important first step for a team with a new head coach – one who has had success building a powerhouse program.
In Shane Fallon's first season as head coach in Little Silver, Red Bank developed a legitimate passing game while rallying together a talented group of players from the Class of 2024 that will be juniors heading into the upcoming season. There are some significant contributors to replace from last season, but with an accomplished coaching staff that is in its second year with the current group, there is considerable room for improvement for the Bucs.
"Year one is always a challenge," said Fallon, who was instrumental in turning Rumson-Fair Haven into the power program it is today. "It's about relationships: you're getting to know kids and they're getting to know the coaching staff. This year, they are familiar with our terminology, they are familiar with our expectations, they know how we want to practice and so it's been much smoother this summer. We are further ahead than we were a year ago."
Last season, the offense showed flashes of being a force, but the defense had trouble finishing off games. With a lot of sophomores now becoming juniors, Red Bank is hoping to boast a more physical defense from front-to-back and improve on a unit that gave up a shade under 27 points per game in 2021.
"Last year, at various points, we were starting six sophomores and playing 11 sophomores," Fallon said. "We've got some strong senior leadership this year and our sophomores are now juniors, so we've got a ton of juniors out on the field with some seniors sprinkled in and we like that chemistry. If we stay healthy, we will be very competitive every week against our schedule."
Red Bank at a Glance
Projected Starters
Offense: Spread
Returning Starters: 8
QB: Pierce Olsen, Sr. RS; Alex Choback, Jr.
RB: Jah'Cire Jones, Jr. RS; Myles Moore, Jr.
RB: Gunnar Eckerstrom, Jr. RS
WR: Ky'Yam Martin, Sr. RS
WR: Lamar Hicks, Sr. RS
WR: Liam Stack, Jr.; Kendrick Reinoso, Sr.
LT: Nick Gandolfo, Jr. RS; Joe Anan, Jr.
LG: Brendon Jervert, Jr. RS; Josh Nesheiwat, Jr.
C: Hank Dal Pra, Sr.
RG: Michael Polloway, Sr.; Chris Lahey, Jr.
RT: Griffin Egan, Jr. RS; Greg Devine, Sr.
Defense: 3-4
Returning Starters: 7
DE: Griffin Egan, Jr. RS; Greg Devine, Sr.
DT: Gavin Lisko, Sr.
DE: Nick Gandolfo, Jr. RS; Brendon Jervert, Jr.
OLB: Kyle Borenius, Jr. RS; Alex Choback, Jr.
ILB: Evan Eckerstrom, Jr.; Jack Johnson, Jr.
ILB: Chris Lahey, Jr.; Matthew Kelly, Jr.
OLB: Brendan Laughlin, Sr. RS; Kenny Flores, Sr.
CB: Gunnar Eckerstrom, Jr. RS; Sam Dengler, Jr.; Matt DeVitto, Jr.
CB: Jah'Cire Jones, Jr. RS; Myles Moore, Jr.; Mauricio Rivera-Sibrian, Sr.
SS: Liam Stack, Jr. RS; Marc Pines, Sr.
FS: Sean Forbes, Jr.; Marice Gittines, Jr.
Special Teams
K: Gian Carlo Duataj, Sr. RS
P: Nick Gandolfo, Jr.
Staff
Head Coach: Shane Fallon, second season
Career Record: 112-63
Record Last Five Years:
2021: 4-7
2020: 2-4
2019: 7-4
2018: 7-3
2017: 2-8
Assistant Coaches: Noel Kavanagh (Asst. Head Coach/Off. Coordinator/QB), Bill Pietsch (Def. Coordinator/MLB), John Legere (Special Teams/DB), Chris Barnes (RB/DB), Jess Mass (OL), Tyler Karalewich (DL), Adam Bobertz (WR/Freshman), Chris LeRoy (OLB/Freshman), Jack Provine (Strength and Conditioning), Christina Emrich (Athletic Trainer), Leo Olsen (Director of Football Operations)
Player to Watch: Pierce Olsen, Sr., QB
In his first year with Fallon and his coaching staff, Olsen flourished running the new offense and returns as one of the Shore's more established passers. His 1,335 passing yards rank fifth among returning Shore Conference quarterbacks and that yardage came on an efficient 79-for-135 (58 percent) with 12 touchdowns and eight interceptions. Olsen is not a major running threat either and none of Red Bank's running backs eclipsed the 400-yard rushing mark for the season, so his ability to distribute the ball really stands out.
"Pierce Olsen's knows the offense, he knows what we expect, he knows the right reads," Fallon said. "We probably won't have any one kid that is standing out on offense, but there is a lot of competition, so our final lineup is not set. But having Pierce running it is a good foundation. He is stronger and bigger than he was a year ago, faster than he was a year ago, more confident than he was a year ago. He has made those strides that we needed him to make and we're real happy with his progress."
Player Under the Radar: Griffin Egan, Jr., RT/DE
Red Bank's 2021 offensive line had a mix of seniors and sophomores and Egan was an established starter from the outset of his sophomore campaign. Now a junior, he will anchor what he and his team hopes to be an improved line on both sides of the ball, although without an excess of depth, Egan will be called upon to make a major impact on both sides. Based on his early career performance, the Bucs can bank on that as long as he is healthy.
Top Position Group: Skill Positions
In addition to Olsen at quarterback, Red Bank has the ingredients on hand to have an explosive offense. The established players are there, with receivers Ky'Yam Martin and Lamar Hicks both returning and junior Jah'Cire Jones returning in the backfield. Martin was the team's second-leading receiver in 2021 with 25 catches for 437 yards and five touchdowns, while Jones returns to the backfield poised for a breakout season at tailback.
"We've got two senior wide receivers in Lamar Hicks and Ky'Yam Martin who are very dangerous and can score on any play where they get their hands on the ball," Fallon said. "Ja'Cire Jones just has good vision, he is running hard and he is taking what the defense gives him. He is being very patient as a runner and with his speed, that's a very good thing for him."
The Bucs also have some emerging skill players, with juniors Myles Moore and Gunnar Eckerstrom also playing in the backfield and junior Liam Stack joining the receiving corps. Jones, Eckerstrom, Stack and Moore are all part of a deep group of defensive backs as well, so Red Bank's athleticism should translate on both sides of the ball.
X-Factor: The Junior Jump
Teams that develop a deep class of players from freshman to senior year tend see the greatest improvement from sophomore to junior year, at least according to conventional wisdom of coaching. If Red Bank is on that time table, the Bucs could be in for a significant step forward in 2021 thanks to a junior class that got a great deal of varsity experience a year ago and has enough talent around the field to make a collective impact. Red Bank is looking at eight junior starters on the defensive side of the ball, six on the offensive side and plenty more depth from the Class of 2024 as well. Throw in some seniors in key spots and the Bucs have the makings of a team ready to break out.
Rivalry Game: Nov. 23 vs. Long Branch
Like any team with a Thanksgiving rivalry, Red Bank is hoping the game will be secondary to preparing for an NJSIAA Playoff game. Given Red Bank's trajectory, however, there is a decent chance the Bucs do make the playoffs and maybe even win a game or two, but the probability is that the junior-heavy squad ends its postseason run before clashing with Long Branch. If that is indeed the case, the Thanksgiving game will not only be a chance to end the season on a high note with a win over a local rival; it will also be a chance for this year's class of juniors to make a statement heading into a huge offseason for the program.
2022 Schedule
Friday, Sept. 2 at Monmouth, 7 p.m.
Friday, Sept. 9 at Brick Memorial, 7 p.m.
Friday, Sept. 16 vs. Toms River South, 7 p.m.
Friday, Sept. 23 vs. Brick, 7 p.m.
Saturday, Oct. 8 at Neptune, 1 p.m.
Friday, Oct. 14 vs. Holmdel, 7 p.m.
Friday, Oct. 21 at Ocean, 7 p.m.
Wednesday, Nov. 23 vs. Long Branch, 6 p.m.
12 Foods That Define New Jersey
From boardwalk to some Italian-American classics, here's a list of foods that define the garden state.
More From Shore Sports Network